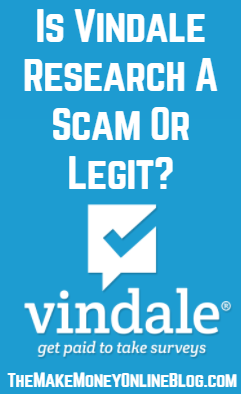 Vindale Research claims to be a secure, reliable and free survey site that's for anyone looking to earn money online.
They promise to pay you between $5-$75 per survey – this would make them by far the highest paying paid survey site out there.
But there are tons of let's say 'less than glowing' reviews from members out there so I decided to sign up and test Vindale Research for myself to find out what's really going on.
Is Vindale Research a scam and a complete waste of your time or a legit opportunity to make some extra money online?
Let's find out.
Vindale Research Review (the quick version)
If you're busy and short on time, here's the full review in a nutshell:
Vindale Research is one of better known paid survey sites out there with a 12 year track record so I started this review with high hopes, but after wasting half an hour of my time, I'm left feeling disappointed.
Every survey I tried had glitches and errors, I couldn't even complete the first qualifying survey. Vindale referred me to the lowest paying survey sites on the web and if you're not careful, you could find yourself putting in a lot of hours filling out boring surveys with nothing to show for it.
Users complain of their account being suddenly deactivated after they've worked 3-5 months slowly crawling towards that minimum $50 withdrawal limit.
Is Vindale Research a scam? No. But trust me when I say you can do so much better than this!
Want my advice? Stop wasting your time filling out boring surveys and giving these companies all of your private information and instead, better invest it into creating a legit online business for yourself so you can start earning some serious money.
My top recommended online training course for beginners is called Wealthy Affiliate. It's free to start, the video training will guide you through everything you need to know step-by-step and you can get started today.
A Better Alternative To Time-Wasting Surveys
What is Vindale Research?
Vindale Research is a Manhattan-based that claims to reward every day consumers like me and you for giving our feedback to major brands.
They're a free to join site open to residents of the United Kingdom, United States, Canada and Australia.
Launched in 2004, Vindale Research is one of the biggest and long-standing paid survey sites out there with 12,000+ followers on Google+.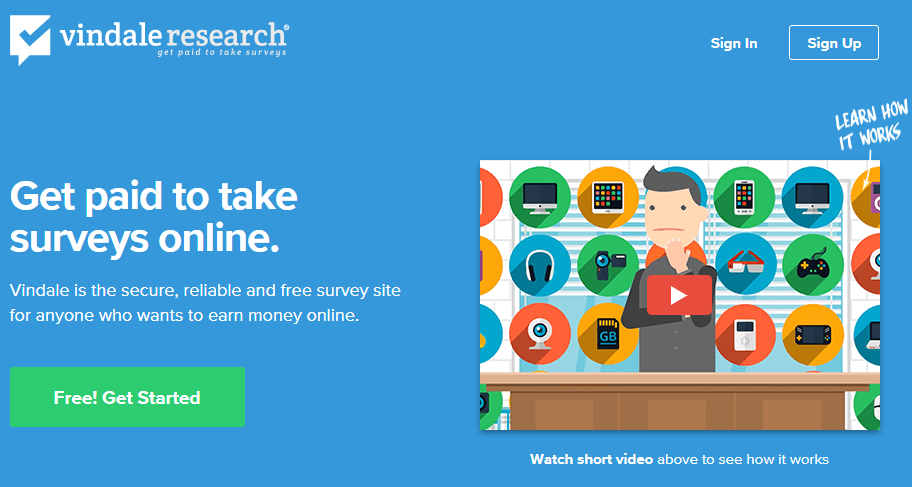 According to Vindale.com, they've paid out over $5,918,497 to their members so far for successfully completing surveys about anything from the latest gadgets and technology, to shopping and fashion and travel and leisure.
Here's Vindale's own 28 second explainer video giving you a quick rundown on how it all works:
What happened when I joined…
So now we've got the basics covered, what about this as a money making opportunity? I signed up with them so I can share with you what happened.
Vindale Research is completely free to join which is definitely a good sign. You should never, ever pay to become a member of a survey site!
They give you a $2 signing up bonus too which is pretty neat.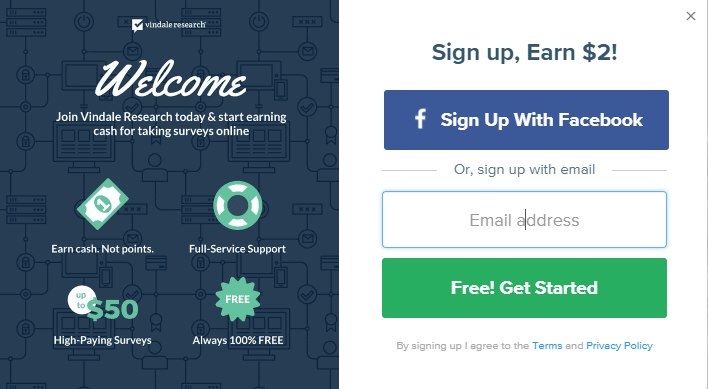 Signing up itself is pretty easy, they give you a choice of signing up by connecting to your Facebook account (the quickest way) or by manually inputting your details such as address, contact information, gender and ethnicity.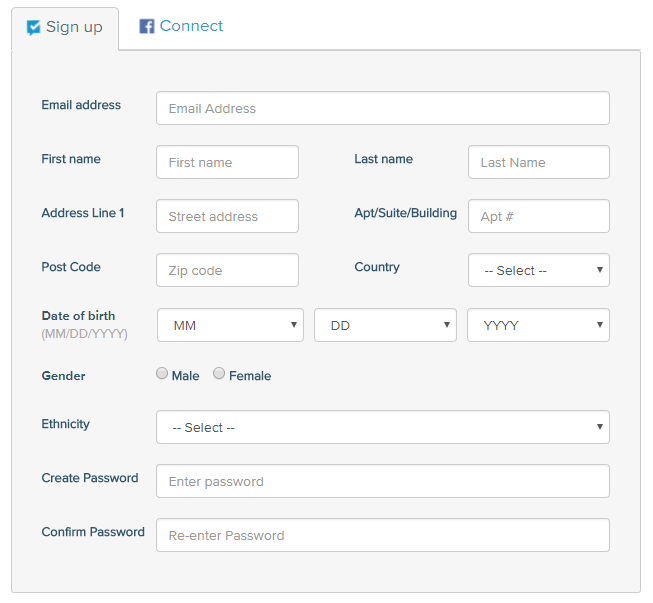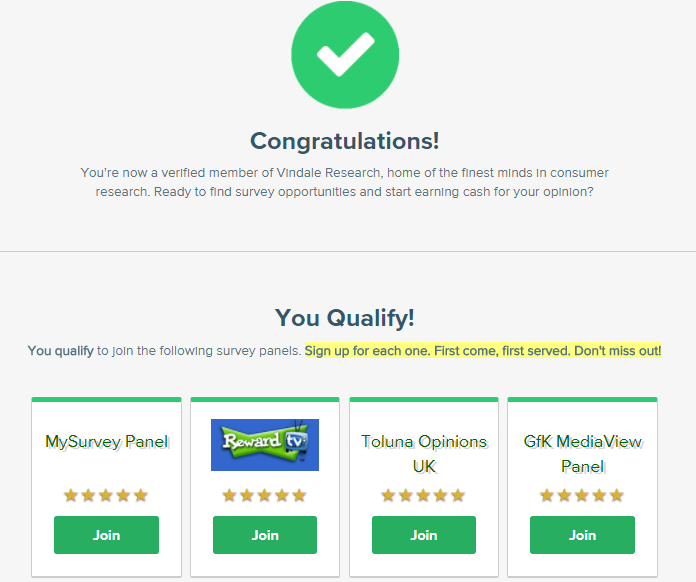 I chose the easier option of signing up through Facebook – I was instantly inside a fully fledged member.
I was expecting to be redirected to a list of surveys I could start taking to make some money but instead I was given a list of survey sites to join:
Including a site called MySurvey.com – I already know this is ranked 106th place out of a possible 108 on SurveyPolice.com – not a good start.
You can check out my full MySurvey review here.
I noticed they're recommending Toluna Surveys too, which happens to be the lowest paying survey site I've ever come across, it's a borderline scam.
Here's my Toluna Surveys review.
Based on the huge number of complaints against these survey sites I decided not to join any of them. I don't need to go through Vindale Research to join these survey sites, I can go directly so as yet, I don't really see the advantages of signing up to Vindale…
I wanted to see if Vindale Research had surveys of their own I could take. I still hasn't got my $2 signing up bonus as you need to fill out the qualifier survey first.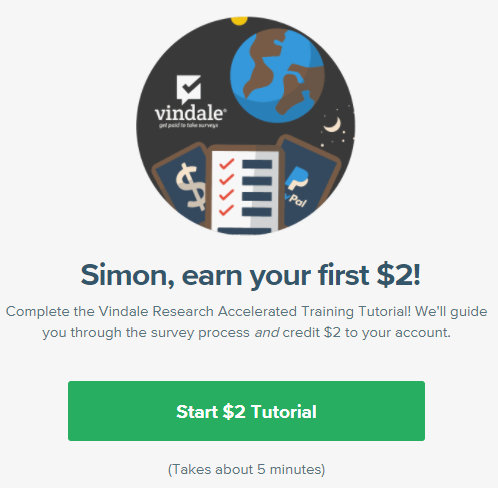 This was a little moreintrusive perhaps, askign questions about my annual income, how many dependents I had, my religion and so on. But I don't mind if it's going to help them match me up with surveys I qualify for.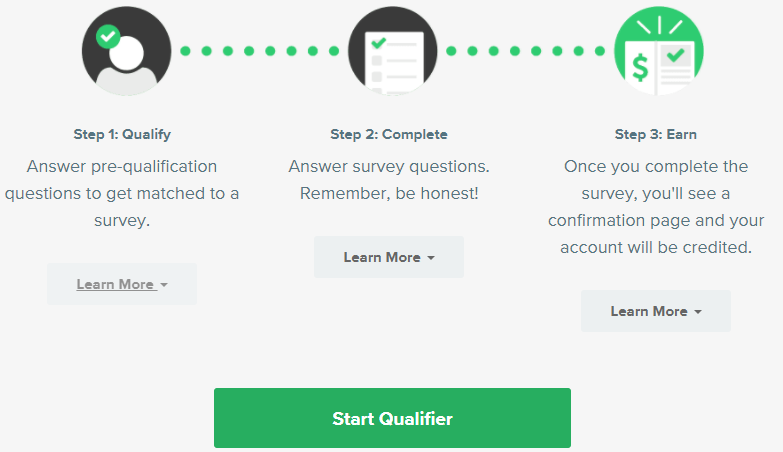 Unfortunately I couldn't even complete the qualifier. There seemed to be a glitch with one of the questions. Vindale Research says they're open to residents of the UK, but unfortunately they were no options to select what state (or county) I live in.

I tried a couple of times but without success. I literally can't even complete the qualifying survey.
I tried calling the support number and all I got was a recording telling me I can't leave a message. I clicked on the 'help' button and emailed customer support to tell them what was happening. I guess this is a good opportunity to see how responsive the support team are.
Update: I'm still waiting for that reply…
Putting that to one side, I decided to see what surveys I could take. One thing I noticed was that they don't tell you how much you can earn before you take the survey. Before I'm going to invest my time and effort, it'd be nice to see how much I'll get at the end of it.
The first survey I found had a few issues with questions repeating themselves. I answered how many staff worked for my voluntary organisation at least 3 times, plus there were weird questions like this one. How am I supposed to answer exactly?

After this I was directed to LiveSample surveys, a survey site with a very low rating.
Vindale Research only had one suvey (the qualifier survey) that I could see and I couldn't complete it because of a website glitch.
I've seen enough, I can already see this is a huge time waster. It's clear to me that when you sign up with Vindale Research the only people making money are the website owners for sending you to other survey sites.
Some survey sites are better than others (Swagbucks being the best one I've reviewed so far) but the ones Vindale Research are recommending are some of the worst and lowest paying out there.
All in all, I spent 30 minutes answering questions on this site only to be redirected to various different survey sites and my balance is still $0.00, zero, zilch, nada, nothing.
How much money can you realistically expect to make with Vindale Research?
It's really difficult to answer this question because you're not taking surveys with them, but the other half a dozen or so sites they send you to.
I'd have to say if you were diligent and consistent and completed surveys successfully every day, it would take you a bare minimum of 2 months to reach the $50 and this is if you manage to find surveys you can qualify for.
What others say…
There are tons of Vindale Research reviews on sites like ConsumerAffairs.com, Yelp.com and ComplaintsBoard.com from angry members who accuse them of being a scam site who will exploit loopholes in their terms and conditions to not pay you.
As a result hundreds of people have nothing to show for the hours they've put in.
Take this guy for example, after 3 months he got close to the minimum $50 withdrawal limit only to have his account suddenly cancelled. I can understand his frustration!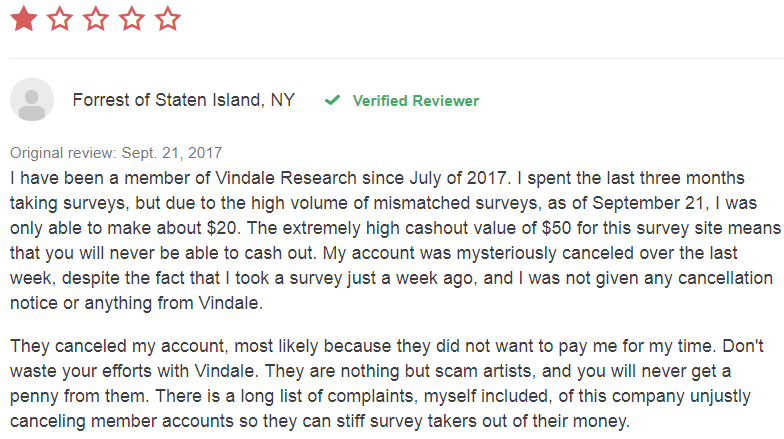 To make matter worse, this user reports that her and her husband haven't made any money from them at all but have been bombarded with pushy sales calls: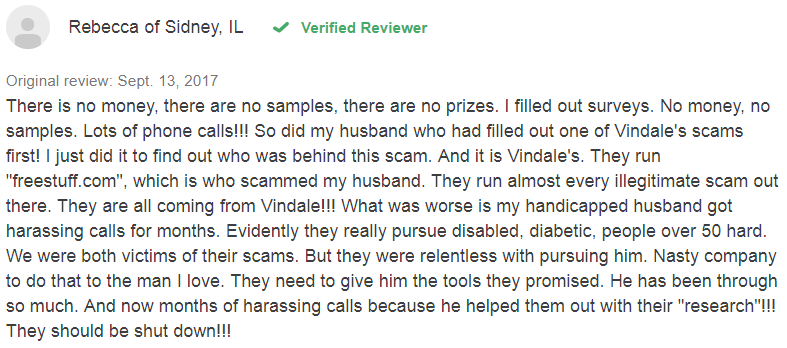 It took this member 5 months to reach the $50 mark… this is definitely not a site you can depend on to supplement your income! As if this didn't take up enough of her time, she then had to go about chasing Vindale Research for payment:
What I like
The website is well laid out and professional looking
Signing up is quick and easy
What I don't like so much…
Every survey has glitches, repeating questions and options which you can't select
The support team never got back to me about my issue, that's hardly reassuring
There's no Vindale Research app available
I spent 30 minutes on this site and didn't earn a penny – a complete waste of time
Is Vindale Research a scam or legit?
Vindale Research is not a scam, but you should know they're not a survey site either. They're what I call a survey panel, meaning they earn money every time you sign up to a survey site they recommend to you.
As far as making money taking surveys goes, I can't honestly see how they help you when you can sign up for these survey sites directly, but I don't even recommend you do that because most of those sites are huge timewasters!
People trying to get paid for surveys end up losing a lot of time and I think Vindale Research makes the process even longer…
You have to sign up with Vindale, try to complete their qualifying survey (which I couldn't because of a glitch), then they send you to another survey site where you have to sign up again, complete their qualifying survey so you can hopefully actually start taking surveys!!
Phew!
It's a very longwinded and round-about way of going about it. I can't see the value in this site and I definitely can not recommend them.
The only people making money with Vindale Research are Vindale Research.
I totally understand the appeal of being able to earn money from home, or trying to make a little extra cash to put towards paying the bills, but online survey sites are not going to help you. They'll take up a lot of your time and you'll end up feeling like you're banging your head against a wall and getting nowhere.
Doing online surveys will never earn more than minimum wage, in fact most people struggle to make more than $1.50 an hour with paid survey sites like these, and then there's no guarantee you'll even get paid. You simply cannot rely on this for income.
In my opinion, Wealthy Affiliate is a far better option for learning how to create an online income stream for yourself. In fact, it's through the Wealthy Affiliate training and community support that got me to where I am today, earning $6,000+ per month and not a consumer survey in sight.
I'm not saying this to brag, I just want you to know that you really can make money online. At Wealthy Affiliate, you'll find a blueprint for online success that you can follow to get real results.
Creating an internet business takes time and patience, but once the income starts coming in, it just grows and grows over time.
I hope this Vindale Research review has helped you avoid wasting hours of your time for very little in return. If you have any comments or questions about anything at all, be sure to leave them below and I'll be more than happy to help you out.
Related posts:
Simon Crowe is on a mission to help as many people as possible kiss their bosses goodbye.
Take the free Commission Academy course to discover how to smash your online income goals and make your dream business a reality.