"Is Univox a scam or legit?" is the question I'm going to try answer for you today.
Hundreds of paid survey sites have popped up in the last 10 years and it's safe to say some are better than others.
I recently came across Univox surveys and so I thought I'd sign up, give them a go and report my findings in this review.
If you haven't got time to read the whole Univox review, here's the short version:
Univox is definitely not without its issues with members reporting issues with payment and accounts getting suspended for no reason.
Customer support is nowhere to be seen and the amount of money you can earn works out to just $2 an hour, hardly making it worthwhile. This is less than the minimum wage!
In my own make money online journey I started out taking paid surveys like most people do. I had high hopes to begin with but it didn't take me long to realise how time-consuming it is and I wasn't getting anywhere fast.
I think paid survey sites are OK if you have a lot of time on your hands and you're not expecting much. Otherwise, if you're looking for a legit way to earn money online then my sincere advice to you would be to create an online business.
There are online courses that will show you how to build a serious online income for yourself. Yes, it takes time and effort but it's worth it.
I joined Wealthy Affiliate where they'll teach you how to get started for free. Check out my full Wealthy Affiliate review here and see how they can help you get where you want to be.
What Is Univox?
Univox meaning 'one voice' is a free survey site founded in 2009 by Market Cube.
Univox was set up as a way to give people the opportunity of voicing their opinion to companies and brands so you can help improve products and services and more importantly, get paid for it.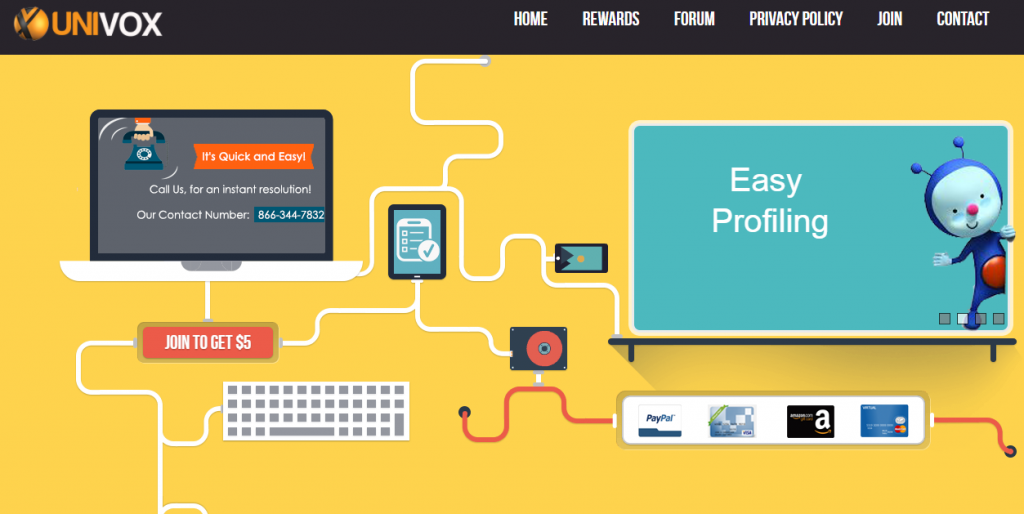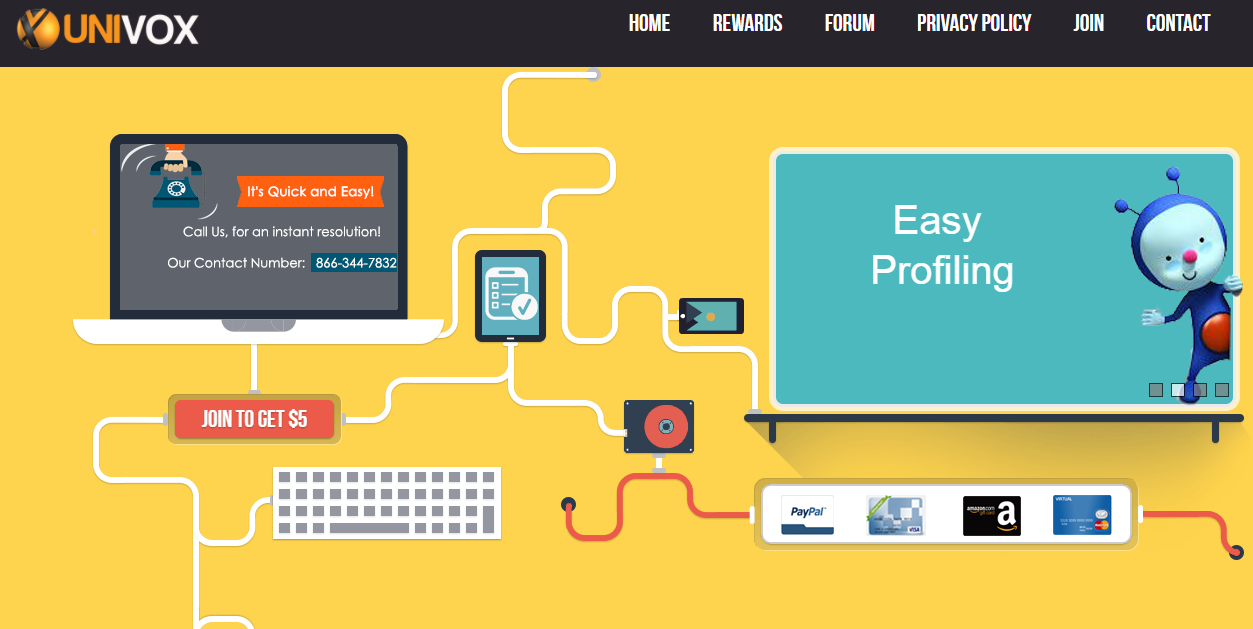 Univox, also called Univox Community, boasts over 1.1 million members with 200k+ new sign-ups last year. The Univox app is available for download on Google Play.
In 2016 they paid out $600,000 in total, which means the average member earned just $1.83 for the year.
What really caught my attention though was the fact they offer to pay you for surveys even if you don't end up qualifying.
I've reviewed dozens of paid survey sites like Survey Junkies and SurveySay and one of the biggest issues is when you get 20-30 minutes into a survey only to be told you're not what they're looking for and getting booted out, so I think this is a brilliant idea.
Here's Univox's very own short promotional video explaining how it all works:
Can You Really Make Money With Univox?
What about using Univox as a money making opportunity?
As with most survey sites, they use a points-based system. With Univox, 100 points equal $1 and the minimum payout is 2,500 points or $25.
You can choose how you want to redeem the points too – either a $25 Amazon gift card, $25 put onto a Virtual Visa Card or get your $25 sent directly into your PayPal account.
As well as the 500 point ($5) sign up bonus, there are two main ways you can potentially make money: taking surveys and inviting your friends to sign up.
1. Univox Surveys
Sign up and you'll get email invites for surveys you may qualify for based on the information you gave them when you set up your profile.
You'll be able to see roughly how long a survey should take and how many points you'll be rewarded for each one: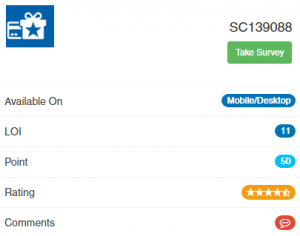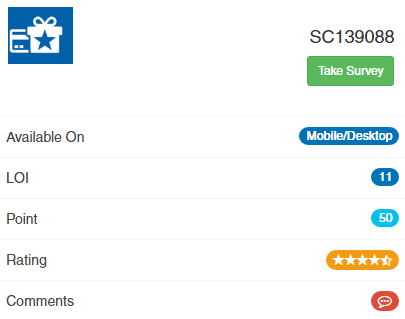 Surveys can take anywhere from 5 to 30 minutes to complete and for a 20-minute survey, a member can typically expect to earn $1 – which means the absolute maximum amount you can earn is $2-3 an hour.
This is disappointing! Paid survey sites, in general, are not well-known for paying very well, but I had hoped Univox would be better.
In my view, they should really think about paying their members more. Some people could say they're exploiting people by paying them so little…
2. Refer A Friend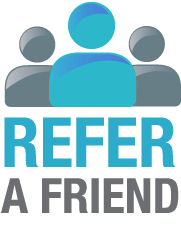 If you know someone who might be interested in survey taking then you can earn 100 points ($1.00) per signup, once they've attempted at least 10 surveys (but not qualified) or successfully completed at least 1. You can refer up to 5 friends.
So the maximum you can earn with this over your lifetime is just $5.
When I first found Univox I was sure I was onto a winner, but then I checked SurveyPolice and Better Business Bureau they score a lousy 1.7 stars out of 5.
Honestly, I'm quite shocked at the number of complaints against them with lots of people reporting issues inside the Univox forum.
I thought people would be unhappy with the extremely low payouts but it seems to be much worse than that:
Some people say Univox Community is the worst survey site they've ever tried, while others go as far as saying Univox is a scam.
After reading dozens of complaints, there are a few themes emerging again and again…
Univox Seems Reluctant To Pay Members What They're Owed…
When you're paying peanuts to begin with, the very least you can do is pay the wages that your members are owed, but more recently is seems Univox look for any loopholes they can find not to pay.
I can't imagine how annoying and frustrating it must be to sit down and take the time answering questions about your personal life and then have to chase for payment.

Members' Accounts Closed Before Reaching Minimum Payment Threshold
Most members give up before ever getting anywhere near the $25 mark, but for those that persevere with the mind-numbing surveys and start to see the light at the end of the tunnel, I can't think of anything worse than getting your account suspended.
Lots of members are rightfully angry their accounts were suspended just as they were about to reach the payment threshold.
Can you imagine?
You put in hours and hours of work and then get banned with no explanation as to why…
I understand if some people try to find hacks to manipulate the system, but these high numbers of complaints tell me there's something wrong here.


Univox's Customer Service Needs To Step Up
I think most people get that sometimes things go wrong, apps get glitches and no system is perfect, but this is where Univox's customer support team should step in.
I was impressed when I saw Univox's phone number and contact page on their website. They even have what they call a 'Q&A' bot to answer any simple questions you may have.
But every complaint I've read talks about having to wait a long time for a response, sometimes getting no reply at all. This is not exactly reassuring.

What I Like About Univox
$5 sign up bonus
They have a member's forum
The website is well designed
What I Don't Like So Much…
Extremely low payouts
It seems many members have to fight tooth and nail to get paid sometimes
Customer support is lacking
Univox seem in the habit of closing people's accounts for no reason
Is Univox A Scam? No. Are There Better Alternatives? Yes.
The amount of money you can earn taking surveys with Univox is extremely limited.
Swagbucks is the best-paid survey site I've seen so far but even then you can only expect to earn an extra $20-$30 a month, but still, it's better than wasting your time scrolling Facebook feeds or watching TV.
Should you try Univox? Honestly it depends what you want…
If you want to make an extra $1 here and there, go ahead, they're free to join.
If you're interested in learning how to create an internet business that generates a serious income for you month on month, then Wealthy Affiliate is probably your best bet.
The beginner's course is 100% free and they'll guide you through everything you need to know to turn a passion you have into a full-time profitable online business.
Have Your Say
I hope you found this Univox review helpful. If you have any questions or if there's any way I can help, please get in touch with me in the comment below. I always read and reply to each one personally.
Related posts:
Simon Crowe is on a mission to help as many people as possible kiss their bosses goodbye.
Take the free Commission Academy course to discover how to smash your online income goals and make your dream business a reality.