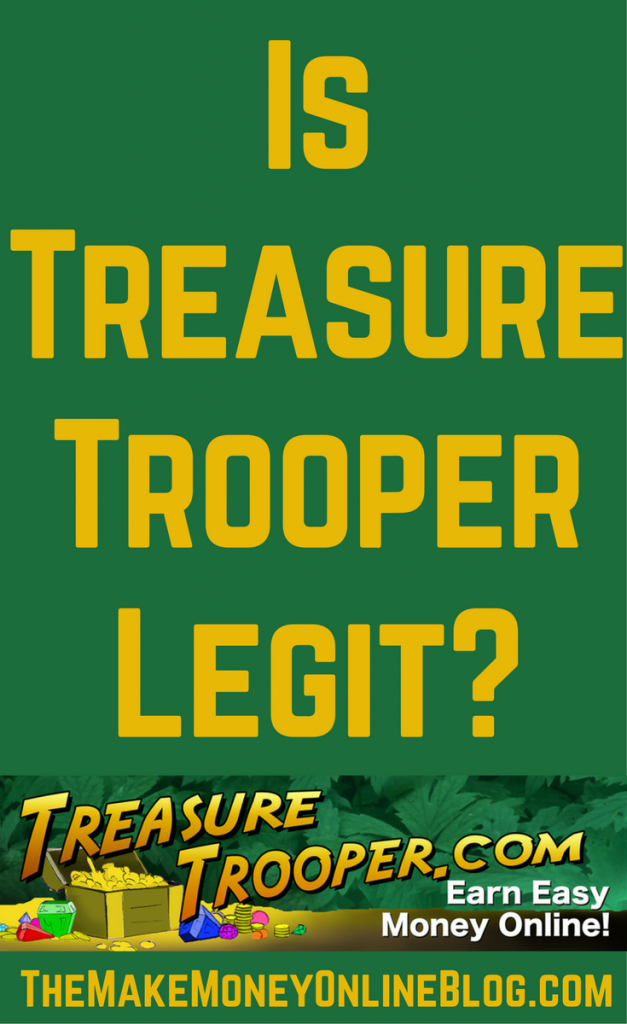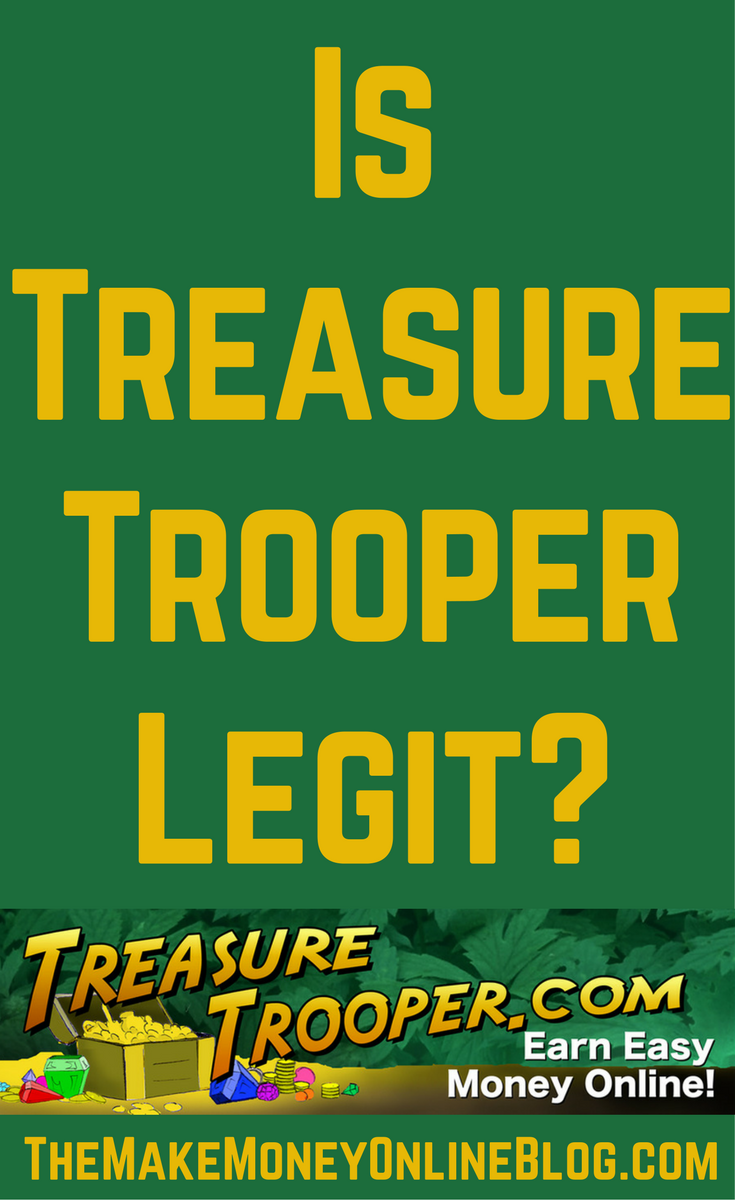 I recently came across an interesting free-to-join reward site which claims to pay you for completing offers and taking surveys called TreasureTrooper.com so I decided to check it out to see if this was a serious money maker or not.
The owners behind Treasure Trooper claim you can earn up to $1 per survey and offer instant payouts, but is Treasure Trooper legit, a scam or just a huge waste of time?
In this review I'll be going over all you need to know about this site… how it works, how they pay, and ultimately whether or not it's a legit way to make money online. You can make money here but it's not as good as you may have been led to believe.
I'm don't get paid to promote Treasure Trooper so I'm free to give you my full and honest opinion.
What is Treasure Trooper?

Treasure Trooper claims to have paid out nearly $7.5 million out to members since they launched the site in 2005. Members from the United States can sign up for free to potentially make money by completing offers, taking paid surveys, playing games or referring friends.
The minimum payout is $20 and you can get paid via cheque in the mail or direct PayPal deposit, but I do think it'll take you a while to reach this amount…
Here are the 4 ways you can get rewarded with this site: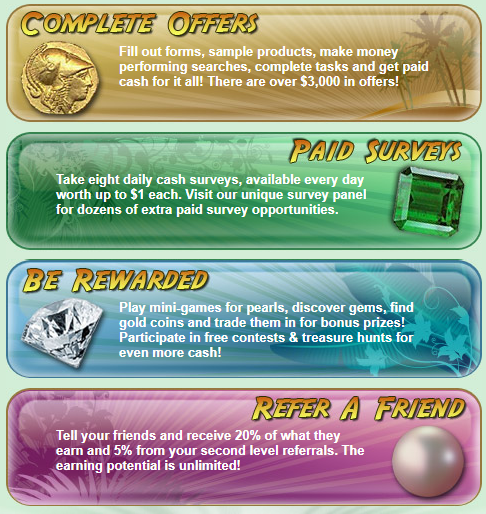 1. Completing offers
By far the quickest way to accumulate rewards via Treasure Trooper is by signing up to the offers they recommend. In most cases you're spending money to make money which can backfire if you're not careful.
One of the biggest complaints against this reward site are from people who didn't realise they had to cancel free trial offers before the trial end date and ended up having money taken out of their accounts leaving them worse off than when they started.
Most of the offers aren't free at all and you're going to have to get your credit card out to try to reach the minimum withdrawal limit.
Here are the offers I was presented with inside the member's area: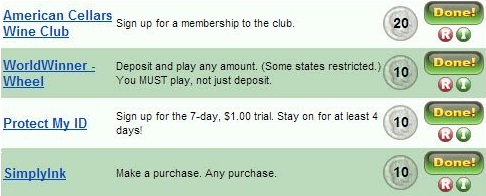 In this case, I could purchase 6 bottles of wine for $41.94 and earn 20 coins. Really not worth it in my opinion. Spending a lot of money to make back a small amount is not a viable money making system so proceed with extreme caution!
2. Taking surveys
There are no shortage of surveys on this site with new survey coming out daily. The problem is you're going to find yourself spending a lot of time filling out the pre-qualifying surveys that go with each one and depending on your demographic, this could be harder than you think.
These surveys are very repetitive and time-consuming with small payouts.
3. Playing Games
Anyone who lands on the Treasure Trooper website for the first time could be forgiven for thinking this is actually a gaming site rather than a making money site.
There's a lot of treasure hunting style games which are actually quite fun if you like this type of thing, but remember most people join this site because they want to actually make money, not go hunting for dragon eggs!
Though I like the branding and animation style, I think this covers up the amount of work you're going to have to put in to make any decent money with this site.
4. Referring friends
I think the Treasure Trooper affiliate program is the most lucrative way to make money with this website and this explains why there's so many fake reviews out there giving exaggerated earnings claims from people who want to get paid by signing you up.
Once you realise there's no money to be made in playing the games and the surveys take too much time and are hard to qualify for, some members go all in and start promoting Treasure Trooper to others.
Through the referral program you can earn 25% of everything your referral spends through the site. What this tells me is that this site is more about making money by encouraging members to spend money than it is about putting money into their member's pockets.
Where cash and fun collide, really?
What makes this site so different to most of the others out there is the cartoon-style branding and interactive games. I can see this being appealing to some people who like to kill time playing online games but I'm looking at this from the angle of a money making opportunity.
If I want to play games I can do that anywhere, but with the tagline "Where cash and fun collide!", I think they slightly mislead people into thinking this is an easy way to make serious amounts of cash when it's definitely not.
People are lured in with the idea of answering a few easy questions and cashing out, but once you get inside the member's area it won't take you long to realise it's not as simple as that and most people end up spending way more than they can ever make.
The payouts are so tiny and the tasks are so time-consuming, a question you have to ask yourself is if this is really a worthwhile way for you to spend your time.
What I like
If you can make it to the minimum amount, they do generally pay out (see payment proof here)
The site is fun and interactive with cool branding that helps them stand out from other paid survey sites.
What I don't like so much
Available in the United States only.
Very low payouts
Completing offers means buying stuff you don't really want or need to get a small amount of money back
Surveys are hard to qualify for and very time-consuming
Is Treasure Troopers Legit?
I can't honestly recommend Treasure Troopers as a legit way to make money online, not when there are so many better things you can be doing with your time.
The owners of Treasure Trooper are making a killing off of you, while you are earning just a few cents per day.
This site makes money off of you in a few different ways. Firstly though advertising. The more members they have, the more people viewing the advertisements and the more the Treasure Trooper creators can make in ad revenue.
Secondly, every time you sign up for the recommended offers, they take their cut, but only passes on a tiny percentage of their profits onto users who are generating this revenue on the first place.
A better way to make money online
Treasure Troopers is just one of the hundreds of paid survey and rewards sites out there. Tons of people are duped into thinking this is a quick and easy way to make money but it doesn't take them long to realise this just isn't the case.
Not only do sites like this typically pay you next to nothing for investing your time, signing up for offers and handing over your personal information, but they're not starting to pay less and less.
The truth is if companies want to do consumer research, there are easier and cheaper ways they can get feedback and companies just don't use survey sites anymore as a reliable way to get data.
In all honesty, I'm surprised people are still signing up for sites like this but I guess people are still duped into thinking taking surveys is the only way to make money online when this couldn't be further from the truth.
When it comes to earning a full-time living on the internet, rewards sites like Treasure Trooper are not the answer. What you need to be focusing your efforts is on building a real online business that you 100% own that you can grow into an income stream that pays you handsomely for the work you put in.
More and more people are waking up to the fact that surveys are a waste of time and are beginning to build successful and profitable online businesses for themselves. The good news is you can do the same.
Sites like Wealthy Affiliate have step-by-step courses specifically created for beginners who want to be financially independent.
To find out more, check out my full and unbiased Wealthy Affiliate review here.
It's the same training I used to start my own online business that generate me over $6,000 each and every month and there's no reason you get the same results too!
What do you think? Is Treasure Troopers a legit way to make online, a scam or just a time wasting exercise? Whatever your experience I'd love to hear from you.
If you have any questions at all, be sure to leave them in the comments section below and I will get back to you personally.
Related posts:
– Is MySurvey A Scam Or Legit?
Simon Crowe is on a mission to help as many people as possible kiss their bosses goodbye.
Take the free Commission Academy course to discover how to smash your online income goals and make your dream business a reality.