Looking for a better alternative to eBay? I came across Mercari browsing Google Play and decided to do a bit of digging to find out if this is a scam or legit app.
I'm forever on the lookout for ways to make money online and the chance to earn a little extra doing a much-needed clear out is a bonus.
eBay's been the king buying and selling app for donkey's years but personally, I find listing items on eBay time-consuming and a lot of hassle.
Is Mercari a viable alternative? In this Mercari app review I'm going to go through some pros and cons of selling through the app to help you answer that question for yourself.
If you have any experience with the Mercari app we'd love you to your share your experiences with us at the end of the review!
What We'll Cover In This Review:
What Is The Mercari App?
Like the Vinted app, Mercari is a buying and selling app that was started by Shintaro Yamada in Japan in 2013. The American version was released just a year later and Mercari UK launched in March 2017.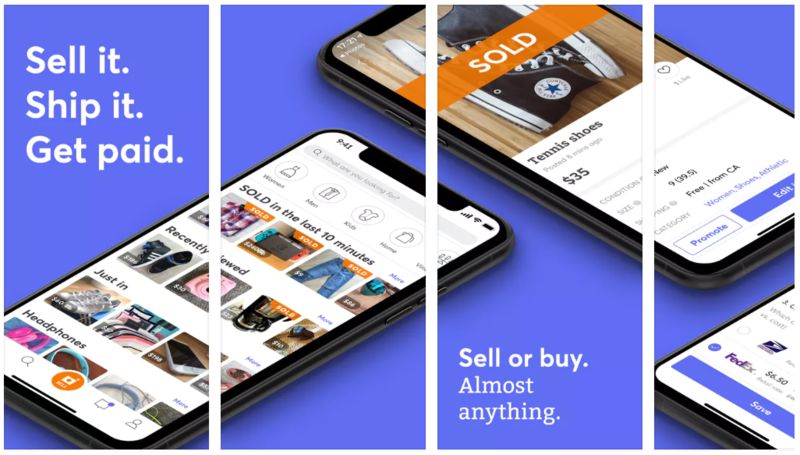 Mercari is available as an app on Google Play and iTunes or desktop users can go to Mercari.com.
The Mercari app has been downloaded 60 million times worldwide and this may be partly due to their referral program. Unlike eBay, Mercari gives your friends $2 for signing up and you get $5 just for referring them.
Mercari got my attention because they say it takes just 40 seconds to list an item and its free. (Yes, it's free to list but more on this in a second.)
Mercari App Reviews
The Mercari app has its fair share of complaints, as pretty much any app does, but with a 4.4 out of 5.0 rating from 80,000+ buyers and sellers, it's positive overall.
Obviously, eBay is more established so the downloads are a lot higher but when you compare the Mercari app with eBay app ratings side by side they look very similar:

You can sell all kinds of items through the Mercari app; from clothes to dumbbells, make-up to furniture. Unlike eBay, Mercari doesn't run online auctions. Instead, you set the price pretty much like eBay's "Buy It Now" option.
I just want to show you how easy it is to list stuff. It's a simple 3 step process:
Step 1:
Once you've downloaded and installed the app, open it and click on the Sell button in the bottom right.

Step 2:
Upload at least 4 images of the item you want to sell and add a short description giving the basic details like the condition, branding and any measurements.
Step 3:
Enter your ZIP code, set your price, and hit the 'Post!' button and you're done!
As you can see the listing and selling process seems quick and straightforward enough.
Here are a few helpful tips from a Mercari seller, I think you'll agree she has a lot of valuable insight to share after using the app to create a side-income:
3 Common Mercari App Complaints
Whilst their Google Play ratings are pretty decent, sites like SiteJabber, TrustPilot and Better Business Bureau have hundreds of Mercari complaints.
Just take a look at this, I was surprised:
While I totally get that review sites are more prone to attracting more negative reviews than positive, this is an unusually high percentage.
After reading through them, here are the 3 biggest issues coming up again and again…
1. Selling On The Mercari App Is NOT Free
I think Mercari is being slightly misleading when they say it's completely fee-free. While there are no listing fees, Mercari takes a whopping 10% chunk of the selling price.
When you sit down and work it out, Mercari is actually more expensive than eBay.
2. Sellers Get Scammed
The way Mercari works: a buyer will pay 50% of the purchase price first and the other 50% once they've received the item. Unfortunately, this gives fraudulent buyers an opening to scam sellers.
All a buyer has to do is say they didn't receive the item or they're not happy with it and they don't have to pay.
While I understand Mercari needs to provide protection for buyers, it seems to have swayed too far in their favour in this case.
3. Biggest Complaint: Not Enough Support For Sellers
Unlike eBay where you have the PayPal Resolution Center acting as the mediator between buyers and sellers, Mercari seems to leave you to work it out amongst yourselves.
Mercari has no support number and while they do have an online Help Center, sellers can have a real hard time coming up against sellers who want to scam them.
Here's just a couple of examples of what could happen as a seller on Mercari:
It comes down to a lack of seller support. It seems like Mercari isn't too interested in getting involved with buyer-seller disputes which means if a buyer wants to take advantage of the system and play you, they pretty much can.
Mercari could do a lot to improve the app if they just stepped up to protect sellers more.
It boils down to Mercari not seeming to care about looking out for their sellers. They're hard to contact and can take a ridiculously long time to get back to you.
Is The Mercari App A Scam?
No, the Mercari app is not a scam and sellers like this one are making decent money selling second-hand items through the app.
I welcome more options for people wanting to sell their 'preloved' stuff, but I guess your experience with Mercari will ultimately depend on the kind of buyers you bump into.
While the Mercari App is not a scam, you do have to be careful of scamming buyers and unfortunately, you can't rely on Mercari for support. The main issue I have with the Mercari app is that they're obviously not doing enough to help solve buyer-seller disputes.
As a money-making app, if you're looking to make a few extra dollars a month by doing a clear-out then you might like Mercari.
While its quicker and easier to use than the eBay app for sure, when you work out how much time it takes to list, communicate with potential buyers, ship items out and deal with people looking to scam the system, you could find yourself working for just a few dollars an hour.
Is it really worth the time, energy and hassle?
A More Lucrative Alternative?
In 2014 I learned how to build a profitable online business by selling other people's stuff. After a few months of persistence I was earning more than $6,000 per month. You can take the exact same training I did to create your own online income.
Click here to find out more about my TOP-RATED training.
The best part? The beginners course is FREE.
Simon Crowe is on a mission to help as many people as possible kiss their bosses goodbye.
Take the free Commission Academy course to discover how to smash your online income goals and make your dream business a reality.