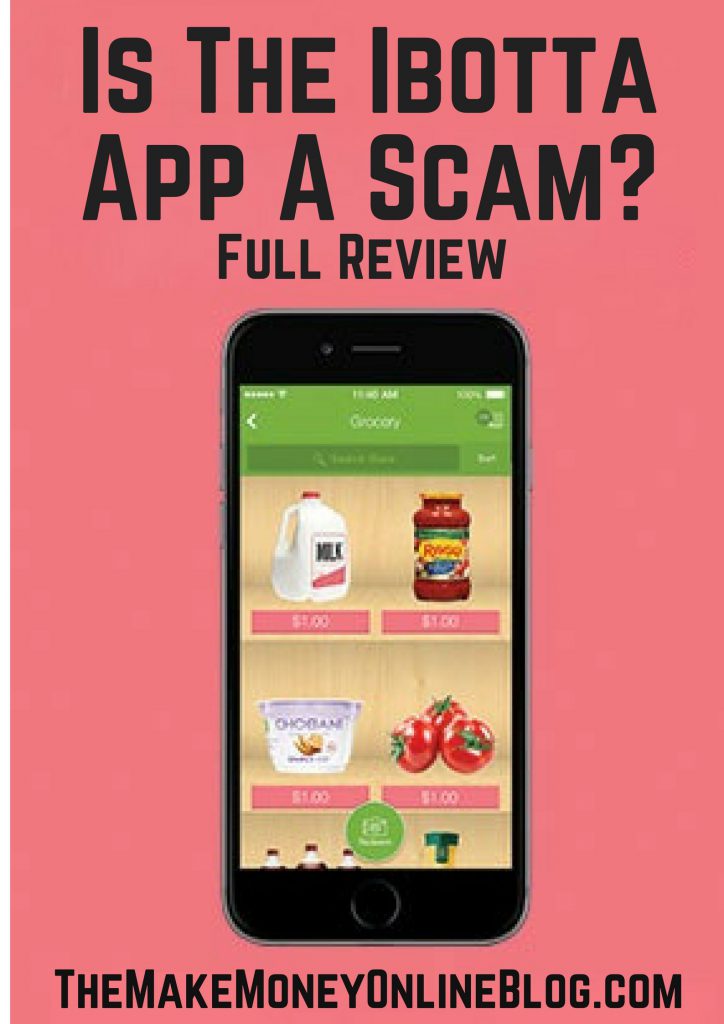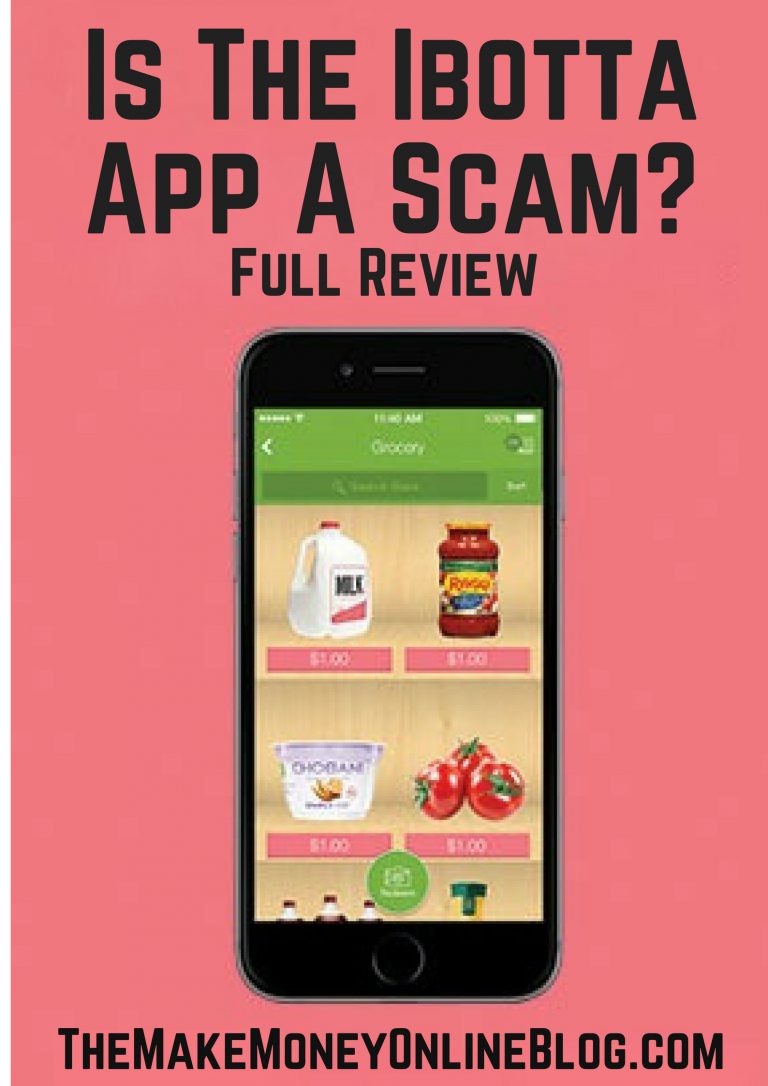 Ibotta app review
Website: www.Ibotta.com
CEO: Bryan Leach
Price: Free to download
Overall Ranking: 75/100 – Recommended
Quick Ibotta review
Ibotta (as in "I bought a…") is one of the most popular money saving apps out there and works like the 21st century form of coupons, but way better.
The concept is simple:
You make your purchase, scan your receipt and get cash back directly into your PayPal account – no need to collect worthless points like you do with the ShopKick app where you need gazillions of points just to redeem a $5 gift card!
They've been around since 2012 (which is always a good sign) and on they always pay out. There are over 50 retailers and 100,000 locations so I don't think you'll struggle to get cash back on everyday groceries you'd normally buy anyway.
If I was a US citizen (which I'm not 🙁 ) then I would definitely download this app and see how much money I could get back from my day to day grocery shopping.
Sure, you're not going get rich by scanning receipts but this isn't what this app is for. It's just a great way to make shopping a little more fun and make savings you can put towards your next shopping bill.
What we'll cover in this Ibotta app review
What is the Ibotta app?
How does Ibotta work?
What about the Ibotta rewards?
How to redeem Ibotta rewards
Ibotta cheats
Is the Ibotta app a scam?
Does Ibotta work and is Ibotta worth it?
What is the Ibotta app?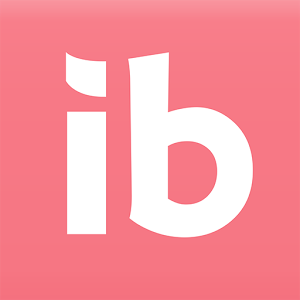 The Ibotta app was lauched in 2012 to give shoppers 'a smarter way to shop.'
Since then Ibotta has grown into a nationwide craze with 22 million+ downloads and over $220 million paid out in cashback.
It's available for download for free on Google Play Store for Android or iTunes for Apple devices.
The money saving app has been featured in Forbes and Mashable.com for the genius way they reward customers and influence spending habits.
Founder and CEO Bryan Leach was named Ernst & Young's regional Entrepreneur of the Year in 2015 for coming up with one of the very first reward apps where you can get discounts and cashback on stuff you'd normally be buying anyway.
[alert-note]
"Today, Ibotta is one of the 20 most downloaded and frequently used apps in the US – beating out Netflix, eBay, Spotify and Yelp. The company itself has grown from 26 to 90 employees and 400% in revenue just in the last year.
Bryan's motto, "A good idea can come from anywhere," keeps employees motivated and innovative," says a lot about his approach to building and growing Ibotta. The company recently integrated games, videos, recipes, and social media capabilities to the app to enhance brand engagement.
Next up: devising a way to have authentic, one-to-one conversations between people and brands. Through Bryan's innovative leadership, Ibotta has begun to transform the way brands think about building loyalty and connecting with consumers."
[/alert-note]
It's a hugely popular app with over 80,000 followers on Twitter, 750,000+ likes on their Facebook page and 250,000 (overwhelmingly positive) reviews on the Google Play Store.

How does Ibotta work?
Now let's get into how the Ibotta app works and how you can save money with it. That's what you want to know right? 🙂
Well, remember those coupons you used to cut out of newspapers and have to rummage through your wallet to find? Ibotta is like that but much easier.
Let's say you do your weekly shop at WalMart and you pretty much know what you're going to buy. With the Ibotta app you can search for specific items on your shopping list, complete a few quick and easy tasks then scan your receipt to get say, $0.75 back on a pack of diapers or $0.50 back on a box of cereal.
It's not just grocery shopping either, get cash back for eating at your favourite restaurants or going to your local movie theater.
That's pretty cool right?
Not much extra work needed and you can get the money into your bank account the same day. Now this is what I like!
Here's a video walkthrough showing exactly how Ibotta works and showing just how easy it is to use:

Getting started is as easy as 1, 2, 3,4. Here's a quick step by step:
1. Download and install. For android devices you can find the Ibotta app here or for iPhones click here
2. Browse your usual shopping items and find cash back offers
3. Go shopping at your local store (see participating stores below)
4. Once you've put your shopping away, scan your receipt, allow 1 hour for verification and withdraw into your PayPal account
Most of the major stores, online retailers, restaurants and movie theaters have partnered with Ibotta including:
BestBuy
Costco
Walmart
Uber
Hotels.com
Target
Groupon
Jet.com
Ebags
eBay
Bed Bath & Beyond
JoAnn Fabrics
Walgreens
Petco
Whole Foods
Trader Joe's… and loads more.
Just for fun – Ibotta in the news
Ibotta was recently featured on local Boston CBS news in 2016 talking about how it helps Americans save cash on their weekly shop:
Ibotta app cheats
You haven't even downloaded the Ibotta app yet and you're already looking for cheats? 😉
While you might find some short-term Ibotta app cheats and hacks online, my recommendation is that you be very careful. The last thing you want it to get kicked out of the app permanently for the sake of earning a few extra cents!
I think one of best ways to make money with Ibotta is by encouraging friends and family members to join the app. Once you're signed in you'll be given a unique link you can share on Facebook, Twitter or email and you get $1.00 for everyone person that joins up.
According to Ibotta, they've had users earn as much as $10,000 this way. That's not bad.
More Ibotta app reviews
Ibotta have an overall B rating with the Better Business Bureau and a 4.5/5.0 star rating on Google Play.
While the vast majority of Ibotta reviews out there are positive, there are a few issues with app with some people reporting glitches…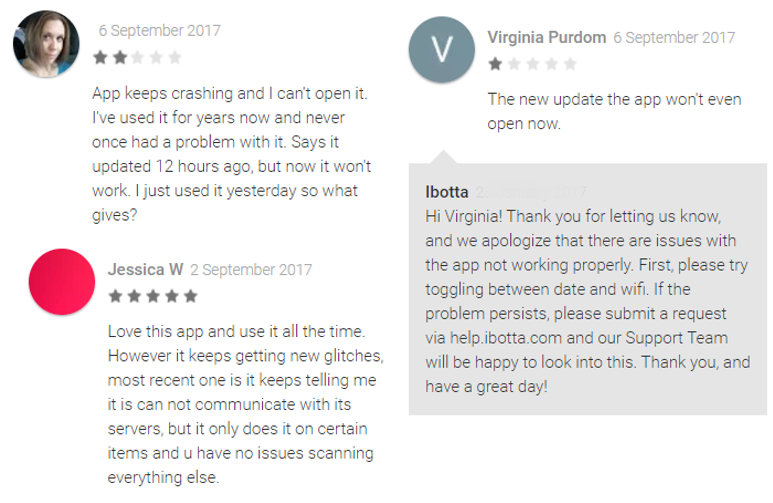 As with most apps, it's inevitable there's going to be ocassional glitches but as with any app, Ibotta is contantly updating and refining the app so it performs better.
What I like
Free to download
There's a wide range of everyday products you can get cash back on
There's no silly points – just real cash rewards
If you're already a regular shopper at Target, Walmart etc. then it's extra rewards for no extra effort
Ibotta's been around since 2012 with raving reviews.
There's over 100,000 store locations
The Ibotta support team respond quickly to any complaints
What I don't like
Only available in the United States
You may find a few gitches with the Ibotta app from time to time
Is the Ibotta app a scam?
No, the Ibotta app is definitely not a scam. It's free to download and they do pay out.
Ibotta make their money by partnering with retail stores and big brands to give them a way of interacting with their customer base and encouraging loyalty. Every time you buy an item through they app they get credited for generating the sale through affiliate marketing.
They also make ad revenue when you watch a sponsored video or answer short surveys but they then pass soe of those rewards onto you.
I've got to be honest, after reviewing dozens  of money-making and money-saving apps like Lucktastic and Shopkick I've yet to come across an app that is a scam, but most of them take way to much effort and the work = reward ratio just doesn't cut it so it's just ends up being more of a hassle and a complete waste of time.
I'm happy to say the Ibotta app is the exception to that rule.
I think the app is easy to use, the rebates definitely make it worthwhile. I like that they pay you directly into your PayPal account and you're not just limited to branded items; you can also get cash back on generic items like bread, eggs and milk.
Let's be honest, we're not talking about life-changing amounts of money here but that's not really what the app is designed for. . but it will help towards paying those monthly grocery bills.
I hope you've found this Ibotta review helpful and if you have any questions at all please leave your comments below and I'll always get back to you.
Have you used the Ibotta app? What was your experience? Good or bad – I'd love to hear from you!
Simon Crowe is on a mission to help as many people as possible kiss their bosses goodbye.
Take the free Commission Academy course to discover how to smash your online income goals and make your dream business a reality.