Depending on when you're reading this, this Amazon FBA course is selling for anywhere between $3k to $4k.
We're not talking pocket change here!
Before you decide to sign up and hand your money over or simply walk away from altogether, you need to know the answer to this question:
Is the Amazing Selling Machine a scam or a legit course worth the money?
I'll give you a quick hint:
They're not a scam but the high price tag means this isn't accessible to everyone.
Here's a list of cheaper alternatives.
On the flip side, for those with cash available who are ready to apply the training, this could be a great way to launch a very profitable eCommerce business.
In this review we're going to look at exactly what the Amazing Selling Machine is, what updates have been added, what you get, what you'll learn and ultimately whether it's the best option for you right now or not.
Before we get into the review you need to know I'm not one of those reviewers who puts my own interests before yours. I'm not here to give you hyped up promises or unrealistic expectations. When I review any training course I always think in terms of what's going to help you become successful and profitable online.
If you have any questions or if you agree or disagree with anything I've said here, feel free to leave your comments below. Would love to hear from you : )
Okay, with that out of the way let's dive into the review!
Amazing Selling Machine Review At A Glance
About: Matt Clark and Jason Katzenback's 8-week video course and online community about Fulfillment By Amazon (FBA) business.
Price: Depending on where you found it, the price is in between $3,000-$5,000.
Pros: You'll learn about common pitfalls, legit, has real success stories, structured step-by-step course.
Cons: Price is very steep, doesn't guarantee success.
Verdict: Amazing Selling Machine is a well-structured course, but with that price tag you might want to consider more affordable alternatives.

What is the Amazing Selling Machine exactly?
According to the Amazing Selling Machine website it's:
"…a training program and live event teaching entrepreneurs how to build real, fast-growth businesses selling physical products by leveraging the power of Amazon."
Created by Matt Clark and Jason Katzenback, Amazing Selling Machine (ASM for short) is a step-by-step 8 week video course and online community designed to show you how to profit from starting your own Fulfillment By Amazon (FBA) business.
We've all heard of Amazon.com, right?
It's our first choice for online shopping because it's cheaper, faster, more convenient and has way more choice than going to your local high street.
Amazon is absolutely HUGE and they're only getting bigger year on year as they focus on expanding their reach in Europe, Australia and Asia.
They ship 1.3 million products a day across the world and the course promotes itself as the way to get your slice of the action, without having to keep stock or deal with shipping yourself.
Amazing Selling Machine has been around for 8 years now and has a good track record. They update and relaunch the training every year or so. What started out as ASM1 became ASM2, ASM3 and so on. In August 2018 they launched ASM9. We don't yet know exactly how long this will be available.
You see, unlike most other online business training courses, Amazing Selling Machine is only available for about 6 months of the year so it's not always possible to sign up.
Whether this is so they can focus on their new influx of students or to create hype and excitement around product launch time, who knows, but I think this is a good thing because it means they're always improving the training and striving to create as much value as possible for their students.
It's also worth noting that as a lifetime member, you'll be given automatic access to all newer versions regardless of when you joined. Good to know.
How Fulfillment By Amazon (FBA) works
Before we take an in-depth look at what exactly you get access to inside the members area and what the course covers, I feel like this is a good point to give you a quick overview of what becoming an Amazon FBA seller looks like and how it works.
Here's one of Amazon's official videos explaining the process. I think you'll find this really helpful:
With FBA you're taking advantage of Amazon's huge worldwide network of distribution centers. You choose products, find suppliers and have them ship your inventory directly to an Amazon fulfillment centers.

There are HUGE pros to this. No customer service to deal with. No inventory to store yourself and Amazon will deal with all the shipping for you.
In the interest of fairness, it's important to note that while Amazon FBA can become a great online income stream, of course there are downsides too…
I believe the the Amazing Selling Machine course will teach you on how to avoid making the same mistakes as other newbies out there but there are some things can happen as an Amazon seller that are simply out of your control.
Is Amazon FBA right for you?
Watch the video below to hear from an experienced Amazon FBA seller to find out:
If this wasn't enough to put you off, keep reading the review in full to find out exactly how Amazing Selling Machine is going to get you to where you want to be.
What you get as a ASM member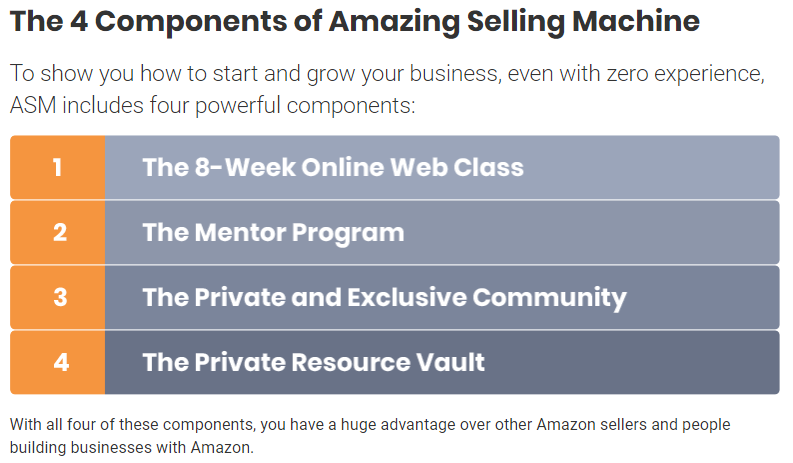 As a member you'll have unlimited access to an extensive 8 week training program, online community forum, private Facebook group and a one-on-one mentorship program where you can get help if you get stuck or have any questions, as well as unlimited access to the resource vault.
Every time a new version of ASM comes out, it's completely updated to reflect the changes in the Amazon marketplace.
This means you get:
New strategies that work
New and updated video training
Additional resources
A bigger and better community
Hands-on help from real, successful Amazon sellers
I really like the fact you're learning from experience Amazon sellers who once started from scratch and have built very profitable Amazon FBA businesses for themselves.
You get to learn the real strategies and techniques that have worked for others so you can replicate their success – this is huge!
Quick overview of the 8 week course
By far my favourite thing about the training is that it's 100% practical. You'll be applying the lessons to build your business as you work your way through the course modules.
The Welcome Module: The ASM Business Process & Mindset
The Welcome Module is made up of 14 video lessons and it gives you a good overview of the whole course, what to expect, what's involved and an overview of the huge earning potential of starting an Amazon FBA business.
You'll also be given a tour of the Amazing Selling Machine member's area, what features are available and where to find help when you need it.
Module 1: Building Your Product Opportunity List
This is when we get into the real meat of the training. The first module has 23 in-depth lessons that walk you through on how to start out as an Amazon seller.
You'll learn how to browse the different Amazon categories what numbers to look out for to ensure you're only picking out the best products to target.
Module 2: Suppliers, Samples & Product Numbers
As an Amazon FBA seller you're going to be outsourcing product manufacturing. This course will show you exactly how to find the best suppliers, why you should always get a sample before placing a big order and of course, watching those all important profit margins.
This is really is number crunching time because if your FBA business is going to be profitable in the long term you're going to watch your income and expenses and take care of your bottom line.
Module 3: Ordering Inventory & Creating Your Brand
Another 16 lessons on creating and building a strong brand. To be successful in the Amazon FBA you're going to want to get this down.
In this module you'll learn how to find the best suppliers, how to prepare inventory and how to create the right brand logo and image that gets the most clicks.
Module 4: Building Your Brand Assets
This is a really fun module that shows you how to turn casual buyers into loyal customers that keep coming back.
You'll be shown step-by-step how to build your online presence through social media platforms like Facebook, Twitter, Pinterest, Instagram and others.
You'll also learn how to start building a list of email subscribers (highly recommended) who you can keep in touch with – great for increasing sales.
Module 5: The Perfect Product Page
Okay, so you've got the perfect product with an amazing brand, now what? Well, it's all about getting traffic and converting that traffic into sales.
You do that buy targeting specific keywords, engaging titles and engaging, useful content that help you stand out from the crowd.
Module 6: The Perfect Product Launch
Everything is in place. You're ready to start. This module is all about getting you started in the best way possible. Remember everything you're learning here has been tried and tested by experts that now how to get results.
By the end of this training you'll be ready to Amazon FBA shipment , how to get your product ranked in Amazon and how to get those first few vital user reviews that could make or break your product.
Module 7: Advanced marketing and product tools
By this point you'll have a steady stream of sales coming in – not it's time to turn it up a notch! You'll be taught how to get the competitive edge over your competition through paid advertising and sponsored listings.
Module 8: Taking Your Business To The Next Level
Now they're you're up and running, it's time to scale it up. These 12 lessons run you through some of the common pitfalls (and how to avoid them), how to add to your inventory and expanding your product portfolio.
It's a great course, but why the steep price tag?
This might be my biggest issue with ASM. Depending on when you're reading this the Amazing Selling machine membership is going to require an investment of anywhere between $3,000 and $4,000.
The way I see it, there are definitely pros and cons to having a high ticket price. Let's weigh them up together to help you make the right choice.
Cons
The high ticket price means ASM will be inaccessible to most.
No one can guarantee you'll become successful. A strong work ethic and good decision making skills will help.
Pros
You've invested a lot of money so you're motivated to take action and see some comeback
By learning what the common pitfalls are, you save yourself $1000's down the line
The training's 100% legit and based on the success of their students, you know you're going to get results
What price can you put on a structured step-by-step course that will save you time and money from costly mistakes?
What do you think? Is Amazing Selling machine worth it or is it out of your price range?
Here are a couple of cheaper Amazing Selling Machine alternatives you might be interested in.
Proven Amazon Course ($399)
Amazon Bootcamp ($347)
Do your research, check them out. Sure they might not have all the bells and whistles ASM does, but the course content runs you through pretty much the same process.
If you're on a tight budget then I want to remove any obstacles that might prevent you from becoming an online entrepreneur and making real money online.
On the flip side, for those with cash available who are ready to apply the training, Amazing Selling machine really could be a great way to launch a very profitable eCommerce business.
Stick with me here and I'll show you some real success stories from members that show you some of the figures you could realistically be earnings in the next few months…
4 rock solid reasons Amazing Selling Machine is NOT a scam in my opinion
1. They teach a legit business model that works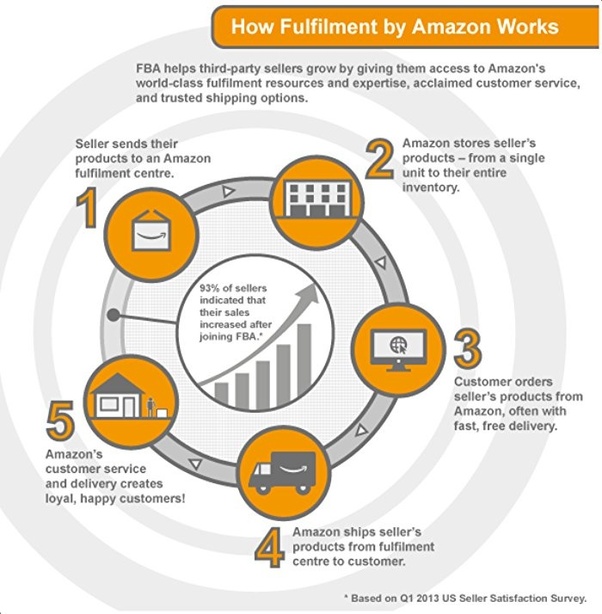 There's nothing shady about the training you're given – no blackhat techniques.
We're not talking about a get rich quick overnight scheme here. With ASM you're starting a legit eCommerce business with Amazon, one of the biggest, if not THE biggest online marketplace out there.
You're given hands-on practical advice from some of the most successful Amazon sellers out there. No fluff, no hype, just the right how-to and community support.
Amazon FBA is a proven business model that presents you with a huge earning opportunity IF you\re willing to take massive action to make your online income goals a reality.
2. ASM has REAL members getting REAL results
Unlike a lot of make money online programs out there that pop up out of nowhere only to fizzle out once the negative reviews and complaints start coming in, Amazing Selling machine is not on the 9th version and it's been around for nearly 10 years.
In online terms – this is a lifetime!
Over that time they've churned out student after student who have gone on to make more than a full-time income online.
The latest figures reveal they've created 100+ millionaires. people just like you and me who have gone on to enjoy a very profitable online career.
Here's what the earnings disclaimer says on their website:
"These member's results may not be typical. ASM members joining between 2013-2016 who completed the program and launched a new brand had median annual revenue of $60,750.00. Some consumers may make little or no profit."
Here's just a couple of success stories you'll see inside the members area. I love that you get to share your successes and celebrate passing milestones inside the ASM community.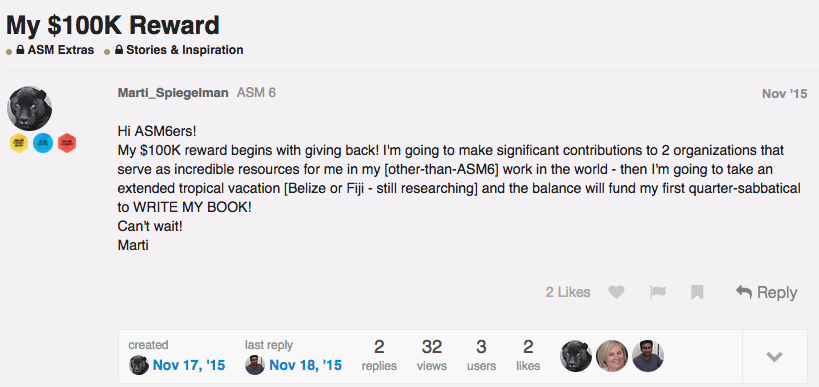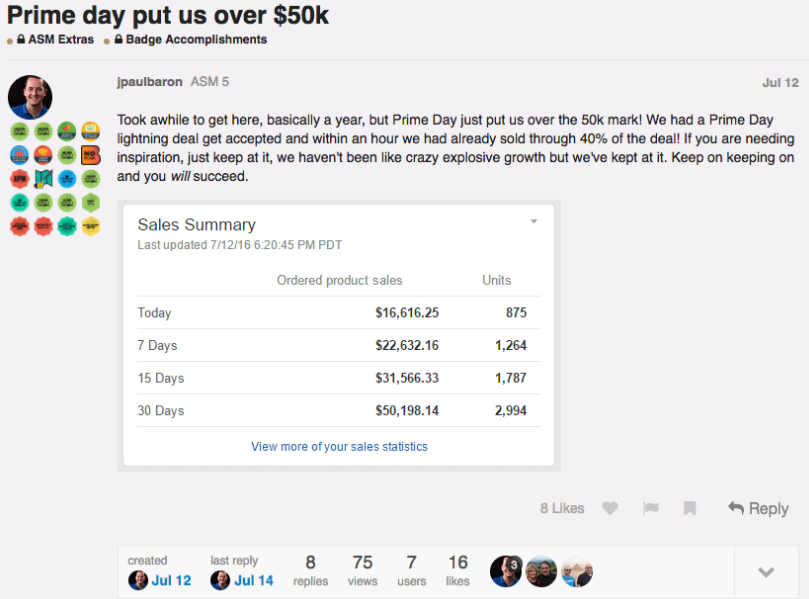 These members prove what ASM teaches gets RESULTS!
Just take a look at these figures: 156 ASM students are making over $100,000 per month through their Amazon FBA businesses: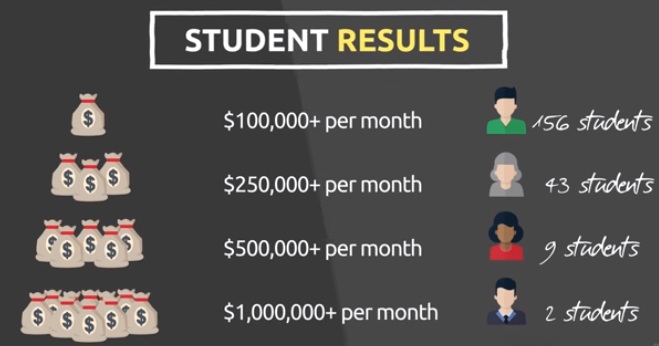 What percentage of students hit this mark? Well, to be honest we don't actually know as we don't have the total number of students.
Can I guarantee you'll be highly successful at this?
No.
But can i promise you'll have everything at your disposal to become a success if you want it badly enough?
Yes absolutely.
According to this video ASM students are generating a total of $432,000,000 in annual revenue which though a whopping amount, only scratches the surface of Amazon's $89 billion.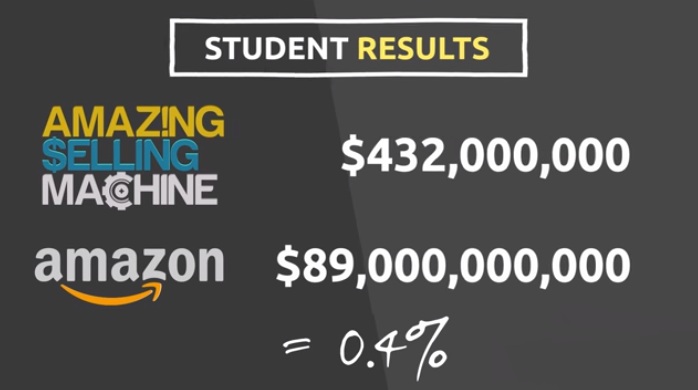 There's so much money to be made and I believe wholeheartedly Amazing Selling machine gives you the right training, tools and support to become your own boss and have your piece of the action.
3. There's a whole community of experts waiting to help you
The third reason I think Amazing Selling Machine is legit is that there's Amazon FBA experts on hand to help 24 hours a day.
The people behind this program really go out of their way to make sure everyone gets support when they need it most. The discussion forums are alive and buzzing with activity with people reaching out and getting help.
Whether you have a question or just feel like you're not quite 'getting' something, you can hop over to the ASM forum or private Facebook group and get the answers you need.
ASM also run a mentorship program which incentivise some of the more wiser and experienced members to help out newbies just getting started, so at least you can know you're in good hands.
4. ASM has one of the best money back guarantees I've ever seen
As well as your standard 30 day money back guarantee (which they do honour), ASM also gives you a 30 day guarantee to cover any inventory you've bought for up to $2,000. This is unheard of!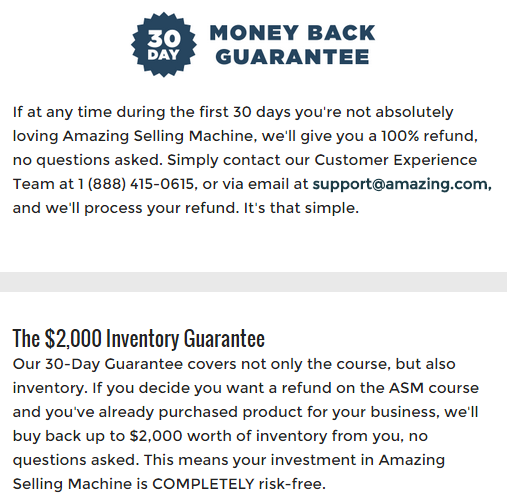 Again, this is yet another sign to me that Matt and Jason really are trying to remove every hurdle and make the path to success as straight as possible for you.
Is Amazing Selling machine right for you?
You literally have nothing to lose by trying it out.
I've shown you the business model, I've shown you the earning potential there is with this. You've seen the success stories and risk-free guarantees. What are you going to do now?
If you have the money to invest and want a detailed step-by-step, high-quality training course with expert support every step of the way, Amazing Selling Machine is a clear winner.
Click Here To Start Your Amazon FBA Business Today.
Questions Or Thoughts Of Your Own?
What do you think? Is it worth the high cost or could you get just as much value from much lower priced training?
Have you ever signed up for Amazing Selling Machine? Would love to get your feedback in the discussion below : )
Simon Crowe is on a mission to help as many people as possible kiss their bosses goodbye.
Take the free Commission Academy course to discover how to smash your online income goals and make your dream business a reality.