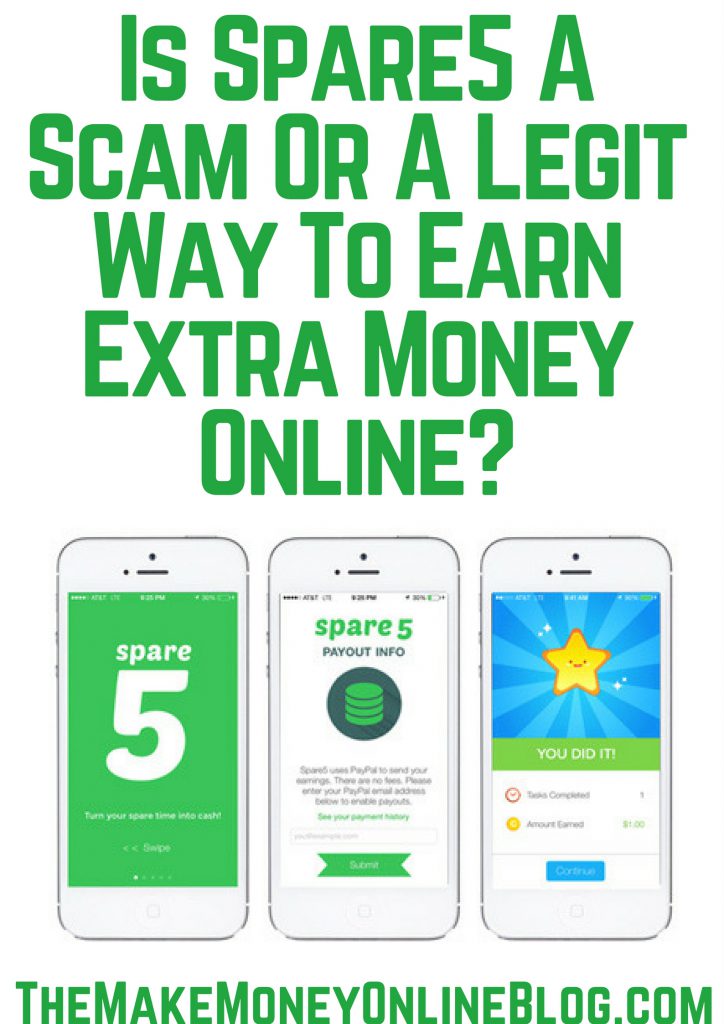 I am constantly on the lookout for new ways to earn money online that aren't scams and today I'd like to talk with you about Spare5.
It's a relatively new site and paid work app where you can use your free time more productively by completing short and simple tasks as a way to earn some extra money.
In this Spare5 review we'll be asking a few questions like:
What is Spare5?
What kind of work is involved?
What is the earning potential and…
Is Spare5 a scam or legit?
If you have any feedback or experiences you'd like to share, as always you can join the discussion in the comments section below.
If you'd like to ask me any questions you can go ahead and leave them there too and I will get back to you as quick as I can (usually within a day).
With that being said, let's crack on with the Spare5 review!
What is Spare5, Exactly?
Spare5 is the creation of a company called Mighty AI and was founded in 2014.
The idea is if you have a spare 5 minutes you can open the app or log in to the website, choose some quick tasks from the task list and earn some money.
These tasks are very short and super easy like 'micro-tasks' and the payout tends to be on the low side, averaging about $0.02 – $0.05 per task.
They pay every Friday as long as you have a balance of at least $1 into your PayPal account.

As of this review the Spare5 app is available on iTunes only, but the Spare5 team say they're working on developing the android app. (You can subscribe via this page to get an email when this is released)
You can also join and become a 'five' through the Spare5 website which is what I'm going to do.
If you've heard about Amazon Mechanical Turk then this works similarly to that, though because Spare5 is a lot newer and less established, there aren't as many jobs available.
I'm really interested to see what kind of jobs there are and if there's actually any work available so I'm going to go ahead and sign up and show you what I found…
Spare5 review
Creating an account is pretty easy, I signed up through Facebook and 20 seconds later I was inside the member's area.
So as you can see, the first time you visit the dashboard or 'tasklist' area there's not much going on.
I chose not to get Chrome notifications because I think that can get annoying, but I decided to do the "Tell us about yourself" survey to see if that would unlock some tasks, plus it says they'd pay me $0.10 for doing this so I went ahead and clicked on it.
Then this notification popped up.
It basically says thanks for joining Spare5 and not to create more than one account. Interestingly this was in Spanish as well as English so I'm guessing they have a lot of people sign up from places like Venezuela and Mexico.
Once I clicked through I was asked half a dozen questions about where I lived, what languages I could speak. All multiple choice and very easy. I'd say it didn't take me longer than 60 seconds in total.
And now for the important bit for me, what kind of work is available and how much do they pay…
I was redirected to what's called the Spare5 tasklist and here's what I saw:
I tried out some webtasks and qualifying questions where they guide you through how to complete various tasks.
There are 3 main types of job you're be doing if you sign up to Spare5:
1. Bounding box tasks
2. Painting labels for Superpixels tasks
This was kind of a fun task to do. You'll be shown an image with unidentified pixel areas and you literally just colour in the unmarked areas and give them a label.
3. Short surveys
I took a few of these and there were all short multiple choice answer surveys with not more than 6 questions and multiple choice answers.
They pay 10x higher than the micro tasks but there's not many available.
How much money can you make with Spare5?
It very quickly becomes apparent that these jobs are going to be paying the $0.01 – $0.03 mark. Yes, they're quick and yes, they're easy but you're going to have to do a hundred of these to earn a dollar.
The very low payout isn't the only reason the amount you can earn is limited here. After reading though the Spare5 complaints there are a few issues that come up a lot.
There's not that many tasks available
By far the biggest complaint is the lack of tasks available.
In Spare5's defense, in researching for this review I watched a Spare5 Live! video where they specifically said they're working hard with existing partners and to find new partners so they can make more tasks available.
If there's one task it will be showing up in hundreds of members tasklists so when you click on it, it might not be available – it's a case of first come first served.
Here's an interesting comment from Gigi in the BeerMoneyForum:
"The task traffic isn't always consistent but if you refresh often or happen at a time where there's a lot of tasks, which is usually morning for the USA and night for Asia, you'll be able to make $5 in a one or two hours at high task traffic.

The better you are at tasking the more tasks come your way, because Spare5 prioritises good and frequent users."
Some review tasks are made available only for those with a history of strong tasking so it's a good idea to do every task to the best of your ability so you can build up a good reputation for yourself and hopefully get more work opportunities in the future.
Very low pay per task
Most jobs only pay $0.01 except for paint labels for Superpixels tasks which pay $0.02. For this reason this seems to be the most common complaint on the Spare5 Facebook page.
Spare5 is not the only micro-task site to pay just cents per task and in al honesty, it tends to be more popular in third world countries (hence the Spanish) where $1 goes a lot further than say in the only United Kingdom or the United States.
Is Spare5 a scam?
No, I can tell you Spare is definitely not a scam. They do pay their members and honestly, from what I've seen, the Spare5 team seem like they are looking at how to improve the experience for their community workers.
They give good support within the community forums so you can get help if you need it. They also have FAQs in both English and Spanish.
I would definitely recommend going ahead and creating an account so you can take a look at the task list and see for yourself whether you think this is something worthwhile for you.
Will I continue to use this site? No probably not, it's just not worth it for me.
When you work out how much you working for (assuming there's a limitless supply of tasks available) it works out at around $0.50 per hour. There's just better things I could do with my time.
If you're looking for something that will give you a more full-time and consistent income then check out the Wealthy Affiliate online business training.
After reviewing hundreds of ways to earn money online Wealthy Affiliate is definitely the top rated program I've seen.
This is the exact same training I went though in 2014 that enabled me to create a successful and profitable online business for myself that generates $6,000+ for me each and every month. Follow the same training I did and you can do the same.
Simon Crowe is on a mission to help as many people as possible kiss their bosses goodbye.
Take the free Commission Academy course to discover how to smash your online income goals and make your dream business a reality.