Working as a secret shopper means going undercover in your favourite restaurants and stores, reporting back to the owners and getting paid.
Shadow Shopper presents itself as the largest source of myster shopping jobs but is Shadow Shopper a scam or a legit way to launch your secret shopping side business?
In this review I'll be putting this website to the test and presenting to you what I find. Nothing more, nothing less.
I'm not getting paid or sponsored by Shadow Shopper for this review and I'm in no way partnered with the company.
I'm just a successful online entrepreneur who sorts out the scams from the legitimate opportunities to help you earn an extra side income. 
Shadow Shopper Review At A Glance
About: Shadow Shopper is an aggregate site to mystery shopping opportunities.
Price: Bronze membership for free and Gold membership for $6.95/month or $47.95 if paying a whole year.
Pros: None that we can think of.
Cons: Receives lots of complaints, gets you spammed.
Verdict: Shadow Shopper is not an outright scam but is useless in reality. You can just go directly to the mystery shopping sites that pay for this platform to direct you to those sites.  

What is Shadow Shopper?
ShadowShopper.com is a paid membership site that's open to people living in the US, Canada and Australia and they've been around since 2002.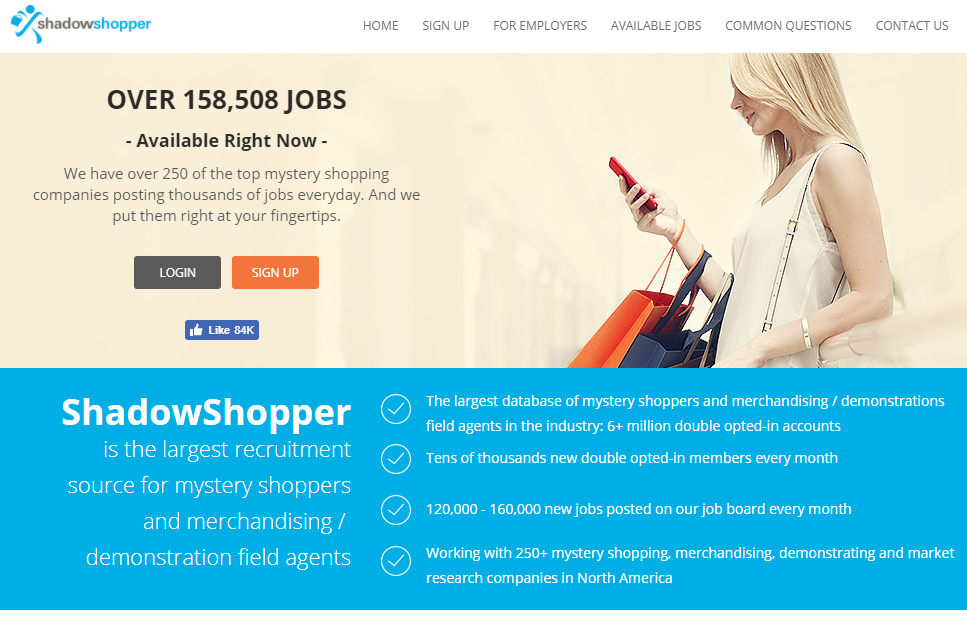 Shadow Shopper is not a mystery shopper company and they have no jobs available. Instead, they scrape the internet to find mystery shopping opportunities so members can view and apply.
Basically they act as a middle-man working to connect businesses and secret shoppers.
Please note: Shadow Shopper is now closed due to Covid as per this video:
How much do you need to pay?
Shadow Shopper has two membership levels: a free Bronze membership and a paid Gold membership. Bronze is to get you through the door and viewing the jobs, but to access jobs less than 7 days old and apply is to upgrade.
It's clear to me right away that this site makes it's money by pushing the gold membership.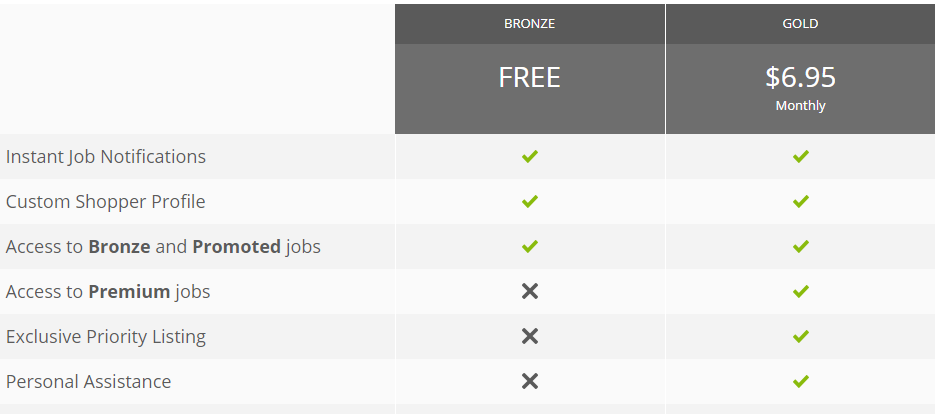 Something I found very odd is that they don't tell you anywhere how much the Gold membership actually is. Their FAQs page tells you to join first and then click the upgrade button to view the prices. Why can't they just be upfront with you?
They get people to join by selling the free membership as a great way to find local work and get started but many complaints from users say you can view only very limited information but can't apply.
When you click on the sign up page you need to fill out your name, date of birth, address, email and give them your telephone number.
Once I confirmed my email I was finally allowed to look at the prices…
(What a rigmorole!)
It turns out you pay $6.95 every 30 days just to look at the job listings. Go for the 60 day option and it's $9.95. 180 days is $27.95 and a year is $47.95.
Word of warning: Your membership is set to auto-renewal by default.
This has caught many people unawares who didn't realise until they checked their bank statements. If you upgrade, you then need to go to your profile page settings and manually turn the auto-renew off.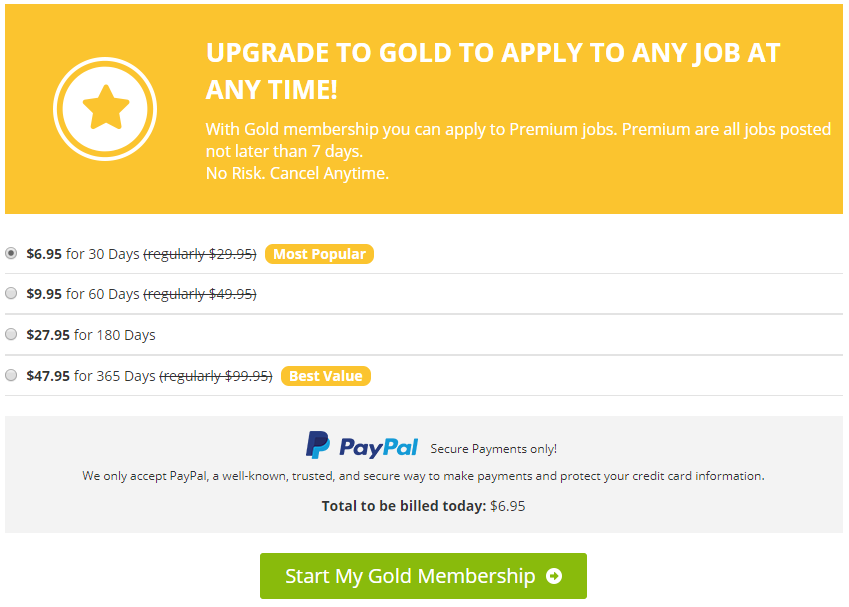 When I'm giving people advice here on the blog to help people avoid work from home scams, one of things I always say is NEVER pay for the possibility of getting work.
The fact they're charging you $50 per year for jobs you can find for free elsewhere is a huge red flag for me.
What are you paying for exactly?
Access to secret shopping jobs you can apply for. That's it.
And remember: these are jobs have already been advertised on other sites so by the time Shadow Shopper scrapes the web and find them, the positions have most likely been filled.
Honestly, I'm struggling to see any value in ShadowShopper.com. I mean all the jobs these members have to pay for are publically available for free. If you know how to do a quick Google search then you don't need to pay them a dime in my opinion.
Shadow Shopper reviews: what others say
Angry auto-renew complaints
Shadow Shopper have a 1.9 out of 5 star rating with the Better Business Bureau and by far the biggest complaint is from people who never realised more money would be taken out of their account.
Some users even go as far to say Shadow Shopper is a scam because they card was charged even after cancelling their membership and after many attempts at contacting them, no refund was ever issued.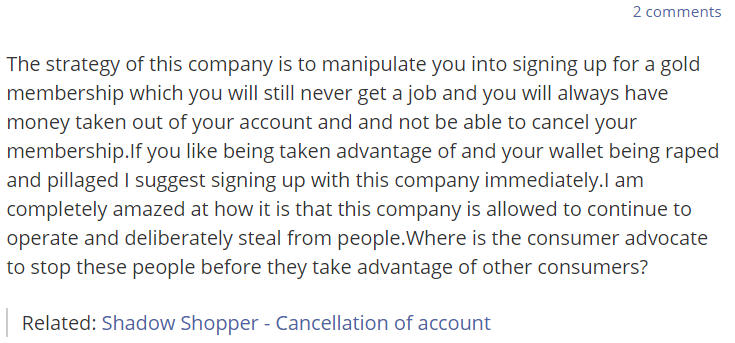 Source: PissedConsumer.com
Prepare for an avalanche of SPAM
Since I joined Shadow Shopper an hour ago I have had 4 emails from them already, all promoting the Gold level membership.
After reading the many reviews and complaints, it's obvious to me that Shadow Shopper are also selling your contact information to third parties. Spammers will pay a handsome amount of money for direct access to your inbox and telephone numbers and this website owner is clearly profiting from that.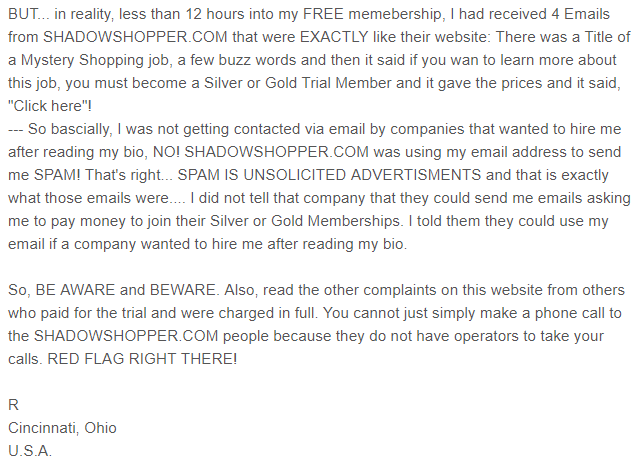 Source: RipOffReport.com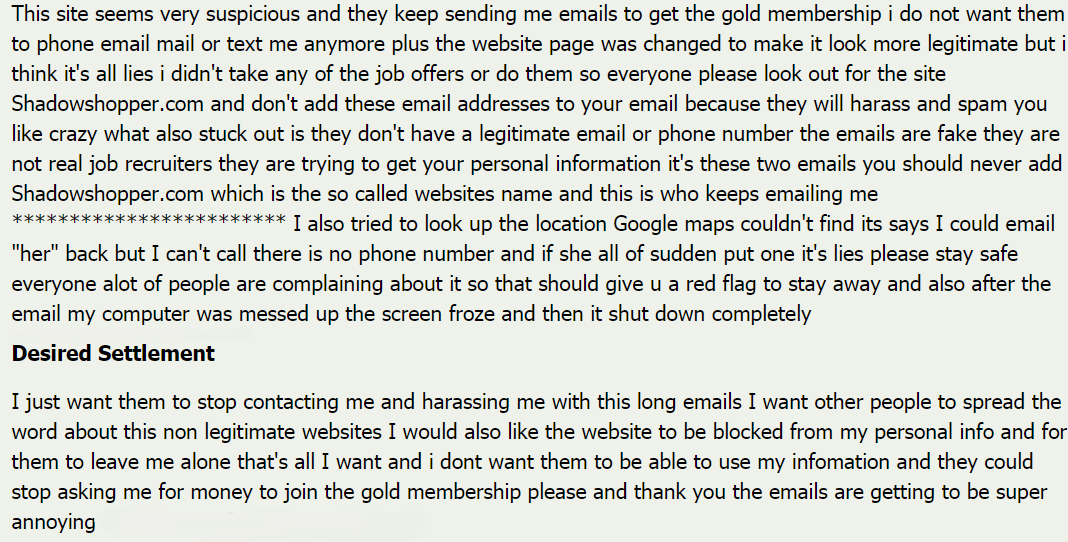 Is Shadow Shopper right for you?
I don't think Shadow Shopper is a scam but I can't see them giving you a legit money making opportunity either. They're not forthcoming about their prices and they're making you pay for information that's available for free elsewhere.
When you look at mystery shopping on the whole, you don't get paid a lot. You might get paid $15 for an average job which takes you longer than you think once you've filled out all the lengthy reports, not to mention your travelling time and fuel costs.
If you're looking to build a decent-sized income stream for yourself then mystery shopping just isn't going to cut it, which is why in 2014 I quit mystery shopping gigs altogether and learned how to create my own internet business instead.
I followed this free beginners training course that you might want to check out. It'll show you everything you need to know about making serious money online.
Yes, you're going to need to invest the time and effort but it's definitely worth it. Follow the same blueprint I did and you can replace your full-time income too.
Simon Crowe is on a mission to help as many people as possible kiss their bosses goodbye.
Take the free Commission Academy course to discover how to smash your online income goals and make your dream business a reality.