Can you imagine what it'd be like to win the lottery?
What's the first thing you would buy?
A big house with a pool?
That car you've always wanted?
An around the world trip?
Richard Lustig's latest program boasts it can increase your chances of winning the jackpot by up to 50 times, but is Richard's Lottery Secrets a scam or does it actually work?
That's exactly what we're about to find out!
Richard's Lottery Secrets review overview
Interesting in building a REAL income online?
What Is Richard's Lottery Secrets About?
Head on over to RichardsLotterySecrets.com and you're hit with a big warning notice saying, "this video is very controversial and may be offensive to some audiences. Viewer discretion is advised".
I was instantly intrigued.
What could be so shocking and controversial about Richard's Lottery Methods? Is he teaching something illegal or what?
As you play the video you're told about a guy called Richard Lustig, a Florida-based 7 times lottery grand prize winner who says he's willing to share with you the lottery winning methods that have completely changed his life.
The video shows us Richard's big lotto check, his house, complete with a swimming pool and cars and motorbikes parked on the driveway.
Richard's Lottery Secrets is all of his tips and secrets he's learned after years of trial and error to increase your odds of winning the jackpot.
Richards says winning the lottery has got nothing to do with luck but by following his strategies to put the odds in your favour.
This isn't the first program I've come across that makes big claims like this; programs like Lotto Magic, Lottery Winner University and The Lotto Crusher say they've created 100's of big-time lottery winners.
The strange thing about Richard's Lottery Secrets is that they claim it's free… all you pay is the shipping and handling.
This again seems a little odd as this is nothing more than a downloadable PDF file which is sent to you via email once you've sent the payment. 
Who is Richard Lustig exactly?
Is he the luckiest man alive or nothing a fraudster?
Well, Richard Lustig is a real person living in Florida and yes, he has actually won 7 grand prizes. 
He's won over $1million between 1993 and 2010.
He's created quite a name for himself, appearing as a guest on CBS, Business Insider and ABC News. He's also been written about in the Huffington Post and Fraud Files.
Media outlets like to invite him on just before a big rollover draw to share some of his 'winning tips', like this interview on Good Morning America:
One of Richard's biggest 'secrets' is that he reinvests his lottery winnings into playing new games, though exactly how much he's spent on the lottery over the years is unknown.
It's also worth pointing out that Richard is no multimillionaire, though he's won the lottery 7 times, he's total winnings amount to $1,047,060.58, and one of those prizes was a jackpot of $842,152.91 back in 2002.
Here's the full list of his 7 grand prizes according to Sentinel Research:
Jan 1993: $10,000 (scratch-off ticket)
Aug 1997: $13,696.03 (Florida Fantasy 5)
June 2000: Holiday to Los Angeles, value $3,594.66 (scratch-off ticket 2nd chance draw)
Oct 2001: Holiday to Memphis, value $4,966 (scratch-off ticket 2nd chance draw)
Jan 2002: $842,152.91 (Florida Mega Money)
Nov 2008: $73,658.06 (Florida Fantasy 5)
Aug 2010: $98,992.92 (Florida Fantasy 5)
As you can see, he hasn't managed to hit the jackpot since 2010, despite the fact he's playing daily.
Can You Really Increase Your Chances Of Winning The Lottery?     
In a lottery game where you pick 6 numbers from a possible 49, the chances of all your 6 numbers being drawn are 1 in 13,983,816.
That's just 1 chance in almost 14 million.
That means if you play every single week you could only expect to win about once every 269,000 years!
Wonderopolis says playing the Mega Millions has even worse odds with a 1 in 175,711,536 chance. That's 1 in almost 176 million!
To give these numbers some perspective, here are a few interesting statistics from TheBalance:
The chances of being killed in a plane crash – 1 in 25 million
The chances of dying in a car accident – 1 in 5,000
The odds of being killed by falling out of bed – 1 in 2 million
The odds of drowning while taking a bath – 1 in 840,000
The odds of dying from a shark attack – 1 in 300 million
The chances of dying from flesh-eating bacteria – 1 in 1 million
The chances of being killed by lightning – 1 in 2 million
It's not all bad news though, there are lots of great things that are far more likely to you too, for example:
The odds of meeting a movie star – 1 in 1.5 million
The odds of becoming a movie star – 1 in 1,190,000
The odds of winning an Oscar – 1 in 11,500
The odds of dating a supermodel – 1 in just 88,000
Everyone who plays the lottery knows the chances of winning are almost next to none, but the idea of 'yeah, but it's possible' is enough to get people queueing up to buy tickets in the hopes of winning it big.
The real question is can Richard's Lottery Secrets actually increase the probability of winning? 
To find out let's take a look at some of his methods…
What are Richard's Lottery 'Secrets'?
1. Don't use the "quick-pick" numbers generated from the store's computer
Richard's logic is that by playing with a random set of numbers each time gives you less than a chance than if you used the same set of numbers consistently.
2. Keep your numbers the same
Richard's next top tip is to stick with the same set of numbers, don't switch them around. 
The only time you would change your numbers is when the win because he says the chances of the same set of numbers coming out again is almost zero.
Tips #1 and #2 are utter nonsense. It makes no difference if your numbers are odds or evens, prime numbers or not – the chances of a random set of 6 balls being chosen out of 49 balls is always the same.
3. Play consistently
Richard says, "Never miss a drawing in the game you're playing. Every Saturday, every Wednesday, every week," 
OK, I can't argue with this one. Not playing gives you a 0% chance of winning so yeah, playing gives you better odds. Did I really need to pay for this though? Seems like common sense to me.
Lustig's so-called 'formula' has been criticised by many, including mathematical professors who say there's no way to change the probability of your numbers coming out. 
Here's a great video from MoneyTalksNews.com which makes it very clear there's no way to increase your odds, no matter what your set of numbers is.
7 Dirty 'Lottery Secrets' Secrets Exposed!
1. They say it's free…
The first red flag I noticed when they said Richard's Lottery Secrets was free… but then they ask you to pay for the postage and packing.
What makes this really odd is that you're going to good this ebook emailed to you as a PDF file… so what's the handling fee for exactly?
In truth, they're using a low $3 fee to get you 'into the door' so to speak.  they can promote higher-priced upsells to you.
2. Fake countdown timer
Another red flag I see often when reviewing programs like these is when they put timers onto their websites. Designed to trick you into thinking this is available for a limited time only, this is a tactic used to pressure you into buying.
Hit refresh when you're on the page and you'll see the timer reset to 60 minutes.
3. The same course rehashed
Richard's Lottery Secrets is not Richard's first program he's tried to promote – this is just the latest in a long line of 'lottery busting guides' he's sold in the past. It seems that every couple of years Richard takes the same book and gives it a new name.
Sometimes he doesn't even bother to change the branding as you can see when you compare Richard's Lottery Secrets to his previous product – Lotto Dominator. 
4. Tons of negative reviews
Richard's previous product Lotto Dominator has TONS of complaints against it with people calling it an outright scam.
Richard also wrote a book entitled: Learn How To Increase Your Chances of Winning The Lottery that sells for a hefty $40.
Check out the Amazon reviews and they're NOT good. Nearly half of all people who bought the book gave it a 1-star rating.
Reading through the reviews it's clear the vast majority of people saw no value in what he was saying.
Here's a very typical reviewer who sums it up nicely:
5. You can't actually increase your odds
Here's the biggest secret of them all – playing the lottery is pure gambling – nothing more, nothing less.
It's a game of pure chance… where the odds are far from on your side.
It's not like a game of poker where there's an element of skill involved, it's just a numbers game. 
Richard's Lottery Secrets is nothing more than a money-making gimmick targeted at those people who actually think they can increase their chances of winning the jackpot.
Sure, there might be a few helpful lottery tips within the guide, but certainly, nothing you can't find for free with a quick Google search.
6. Be sure the upsells will come
Most people don't realise that low-priced products like this almost always come with more expensive upsells. This one is certainly no different!
Richard tells people promoting Richard's Lottery Secrets they can make more than $250 per customer.
But it's just $3 for shipping right? Wrong.
Once they've got your email address they'll be pushing a lottery software system and yet more lottery courses onto you – so watch out for that.
7. "Typical result equals zero"
Remember all those promises in the sales video they gave you about helping you win the lottery?
It turns out this is simply untrue.
Check out the legal disclaimer at the bottom of their website and you'll see these tips will make absolutely no difference to your chances of winning:
Is Richard's Lottery Secrets A Scam?
I wouldn't say Richard's Lottery Secrets is an outright scam because there may well be a few helpful tidbits of information you can get from it.
But do I recommend it? Nah, it's just not worth it.
Even at $3, you can find more helpful lottery tips on YouTube for free.
Despite all the hype and sneaky sales tactics, there's no way to beat the lottery and anyone who tells you differently is not telling you the whole truth. 
Want some honest advice?
If you spend $150 per year on lottery tickets, consider putting it into a savings account instead. At an 8% interest rate, after 40 years you'd have more than $38,000 sitting in that account.
Now that's a $38k jackpot you can count on! 🙂
Why I don't play the lottery
I don't know about you, but I don't like to leave things to chance, especially when it comes to my financial future.
That's why I started my first online business in 2014 and built it up to the point I'm now making over $7,000 a month.
Luck had nothing to do with it!
I just followed the right training, took massive action and worked hard to make my online income goals come true.
Success will always follow those are bold and brave enough to make it happen.
So, if you're ready to make a real difference to your bank account balance then take the same training I did and it'll show you exactly what you need to do.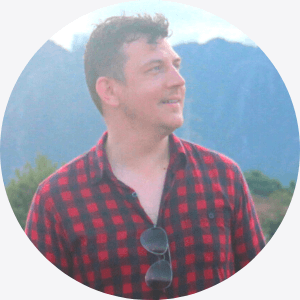 About Simon Crowe
Simon launched The Make Money Online Blog on a mission to help aspiring entrepreneurs kiss their bosses goodbye.
Get his free Affiliate Marketing Guide For Newbies to learn exactly how to make your dream business a reality.