Is Profit Suite really the last software you need to buy online? Or is this all-in-one online business tool just a scam?
Hello again and welcome to today's review. I'm IG you're resident make money online researcher and blogger.
After doing almost 200 make money online reviews, Profit Suite is the first of its kind I've reviewed. I've done funnel-builder reviews with built-in image editors but that's mostly it.
Just looking at how much it offers, it can be a pretty good deal. But there's more to know that cheap price you have to pay.
You might just be in for a surprise. It might not be the best deal you thought it was.
We'll consider what Profit Suite really is, its sales page claims, and what you get when you buy it with some hardcore decision truths you should know before bringing your wallet out.
If you're ready, let's get started.
Profit Suite Review At A Glance
About: Profit Suite is a website hosting, autoresponder, image editor, cloud storage, page builder and video meeting platform rolled into one.
Price: $16.93 for the front-end and $227 for 5 upsells.
Pros: The cloud storage works. 
Cons: All other tools aren't as functional as what they're made to look like.
Verdict: Profit Suite is not a bang for your buck. With most of its functions not working as promised, it's safe to say it's a scam.

What Is Profit Suite?
Profit Suite is an online business-based product by Mick Mckay and his friends. It's a package of web hosting, storage, autoresponder, image editor, page builder, and webinar tool.
The sales page ridiculously claims paying for independent tools will cost you so much.
Here's a how they break it down: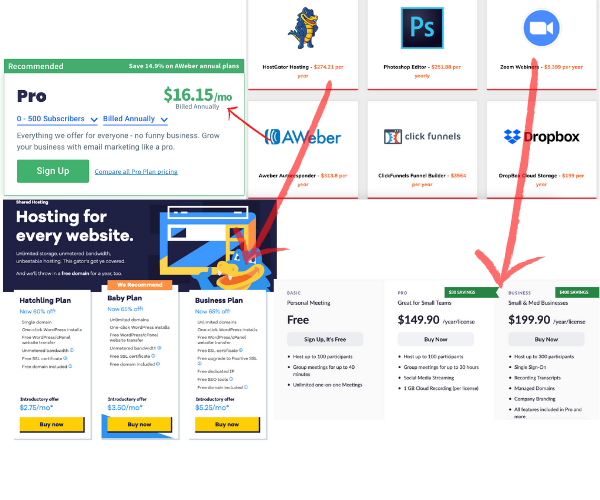 The truth is, the real cost if this tools are just a fraction of what they said it to be.
They're just overestimating the prices to make it seem buying Profit Suites is a no brainer since it can replace all these other tools with this cheap alternative.
First lie right there which also means first red flag.
Cracking The Sales Page Hype
Mick and his friends inflates the value of Profit Suites too much by claiming: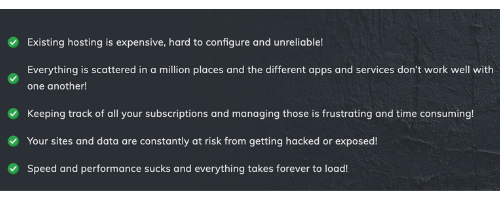 No, hosting is not as expensive as they say. I just showed you how they really cost.
2. Many times, there's a benefit of using independent software for different purposes. You're not putting everything in one basket so if one breaks down, you won't have to lose all other tools.
The independent software he mentioned earlier had substantially good record of being credible against hacking, they've been existing long enough to prove your data are safe.
3. A barely 3-month-old software like Profit Suite is riskier since it has no proven track record yet.
4. Speed and performance don't hugely rely on the apps you use but on how you design and structure your web pages.
How Much Is Profit Suite?
Profit Suite is originally priced at $16.93. But when you try to exit the page, you'll be given a $2 discount to persuade you to opt-in. There are also the 5 upsells that total to $227.
I'll run you down through the upsells a bit to show you why it's not good choice to opt into most of them.
Upsell 1: Pro ($27)
This supposedly removes all the restrictions.
Hold it right there.
This outrageously means the features you get in the front-end is not as unlimited as to how they said on the sales page.
Upsell 2: Enterprise ($37)
You'll supposedly get a video player for I don't know what, and email sender so you don't have to pay for MailGun or Amazon API, and "automated traffic" which is actually just tapping to social media to share your links.
Upsell 3: Bundle ($29)
It supposedly gets you access to future products and webinars, but there's really no certainty of any new products because Profit Suite is really new. You don't know how long it will be around.
Upsell 4: Reseller License ($67)
Paying for this gets you the right to sell the software and keep the earnings 100%. But you'll only find this useful once you prove it really works. Otherwise, you can't convince others it's worth their buck.
Upsell 5: Done For You ($67)
This gives you the right to use the software to offer services.
Then there's the kicker:
Most of the tools don't work so you'll be paying for something that doesn't really work.
You're also said to get affiliate marketing training and product review software. A lousy software.
I don't suggest you use it because you'll just be copying and pasting others' content and spin it to make it look original.
Your immediate problems here are, you can be sued by the original content owner for duplication, and using a content spinner will make the content sound robotic. People will have a hard time reading it.
How Profit Suite Works
Profit Suites works as a web hosting provider, cloud storage, autoresponder, funnel builder, image editor, and video streaming platform rolled into one software.
The sales page says using it is a fast as 1-2-3.
1. Login to the dashboard.
2. Choose any of the tools you want to use.
3. Enjoy it's use.
Profit Suite Deal Breakers
1. Photo Editor
This tool only lets you upload the photo. But once you try to click on it to start editing. You'll be irked. It won't open the editing window so you can't do any tweaking to the photo.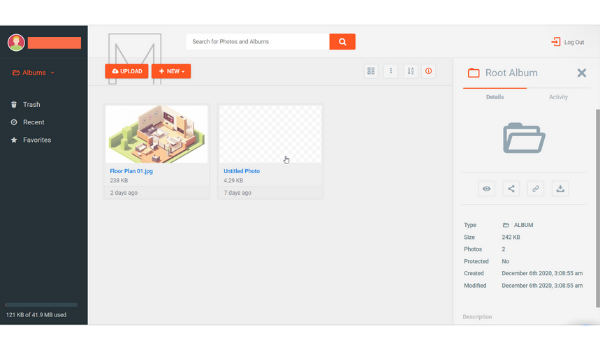 You're better off using the free version of Canva. You get a whole lot more editing features even for the free version. And it's guaranteed to work, unlike Photo Suite's photo editor.
2. Autoresponder
This is a full-service autoresponder because you use other sending servers like Mailgun or Amazon API.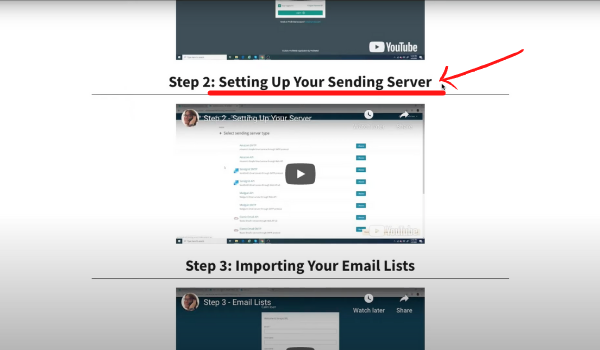 The funny thing is, they recommend these 2 servers because they're supposed to be free.
They're not.
With Mailgun alone, you may have the free use teaser, but you'll eventually need to choose between 3 plans with prices ranging from $35-$90 per month.
3. Page Builder Plugin
They'll be giving step-by-step videos on how to use this tool and give you a list of their product which you can supposedly promote for free.
Again, that's not true.
Even if they already gave you the list of their products, you still have to reach out to them so they can give you access to promote those products and earn commissions for them.
The kicker is:
When you put the training video in action, download the zip file for the plugin, and install it on WordPress the process still works.
BUT when you get to the part where you start making a landing page it's not the same editor you get taught in the video.
And when you check it on WordPress' page list, you'll see the draft that when opened only looks like this: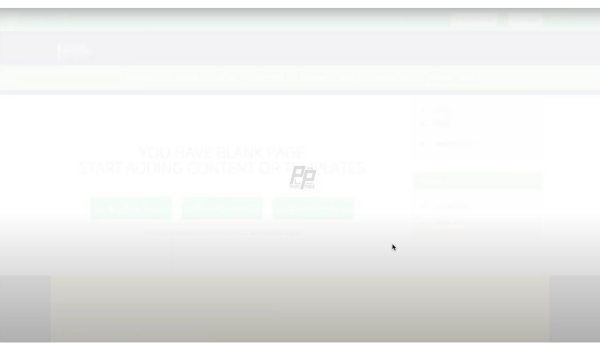 No kidding.
Useless, right?
4. Video Streaming Platform
You'll be taught about so many functions in the guide videos, but you only get a quarter of those functions on the dashboard. (a tactic to get you to buy the upsells)
The worst part is, if you try and make do of what you just have and create meeting, you'll be brought nowhere. You can't create a video meeting at all.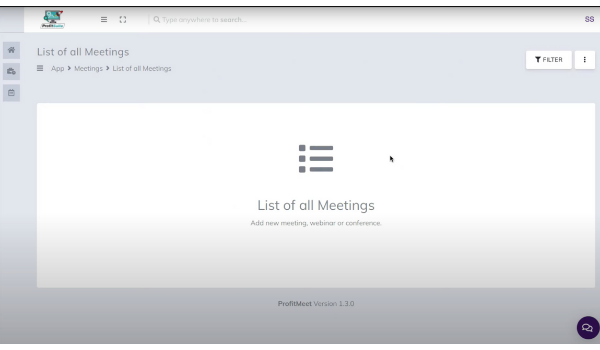 Basically, you're paying for something that's not even functional!
5. Hosting Service And Storage
The sales page brags everything is unlimited. Unlimited hosting and storage.
But the thing is, unless you buy the upsells, you won't really enjoy the "unlimited" feature.
If there's one thing among the 6 tools that work, it's the cloud storage.
It's actually pretty decent because you can share a file and have the option for the access to expire after some time, require a password, allow editing or not, and allow to download or not.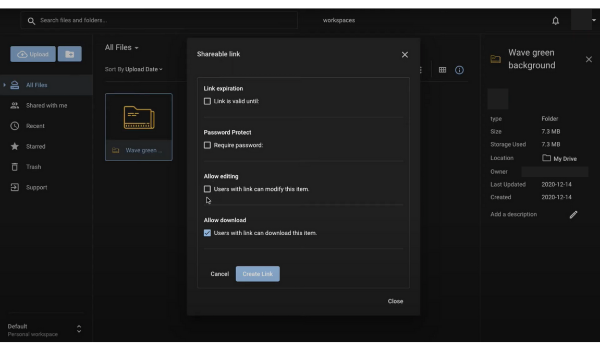 But then again still this software is really new, it has no proven track record yet. So I suggest you keep backup files so in case it shuts down, you'll still have your files with you.
My Thoughts On Profit Suite
The online world will be chaos if this software really worked as it claims to. (But as you saw earlier it really doesn't)
And it's misleading to say everything is unlimited because it's not unless you pay for the upgrades.
The training? It's just a guide on how you set things up and not actually why you need it. You're not even taught how and when to use any of the tools.
One user even expressed the videos are really shabby: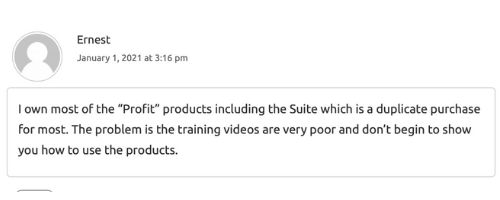 Logically, what's a beginner going to do will all these tools? It's safe to say Mick and his friends expect users to already know how internet marketing works and have ample experience in the industry.
But if you think about it, if they were targeting experienced marketers, I highly doubt they'd get anyone interested!
Plus, remember he overpriced independent tools like AWeber, HostGator, and Zoom on the sales page? Even discrediting them because of monthly fees?
If you think paying one time is good for your pocket, think again.
If there are no ongoing fees, how will the software be maintained? Who will develop upgrades for it?
At the end of the day, I'd choose using tools with proven track record than with one that's barely 3 months old. You're not even sure if it's just here today and gone tomorrow!
Is Profit Suite A Scam Or Legit?
Profit Suite is a scam. Although you get the software, it's not as functional as what they make you believe, and this deception makes them a scam. Even if it's just worth $17.
They even promote GetResponse when they supposedly have their own autoresponder tool.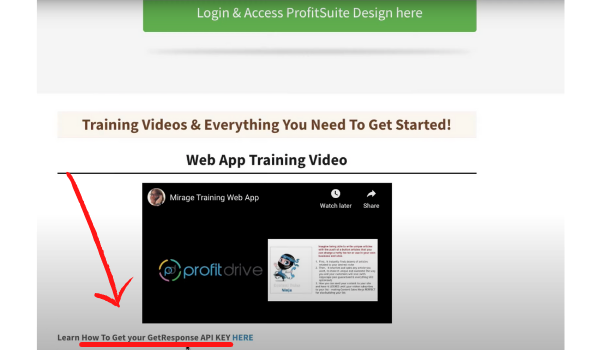 Try and get a refund?
Sorry but you aren't getting any. Here's what one user has to say:

What Do You Do Now?
If you're a beginner who initially taught Profit Suite is the quick fix to build your online business, you're probably disillusioned by now. And that's good!
When you're just starting out in making money online it can look like there are so many things to learn, and so many things to do to the point you get overwhelmed.
Profit Suite won't make things easy for you. It doesn't even teach you why you need these things for your business and when you need them!
To avoid getting fooled with fix-it-alls like Profit Suite, you have to learn about the business yourself, so you'll know what tools you need.
Affiliate marketing is a thriving business model to work on.
You build a website in a topic you like, fill it up with content to prove you're a credible authority in the niche, and monetize it with affiliate offers.
Wealthy Affiliate will show you the step-by-step process of building your business. And it also teaches you what tools you actually need!
To make sure this is the right fit for you, you can try the 10 free lessons first.
If you're interested to know more, check out this comprehensive Wealthy Affiliate review to get you started.
What's Your Take?
We're you disappointed to know Profit Suite isn't really functional? Did you think there's a huge training gap? Tell us what you think it the comments below!
Simon Crowe is on a mission to help as many people as possible kiss their bosses goodbye.
Take the free Commission Academy course to discover how to smash your online income goals and make your dream business a reality.