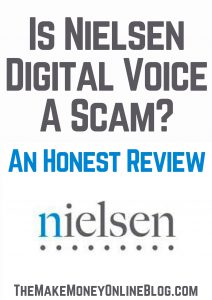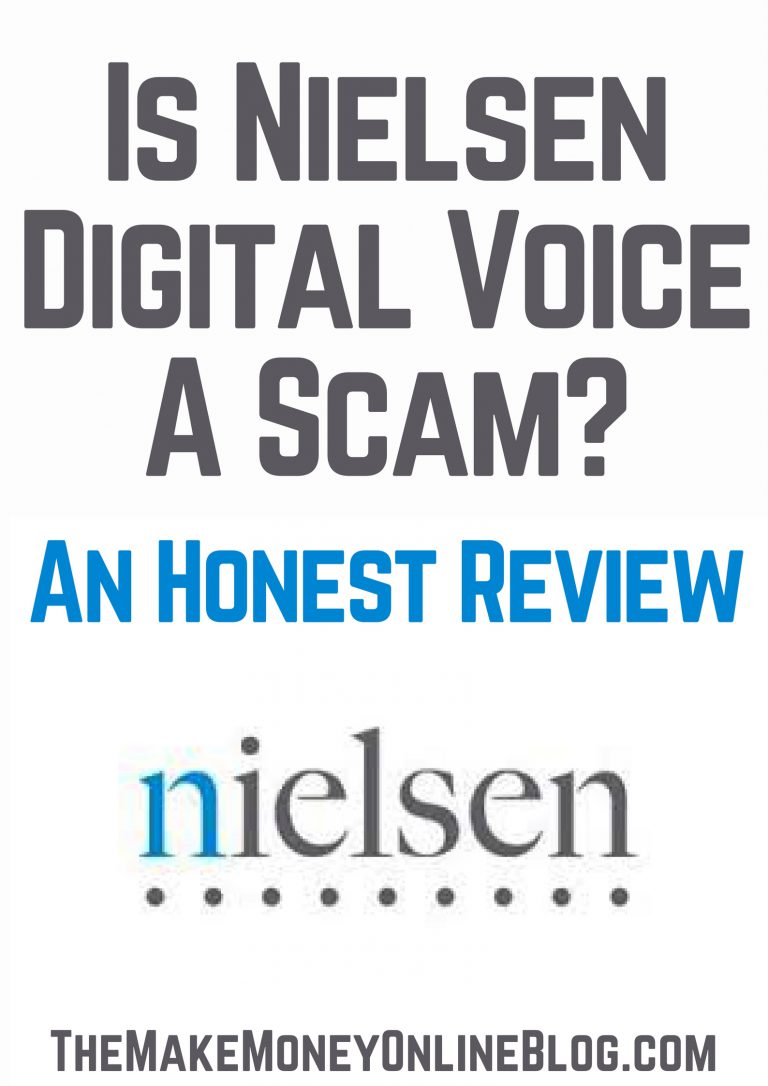 At first glace, the Nielsen Digital Voice app looks like a passive way to make money without doing anything, but is this really the case?
In their quest to 'shape the digital world' Nielsen wants to know your habits, interests and reasons for going online.
In this review we'll be asking: is Nielsen Digital Voice a scam or legit and is it worth downloading it onto your mobile devices?
And so you know, I'm not sponsored by or affiliated with Nielsen in any way and they're not paying me to write this review. I just say what I think.
I'm just an online entrepreneur who's always on the lookout for what works and what doesn't so I can help people learn how to make real money online.
Nielsen Digital Voice Review At A Glance
About: Nielsen Digital Voice is the research leg of Nielsen Holdings.
Price: Download the app for free or sign up in the website for free. You just have to be a US citizen.
Pros: Owned by a reputable company.
Cons: Invasive, uses heavy mobile data, and drains gadget battery fast.
Verdict: While it's not a scam. Nielsen Digital Voice is not worth recommending either. Other than the cons mentioned earlier, making money from this will be elusive.

What We'll Cover In This Post:
What is Nielsen Digital Voice?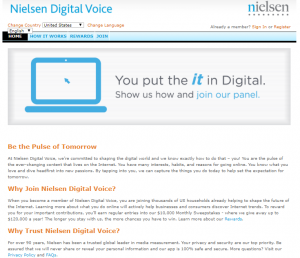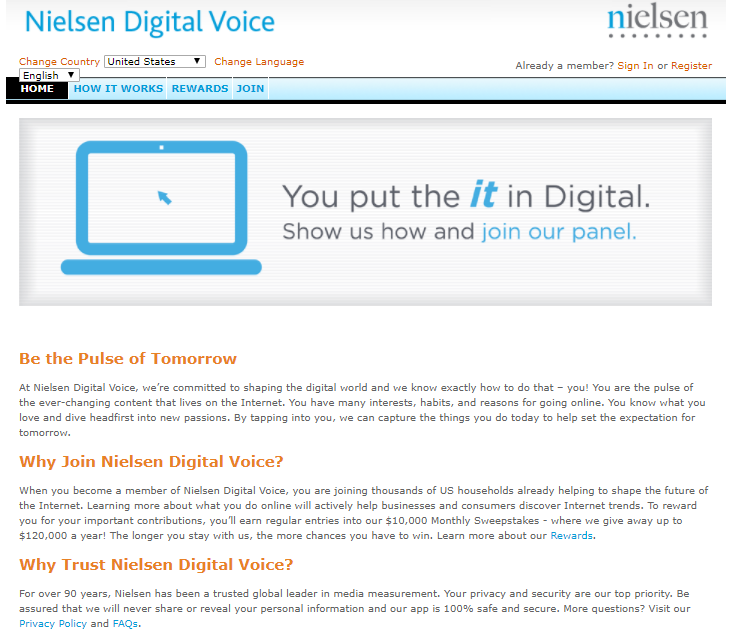 Nielsen Digital Voice is an internet-based research company that want to understand what sites we look at and how we behave online.
They're a part of Nielsen Holdings who have been around since 1923. Generally speaking they're very well-known and respected.
Once you become a panel member you'll be given instruction to download the Nielsen Digital Voice app onto your smartphones, tablets and laptops.
How it works
As long as you're a U.S. resident you sign up through the website or download the app via the Google Play Store. Set up takes about 10 minutes to complete. Although this sounds simple enough, there's one vital flaw here…
In the image below you'll notice they don't say you'll earn money and the reason is this: you will not make money with this app. Instead, you'll be given a sweepstake entry once a month.
Your chances of winning are infinitely small and there are no gurantees you'll ever receive any reward or payment for having this app monitoring your devices 24/7.

Once Nielsen Digital Voice is installed, it will start to track your usage in the background.
They'll collect and analyse data surrounding what websites you're visiting and for how long, how often you and atw what times you're online, how often you check your email and what kind of videos you watch on Facebook.
It has to be said that this app strikes me as extremely invasive and I'm shocked Nielsen are expecting people to hand over every small detail of their lives over to them just for a very slim 'chance' of winning.
The app has had over 100,000 installs! It never siezes to amaze me that if big companies dangle the carrot of possible winnings in front of people they can make them do almost anything.
Last week I reviewed the Smart Panel app (See: Is Smart Panel A Scam?) that monitors your internet use in pretty much the same way. I mention this because at least they have the decency to pay users $5 a month for the privilege of being monitored around the clock.
What are your chances of winning the sweepstakes?
According to the Nielsen Digital Voice website they've awarded prizes of owver $900,000 so far in their monthly sweepstakes.
Every month the total prize amount is $10,000 divided by 404 people as follows:
$1,000 (2 winners)
$500 (2 winners)
$100 (25 winners)
$25 (50 winners)
$10 (325 winners)
Although I think they legitimately pay sweepstake winners, because we don't know how many other panelists there are, we have no way of working out what you chances are.
This is the only reward incentive Nielsen Digital Voice offer. There's no way to get more than one entry per month, no way to refer friends for bonus points or anything like that.
If you're really looking to make any decent amount of money at all then this is not the app for you.
If Nielsen Digital Voice are not willing to pay panelists properly (like a set monthly amount) then in my opinion they don't deserve to have all out access to everything you do in the online world.
Nielsen Digital Voice reviews: What others say
I'm shocked to see that with over 3,500 app reviews, 49% of them are at the lowest 1 star rating. I don't know if I've ever seen an app with this many bad reviews ever. Not a good sign!

Scrolling through Nielsen Digital Voice complaints on sites like Survey Police, there's a couple of major issues people are experiencing.
Big Brother is watching you
On their website Nielsen tell us our privacy and security is important to them. (So why do they want to monitor us?) and they reassure us that things like our log-ins and passwords will not be recorded.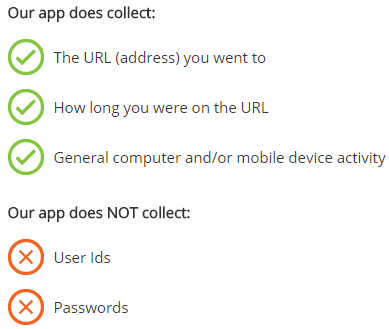 I'll be honest and say this does little to bolster my confidence. I can not shake off the huge invasion of privacy this so-called opportunity presents.
Here's the deal:
The company will gain access to information about EVERYTHING you're doing online and for what? If for any reason you have to switch your device off you won't even be entered into the prize draw for that month.
Are you really willing to hand over your personal information for the infinitely small possibility of you winning something one day?
The app uses tons of mobile data and slows devices down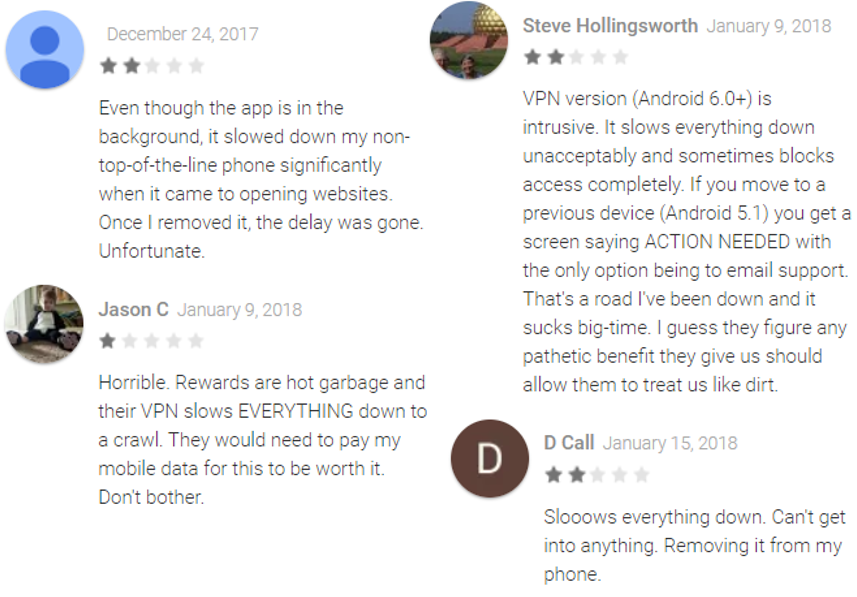 This is by far the biggest complaint online from users who have install the app and then uninstall it again as soon as they see how it effects their smartphone performance.
Is Nielsen Digital Voice a scam or legit?
Should you download it and use it on your phones, tablets and laptops do data analysts can watch your every move? I know I won't be.
It's not just about privacy either. The app drains your battery life, consumes mobile data and slows everything down and for what?
Knowing Nielsen is a reputable company, I had high hopes for this app as a legit money maker but clearly, you'll not make a penny from this app.
When you look at all the so-called money-making apps out there, you're very rarely going to make a few cents, if anything at all which is why I learned how to create my own internet business in 2014.
I followed this free beginners training course that you might want to check out.
It'll show you everything you need to know about making serious money online legitimately (and without giving up your precious privacy.)
Yes, you need to put in the time and effort to make your business grow initially, but the amount you earn could outgrow your full-time income for years to come.
Simon Crowe is on a mission to help as many people as possible kiss their bosses goodbye.
Take the free Commission Academy course to discover how to smash your online income goals and make your dream business a reality.