There are times when I'm reviewing an online program and I have to do a little digging. With this site I don't have to.
Is Money Make Life a scam? Yes, one I've seen many times before.
Money Make Life is one of many cloned websites littering the web that uses lies and deception to persuade people like you to give them your personal details.
In return, you'll be tasked with promoting this site to your family and friends so the cycle can continue.
Let me show you why you're not going to make any money with this site and why spamming Facebook with links isn't the way to earn a full-time income online.
Money Make Life Review At A Glance
About: Money Make Life is an online earning opportunity. You supposedly share referral links on social media to make money.
Price: Free to join.
Pros: Nothing that we can think of.
Cons: Never pays out, copy and paste site, identity fraud risk.
Verdict: It's definitely a scam. Spamming people of Facebook is not a legit and sustainable way to make money online.  

What is Money Make Life exactly?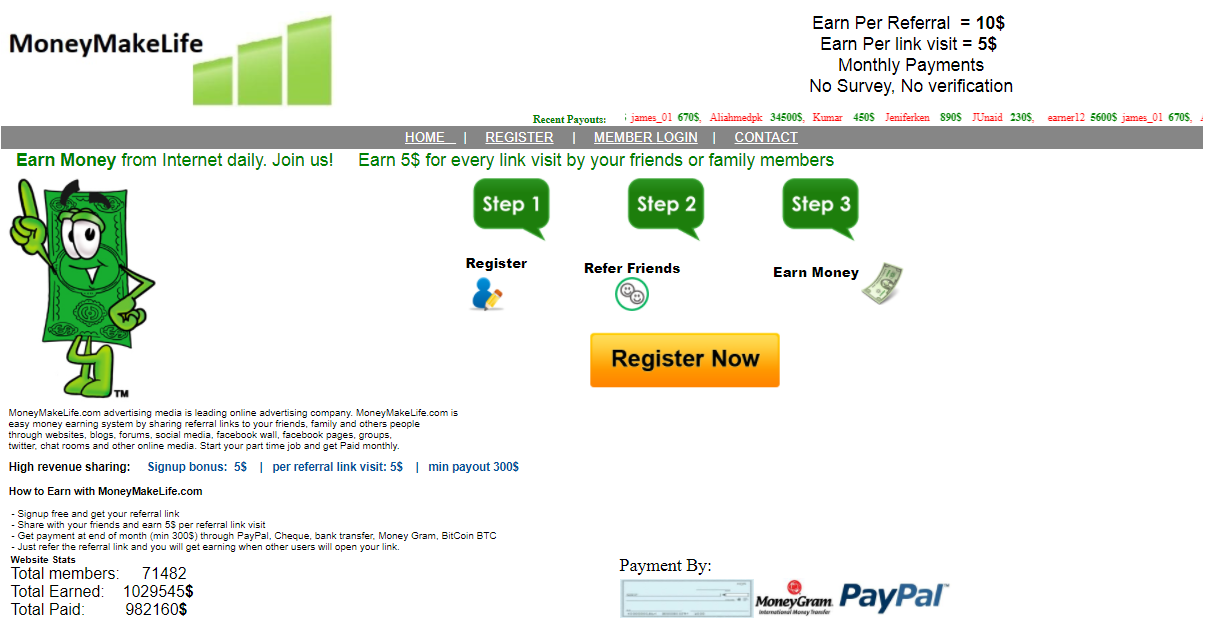 MoneyMakeLife.com is a website that was created in August 2017 that asks you to sign up using your name email address and password.
If we're to believe everything we read on this strangely-named, grammatical-error-filled site then they provide you a way to earn from the internet daily.
How do you do it? By signing up for a free account to access the unique referral link you can then use to spam everyone you know.
They claim they'll pay you $5 for every click and $10 for every referral but minimum cash out is $300. But this is utter bull crap. Let me show you why…
Why Money Make Life can NOT be trusted
1. They never pay out
That's right. The internet scammers here use the promise of easy cash to draw you in and start promoting their site for them free of charge.
As you post links on Facebook, Twitter and in forums and blog post comments and watch your balance getting closer to the $300 mark, you could be forgiven for believing you'll ever see a penny of that money. In truth, it's just a number on a screen that will never make it to your bank account.
2. MoneyMakeLife.com is a copy-and-pasted website seen many times before
When I say Money Make Life is just the latest in probably hundreds of cloned websites I'm not exaggerating.
So far I have come across at least a couple of dozen of work from home scams that look exactly like this including DutyTimes, DutyMoney, DutySet, DutyScreen to name just a few…
Why so many sites you ask? Because scammers shut down and open new sites all the time as a way to avoid too many complaints building up and reviewers like me exposing them.
By re-launching the link posting scam under a new name it allows them to capture a whole new set of unsuspecting victims.
Here's a screenshot from of a few of the sites made by the same internet con artist. Can you spot the difference?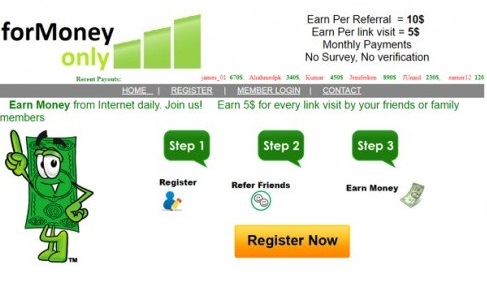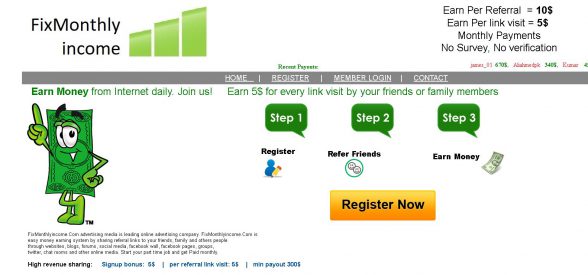 3. Money Make Life open you up to the risk of identity fraud
This is the most dangerous aspect to link posting scams, people think they're harmless because they didn't pay anything to join and will very happily enter their email and create a password without giving it a second thought.
I don't know about you, but I use maybe 1-2 passwords for everything because it's just easier for me to remember. So what do you think an online criminal could do with access to your email and password. They could access your internet banking, social media accounts and so on.
What makes it even worse is when you've finally reached the $300 minimum withdrawal limit you are asked for your PayPal account information.
Whatever you do, do not give them any of your information. It only puts you at risk of identity theft and fraud.
Is Money Make Life A Scam?
Yes it is, absolutely. One where the scam victims unknowingly encourage their close friends and family to join.
Trust me when I say you're never, ever going to make any real money by spamming Facebook groups. The world doesn't work like that.
If a legit website wants to promote themselves, they can pay GoogleAds just $0.10 per click or run a Facebook ad campaign for $0.20 a click. Whenever someone offers to pay you upwards of $5 for someone clicking on a link, stay well away.
Sick of all the phony scams? Try this instead
I used to chase every so-called profit busting system and program out there until I found a real way to earn more than $6,000+ online without the scams.
Click Here for the exact formula I followed. No hype and no stupid gimmicks.
Yes it takes time and effort to get it initially set up, but there's real earning potential here to replace your full-time income if you are determined enough to make it happen.
Simon Crowe is on a mission to help as many people as possible kiss their bosses goodbye.
Take the free Commission Academy course to discover how to smash your online income goals and make your dream business a reality.