Scammers are all over the place, this includes the forex field. I sure don't want anyone to get involved in a scheme they will regret in the end so this review will inspect if IQ Option is a scam or your surefire way to make money online.
You'll get to know what IQ Option is all about and a whole lot of things I dug up while doing my research. What you'll know is the ultimate game-changer so stick around if you want to get one step ahead in making money online.
IQ Option Review At A Glance
About: IQ Option is a financial services platform offering stocks, commodities, ForEx, ETFs, and cryptocurrency.
Price: Creating an account is free.
Pros: Affordable minimum deposit, various assets to trade, has a demo trade option, and is regulated by CySEC.
Cons: Not regulated by FCA and FSB, uses binary option, doesn't trade in large countries, poor customer support.
Verdict: IQ Option is not an outright scam but investing using this platform is too risky especially because not all financial regulatory boards gave this permission to operate. 

What Is IQ Option?
It is a financial services platform based in Europe that started in 2013. They offer assets like stocks, commodities, ETFs, forex, and cryptocurrency.
Other than that, there's no other background information given on the website.
This kind of grinds my gears because most people, including me, check for credibility first and foremost.
There's no information on who owns it and about any licenses, they got to make their transactions legit.
I had to use my virtual shovel to find proof of the many claims on the internet that they have a CySEC license.
Things would have been easier if they put it on the website, but no they didn't. If you want to know more about IQ Option, you still have to use your internet sleuth skills to find them.
How To Join IQ Option
It's quite simple. You just have to give your name, email address, and provide a password they you're good to go.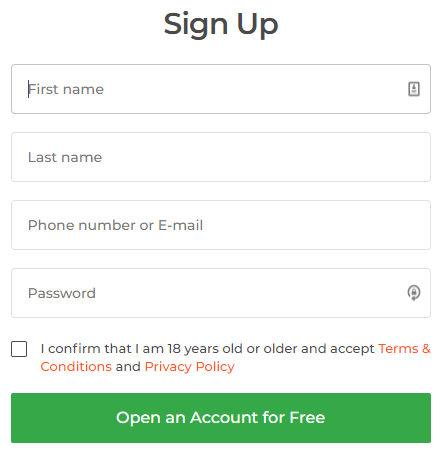 How It Works
First, you have to make an account, then you can try out how the trading will go with a demo account, and when you're ready to trade you make a deposit and start the actual trading.
Deposits
Amazingly, unlike other trading platforms, you can start trading with IQ Option for just $10.
Withdrawal
You can withdraw your earnings in various ways. You can do bank transfers; use WebMoney, Skrill, Neteller, Advcash as well as Visa and MasterCard cards.
Live Accounts
When you're ready to shift from demo to actual trading you can choose between two options: Real Account or VIP Account.
Real Account is the entry-level account where you can start for $10. This account lets you access 70 assets to trade.
VIP Account is the account where you will be placed if you trade more than $3,000. By having a VIP account you can have your own account manager who can help you with any questions about the platform. You can also gather reports on monthly records if you have this type of account.
Trading Instruments
For forex, stocks, and cryptocurrency, IQ Option offers these as CFDs.
IQ Option also has 2 option instruments: Binary Option and Digital Option. These instruments have a defined loss and profit, expiry time and price, and premium.
There are also features that IQ Options put in place to help with your trading:
Analysis and Alerts – This includes a news feed and economic calendar, technical indicators and widgets, and price alerts.
Risk Management – these are the "stop-loss" and "take profit", negative balance protection, and trailing stop. This helps you manage profits and losses so you won't lose more than what you can handle.
Trading Community – you can join the community to talk about trading ideas. You can also follow other traders and copy their trading strategies. This is a great feature if you still don't know much about how trading goes. When you find an expert trader who makes good deals, you can simply trade as he does.
Mobile Trading – you can trade on the go and you don't have to get stuck on your computer.
What I Like About IQ Option
1. You Can Use Demo Trade Without A Limit
Unlike other platforms that only allows a few days of demo trading, IQ Option allows you to use the demo trade as long as you want.
2. Cheap Minimum Deposit
With just $10 you can start the actual trading.
3. Variety Of Assets To Trade
You can do forex, stocks and cryptocurrency among others.
4. Regulated By CySEC
This means security measures are put in place to qualify this platform for legit trading.
What I Don't Like About IQ Option
1. Not Regulated By The FCA And FSB
One regulatory office is not enough to ensure the safety of your transactions. This platform also has to have a license from the FCA and FSB because IQ Option is operating under their jurisdiction.
2. Complaints About Customer Service
Some users complain about bad customer support service and this is an important part of online transactions because not everything will always go smoothly. Good customer service will put a user at ease that everything is under control and he will not end up losing his money.
3. Uses Binary Option
Binary Option is not put in a good light. Warnings are issued by the FBI and Investor.gov because of the dangers of using binary options.
4. Lack Of Transparency
For a platform handling your money in business, you need to have a name and face behind it so you can build your trust. Sadly, IQ Option failed in this part.
I mean come on, will you trust a stranger who knocks on your door and promises you big money in business if he doesn't tell you about who he is? Of course not!
Other than that, IQ Option gives you a hard time in finding out if they really did have a CySEC license because there's not even a shadow of it found on the website.
Personally, IQ Option is not a platform I can easily trust.
5. Doesn't Operate In Large Countries
This is the worst part. IQ Option doesn't operate in the US, Canada, Australia, Japan, Belgium, Turkey, Israel, Iran, and Syria.
What does this tell me?
It tells me that IQ Option is trying to avoid tighter security protocols that are put in place in the said countries. And when something avoids security, there's something not good up their sleeve.
Is IQ Option A Scam?
If the CySEC license is all that it needs to prove they're legit, then they maybe are. But I found something pretty disturbing.
I went over to the website's Privacy Policy page and saw this.

I wasn't really familiar with the place but basically, it's an island in the Caribbean so I did more research and I found this out.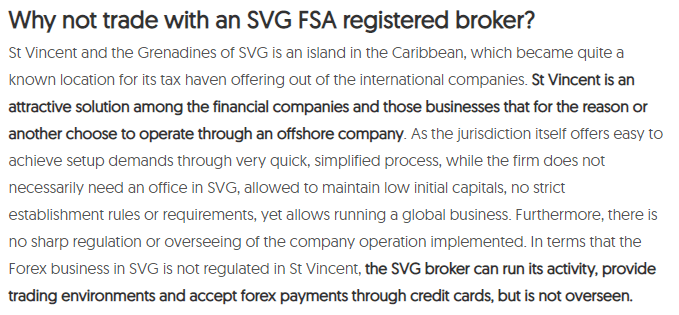 There's a lot of risks involved here. It just shows that having their registered address in St. Vincent and the Grenadines means it's really easy to start a business there because it's not as strict as other countries.
This also allows them to accept payments without oversight, which means more chances of underground transactions.
I don't know about you but this tips the pointers more on the scam side than in the legit side for me.
I'm not even done yet.
When I was doing my research on St. Vincent and Grenadines, I also stumbled into this.

That's a big fat red flag for me!
Do you still think you can trust IQ Option?
IQ Option Bottom Line
Everybody knows the basic fact about a business like IQ Option, Forex is risky. I even dubbed it as "forisk" in my FBS review.
Sure, the hype is all about how much money you will make with this fast and easy, but they try to hide how much you can also lose in the process.
Making money online isn't complicated…
This video will show you exactly how to get started. Tap to watch now »
Not just that, there are also all the shady revelations I found when I did my research.
So if you ask me, this is not the smart way to make money online. So much for being named IQ Option.
Sure, they try to make you feel you can earn with this by giving you insane outcomes in your early trades, but when time goes on it will just be a series of losses.
There's not even a thin strand of hope that I will recommend in to you.
My suggestion if you really want to make money online for the long run you better try out affiliate marketing It's a wayyy better opportunity to make money online.
Forex trading will require you to have some skills to avoid losses. With affiliate marketing, you can start from scratch and for free!
You'll get the training you need plus a group of affiliate experts to consult on the way.
Affiliate marketing also lets access the necessary tools to build a solid and legit business that will be good for the long run. It can eventually help you leave your crappy old day job.
Plus it doesn't come along with the risks forex has.
If you're ready to test the waters out, check out this link.
How I Make A Living Online?
After years of working in call centres I finally figured out how to create a 5-figure monthly passive income stream and become financially free.
Thanks to the right training and a lot of hard work I kissed my old boss goodbye and booked a one way ticket to Thailand.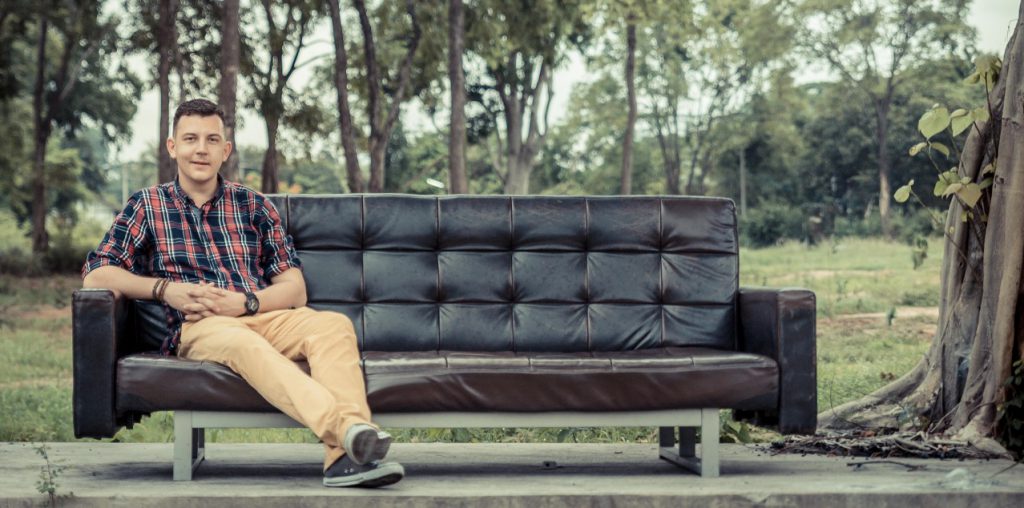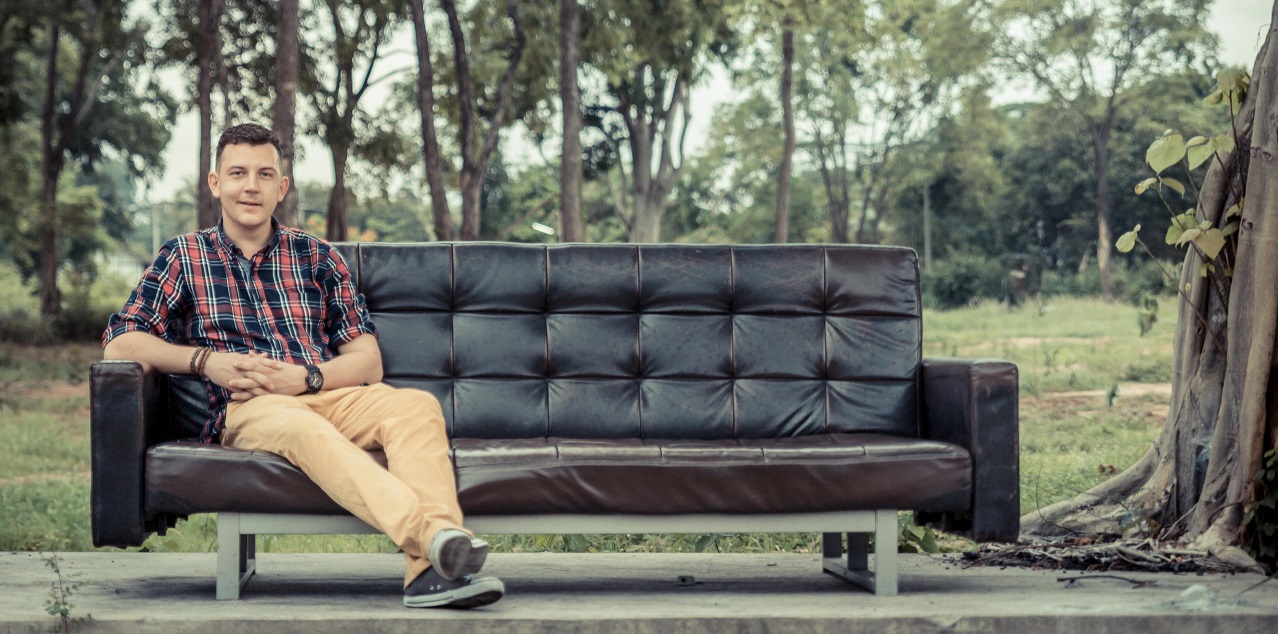 So if you're serious about building a thriving online business, click here for the exact step-by-step formula I follow.
Tell Me What You Think
You want to avoid as much risk while at the same time increase your chances of solid income right? Share with us your thoughts by dropping it down in the comment section below.
Simon Crowe is on a mission to help as many people as possible kiss their bosses goodbye.
Take the free Commission Academy course to discover how to smash your online income goals and make your dream business a reality.