Founded in 2011, InstaGC is one of the internet's most popular get-paid-to rewards sites where you can take surveys, watch videos and complete quick and easy tasks to make a bit of extra money online.
But before you go ploughing ahead and investing hours of your time into this it would be good to ask:
"Is InstaGC a scam or actually legit?"
In this InstaGC review we're going to be taking a good look at how you can make money with InstaGC as well as a few of the pros and cons.
If you're ready then I'm ready – let's get to it!
InstaGC Review At A Glance
About: InstaGC is a survey site that also allows you to complete free trials and refer others to make money.
Price: Free to join.
Pros: Pays in gift cards and cash, easy sign up, variety of available gift cards.
Cons: Confusing, time-consuming, account can be suspended for no reason.
Verdict: This survey site would have been good if not for the random suspensions. It's going to put your effort to waste.  

InstaGC review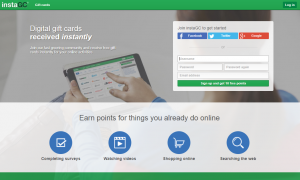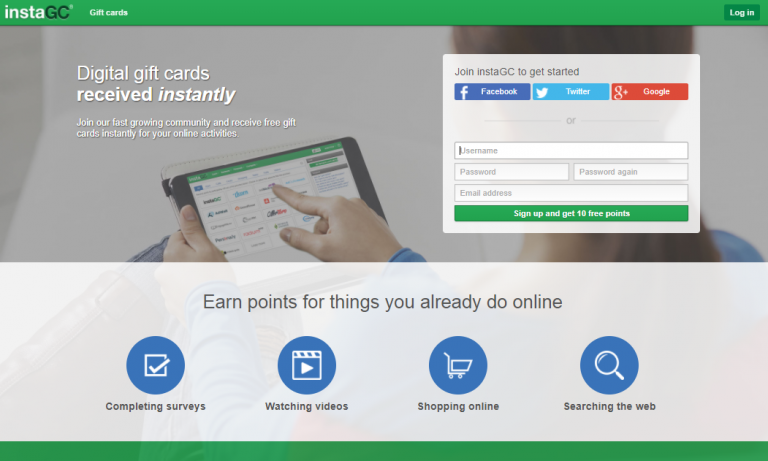 InstaGC.com is very similar in some ways to other reward sites I'e recently reviewed like the infamous Swagbucks and iPoll Surveys.
Short for 'Instant Gift Cards', this site is famous for it's low $1 cash out rate on a wide range of gift cards.
You can earn Amazon gift cards and PayPal cash for watching videos, downloading and testing apps, completing trial offers, taking surveys and searching online.
InstaGC have become a massive hit with students and stay at home mums looking to earn a bit of extra cash on the side.
As I write this review they have over 220,000 followers on their Facebook page and they're one of the few places I've seen that allow teens (13+) to take part with their parent's consent.
InstaGC has 3 out of 5 stars on SurveyPolice.com and they don't score too badly on PissedConsumer.com:

How to make money with InstaGC
Connect your Facebook or Twitter to create your free account and you'll get 10 free points sign up bonus before you've even started.
One thing I have to give to InstaGC is that they give their members tons of ways to earn points and build up their balance, so many that I can't cover every single one but they include:
answering surveys
completing simple tasks
downloading programs and apps
searching the web
signing up for free trials
visiting websites
watching videos
After spending a bit of time on the site trying out a few of the different ways to earn points, here's the 3 money makers I think have the most potential:
1. Taking surveys
Answer simple questions, get paid for your feedback, it's pretty simple right? Do this enough times and you'll see your balance gradually going up.
Every time I've logged in there are always a few surveys available. Most surveys take about 5 minutes and reward you with 25-50 points ($0.25 – $0.50) though you might find more in-depth questionnaires that pay you more from time to time.
2. Completing free trial offers
Under the 'Shopping' menu item you'll be presented with a wide variety of free trial offers and samples you can sign up for to get points.
A word of caution here though: if you forget to cancel any offers before the free trial ends you could find yourself paying out more than you make.
3. Make money by referring others through the affiliate program
InstaGC offer an affiliate program that offers you 10 points every time someone signs up through your referral link and then 10% of their lifetime earnings.
There is no limit on how many referrals you can introduce to the site. This is my favourite way to make money online. (To find out more check out my free 10 email course on starting your first affiliate marketing website.)
Here's an interesting video from someone who's been an InstaGC member for a while which I think shows a good live demonstration of the site:
How much money can you really make?
Like most reward sites, InstaGC runs on a point-based system. Let's take a look at how much each point is worth:
1 point = $0.01
100 points = $1.00
1000 points – $10
Personally I don't know why reward sites don't just show you the dollar amount, but I guess it's to try to cover up the fact that though you're making 1,000s of points, you're not making $1,000s.
You can cash out once you've reached the 100 point or $1 mark you can redeem a gift card. As you can see below, they've got an impressive array of gift cards on offer.
Once you're at the 500 point or $5 level you can ask for a cheque or direct deposit into your PayPal account.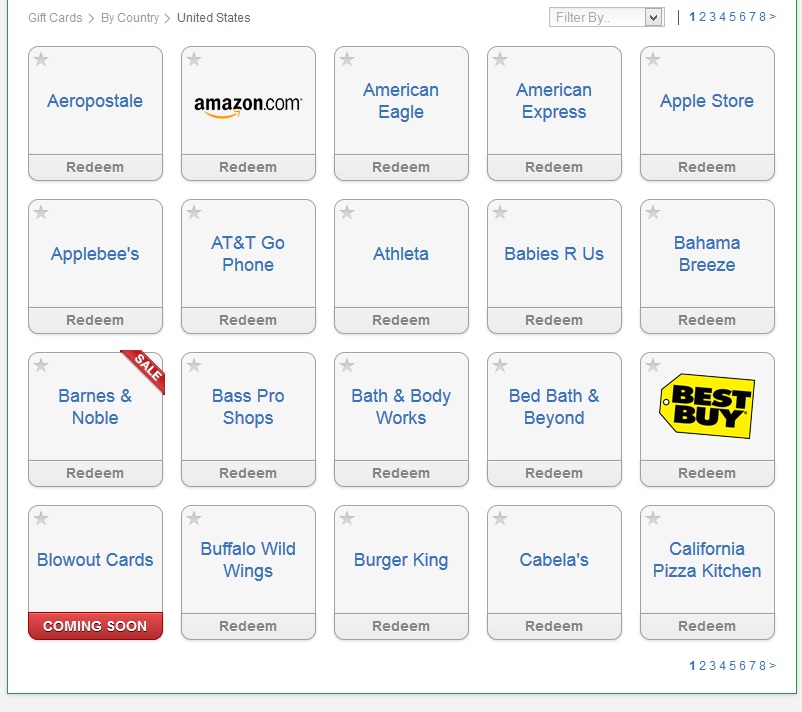 What I like
Sign up is easy and quick
Low $5 minimum payout
Different ways to earn points
They've been around since 2011
A wide variety of gift cards available
What I don't like so much
The site can be very confusing at first
Can be very time consuming
This is not a full-time money maker
Some people get their accounts suspended for no reason
Is InstaGC a scam? No it's not
Let's be clear, you're not going to become an internet millionaire filling out surveys and watching ads, but if you've got time to kill as you wait at the bus stop, then it's more worthwhile than doing a word search.
You can create your InstaGC account here.
On the other hand, if you're looking for something that's going to give you more substantial returns on your time then you really need to be looking at creating an internet business. Sites like Wealthy Affiliate have the training and support to get you to where you want to be.
Check out my Wealthy Affiliate review here to find out more.
Now it's over to you – have you tried InstaGC and did you make money doing it? Leave us your feedback.
Got any questions about this or any other make money online program then leave your comment below and I'll be more than happy to help you out. 🙂
Simon Crowe is on a mission to help as many people as possible kiss their bosses goodbye.
Take the free Commission Academy course to discover how to smash your online income goals and make your dream business a reality.