If you've come across InspiredOpinions.com then you're probably asking :
Is Inspired Opinions a scam or legit money maker?
That's exactly what you're going to know by the end of this review.
I see so many people desperate to make real money online go running to survey sites even though they're by far the lowest paying out there.
Sites like Survey Momma, Clear Voice Surveys and Survey Junkie make you fill out long and tedious surveys for less than $1 an hour and then make you jump through hoops to try to get your money, if you ever get paid at all…
Because some paid survey sites are better than others; some pay out, some don't, some disqualify you, others don't, some pay a few cents per survey, others $1. Some are a complete waste of time while others can be a steady side- income earner.
So how will this site do? Let's jump in and find out!
Inspired Opinions Review At A Glance
About: Schlesinger Associates' qualitative research services that also has in-person focus group services.
Price: Free to join.
Pros: Legit.
Cons: There are hardly any surveys available.
Verdict: Though legit, Inspired Opinion won't even pass as a sustainable side income source. You'll be able to participates once in a blue moon.

What is Inspired Opinions by Schlesinger about?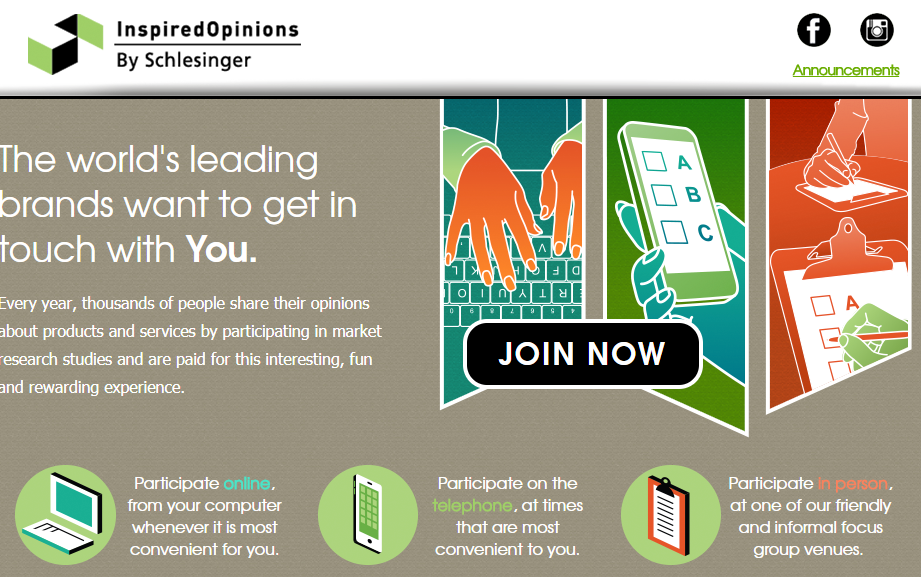 Inspired Opinions is owned and run by Schlesinger Associates who have been around for 40 years and have a good reputation so that's a good sign.
They've been awarded the top rank for qualitative research services and are a member of the Marketing Research Association.
As surveys are not always available, Inspired Opinions emails members with new surveys as they become available based on their profile.
They might ask you to fill out an online survey, complete a telephone questionnaire or ask you to visit any one of their 16 offices in the US for a focus group, though this is very rare.

Like most survey sites, Inspired Opinions uses a points-based system. 1 point equates to a cent so:
10 points is $1.10
100 points is $1
1000 points is $10
I really don't like points systems and I don't know why they don't just show you your balance in real monetary terms. My best guess is that these low-paying sites want you to think you're earning more than you actually are…
Once you've reached the $10 mark you can redeem your points for Amazon gift cards.
Focus groups pay well but are hard to come by
One of the biggest selling points of this site is the fact they offer in-person focus groups. Inspired Opinions will give you a $100 cheque if you're selected to attend.
They're usually only 1-2 hours which works out at a minimum of $50 hourly rate which is almost unheard of.
Sure, you're got to factor in traveling time and cost but it's still a worthwhile income earner, if only they came by more often. Some members complain that after joining the site 3-4 years ago they've still never been invited to attend a focus group.
I guess, depending on your demographic you may find them coming up now and then, it just depends on what kind of feedback companies are looking for and depending on your ethnicity, family situation, annual earnings etc.
Even online surveys are rare
If you're thinking of joining Inspired Opinions to access a never-ending supply of easy surveys then you're going to be bitterly disappointed.
You can expect to be well rewarded for your participation. The rewards may not come as cash, but that isn't necessarily a bad thing. This isn't a very time consuming panel, you'll probably get less than 10 invitations monthly.
This sheer lack of surveys seems to be the most common bugbear amongst members eager to make some extra cash. Here are just a few of the complaints from SurveyPolice.com: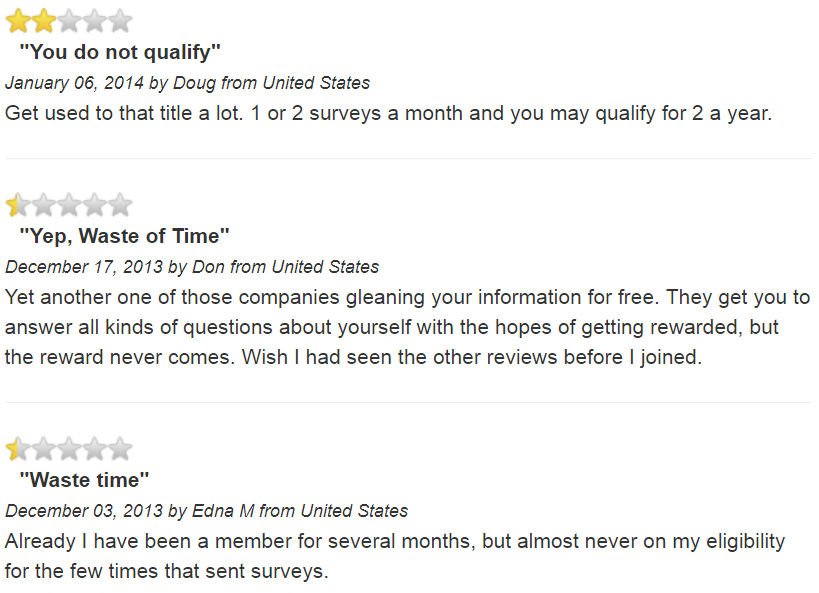 Most people seem to average somewhere around 5 surveys a month, though qualifying for them is a different issue.
Because new surveys are hard to come by, there's a big scramble when they do become available. This means if you're not ready to answer questions as soon as you get the email invite, you've probably missed it.
Worse still, you could be feverishly working your way through the questions when you see a pop-up telling you the quota's been filled.
Here's Inspired Opinion's response to this very common problem on their FAQs page:
[alert-note]Unfortunately you will not qualify for every survey we do, but we do our best to match you with surveys that closely match your lifestyle and interests.
Sometimes we have more members respond than expected and reach our quota for the survey quickly. We recommend your try to take the survey as soon as your receive the notification.[/alert-note]
Is Inspired Opinions a scam?
Inspired Opinions is not a scam and I believe they are a legit and safe site to use.
Compared to other sites, they pay very well, especially if you're lucky enough to be selected for one of their focus groups. It's just a shame there's not a more consistent flow of surveys coming through this site.
Should you become a member and use it to try make some extra money?
To be completely honest, doing online surveys will never earn more than minimum wage. At best, you can earn $5 – $10 a month through this site. You simply cannot rely on this for income.
My sincere advice to you
If you want to make serious money online then you need to forget about wasting hours of your time filling out mind-numbing questionnaires for a few cents an hour and instead, start a legit internet business you can earn a passive monthly income from.
I found a brilliant beginners training course that I think you'll want to check out.
Building a real online business takes time and effort to make it grow, but the profits are way higher in the medium to long-term. I started 4 years ago and I make $6,000 a month online today.
Simon Crowe is on a mission to help as many people as possible kiss their bosses goodbye.
Take the free Commission Academy course to discover how to smash your online income goals and make your dream business a reality.