Hi, and welcome to my Income Engine Lite review where we'll answer the question:
Is Income Engine Lite a scam or a legit way to increase your online earnings?
You've done the right thing by checking out this review. You and I both know there's no end of hyped-up products out there that promise the world but never deliver. Sadly that's just how this 'make money online' game works.
I am not an affiliate of Income Engine Lite. 
I write this unbiased review as a full-time digital entrepreneur to help people like you avoid scams and find a real way to earn an income online.
Income Engine Lite Review At A Glance
About: Income Engine Lite is affiliate training by Oscar Ortiz focusing on increasing cart value.
Price: $37 for the front end and $87 for the upsell.
Pros: None we can think of.
Cons: Misleading owner, deceptive sales tactics.
Verdict: Income Engine Lite is an outright scam. The owner is a serial scammer using an alias and the system itself directs users to older scams.

What Is Income Engine Lite Exactly?
Income Engine Lite is a simple landing page written by Sean Phillips who read Russel Brunson's case study about how he made a few tweaks to increase website conversions.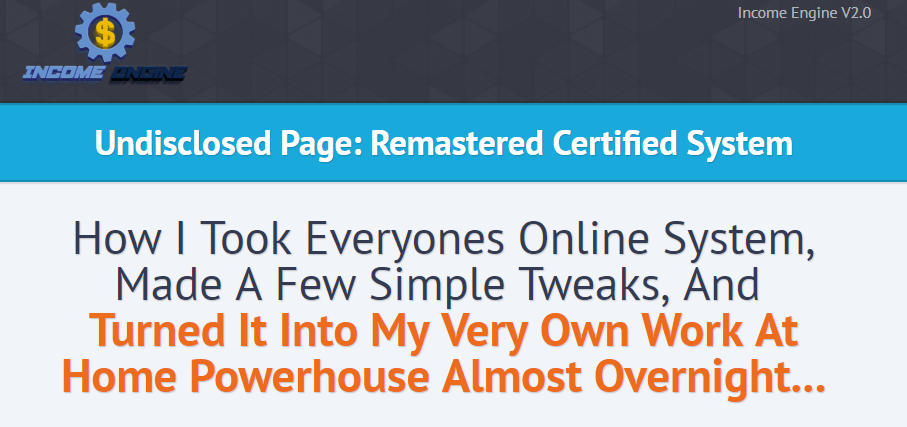 Essentially he made his affiliate website more profitable by increasing the value of each customer (also known as cart value) by offering upsells, promoting higher-priced products and getting more email sign-ups by using pop-ups.
The Income Engine system training claims to show us how to do just that.
Here's what's included: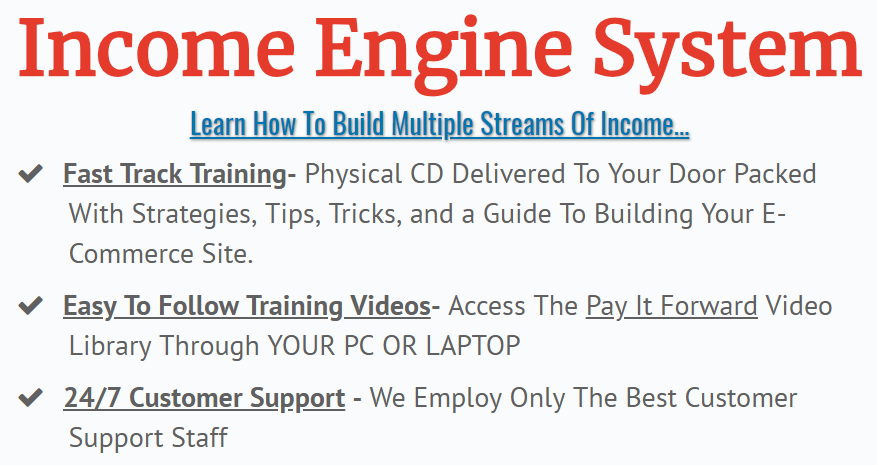 Income Engine Lite is being advertised at $37 and comes with ClickBetter's 60-day money-back guarantee.
Essentially you're getting a CD (do people still have CD players?!) and access to what he calls the Pay It Forward Library.
This was sounding so far, so good. I know Richard Bruson is a stand up guy and has a great reputation but I have no idea who this Sean Phillips guy is. Then, when I saw this is the same guy behind the Pay It Forward System I started seeing red flashing lights.
Not so long ago I wrote a review of the Pay It Forward System and ranked it 5/100 for good reason – it stinks of scam! (for reasons I'll show you here in a sec)
The Turbo Charger Package Upsell ($87)
Before you even get through checkout you're hit with two pop-ups offering you Turbo Charger with 50 done-for-you email templates and 10 landing pages that are apparently going to increase your conversions tenfold.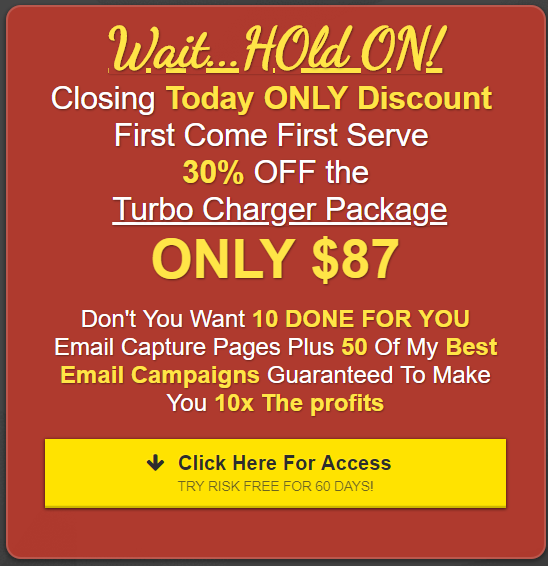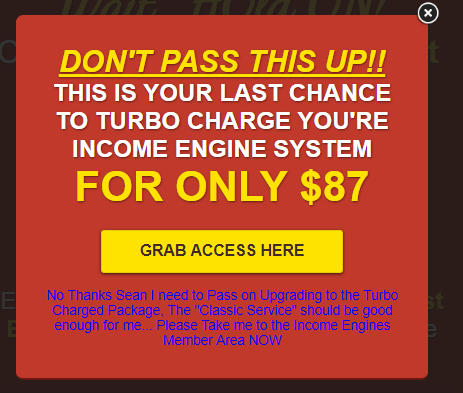 I clicked the 'Grab Access Here' button and it took me to a checkout page which again, prominently displays the Pay It Forward System's logo and even the product name changes from 'Turbo Charger' to 'Pay It Forward's Platinum Upgrade':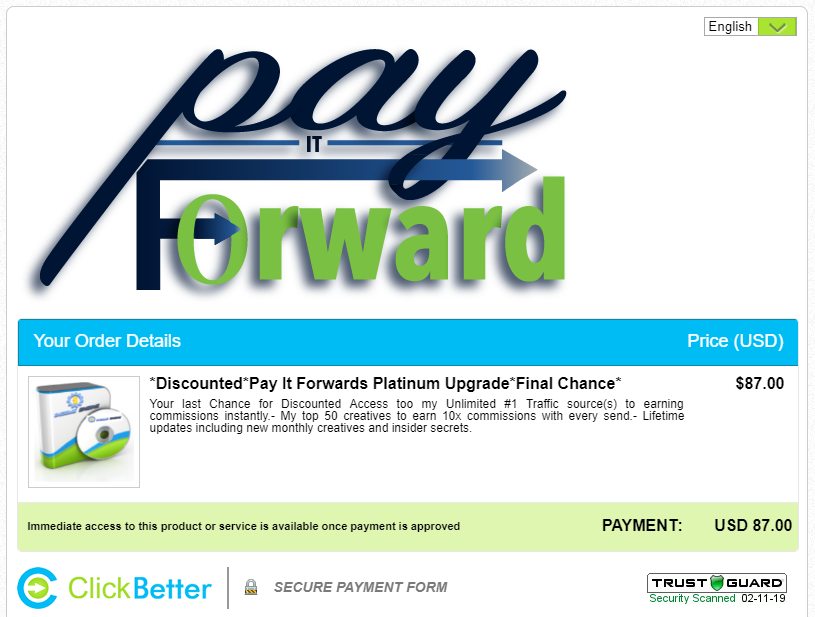 3 Ugly Income Engine Lite Truths Exposed!
1. Income Engine Is A Portal To The Pay It Forward Scam
It's painfully obvious the only reason this site exists is so Sean Phillips (if that's even a real name) can send people over to the Pay It Forward website and make a commission.
Why is Pay It Forward a scam?
In my review I discovered that nothing about this 'system' can be trusted; they use hired actors to give fake testimonials, fake timers to rush people into handing over their money and even their own disclaimer says nobody makes money following their methods.
Stay away from Pay It Forward System and anyone promoting it.
2. There's Confusion Over The Income Engine Lite Price
As I said earlier, The Income Engine System is being promoted with a $37 price tag.
Here's a screenshot: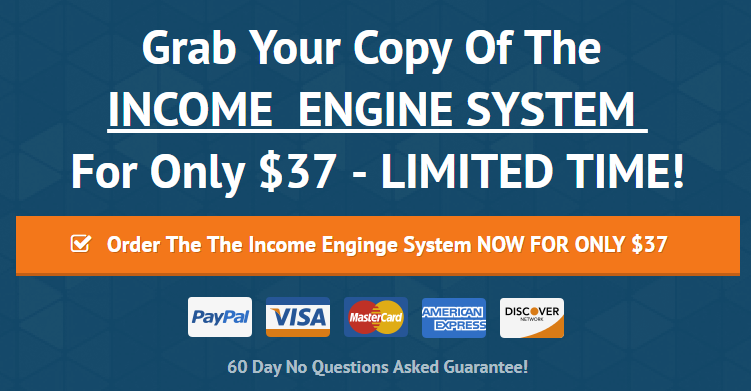 But try to check out and suddenly the price jumps up to $147!
And again, notice the constant references to the Pay It Forward System:

3. Oscar T. Ortiz Is A Notorious Serial Scammer
It turns out Sean Phillips is a fake alias and the true owner is Oscar T. Ortiz, the same internet con artist behind Pay It Forward System, Explode My Payday, EZ Money Team plus countless other scam operations littering the web and ripping people off.

In every Oscar T. Ortiz scam, they make the same hyped-up claims of fast and instant cash on demand, use deceptive and manipulative sales tactics to offer up the same low quality, outdated training.
The only person making money with Engine Income Lite and the rest of the scammy programs out there is this guy, not the people buying into his lies.
Is Income Engine Lite A Scam?
Yes, Income Engine Lite is a total scam as it's just the Pay It Forward scam under a different name.
They're great a making all the right noises but in the end they never deliver the results they promise you.
If I were you I would avoid this one altogether as it will only waste your precious time and money.
How I Make A Living Online?
The truth is programs like Income Engine Lite are here today and gone tomorrow. As soon as word gets out the owners shut them down and start again somewhere else. Sadly, that's how a lot of get-rich-quick schemes work.
For the last five years I've been making a full-time income online.
What's the 'secret loophole' I discovered?
I'm here to tell you there's no such thing.
The only way to build a steady online income stream is by creating a legit internet business for yourself.
I got my start by taking this free beginners course that's been helping aspiring entrepreneurs achieve financial freedom since 2005. You have to put the effort in before you can expect to see results but it's definitely worth it.
By following the step-by-step formula and taking massive action, I've been able to quit my old call centre job, move to Thailand permanently and make more than $7,000 a month.
The best part?
You can start for free and follow the exact same training I did. You can even ask me questions as you go through the course.
Questions Or Thoughts Of Your Own?
Are you sick of being scammed, or almost being scammed by hyped-up products like Income Engine Lite and Pay It Forward System?
Have you tried so-called make money online programs and ended up disappointed or even worse off than when you started?
Scroll down and send me a message in the comments. I'll be more than happy to help anyway I can.
Simon Crowe is on a mission to help as many people as possible kiss their bosses goodbye.
Take the free Commission Academy course to discover how to smash your online income goals and make your dream business a reality.