GrabPoints keeps popping up on my radar so I think it's high time to take a closer look at this from a money-making standpoint and do a proper review.
GrabPoints.com, as you may already know, is one of those reward sites that gives you points by taking short paid surveys, completing free trial offers and watching videos.
You can redeem these points for Amazon gift cards or get cash deposited directly into your PayPal account.
Is GrabPoints a scam?
No, GrabPoints is a legit way of building up a nice little side income for yourself. If you're into survey sites then I still think Swagbucks gives you more for your time.
However, if you're wanting a more serious online income you can pay your bills with then check out my top recommended training program for a full step-by-step on how to build a real online business. You can test-drive the entire program for free.
I just wanted to mention that because it's by far the best way to make money online that I've come across and I know some of you will really find it helpful.
What Is GrabPoints?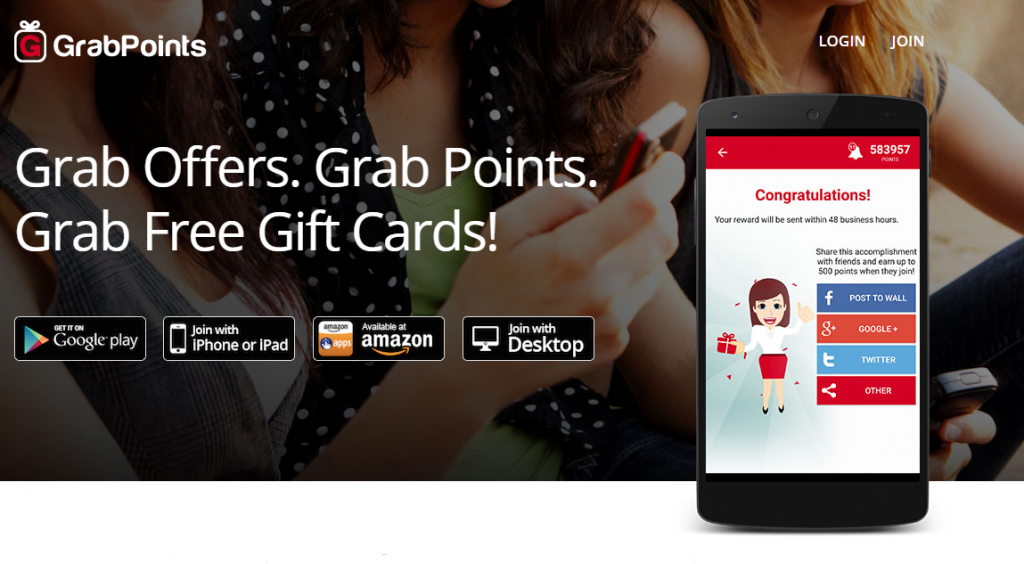 GrabPoints is more than a paid survey site; it's a rewards site where you earn points for completing simple actions.
These points certainly aren't worth much but taking a few minutes each day to complete a few tasks can accumulate over time.
Unlike VIP Voice and Speak Up Surveys which merely pay you points to enter sweepstakes, GrabPoints give you the option of redeeming gift cards for places like Amazon, Starbucks and Target.
You can also opt for PayPal to get money deposited directly into your bank account.
I think this is why the GrabPoints app has been so popular – with over a million downloads and a 4.4/5-star rating from over 70,000 ratings on Google Play, it's safe to say there are a lot of people who are very happy with this app.
Update: See the comment below from the GrabPoints staff member. GrabPoints is no longer available as an app and they recommend you go to GrabPoints.com directly to sign up.
Here's one of GrabPoints promotional videos giving a quick run-through of how the app and website works:
Now let's talk about the most important part – how much money can you make?
Because I don't know about you but the reason I download apps like this is to make some extra side money. Just because it's popular doesn't necessarily mean it's worth your time…
How Much Are GrabPoints Worth?
Having a few thousand points might sound impressive, but let's look at their monetary value in real terms: 10 points equate to just 1 cent so it would work out to be:
$0.10 = 100 points
$1 = 1,000 points
$10 = 10,000 points
As you can see, you need to earn a heck of a lot of points to make this worth your while.
To give you a rough idea of how much you can expect to make, you can earn anywhere between 500-2,000 points ($0.50 – $2.00) for completing a 30-minute survey.
Sign up for a free trial offer and earn another 1,000 points ($1.00) or refer friends and family members to earn another 1,000 points ($1.00).
4 Ways To Make Money With GrabPoints
1. Get Paid $2/Hour To Take Surveys
GrabPoints give you a list of recommended survey sites like Peanut Labs, SuperPayMe and One Opinion to choose from based on your gender and location.
You'll be told how many points you'll earn and roughly how long it'll take you.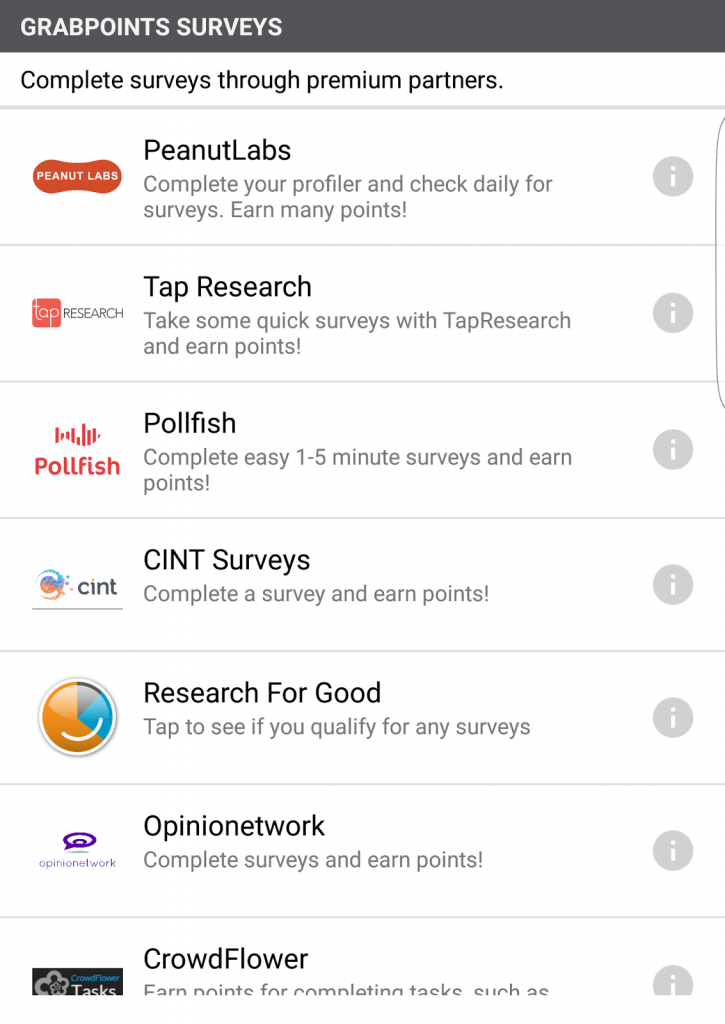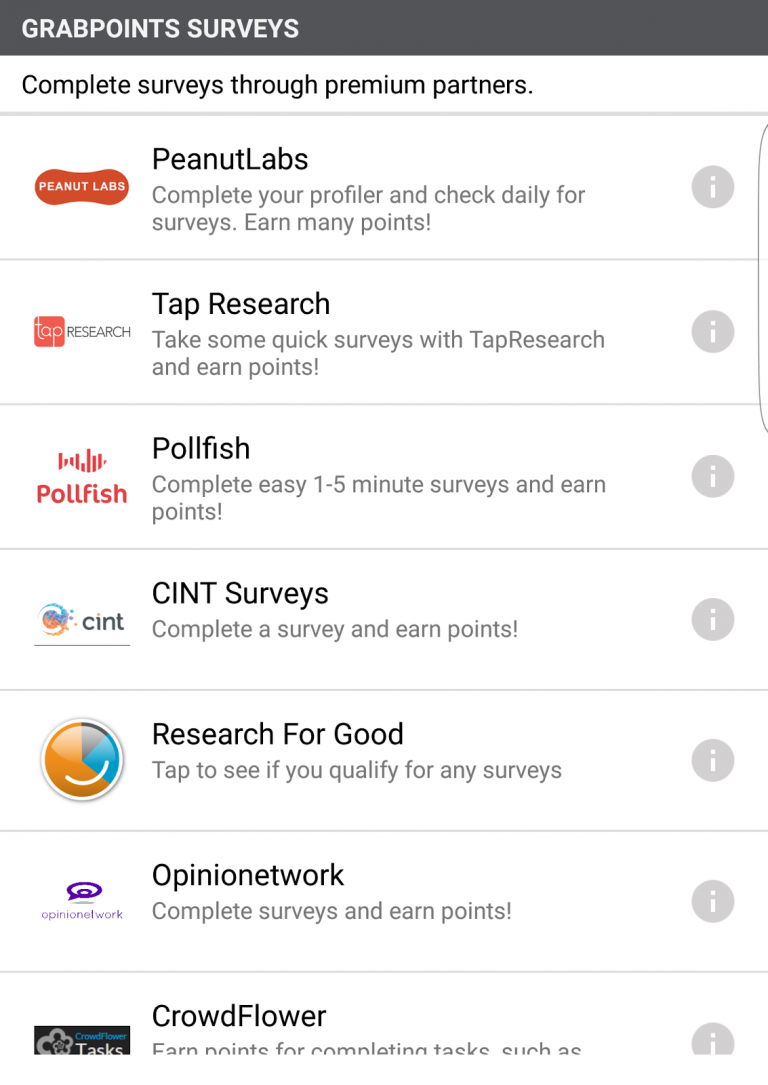 I was offered 500 points for a 10-15 minute survey and up to 2,500 points for a 45-60 minute survey. The surveys are easy enough, mainly multiple-choice questions about where you shop, what you drive, who your internet provider is, that sort of thing.
I'd say the absolute maximum hourly rate you can expect with these surveys is $2.50 an hour…
You're certainly not going to become a millionaire filling out surveys but most people don't expect to.
2. Make Money From Trial Offers
GrabPoints partners with companies running free trial offers and promotions which you can earn points by signing up to.
Sometimes it's just a matter of cancelling before the free trial ends, other times you might be expected to pay out a little for something you were going to buy anyway.
For example, one of the offers I saw was from GoDaddy where you buy a domain at $4.99 but then get $8 worth of points back, so you come out on top. That's not bad.
The free offers pay around 500 to 2,000 points depending. You have to be careful though – spending money to make money can easily end up making you worse off, so keep a note of trial end dates and cancel before you get charged.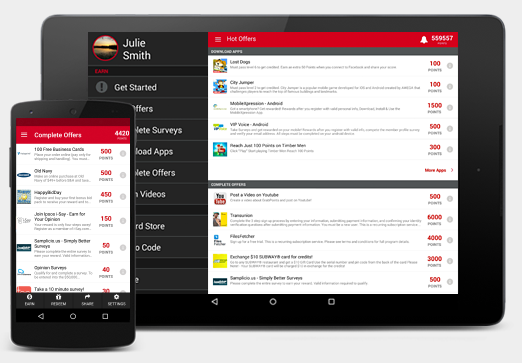 3. Get Paid $0.10 For Downloading Apps
Get paid to download apps onto your phone? That might sound easy but there's a little more to it than that…
You get 100-700 points ($0.10 to $0.70) for each app you download, but most apps have additional requirements like playing a game for a certain amount of time or watching an hour's worth of videos and so on.
I didn't download any apps myself because I read a few complaints online from members saying the apps drained their phone batteries and used up all their memory.
If you've tried this I'd be interested to hear if you think this is worthwhile in the comments.
4. Get Paid $0.60 An Hour To Watch Videos
Watching videos on GrabPoints is probably one of the lowest-paying tasks you can do. You'll earn $0.01 to $0.10 to watch a 2-10 minute videos plus ads.
It's not like you can just click play and come back later either, you're going to need to close the ad before each video starts. Saying that, it's still not much work on your part.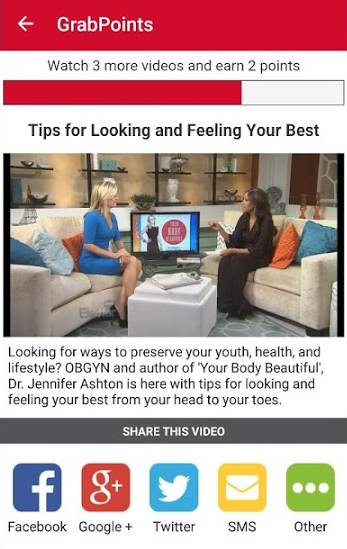 There's only ever 5-10 videos available to watch, but let's say you've got watched 6 10 minute videos at $0.10 each – that's an hourly rate of just $0.60 per hour.
Is that enough to keep you motivated? Isn't there more you could be doing with your time? I know I can find more worthwhile things to do than this…
How Much Money Can You Really Make?
Can you make money with GrabPoints? Yes absolutely, but how much can you make?
Honestly… not much. If you spent an hour on this app every single day I'd be surprised if you came out with more than $10 a month.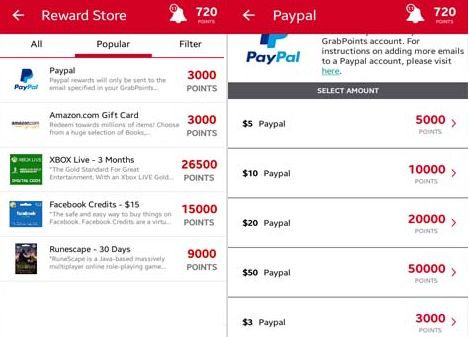 More dedicated members could make up to $20-$30 a month if you really put time into it but no more than that.
The good news is there are tons of videos and reviews from people online who got paid so they do definitely payout, but can you make enough money to justify spending hours of your time with this? I personally don't think so.
If you're the kind of person who likes to try out new games, answer multiple choice questions and watch a few videos in their spare time then you might like GrabPoints.
Earning a bit of extra cash with this app whilst waiting for the bus or on your daily commute to work is better than nothing.
You won't come anywhere close to replacing your main income but that's not what the app is for; it's simply an easy way to earn a bit of extra cash on the side and have fun doing it.
I like how this reviewer put it: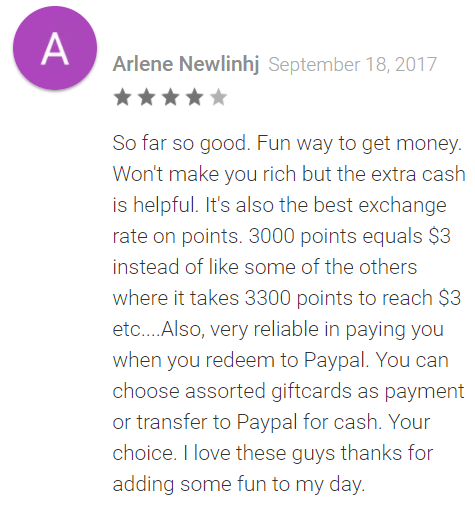 In a nutshell: GrabPoints is good for a little extra cash but it's never going to be a serious money earner. An extra $100-$300 a year to put towards your daily living expenses is nothing to be scoffed at.
In my opinion, GrabPoints is not as good as Swagbucks but it's a whole lot better than 99% of paid survey and reward sites out there.
Is GrabPoints A Scam?
No, I don't think so – GrabPoints is free to join and they do pay out so really you've got nothing to lose but your time.
But this is the biggest issue for me. I usually end up uninstalling these apps after a while because they're just not worth my time. Yes, the tasks are easy but you're working for less than half the minimum wage when there are so many better alternatives out there for earning serious money online.
If you're looking for a better way to earn extra dash that doesn't involve filling out tedious surveys then read my Wealthy Affiliate review here. If you're serious about building a legit income-generating online business for yourself then this is the best place to do it.
You'll get instant access to the same free beginner's training course that I went through that taught me everything I know now to earn more than $6,000 per month online.
Have Your Say
This marks the end of my GrabPoints review, I hope you've found this useful. If you've ever downloaded this app I'd love to hear what you think of it as a money maker.
If you have any questions please feel free to ask in the comments below and I'll get right back to you.
Simon Crowe is on a mission to help as many people as possible kiss their bosses goodbye.
Take the free Commission Academy course to discover how to smash your online income goals and make your dream business a reality.