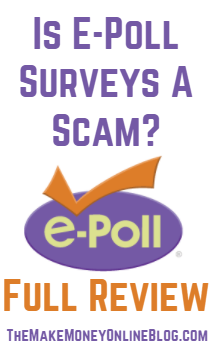 Getting paid just to express yourself sounds like a great way to make money.
EPoll Surveys say they'll reward you for giving your opinions about commercials, celebrities and TV shows.
After reviewing dozens of paid survey sites like this one, I can tell you some are better than others…
Some are scams, some are legit, but most are just not worth the effort.
Is EPoll Surveys a scam?
I don't think so but you can do a lot better. In this EPoll Surveys review I'll do my best to outline the pros and cons of this site.
Oh and just so you know, I'm not affiliated in any way with this site so in this review I'm just telling you how it is and how I see it.
E-Poll Surveys review (quick overview)
Lauched way back in 1997, EPoll Surveys is one of the oldest paid survey sites on the web.
And though the website doesn't look like it's been updated since then, they're still one of the major sites people go to when looking to make money taking surveys.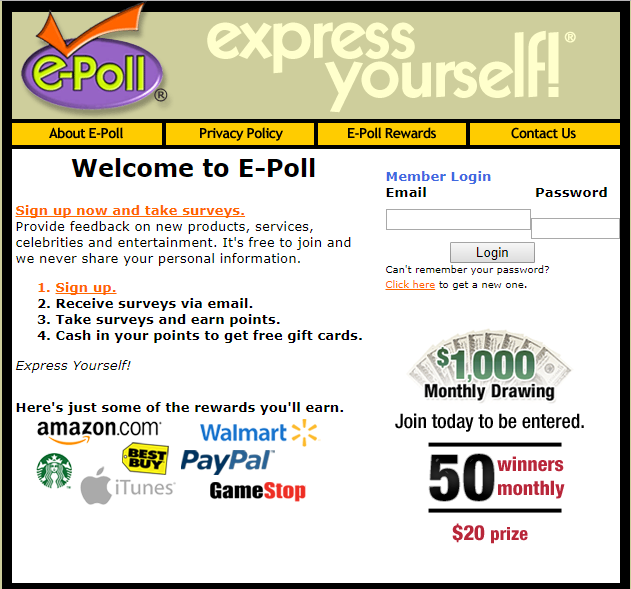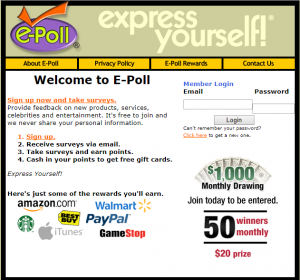 The concept is pretty straightforward – you answer questions as honestly as you can and get rewarded for voicing your opinion.
To get started you can head over to EPollSurveys.com, enter your name and email and you'll get invited to take surveys and earn points.
Points can be used to redeem Amazon, Starbucks, Best Buy, Home Depot and Target gift cards or a PayPal deposit. The minimum mark for withdrawal is $5.
You'll be answering questions about the latest TV commercials and movie trailers and surveys take 10-15 minutes on average.
Note: You do have to be 13+ and live in the US or Canada to qualify.
Let me get straight to the point: Like most paid survey sites out there, EPoll Surveys pays you peanuts per hour for filling out monotonous surveys. It works out far less then the minimum wage…
The number one rated paid survey sites is Swagbucks. They have more surveys to choose from, more ways to earn money and their pay you out at a higher rate.
If you're looking for the best way to earn some extra money taking paid surveys then I wholeheartedly recommend Swagbucks as your best option.

With EPoll you might only find 1-2 surveys/month you actually qualify for
There are tons of complaints online about the lack of EPoll surveys available. Sometimes you don't know you don't qualify for a survey until you're a good half way through…
Companies want feedback from particular demographics so it really does depend on your gender, family situation and spending habits.
Unfortunately it's no uncommon to read reports from people struggling to find surveys they can qualify for. For this reason alone, if you're looking to make money doing surveys, you're going to get frustrated with EPoll Surveys.

You'll spend hours filling out surveys with very little to show for it
A typical survey successfully completed will earn you around 100-500 points and will take you at least 30 minutes to complete. This may sound like a lot of points until I tell you 3,500 points is worth $5.
Theoretically, if you can find 7 surveys in a row that pay out the maximum 500 points, you could meet the threshold in a day…
But 7 surveys will take you 3 and a half hours (assuming no gaps in between). At 500 points each you've earned yourself the minimum withdrawal amount.
This works out at at $1.43 an hour.
And this is the best case scenario! Is this really worth your time??

You have to wait 6 weeks to get paid
Not only do EPoll pay you peanuts, they also make you wait anywhere between 6 and 8 weeks before sending your payment through.
They call this the 'processing time' and understandably, this is what causes a vast majority of the complaints.
As all gift cards and payment s are made online, I can only assume it takes this long because EPoll are waiting until they've received payment from the third party company before paying you what you're owed.
EPoll Surveys reviews from members
Here's a short video review of EPoll I thought you might appreciate. In it the EPoll member shows her income proof to show they do definitely pay out:
Is EPoll Surveys a scam? No but you can do a lot better
I don't think so.
EPoll do pay out (eventually) and the surveys are safe and legit.
But factor in the low payouts, lack of surveys and long waiting times and I personally wouldn't bother with EPoll – it's just not worth it and there are so many better alternatives out there.
If you're determined to go down the route of making money taking surveys then you should know that some survey sites have more surveys you can qualify for and higher payouts. Some survey sites pay you on the same day.
To find out more about my top-rated paid survey site click here.
They're completely free to join and as well as surveys, they have a multitude of other ways to earn rewards like watching videos, playing games and completing free offers.

While surveys can be a great way to earn a little extra pocket money, if you're looking to actually make a full-time income online then you're going to want to start a money making website.
Truth be told, this blog is just one of many sites I own. Back in 2014 I had no clue about building websites or making serious money online but I learned everything I know over at Wealthy Affiliate.
Through their step-by-step training courses, beginner-friendly website builders and top-notch community support I learned got to where I am today, earning more than $6,000 each and every month.
Check you my Wealthy Affiliate review here and you can get the same access to free beginner's training course.
I hope you found this EPoll Surveys review helpful on your journey to earning extra money online. If you've ever had any experience with EPoll Surveys I'd love to hear what you think about them in the comments below.
If you've got questions about anything we've covered, be sure to get in touch through the comments and I'll try my best to help you out.
Related posts:
Simon Crowe is the founder of The Make Money Online Blog and is on a mission to help as many people as possible kiss their bosses goodbye.
Get his free Affiliate Marketing Guide For Newbies to learn exactly how to build a real income online and make your dream business a reality.