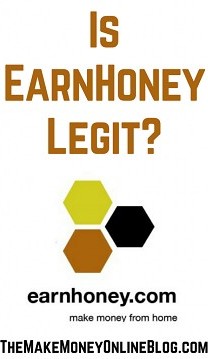 Before you dive in headfirst and spend a lot of time and energy trying to collect EarnHoney points it's a good idea to find out if it's a scam or legit, right?
As you search online for real ways to make extra money online you'll come across dozens of reward sites and paid survey sites and the truth is some are better than others.
In this EarnHoney review we're going to answer the question: "Is EarnHoney legit?"
Can you really make money with this site and is it possible to make a decent amount?
Let me just start off by telling you here and now: I don't work for EarnHoney and this is not a sponsored post unlike most of the EarnHoney reviews out there, so I can give you all the pros and cons straight up.
Are you ready?
EarnHoney review – in a nutshell version
If you haven't got time to read the full review then here's a brief summary of all you need to know.
EarnHoney is a site where you can take surveys, watch videos and complete other seemingly easy tasks to earn points and cash out.
On the surface, doing simple things like playing games and earning extra money while you're waiting for the bus or watching TV sounds like a no brainer – but after signing up to EarnHoney I soon realised I wasn't going to make any serious money with this.
You could spend hours a days completing boring, monotonous tasks and still not make $10 a week. When you actually sit down and work out how much money you're making, it's no more than $1.50 an hour.
Swagbucks are one of the best paid sites out there that I've reviewed so far, but even so, I can only recommend them as a way to make an extra $20-$30 per month.
Getting rewarded with points for taking surveys and watching videos in your free time sounds good in theory, but you're never going to make a full-time income doing this.
In truth, you're getting paid peanuts to give away your personal information when you could better use your time to create a real online business for yourself.
There are free beginner's courses like Wealthy Affiliate (where I got my start online) that can show you how to create websites based on a topic of interest or passion you have and turn them into thriving, profitable online businesses.
Launching and building a growing internet business is my number one recommended way to make money online, click on the button below to find out more and get instant access.

What is EarnHoney?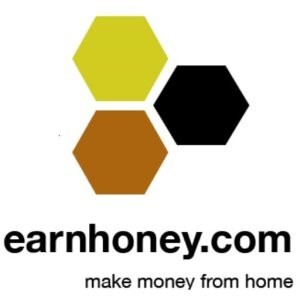 Launched in April 2015, EarnHoney claims to be a fun place to earn rewards for watching videos and playing games.
EarnHoney have a virtual currency called HoneyDollars$ (HD$), instead of just telling you the real dollar amount.
Why do they do this?
My best guess is that because most people don't sit down and do the maths, they're easily fooled into thinking they're earning more than they actually are.
I mean 100HD$ sounds better than $1.00 right?
Once you're over the minimum 500HD$ threshold you can redeem your points for a direct PayPal desposit, Debit Visa deposit, Amazon gift card or a donation to a list of pre-selected charities.
If you're like me you want to make actual money online, sure gift cards are okay, but money into your PayPal account is better because you can spend it on whatever you like.
At the moment EarnHoney is primarily aimed at residents of the United States but they also accept new registrations from the United Kingdom and Canada.
EarnHoney has a lot of very mixed reviews online with some people loving it, some people hating it. They're rated 3.6 stars out of 5 on SurveyPolice and 3.1 stars out of 5 on Google Play.
We'll take a look at some of the most common complaints in a minute.

How much money can you make with EarnHoney?
At first glance, the $5 minimum payment limit seems like an easy to reach target until you realise how long it's going to take you to get there. Most users give up before ever reaching this amount once they see just how many hours they're going to have to put into this for very little reward.
The amount of money you can is minimal to say the least and you're basically working for a few cents per task. Each HoneyDollar you work for equates to just $0.01.
100 HD$ = $1
500HD$ = $5
1000HD$ = $10
The 5 ways you can earn a few extra cents:
There's 5 ways you can make money with EarnHoney and while I recognise these tasks are simple and don't require much brainpower, they don't pay out much at all.
1. Taking surveys
Under the 'Give Opinion' tab you'll find the latest surveys available. When you first sign up you'll need to fill out the 'profile survey' which includes giving them your phone number and address details.
One big minus about EarnHoney when compared to other paid survey sites like Swagbucks is they don't filter the surveys they offer you based on your demographics or qualifying data. This means you could find yourself half way through a survey only to be told you can't complete it. This is a huge time wasting exercise in my opinion and will result in a lot of frustration.
I think it's also important to know that with sites like this, you're not getting paid to give your opinion as they suggest, instead you're rewarded with a few points for giving away your personal information, including your household income, spending habits, and other private data.
EarnHoney then make their money by passing this valuable information on to other companies so they can target you with specific email ads and sales calls.
The average 30 minute survey can pay anywhere between 10HD$ and 100HD$ which means you're working at an hourly rate of $2 at best.
2. Playing games
EarnHoney attracts new members by giving the false impression you make money simply by doing fun thngs like playing games. What they don't tell you is you'll be earning just $1 an hour if you're lucky.
Since I signed up, there's only been the tile game available which is fine as long as you enjoy these types of games. As you're playing, promo videos will play on the right hand side.

3. Watching videos
Getting paid to watch videos is what really interested me about this site, as it has the potential to be a really passive way to earn a few extra dollars each month.
EarnHoney have quite a library of videos available and you can set them to autoplay, but before you think you can set it and leave it think again, at the beginning of every 1-2 minute video there's an ad you're going to need to click on to earn a cent or two.
4. Signing up for free trial offers

On the EarnHoney offers page you'll see a variety of free trial offers available.
These could be offers that pay you Honey Dollars$ for signing up with another survey site or magazine subscription.
Making money by signing up for free offers can work in your favour if you're very careful to cancel before the trial period ends.
If not, you could easily end up spending way more than you ever earn with this so tread with caution.
5. Referring friends to the site
If you've got friends with way too much idle time on their hands then you can recommend EarnHoney.
EarnHoney has a referral program which gives you a unique link you can share via email or social media with the chance to earn 10% of your referral's lifetime earnings.
10% of $5 isn't very much, but if they stick around long enough, you might be able to make a few extra dollars with this.
With EarnHoney you're working hard for less than minimum wage
The EarnHoney Survey site claims you can do fun things and get rewarded. Completing certain tasks like playing games and watching videos can earn you gift cards and extra money via PayPal.
Since EarnHoney was founded in April 2015 they've paid out 101,027,922 Honey Dollar$ to their members, just over $1million.
Unfortunately we have no idea how many members there are and they don't give you any information about what the average member earns in a year.
I suspect there's a good reason for this; the vast majority of members give up before reaching the $5 minimum limit once they see how time-consuming this is for very little 'honey'.
When you sit down and work out the hourly rate, you're working for peanuts per hour. This is exactly the case with the vast majority of paid tasks and survey sites like this, there's just not enough money to be made doing this.
Some people go as far as accusing EarnHoney of exploitation, that is, misleading people to thinking it's easy to make money so they'll hand over all of their personal information.
It's also worth keeping in mind that surveys aren't available all the time so the amount of money of money you can earn is even more limited.
Other people say you might get paid in small amounts but this can all add up as a great side income, but the reality is ten lots of $0.30 is still only $3.
I see people boasting on Facebook about how they've earned $30 in 3 months. Do they realise how ridiculous this sounds? In what world is this actually celebrated like it's a good thing?
While thing like searching, watching videos and answering paid surveys might seem easy, you could easily end up investing God-knows how many hours and still not make enough to buy a McDonalds happy meal!
Is EarnHoney legit? It depends what you're looking for
Is EarnHoney a scam? I wouldn't go that far. They seem to pay out and as EarnHoney is free to join, the only thing at stake here is your time. And trust me this is going to eat up a lot of your time if you're wanting to make any decent amount of money to put towards paying off your bills.
But is EarnHoney legit? In good conscience I can't recommend this as a legit way of making money online…
When you work out how much you can make per hour, the fact that lots of people get half way through surveys only to find they can't finish it and they've wasted their time and the huge amount of negative complaints against EarnHoney, this is going to suck a lot of hours and the end result is not muh of a difference at all to your bottom line.
I just think EarnHoney is a great money maker for the owners, but not for you as a survey taker. It's all very monotonous, boring work where you have to give away a lot of your time and personal information with very little to show for it in the end.
A real way to make serious money online
If you really want to make serious money online then you need to create an internet business for yourself. The online world has changed the way we do business and make money and training programs like Wealthy Affiliate are helping people get started every day.
Perfect for beginners, they don't deal in useless hype or fake promises of easy money. Instead, they show you how to build more than a full-time income online step-by-step and if you're diligent to follow through then you will see results.
Check out my Wealthy Affiliate review here to find out how I earn more than $6,000 every month online. You'll get instant access to the best tools and training as well as amazing community support to guide you every step of the way.
The best part?
The beginner's course is 100% free to start.
If you are currently a member of EarnHoney and would like to share your experience with us, good or bad, please leave your feedback below. Also, if you have any questions at all, ask me and I'll get back to you personally.
Related posts:

– Is Amazon Mechanical Turk A Scam?
– Is Vindale Research A Scam Or Legit?
– Is Daily Rewards A Scam Or Legit Way To Make Money Online?
Simon Crowe is on a mission to help as many people as possible kiss their bosses goodbye.
Take the free Commission Academy course to discover how to smash your online income goals and make your dream business a reality.