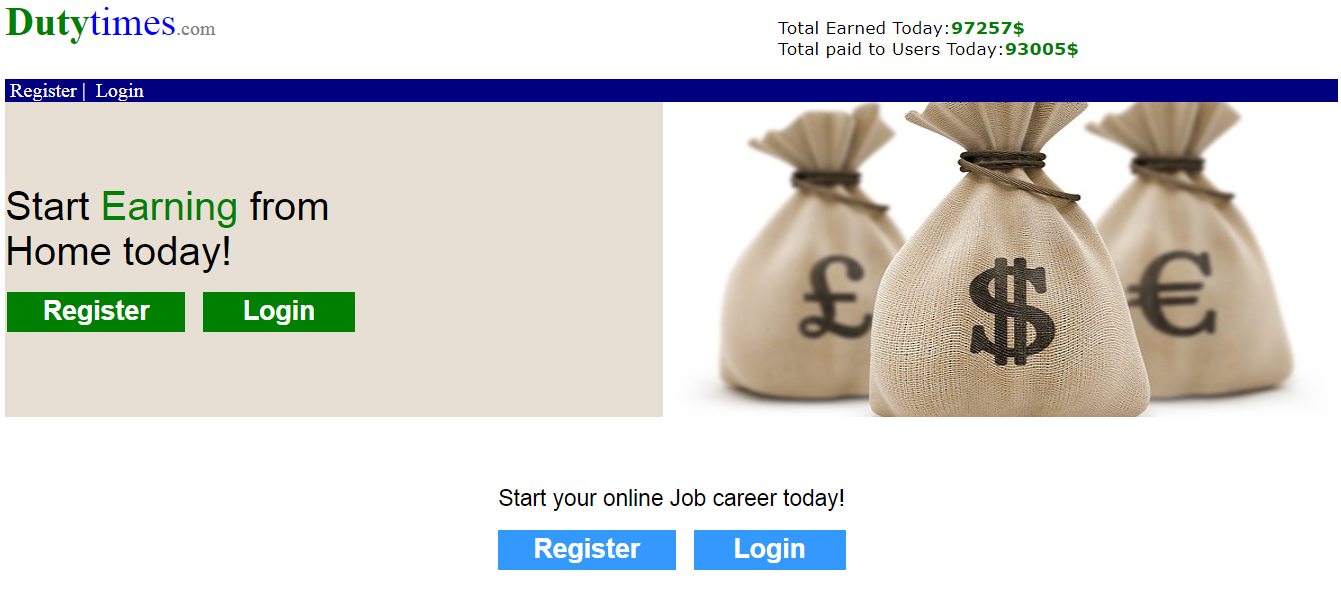 DutyTimes.com is a site that would lead you to believe they're paying members nearly $90,000 in total each and every day.
But can this site be trusted or is DutyTimes a scam that won't actually help you make money at all? In this DutyTimes review I'll be giving you a quick rundown on what to expect, what they do and how it works.
If you're ready let's dive right in.
DutyTimes review
Over the past few months I've come across at least two dozen websites with the exact same layout and logo, all asking you to input a user name and password to register.
I believe all there are hundreds more of these sites all over the web and it's the same person behind them all.
Here let me show you: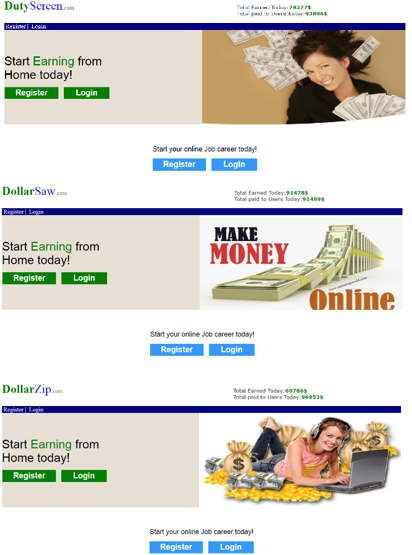 These include the DutyScreen, Dollar Saw, Dollar Zip, My Early Cash, For Money Only, The Dollars Plug, Money Come First, My Job Is First and many, many others…
As soon as I review one of these sites and expose them, or they get too many complaints piling up against them, they shut it down and start afresh under a new web address.
What is DutyTimes?
The sole aim of DutyTimes.com seems to be getting hold of your personal contact information. On the main homepage there's no details or explanation offered to how you're going to be making money.
Once you've registered an account with them they give you a unique referral link you're then supposed to use to email your friends and family or post on social media sites to promote others you know to register with them also.
The anonymous owners of DutyTimes promise to pay you $5 – $10 each time someone signs up through your link. The site tells you, you can cash out your funds once you've reached a balance of $300.
The only problem is they never actually pay out…
Is DutyTimes A Scam?
Yes DutyTimes is absolutely a scam. By giving you a flase incentive to share the site's links, you're effectively becoming a scam promoter without even realising it.
Many people only realise it's a scam once they try to withdraw their funds and by then they've already recommended it to the people closest to them.
But if DutyTimes is free, how can it be a scam?
People often let their guard down when they're told it's free to register, without realising the danger they're putting themselves in.
Think about it: when you sign up you give them your email and password. When you try to withdraw you give them your PayPal information. There's a lot a spineless scammer can do with kind of information.
You can read complaints online about people who have tried this system about how they not only didn't receive a penny sharing these links across the web, but they found themselves victims of identity fraud and theft.
Ready for a real way to earn money online?
Lots of people are more than ready to believe making money online is quick and easy and you can make massive amounts of money by not doing much to earn it.
The truth, you can make it online and build a passive income stream for yourself but you will need to put the time and effort in first before you reap the rewards.
If you're sick and tired of silly silly scams like DutyTimes and you want a genuine way to earn real money on the internet then I recommend you check out my Wealthy Affiliate review to find out how you can enroill in the free beginner's training and get started.
Thanks for reading my DutyTimes review, I hope it helped you avoid yet another worthless make money online scam.
If you've had any experience with the many scams created by the same owner, please share your story below.
If you have any questions about making a legitimate full-time income online then ask away and I'll always get back to you within 24 hours.
Simon Crowe is on a mission to help as many people as possible kiss their bosses goodbye.
Take the free Commission Academy course to discover how to smash your online income goals and make your dream business a reality.