In this review I'm going to be focussing on a website called DutyMoney.com and we're going to find out is DutyMoney a scam or a legit way to make a nice side income online?
DutyMoney is free to join but is there something the DutyMoney owner isn't telling us? Well you're about to find out so let's dive right in and get started!
What is DutyMoney.com about, really?

DutyMoney is a very basic site that says you can start earning money today from home.
I the top right of the screen you're told members are making over $84,000 per day.
DutyMoney.com calls itself an online job site that rewards you $5 – $10 for successfully completing tasks and even go as far t say you can make $5,000 a month through the site.
If this is legit then I definitely want in on it! Seriously, who wouldn't want that?
Previously on the Make Money Online Blog I've reviewed programs like Amazon Mechanical Turk and Spare5 where they pay you for completing small and easy tasks.
They don't pay much through and definitely not enough to make a full-time income, so will DutyMoney prove to be any better?
I guess there's only one way to find out. I've decided to go ahead and create an account for myself so I can show you what happened at each stage.
DutyMoney review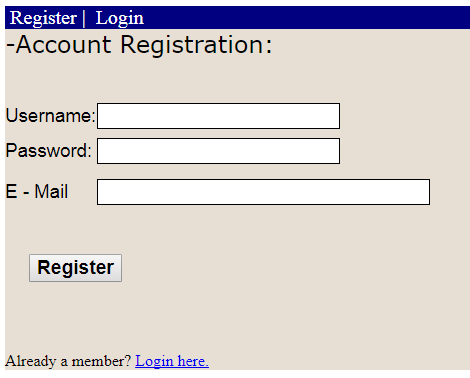 As I said before, DutyMoney is free to join and signing up was pretty straightforward.
All I had to do was create my own username, password and enter my email address.
Being honest, the member's area was a huge letdown…
I kind of expected to see a list of jobs or tasks with an idea of how long it'd take me along with how much I'd get paid but instead, all I saw was this: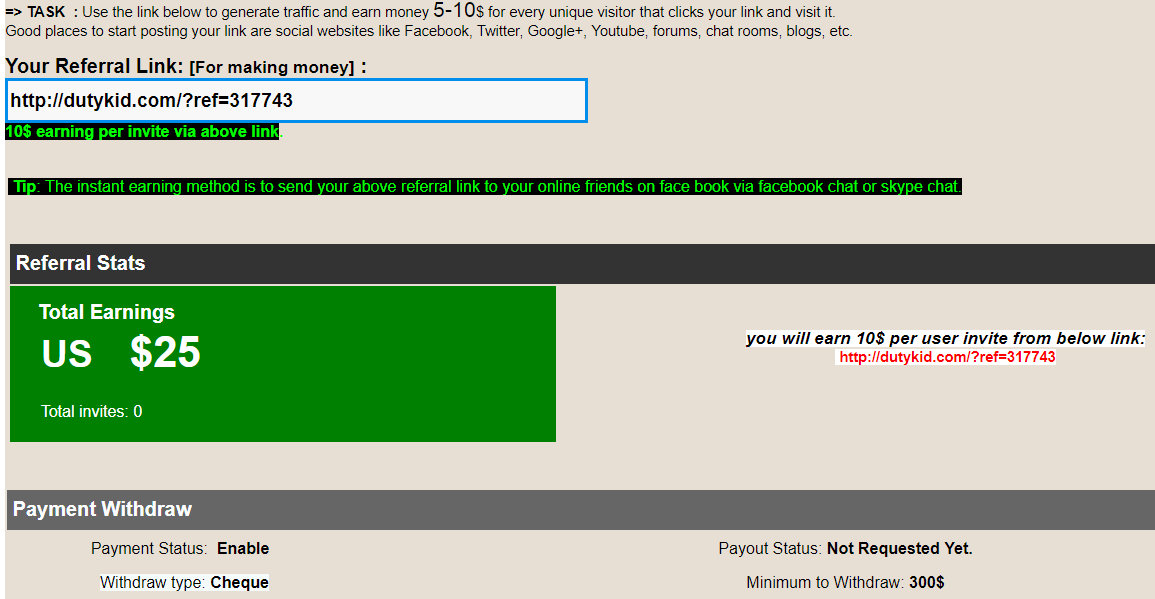 As you can see, there is just one single task that I have to complete many times over  to reach the minimum $300 withdrawal limit.
And can you see what the 'job' is? Promoting DutyMoney.com! OK, so now I'm starting to get suspicious about this whole thing.
Before sharing these links with my Facebook friends and Twitter followers I decided to do a bit fo research on my own. I just could not see how this site monetised itself.
There's no advertising, no offers, so what benefit or reason would they have to pay me $10 every time someone joined only to get yet more people to join?
After doing a bit of research I found out lots of DutyMoney complaints from people and each one of them said DutyMoney does not pay out!
I can't say I'm surprised either. After reviewing hundreds of so-called make money online programs I'm getting pretty good at detecting bullcrap when I come across it.
Paying someone $10 to share your link is not a smart way to do business, not when you can advertise on Google for $0.10 a click.
So is DutyMoney a scam?
Yes, DutyMoney is definitely a scam but even I've got to admit, it's a pretty clever one.
Think about it, by promising you money for spamming links across social media, you are doing all the promoting of this scam for him, so all he has to do is sit back relax and watch the number of new members go up.
Online scammers and spammers will happily pay a small fortune for a list of 1,000 or 10,000 email addresses.
People think that just because the site is free to join that they've got nothing to lose without realising what they're doing…
When you sign up you give them your email and put in your password.
When you request a payment you give the site your PayPal details.
What could an internet fraudster do with your email, password and PayPal account details? You could potentially be putting your financial accounts at risk and making your self open to identity fraud.
DutyMoney is definitely not to be trusted. so don't fall for the shiny golden carrot this scammer dangles in front of you.
Ready for a legit way to earn money online?
Unfortunately when people hear the words "make money online" alarm bells start sounding off in their heads thanks to the fact the internet is full of get rich quick schemes and work from home scams.
Before I started making serious money online in 2014 I pretty much fell for every scam going; I joined a pyramid scheme, lost money in a silly gambling scam and I could go on.
Why am I telling you this?
Because I know what it's like to see the enormous potential for making money through the internet with a global audience and not knowing the best way to start.
I'm here to tell you today that if you're serious about earning a full-time income or more online then one of the top ways to achieve this is by starting an online business for yourself.
With an online business there's no premises to find, no products to buy and store and you're open for business 24/7. With nearly 4 billion internet users searching and buying online daily the earning potential is huge!
It doesn't even have to cost you a lot to get started either. Training sites like Wealthy Affiliate offer a free Starter membership and should you choose to go premium it's only a measly $47 a month and you wouldn't need to pay for anything else.
This would include your websites, hosting, training, 24/7 support, community, keyword research tools, the lot.
I'll be straight up with you – you're not going to get rich overnight and it takes more than a single click of a mouse. Just like any other kind of business it's going to take hard work, patience and time, but if you're serious about making money online then you can absolutely 100% achieve it.
I started with Wealthy Affiliate back in 2014 and they toaught me everything I needed to know to earn $6,000 a month (and growing).
Click here to find out more about the Wealthy Affiliate community and I'll be on hand to offer my personal support as you go through the step-by-step training.
I hope you've found this DutyMoney review helpful. If you have any questions at all, drop me a comment below and I'll be more than happy to help you out. Here's to your online success! 
Simon Crowe is on a mission to help as many people as possible kiss their bosses goodbye.
Take the free Commission Academy course to discover how to smash your online income goals and make your dream business a reality.