I'm always on the lookout for new side hustles online. Survey sites have the potential to fit around your schedule, don't take up too much brain power and it's something you can do anywhere on your phone.
But paid survey sites of a downside, they're usually very time-consuming with very low payouts.
So how will Cashback Research turn out? Is Cashback Research a scam to be avoided or a legit money making opportunity?
Let's take a look.
Cashback Research Review At A Glance
About: CashBack Research is a survey site that aims to get consumer feedback for brands.
Price: Free to join.
Pros: None.
Cons: Not a secure website, false advertising, risk of identity fraud.
Verdict: It's not an outright scam but the dangers are not worth the risk. Avoid at all costs.

First off, what is Cashback Research?
CashbackResearch.com offers real cash for your opinions and is a free-to-join website that matches you (the consumer) up with companies looking for consumer feedback. In other words, they give you simple multi-choice surveys to answer.
They've been around since 2007 which is always a good sign, though their site could do with an update in my opinion.
There are other things you can on the site too, like clicking on ads for a cent at a time, downloading apps or signing up for free trial offers.
Watch this video to get a look at the member's dashboard area.
What CashBack Research don't tell you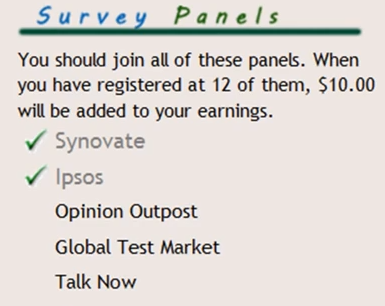 It would be natural to assume I think that you sign up to Cashback Research to get access to Cashback research surveys from companies they've partnered with, but that's not necessarily the case here.
The vast majority of their surveys are from third-party websites like Opinion Outpost, Inbox Dollars and Vindale Research which I've already reviewed here on the blog.
I don't like this for a few reasons: firstly, if you're going to end up juggling a dozen or so different sites and getting nowhere fast. Secondly, they could be more upfront about this.
You see, what this really means is they don't get paid for providing companies with completed surveys, they get paid every time you join these survey sites through one of their links.
Cashback Research are a marketing company promoting products and services to their members to make cash, they are NOT a research company.
The bottom line is this:
Cashback Research are making a lot of money off of you then chucking you a few cents to keep you motivated.
I don't think this alone necessarily makes Cashback Research a scam but I do think this is something you should know before you dive in head-first and start investing hours into this.
The site contradicts itself about how much you can earn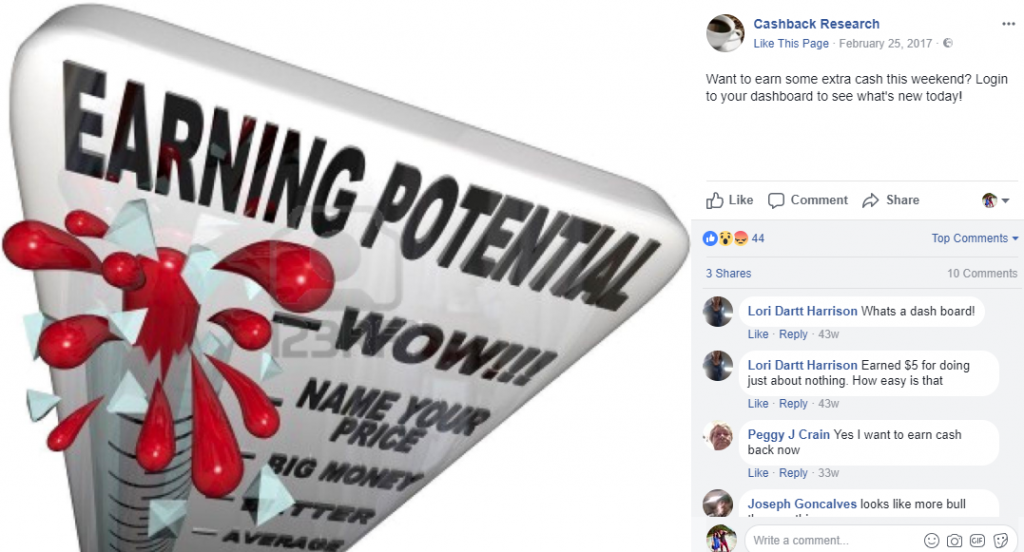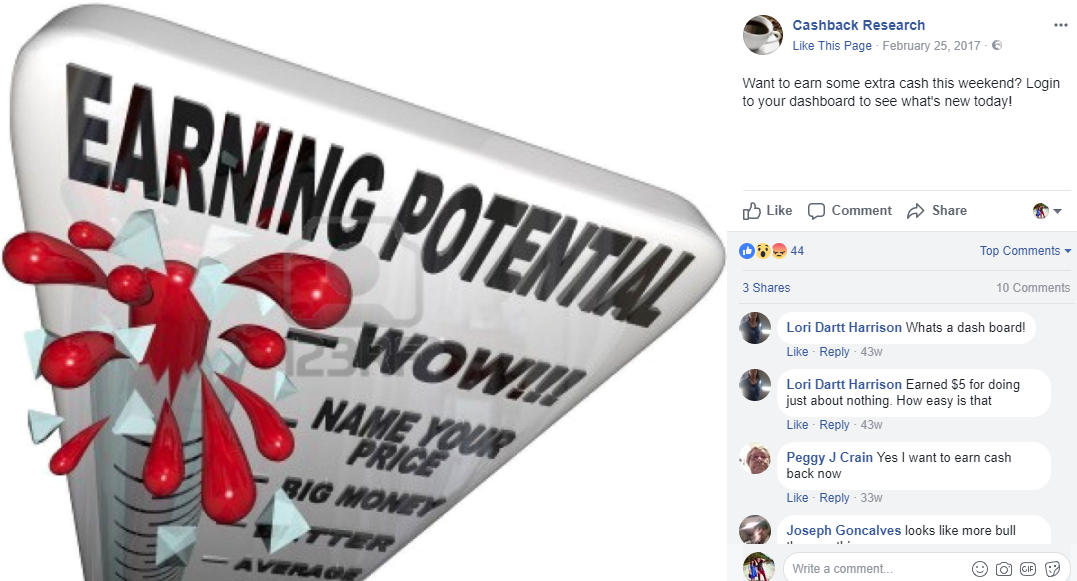 Take this post from the Cashback Research Facebook page for example. They clearly market themselves as big money earner, giving people the false impression there's big money to be made here.
Compare that to what they say in the FAQs section and you'll see a stark difference:
"Cashback Research is a free service that provides people with a means to be rewarded for giving opinions in online surveys. It is not a get-rich-quick scheme or even a realistic part-time job."
At least they're honest this time. CashBack Research pays you about $0.25 for a 30-minute survey which works out at $0.50 an hour. No it's definitely not going to replace your day job.
CashbackResearch.com is not a secure website
I'm going to try not to get too technical here, but do you notice when you go the Cashback Research website there's an exclamation mark inside a circle in your address bar?
Basically this means the site is running on the old http:// system instead of the new https:// system and the site is not secure.

Here's a quick word from Google about a website using the outdated http:
Usually I don't mind so much and will probably continue to look at a site that's insecure, but when it comes to a site like Cashback Research it's not acceptable.
You're going to be answering personal questions on the site, handing over your contact information and if you earn points through the free trial offers you're going to be entering your credit card details as well.
Is Cashback Research a scam? No, but it's not legit either
I'm not going to say Cashback is an outright scam because I don't think it is, though there are definitely things here that should concern you…
Cashback Research is set up to make the owners money instead of you
False marketing that leads people to believe there's big earning potential when they're isn't
You're potentially opening yourself up to identity fraud and theft.
This alone should be enough to tell you this is not a legit work from home opportunity for you.
Surveys are always the first go-to when people start looking for ways to make money online because they think it'll be easy money for little effort.
If you're still looking at survey sites as the answer to earning online then you need to think again. The truth is finding surveys you can actually qualify is hard work and they're always more time-consuming and low-paying than you might first think.
That's why I quit messing with silly survey sites and found a better way to earn real money that now makes me $6,000+ a month online.
This is a method that needs you to invest time into training and take massive income, but it can end up replacing your full-time income altogether.
Simon Crowe is on a mission to help as many people as possible kiss their bosses goodbye.
Take the free Commission Academy course to discover how to smash your online income goals and make your dream business a reality.