Is making money online really so easy? 
Is JayKay Dowdall's Auto Profit Daily a scam?
You're about to find out.
Hello and welcome to my review of this email marketing training. My name is IG, a full-time make money online researcher and blogger.
I've done 100s of reviews on affiliate funnel-builder products, internet marketing training, link-posting scam, and a lot more. Most of the merit a thumbs down, a couple of "Ok", and good ones you can count by your fingers.
My goal here is to show you what this training is, getting inside the members' area without needing you to take out your wallets and giving you my recommendation if you should go for this or not.
Initially, seeing bold claims like "bullet-proof system that took a newbie to $200/day in 36 hours" and "guaranteed to work" made it seem like just another hyped-up scam.
We'll dive right in to see if there's any truth to those claims so you'll have an informed decision on whether you should take the training or not.
X Review At A Glance
About:
Price:
Pros:
Cons:
Verdict:
Verdict:

Just Another Hyped-Up Sales Page?
On Auto Profit Daily's sales page, JayKay Dowdall says he "cracked the code in creating a consistent stream of income without a list of subscriber or followers, products, a website, crazy skills, and cold calling.
Sure, there is no cold calling because he is teaching email marketing.
No website? I actually don't agree with this. I think having one is essential in generating targeted buyer traffic. I'll explain more about this after telling you about the details of the training.
You will need products too.
Think about:
How do you monetize those emails? Using products of course!
How about subscribers or followers? You actually need subscribers because it not, who would you send your emails to? And you need followers because ironically, one of the free traffic sources taught in the training is tapping to social media.
Make $200 per day? He just retracted on it in the disclaimer section.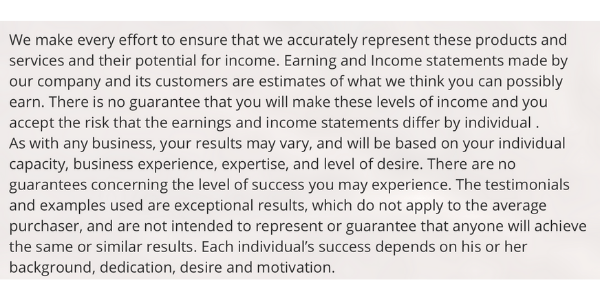 JayKay also shows "real results from real students so this will be a real game-changer".
What's the proof he gives?
Screenshots of income statements. Bummer.
Check out this video to find out why I don't trust these kinds of proofs.
The 8 Modules Of Auto Profit Daily
In this, I'll give you an overview of what you can expect on the modules of Auto Profit Daily and a bit of what I think of some of them, so you'll have a good picture of what you get if ever you decide to buy the training.
The training videos range from 5 minutes to 30 minutes so you can expect to be finished with the training in around 4 hours.
Module 1
In this section, JayKay will give you an overview of what steps you'll take to supposedly make money with Auto Profit Daily. He'll also do some mind-conditioning to get you perked up "for success".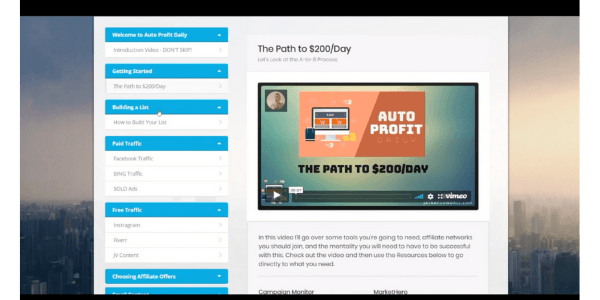 Module 2
He'll teach you about building a list aka getting subscribers. Remember when he earlier said there's no need for it?
Debunked!
This is not a complete deal-breaker though. We can think he meant you won't need subscribers to start with.
I'd prefer though if he made this part clearer, so you won't get misled thinking you don't need something when you really do.
Module 3
How do you start making your list?
JayKay recommend you pay for Facebook ads, Bing ads, and solo ads.
Facebook ads go from $0.97 to $7.19 per click. Bing ads, $1.54 per click. Lastly, solo ads $0.50 to $30.
If you ask me, this will be a very expensive way to drive traffic, especially for beginners.
That's not all you have to think about.
You have to make your ad campaigns. This can involve a lot of trial and error before you get the right campaign to the right audience. This can take months, even years to master.
Simply, you'll possibly be spending more than $100 each month on ads alone.
There's going to big a hole in your pocket.
Additionally, for solo ads. One thing that concerns me is that there are a lot of sketchy ad vendors.
You won't be sure if your campaign gets to the right people. If it doesn't, you'll just be flushing money in the toilet.
If it does, there no guarantee they'll even notice it.
You see, solo ads have a lot of clients. You won't be the first one to send campaigns to their list.
The people on those lists are annoyed with all the sales pitches they receive, they threw any email received from the vendor into the spam folder.
Spam folders are pretty much like trash cans. Nobody will dig back to it once something is thrown there. Unless they mistakenly junk something though, but in most cases, nobody ever checks on the messages there.
Do you?
Point taken, moving on to the next module.
Module 4
Here's where JayKay offers you some free traffic sources.
He'll tell you to utilize Instagram, Fiverrr, and JV Content.
Instagram will only work if you've established a niche-focused following. (I told you you'll need followers!)
Unless you have it, nobody will notice your pitches.

As for Fiverrr, you'll be overlooked unless you offer a job.
JV Content? Your audience will just be other markets who want to make money like you.
The bottom line, I don't really think any of the traffic sources will get people to your campaigns.
Module 5
You'll be taught to choose existing offers and pre-launch offers. This is actually good so you'll know how to gauge if you should promote something or not.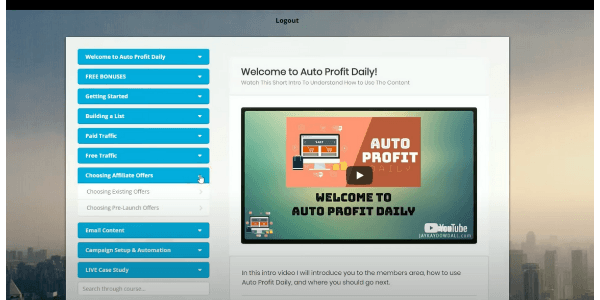 But again, this debunks yet another claim about not needing products.
Module 6
So far, I can say this is the best part of the training. JayKay teaches you how to write your email pitches.
He'll talk about strategies alluding to fishing like: the bait, the hook, the reel, and the catch. These strategies will help you get your readers interested.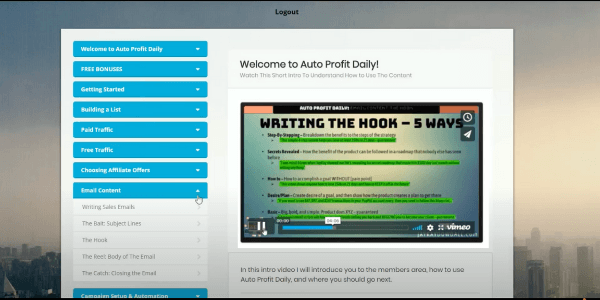 This a very important part of email marketing, because unless you get people's attention, you won't generate sales.
You don't want that to happen, of course.
But a word of caution though, you have to strike the balance here. If you get too caught up, you might end up making misleading email content.
You have to keep it interesting while at the same time sticking close to the reality of the manner. Never overpromise and under deliver. It's a sure way for your business to crash.
Module 7
JayKay will teach you to use automation tools like an autoresponder to organize the emails you send to your subscriber list.
Module 8
Here's where JayKay covers the "case study". He highlights on an Instagram account with the handle "empire_growth".
I actually went to take a look and impressively it has a large following with ample engagements.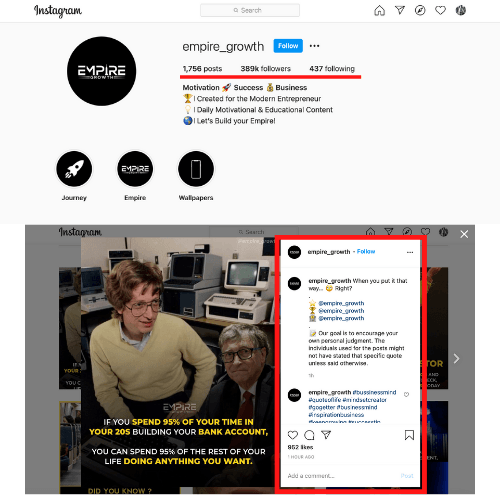 The problem is:
There's nothing there to show it has any relation to Auto Profit Daily so. We can't be sure if this is theirs and if it helped them generate buyer traffic.
If they could make their relationship with each other clearer, it would certainly help you trust this training more.
3 Things I'd Like Auto Profit Daily To Improve On
1. Better Traffic Solution
The traffic sources they promote are either too expensive for a beginner or too low-quality to drive people to your campaigns.
If they teach a better solution the overall strategy can work.
2. Teach More About Affiliate Marketing And Adding Value To Emails
Affiliate products are what's promoted in this training. This has great potential IF you understand how it really works.
However, Auto Profits Daily doesn't cover much on affiliate marketing. Unless you understand the nooks and crannies of this business model, you'll find it very challenging to get people to convert and scale your business.
You'll end up needing to enroll in another course, so you'll learn these things.
Also, what's emphasized in the email content section is how you pitch offers.
One vital truth in internet marketing is people are not likely to convert unless they sense value in you and in what you're pitching. This part is overlooked in Auto Profit Daily.
I'd like them to cover this area because it will do a whole lot of good to your business, especially in the long run.
In sharp contrast, my top rated affiliate marketing course has 70+ step-by-step training lessons and around the clock support.
3. You Need A Website
Here's the thing:
With email marketing, you chase and scour for targeted leads or people interested in your offers.
This can be a lot challenging especially if you don't know where to start looking.
Create a niche website on the other hand and you'll attract customers organically.
Once you've established your website, people looking for a specific product will find it and buy from you. This process will ensure a level of interest in people checking your offers.
More importantly, getting targeted traffic means higher conversions and a thicker wallet for you.
Is Auto Profit Daily A Scam?
No, Auto Profit Daily is not a scam. However, it's not my first choice when it comes to training because there are learning gaps that will make it challenging for you to make commissions.
To start learning about email marketing, you'll get some value here. However, when it's time to scale, you need something that teaches deeper so you can keep your business sustainable.
Where Do You Go From Here?
If you think Auto Profit Daily is worth your $17, then try it out. Just remember about the staggering additional costs.
However, if you realize you'll need a better training that covers all the gaps in Auto Profit Daily, I'd recommend Wealthy Affiliate.
As I said earlier, I prefer niche-based websites rather than email marketing. Don't get me wrong, email marketing works but it does require you chasing people.
This kind of strategy is covered in Wealthy Affiliate, starting off by helping you choose the niche that's best for you.
Along with the training, they'll also teach traffic sources that are way more sustainable and economical.
But you don't have to take my word for it, you can test the waters minus the cost because the 1st 10 lessons are free.
If Wealthy Affiliate floats your boat, head on to this comprehensive Wealthy Affiliate review to know everything the training can offer you.
Doubts? Questions?
Are you having second thoughts about trying Auto Profit Sites? Did you think the coverage is too basic too? Share what you feel down in the comments section.
Simon Crowe is on a mission to help as many people as possible kiss their bosses goodbye.
Take the free Commission Academy course to discover how to smash your online income goals and make your dream business a reality.