If you've done some scanning about AMZ Formula you've probably seen Joshua Crisp flashing his sports cars.
Does it show he and his training are legit, or just another hyped up scam?
AMZ Formula is a steep-priced Amazon course, so before giving him your hard-earned cash, I'll first tell you whether the creator is legit, his training is legit, and if there are drawbacks to the business model he's promoting here.
I'm sure you don't want your investment down the tubes so I'll give you a comprehensive review so you can make a more informed choice about this Amazon course.
The AMZ Formula Review At A Glance
About: AMZ Formula is Joshua Crisp's Amazon course. 
Price: $997 for the training and $468 for the research tool recommended, Jungle Scout.
Pros: You'll get 8 modules on how to become an Amazon seller. Comes with a 60-day refund.
Cons: AMZ Formula is too expensive for an 8-hour course.
Verdict: AMZ Formula is not a scam. However, you have to take the hype with a grain of salt because selling on Amazon means tons of competition. 

What Is AMZ Formula?
AMZ Formula is an 8-module Amazon course. It's been dubbed to be a comprehensive Amazon course covering how you create your account down to how you scale your brand. It also included templates of the strategies Joshua uses.
It says it can help you make from 0 to $100,000 in just 12 weeks.
If you want to make money online, you have to take it with a grain of salt though, making money with Amazon is not as easy as it seems.
As I've mentioned earlier, there are drawbacks you have to consider.
For one, even though Amazon is the largest internet retailer in the market today, getting started with it is not a walk in the park.
You have to have deep pockets to get things going. You need at least $10,000 to get started.
Why?
Because you have to buy the products, you'll sell first, if you don't manufacture it yourself.
Next, you send it to Amazon's warehouse and they a 15% cut on each of your sales.
Plus, to get people to notice your products, you'll need to run ads. In Google Ads alone, the cost-per-click is worth $1. Budgeting a mere $10 for it is definitely not enough.
At this point, you're still shedding money, without any guarantee you'll make more you spent.
Who Is Joshua Crisp?
Joshua Crisp is the creator of The AMZ Formula. You'll mostly see him together with his flashy cars and big houses.
Many scammers use this tactic of painting an unrealistic picture of the money you'll make to draw you stronger into buying what they sell.
Behind it though, they've just rented the cars and houses so they can show off.
But is Joshua one of them?
Apparently, Joshua also has a Youtube channel with over 21,0000 subscribers. This implies he's credible enough for people to trust his content.
If you take a look at them, you can safely say he knows the Amazon business inside out.
Clout News even featured him as the "influencer who can help you earn a million from Amazon".
But don't trust him that much yet. Even though he has tons of positive reviews on Trust Pilot like: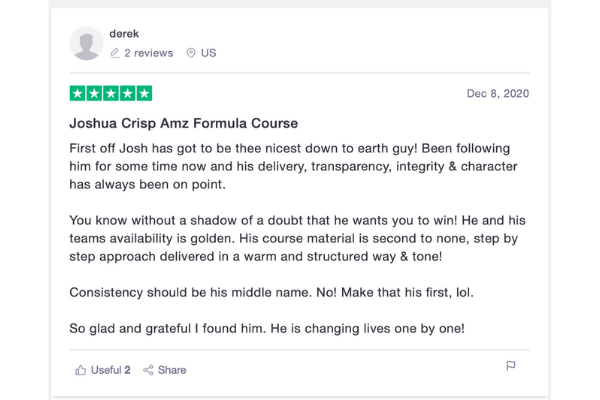 He still wasn't able to please everybody.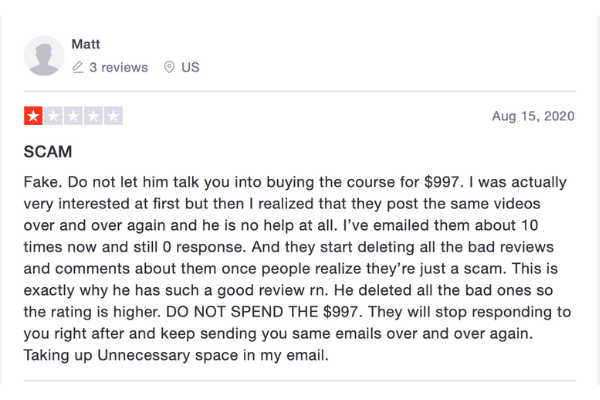 How Much Is The AMZ Formula?
The AMZ Formula is priced at $997. While it can seem expensive, if you take in context with other Amazon courses which costs over $1000, AMZ Formula is pretty affordable.
Still, with the business model taught and the lesson length, I don't think it's worth it for any beginner.
What Can You Learn In The AMZ Formula?
The AMZ Formula is divided into 8 modules with a total length of 8 hours to finish.
You'll learn the basics like creating your account down to how you maintain your rank and scale your brand.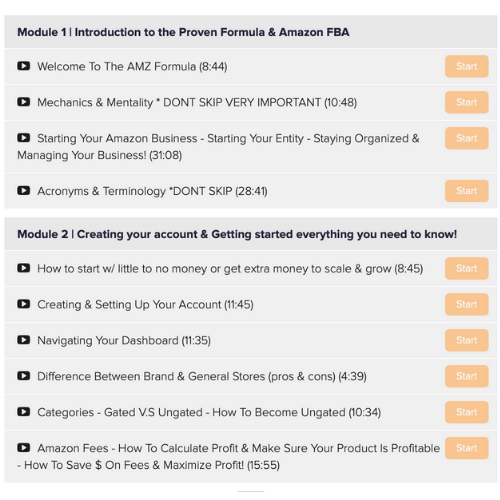 Module 1: Introduction
Like most courses, module 1 will run you through what you're going to expect in the following modules. You'll also get tips on how you can approach this business, get familiar with terminologies, and how you can stay organized with your business.
Module 2: Creating Your Account And Getting Started
Module 2 will teach you how to create your seller's account. You'll also be given a dashboard tour, get ideas on what type of store you should create, and be taught about gated categories.
Before moving on to the next module, you'll also be given an idea on Amazon pricing and an idea on choosing which products will be profitable are which won't.
Module 3: Product Research And Product Verification
While module 2 will already give ideas about products, module 3 will delve deeper into how you choose what to sell.
You'll be taught to use Jungle Scout, a well-known product research tool. This means though you have to spend $468/year on a subscription.
Other than teaching you about Jungle Scout, you'll also be taught strategies to find and launch products.
Module 4: Finding Suppliers
After knowing how to choose a product, you'll now be taught how to find suppliers and how you do transactions with them.
You'll be taught how to contact suppliers even ones overseas, negotiate with them, and how to source directly so you won't needlessly spend on middlemen.
Module 5: Creating Your Listing And Getting Positive Review
This section will teach you how you present your product on Amazon.
You'll be taught how you can optimize your pictures, how you come up with the title, how to utilize bullet points, and how to write a persuading product description.
You'll also be taught how you can get good reviews and how to handle bad reviews.
Module 6: Keyword Research, PPC, And Advertising
Module 6 will teach you to do keyword research so you can rank organically when your product is searched. You'll also be taught about PPC and advertising, the paid method in drawing people to your products.
Again, this can add to the cost you'll need to spend just on setting everything up so it can be pretty costly especially for beginners with a limited budget.
Module 7: Maintaining Your Rank And Brand Growth
This module will teach you how you can maintain your search position in Amazon's search engine. You'll be taught about keeping your products in stock, patenting, hiring VA's to delegate some tasks, outsourcing, and how you can deal with hijackers.
Module 8: Bonuses And Advanced Tactics
Module 8 covers advanced tactics to scale your income like email marketing, social media marketing, and QR codes.
This can mean more cost for you though because you have to hire email marketing and social media experts as well as pay for tools like autoresponders.
For autoresponders, the cost starts at $15 per month, email marketers and social media marketers cost at least $400 each per month too.
Other AMZ Formula Features
Other than the 8-module training course, you'll also get access to:
AMZ Formula chat room
Private Facebook Group
Templates
Scaling Training
3 Things I Don't Like About AMZ Formula And Its Business Model
1. It's An Expensive Business Model
You just don't have to pay for the course, you also have to spend on tools like Jungle Scout, an autoresponder, pay for hiring VAs, and outsourcing email marketing and social media marketing.
2. Low Income Margin
Amazon takes a 15% cut on each sale you make, unless you make big sales, you'll end up making just enough for a breakeven.
3. Lousy Refund Policy
You can only access 25% of the course or just about the 1st to the module if you want a refund, not enough to see if it's a good fit or not.
In the end, no matter how many requests and updates you make, they might still not grant you your refund.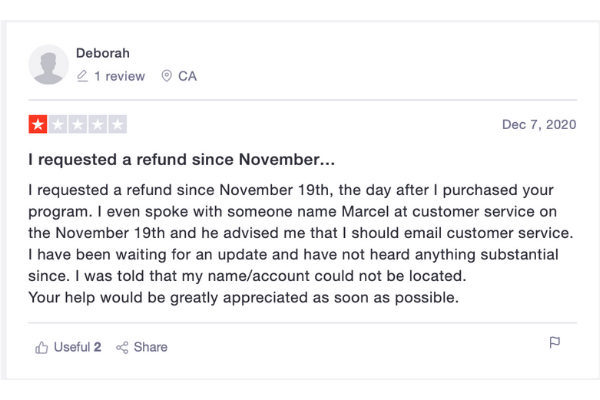 Is AMZ Formula A Scam?
No, AMZ Formula is not a scam. It has a solid training course you can follow to make money on Amazon. However, I don't recommend it, especially for beginners not just because it's expensive but also because it's a tough business model to work with.
What Do You Do Now?
You can still make money with Amazon minus all the hassle of handling the products yourself. You can be an Amazon drop shipper and you can still make the same money you'll make if you follow AMZ Formula's business model.
You can learn more about dropshipping in Marketplace Superheroes.
However, if you want to avoid the hassle of fulfilling order requests and entertaining customer queries, you can do affiliate marketing instead.
Here, you will still have products to promote, but the product vendor will handle all the tasks like providing customer support and sending products.
You just have to promote and sell a product and you'll easily make a commission.
A good training to learn about affiliate marketing is Wealthy Affiliate. If you want to test it out for free, they'll let you take the 1st 10 lessons without cost as long as you want.
If you're interested to know more about Wealthy Affiliate, you can head on to this in-depth Wealthy Affiliate review.
What's Your Take?
Do you think The AMZ Formula is too expensive for beginners?
Do you think affiliate marketing would be a better choice?
Tell us what you think in the comments below.
Simon Crowe is on a mission to help as many people as possible kiss their bosses goodbye.
Take the free Commission Academy course to discover how to smash your online income goals and make your dream business a reality.