Welcome to the ONLY Ecom Cash Code review that exposes the truth. You'll find out if Ecom Cash Code is a scam designed to take your cash or a legit training course worth pursuing.
I do not work for the guy calling himself Teo Vee and I'm here to help you avoid scammy get-rich-quick schemes and find real money-making programs.
I signed up to Ecom Cash Code, so let's take a look at what I found out:
Ecom Cash Code Review At A Glance
About: Teo Vee says his Ecom Cash Code course reveals the "secret code" to unlock online earnings of $365K/year.
Price: $97 discounted to $49 plus $10,000+ in upsells.
Pros: Seriously none I can think of.
Cons: Fake claims, fake names, fake testimonials, pushy sales calls.
Verdict: Victims are taken down a spiral of expensive upsells leaving them $1,000s worse off. Ecom Cash Code is clearly a get-rich-quick scam you want to avoid.

Ecom Cash Code can be found on several websites across the web but they all work the same way:
You pay to access a 'secret code' you can 'plug into' for unlimited profits for zero effort.
'Teo Vee' (a fake name) is a serial scammer who will tell you anything to dupe you into handing over your cash.
There's nothing real or legit about Ecom Cash Code; the fake names and fake video testimonials are only designed to manipulate and deceive.
Not only is Ecom Cash Code a scam, but with 'expert coaches' calling every hour of the day trying to convince you to buy expensive upgrades, victims are led down a spiral of higher-priced upsells leaving them $1,000's worse off with nothing to show for it.
Want my honest advice?
Stay away from this get-rich-quick crap and learn how to generate a full-time income online instead.
Read my SUPER in-depth Invincible Marketer review where I outline exactly how this training platform helps me earn $7,000/month.
What Is Ecom Cash Code?
Ecom Cash Code is a program created by Teo Vanyo that promises to give you the "ultra-secret code" to make $1,000/day online.
The webpage is pretty basic and it looks like they're not going to tell you anything about how this program works until you fill out the form giving them your name, email and phone number.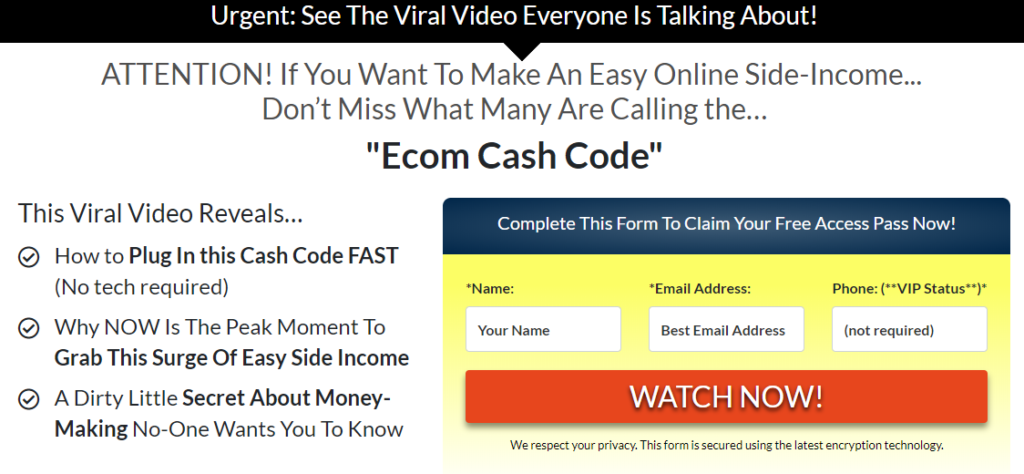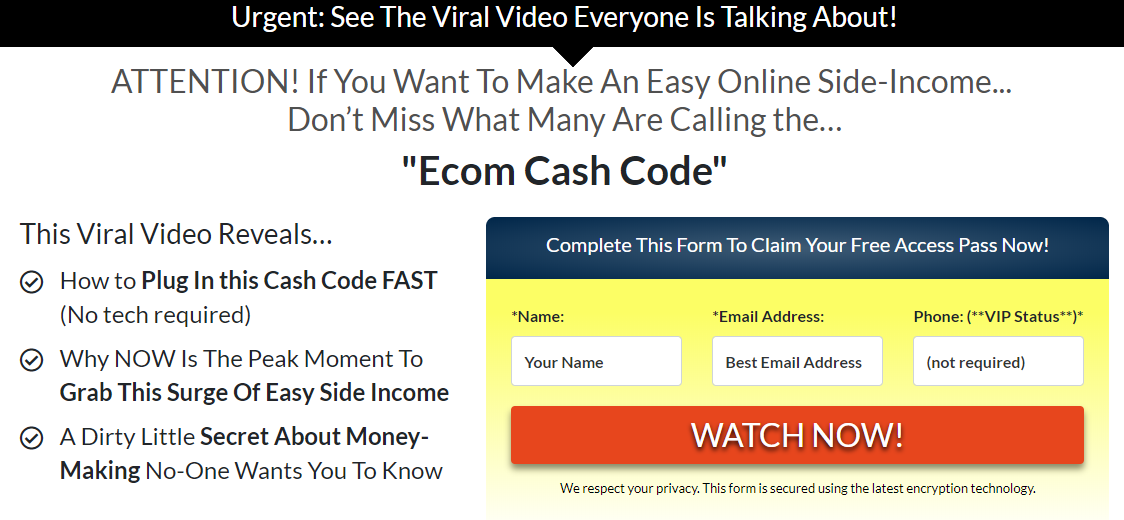 Across the top of the site, it says this is the system that everyone's talking about with Ecom Cash Code calling itself the way to make an easy side income.
I think it's strange that a system calling itself the 'Ecom Cash Code' is on a website called CashCodeSecret.com. This tells me this could be one of those scams that are littering the web using a whole array of different names and websites.
Already suspicious but curious to find out more, I filled out the form using fake details. (If this isn't legit I don't want any annoying sales calls!)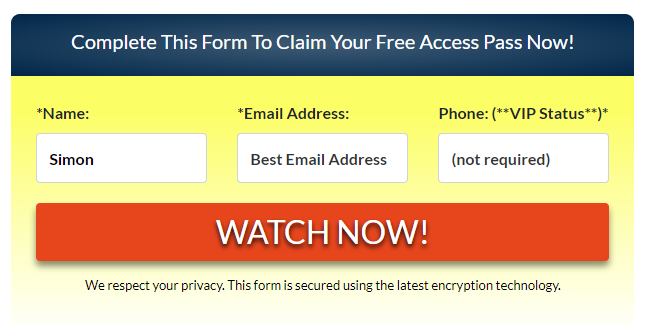 I filled out all my details but the sign up has some kind of glitch and wouldn't take me to the next screen so I dug a little deeper and found another Ecom Cash Code website that looks like this: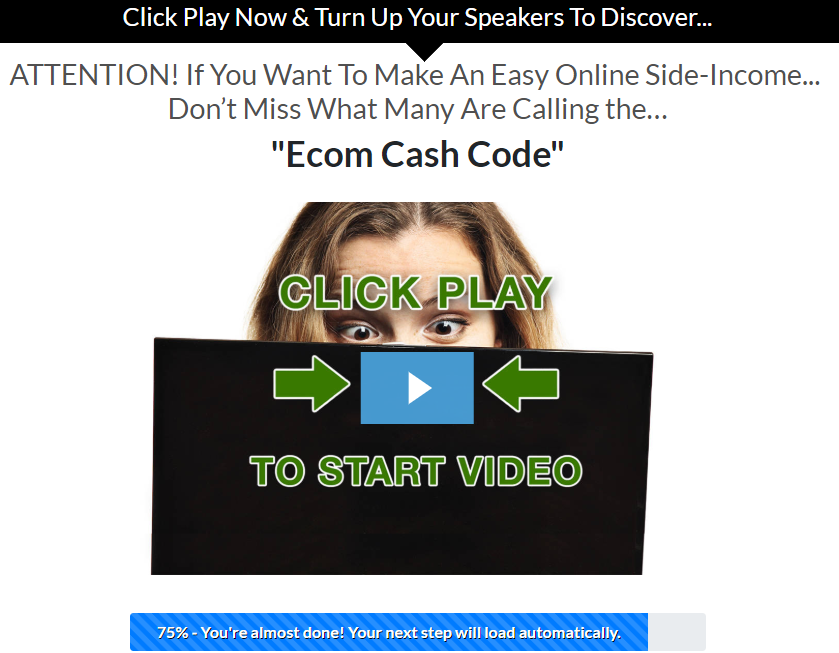 Finally, I could watch the video, but to be honest it didn't give me much to go on…
'Teo Vee' says he started $213 in commissions overnight. $6,822 in a week, 90 days $114,500 all because a friend showed him how to find a website that interested in and then 'plugged in' this special code…
He says since he's discovered this amazing code he's shared it with others who have had similar results…
He says Ecom Cash Code works by 'plugging into a code'. You don't need any knowledge about computers – all you need is an internet connection and a desire to make it happen.
We're supposed to believe you can make $350,000 a year if you just plug in the code (what does that even mean?!), sit back, relax and watch the automated Ecom Cash Code do all the work for you.
So obviously this all sounds a little bit far-fetched…
Do things this great actually happen in real life? Or is this just some fairytale load of BS that is going to suck you into a nasty scam and leave you with less money than when you started?
You'll also find the Ecom Cash Code on a whole variety of different website domains. Here's the few I know about so far:
SecretEcomCode.com
CashCodeSecret.com/index.php?
Strahag-e.com/start.php
Add any others you come across in the comments below, that would really help us out.
How Much Does Ecom Cash Code Cost?
Full access to the Ecom Cash Code system is sold for $97, but try closing the website and you're offered a $50 discount to bring the price down to $47.
As I'll show you in a second though, sign up and this won't be the last time you'll have to get your wallet out.
4 Ecom Cash Code Ugly Truths Exposed!
1. Scammer Teo Vee Strikes Again!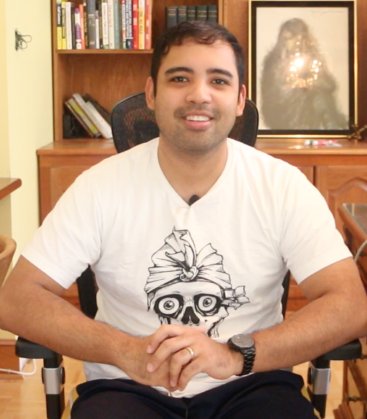 'Teo Vee' is the fake name Teo Vanyo uses to hide his true identity.
Teo Vanyo is the guy behind get-rich-quick scams like Click N'Flip, Get The Discovery and The Ecom Club to name a few…
With Ecom Cash Code he claims he had a friend who told him the code, with Click N'Flip a 14-year-old French genius gave him the code.
In all the scams the basic story is the same: he's the only one with access to this ultra-secret life-changing code and you're gonna have to pay Teo Vanyo $97 to get it.
2. I've Seen These Fake Video Testimonials Before
Watching the video, I instantly recognised the people pretending to be making $1000's a day following Teo's method.
They're nothing more than hired actors who will say anything you want for $5: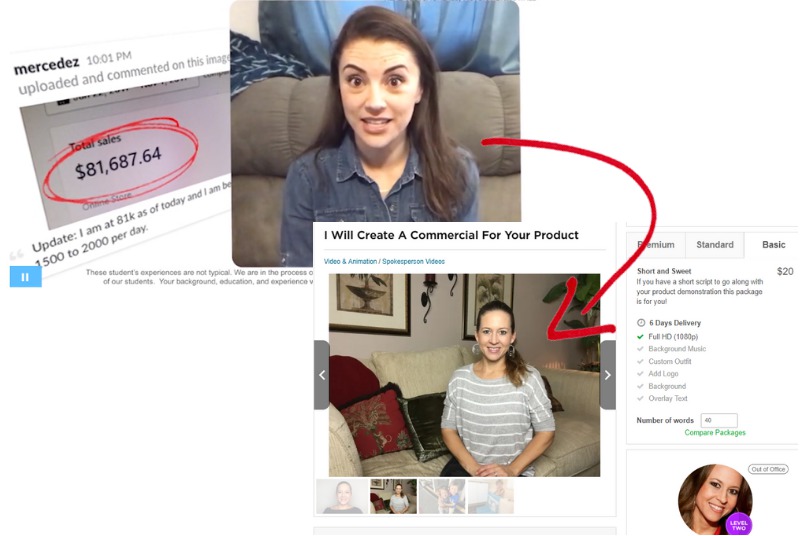 Notice how the members never mention Ecom Cash Code by name?
This is because, when you thought things couldn't get any worse, Teo uses these exact same video testimonials across all of his scam sites.
The whole video is full of fake and recycled 'earnings proof' and success stories to deceive you into thinking this is legit.
3. Ecom Cash Code Uses Fake Verification
At the bottom of the website, you'll see verified eCommerce logos…
So the site is verified? Brilliant! But verified by who exactly?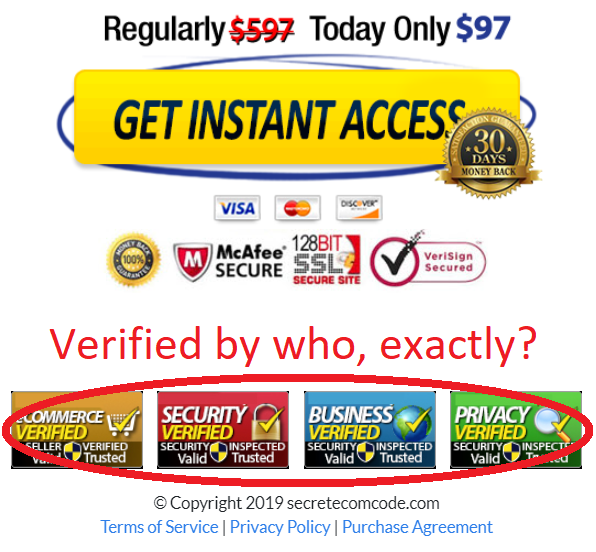 These look good, right? They fool you into thinking your money is safe.
Teo cuts and pastes these images onto his site to try and give his scheme legitimacy but in truth, they're completely meaningless.
4. Teo's Expert Advisors Will Squeeze You For Cash
Teo says you'll be working with an 'expert Ecom Cash Code advisor' who will check in with you to make sure everything is working properly for you and to answer any questions you might have.
Immediately this raises a huge red flag! I've lost count of the number of scams I've reviewed where they use so-called 'success coaches' to hard-sell you on more expensive upsells and upgrades.
These are trained and pushy salespeople who will not take no for an answer.
They'll manipulate you by asking how serious you are about living the millionaire lifestyle then try selling you a $2,000 'full training' package and monthly web hosting fees.
My advice?
Do NOT give them your phone number because you'll be harassed by sales calls from these so-called 'expert coaches' who will say and do anything to bleed you dry.
Is Ecom Cash Code A Scam Or Legit?
All the signs point to Ecom Cash Code being a scam; you're told you'll make crazy amounts of money on autopilot, there's actors hired to pretend the system works and we have an owner who doesn't want you to know his real name.
Teo Vanyo uses lies, deception and aggressive sales tactics and should definitely not be trusted!
How Making Money Online Really Works
If you're sick and tired of wasting your time and money on get-rich-quick scams like this that never get results then let me offer you a better way.
Work from home scams like Ecom Cash Code will always sell you on the idea making money online is instant and automatic but I promise you, there's no revolutionary new system or ultra-secret code that pumps money into your account while you sleep.
The biggest secret to online financial success is that there are no shortcuts.
It can be a bitter pill to swallow but the good news is you can build a real online business for yourself if you're willing to put in the effort and work hard.
For those willing to take massive action making money online is really not that difficult. Anyone can make money online, you just need the right program to follow.
Why listen to me? Because I started my first income-generating website in 2015 and I now make over $7,000 a month (and I'm just getting started!)
I'm not a technical whizz, yet because I followed a legit step-by-step course and applied what I learned I became very successful. Follow the same training I did and you WILL get the results you're looking for.
The course I'm recommending?
It's completely free to start so put your wallet away! I know whatever your online income goals are if you really want to make them happen then you can!
More Ecom Cash Code Reviews
Your Ecom Cash Code Reviews
Did you buy Teo Vee's Ecom Cash Code?
Good or bad, tell us about your experience below!
Got any questions about getting started online?
Ask in the comments and I'll personally help you out!
Simon Crowe is on a mission to help as many people as possible kiss their bosses goodbye.
Take the free Commission Academy course to discover how to smash your online income goals and make your dream business a reality.