I came across the Prime Time Profits site looking for new and interesting internet-based work from home opportunities to make some extra money.
It calls itself a done-for-you system that'll generate $500 a day on autopilot… but can you really make money with the Prime Time Profits system or is just another time-wasting, money-sucking scam?
I am a huge fan of earning income online, I mean having more money is always a good thing right? The trick is actually finding a method that works!
There's no end of programs out there claiming to be legit but unfortunately, most of them turn out to be nothing more than elaborate get rich quick schemes designed to put money into the site owner's pockets while the rest of us end up worse off. 
So, in my never-ending quest to find the best ways to make money online I decided to look into this site a little bit deeper to see whether or not Prime Time Profits could be a viable money maker or not.
What Is Prime Time Profits About Exactly?
The Prime Time Profits website has a big banner that says, "Copy My FREE Weird Trick to Make $500 Per Day Starting TODAY!", making it sound like you're not going to be asked to pay anything.
Underneath that there's a video so I hit play to get a better idea of what this money making opportunity is all about.
I gotta say, it's probably one of the strangest sales videos I've watched. The narrator starts by asking what you would do if you found a special black box one day with a button on it…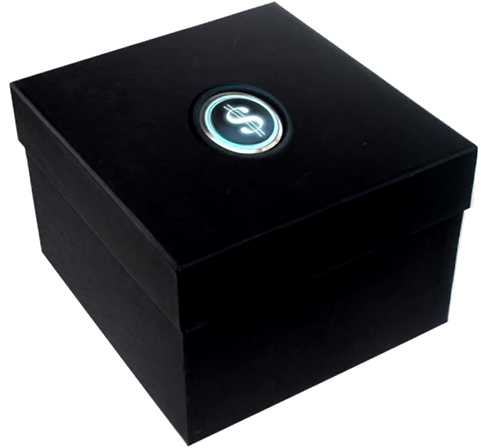 Press that button, open it up and 'poof!' there's a crisp $500 bill inside. You learn you can do this several times in a day and every time you do, the same happens.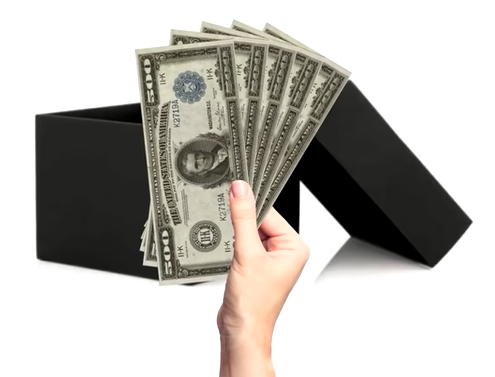 While they say they're obviously not going to send you a special black box in the mail, they do claim they have a system which is the equivalent of a virtual money making black box that they're going to give you access to.
At the end of the video the guy says, "All you do is fill out your name and address below and you'll get access to everything."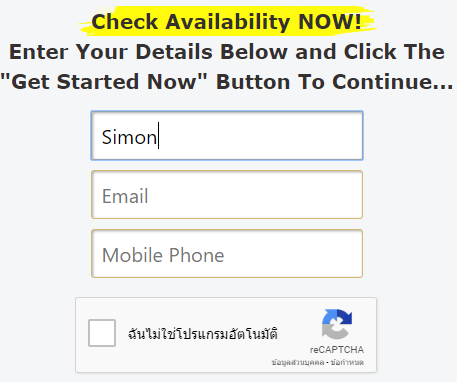 I didn't bother entering my mobile number but that didn't seem to be a problem. I was redirected to the next screen with another video saying "Well done! You're halfway to getting that black box!"
The video is from a guy calling himself Charles McAllister who says Prime Time Profits works by using a stealth system to open up a back door into one of the biggest websites on the web: Amazon.com. 
They say with Amazon facilitating 6 million transactions a day and making a $178billion profit last year alone, getting just a tiny slice of the action could make you millions.
They go on to say some Prime Time Profit members are making between $5,000 and $10,000 a day with video testimonials sharing their success stories…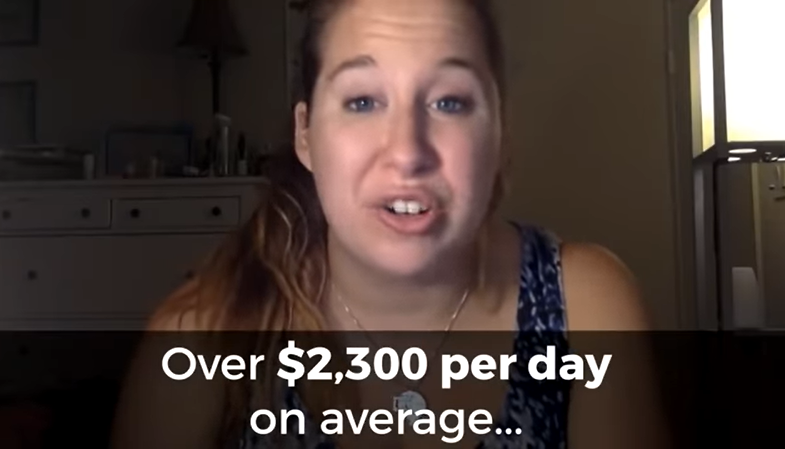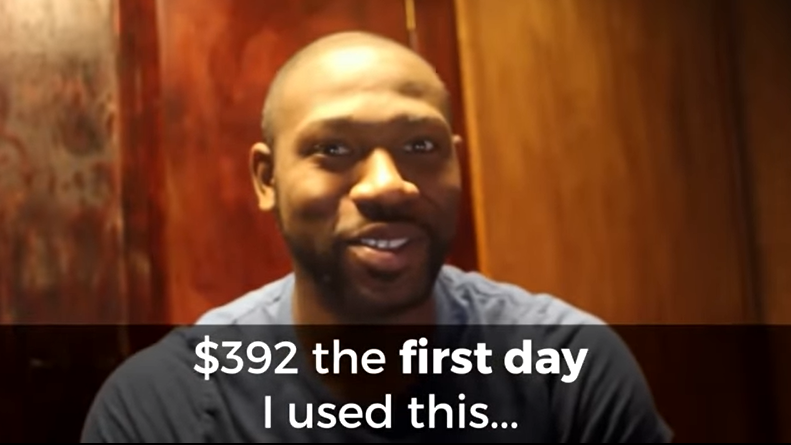 Immediately alarm bells are going off in my head, because, well… I've seen these guys many times before!
Just a couple of days ago I did a review of the Your New At Home Career scam and these people were in that promotional video too, bragging about how much money they'd made in just a few days.
I'm not saying these people are involved in internet scams directly, but they are hired by scammers as video spokespeople through a site called Fiverr.  

Whenever you're on the hunt for new money-making opportunities, it's never a good sign when the guys behind a system have to hire actors. If Prime Time Profits are legit then they'd easily be able to share real success stories from real members.
Remember they said it was free on their homepage? I guess that's not true either…
Hit the add to cart button under the video and you're redirected to this secure payment page and asked to pay $47.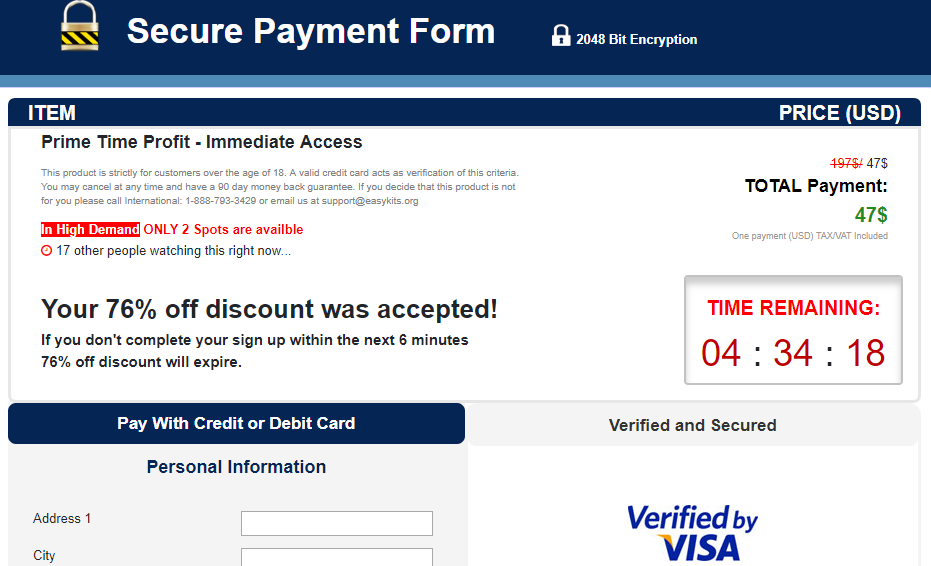 Is Prime Time Profits A Scam? 6 Red Flags!
After reviewing hundreds of programs calling themselves the 'ultimate profit-making system' I can tell you that sadly, 95% of them turn out to be nothing more than get-rich-quick schemes exploiting people looking for genuine ways to make extra money online.
Shockingly the Federal Trade Commission reported that people lost $905 million to fraud and scams in 2017. That's a whole lot of money! 
So is Prime Time Profits a scam to be avoided or a legit Amazon work from home program?
I've got to tell you, from what I've seen so far I don't think we're onto a winner here…
According to Wikipedia's definition of a scam, there are six common scam indicators to watch out for. So let's put Prime Time Profits to the test and see how it stacks up.
1. Online Scams Say Anyone Signing Up Will Become Rich
Wikipedia says a classic tell-tale of a scam is that they offer you fast and easy money for little or no effort. Prime Time Profits fit the bill right off the bat.
I remember Charles McAllister (if that's even his real name) claiming you could make up to $10k a day with his 'easy done-for-you' strategy.
I mean, just look at their main homepage banner. It clearly says you'll be making a lot of money from day one. 

Incidentally, this is the exact same banner used in the Your Dream Websites scam I exposed recently. The website layout and everything are identical!
2. They'll Tell Potential Victims The Route To Success Is By Following "Secret Formulas" No One Else Knows About
Does this sound familar?
It reminds me of all that talk in the video about 'magical black boxes' and 'stealth systems' that get through a hidden back door of Amazon…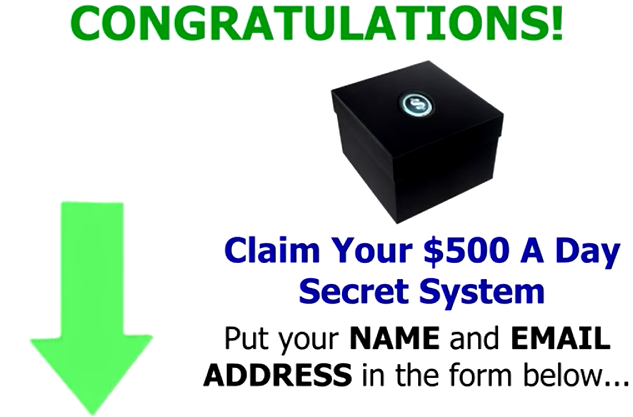 The truth is there's no such thing as an 'automatic cash system' or 'profit-spitting machine' anywhere – offline or online.
Yes, there are a lot of people making a good living as online entrepreneurs but that's because they realised you build an online income by creating a profitable online business.
It takes effort to become successful and there's no getting around that, the same applies to any area of life. Anyone offering you a secret back door or shortcut to success is just spinning you a line.
3. They'll Claim They've Been Seen On Certain Websites Including Google And YouTube, Causing The Viewer To Assume Said Websites Endorse The Product
I've seen dozens of scams use these kinds of tactics to deceive people into thinking they are more credible than they actually are. 
Take a look at the Prime Time Profits homepage below and you'll see not only do they use the Amazon logo a lot, but they also show news media outlet logos like Fox and Forbes making you think they're legit…
But look at the wording carefully and you'll see a clever little trick they've pulled here.
They don't go ahead and say "Prime Time Profits have been featured in…" but instead, "Work from home opportunities have been featured in…"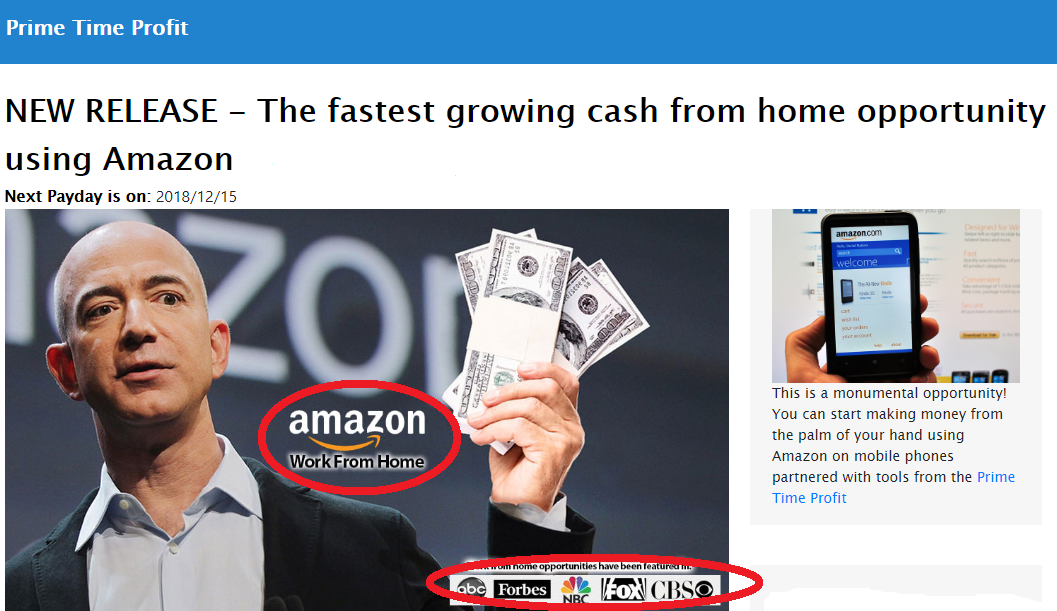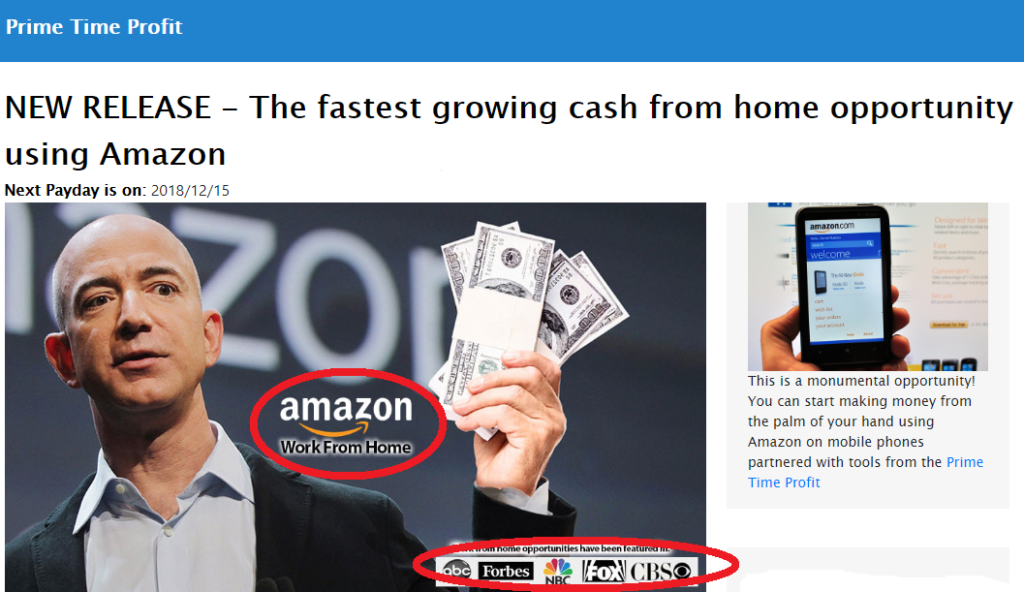 4. They Use Pressure Tactics To Encourage Victims To Sign Up Quickly, Claiming There Are Only A Certain Number of Copies Left, Or Using Special Discounts That Are Only Available For A Short Time.
Another thing Prime Time Profits and many other internet scams have in common is their use of so-called 'scarcity tactics'.
On their main sales page they tell you there's only a limited number of places left…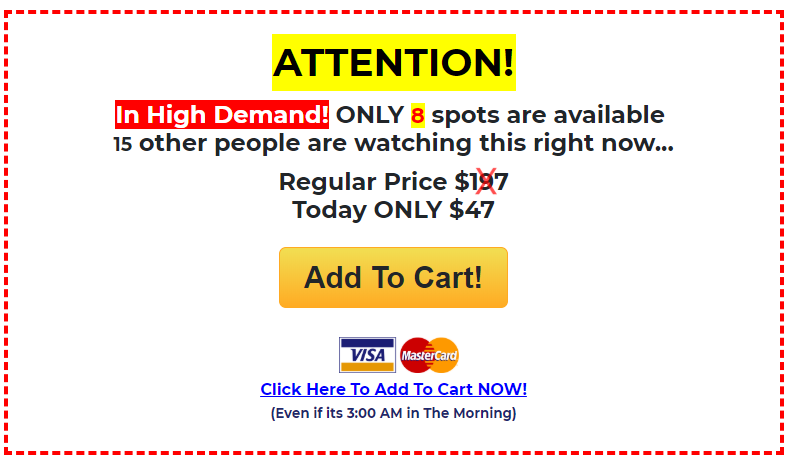 Click the Add To Cart button and you'll see a big red 5-minute countdown right on the checkout page.
The video employs another pressure sales tactic telling us the site will be taken down "at any moment" because they can only accept a limited number of people into the program.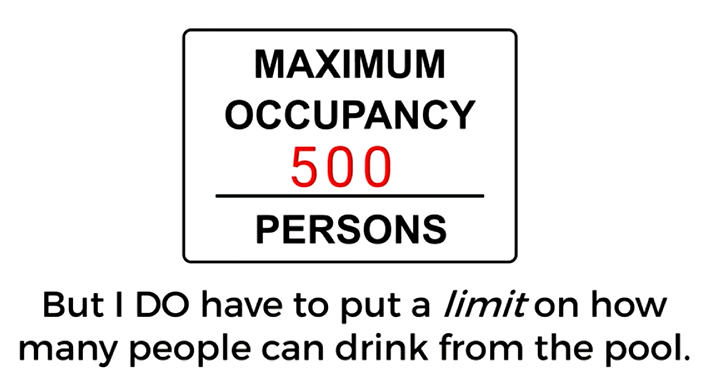 5. Schemes Of This Nature Will Often Display Testimonials From "Previous Users."
We've already seen Prime Time Profits using fake video testimonials. I've shown you PROOF those testimonials are 100% phony – given by people paid to read from a script.
If there were people out there already making a lot of money with Prime Time Profits I'm sure they'd be proud to tell their story. That's got to tell you something about this 'money making opportunity'. 
6. When Trying To Navigate Away From Their Website, Users Are Often Presented With Popups Offering Further Discounts In An Attempt To Make The User Feel Special.
If you've been on their website you've seen the giant pop up already, it's pretty hard to miss!
Though they don't give a direct discount, he does say the normal price of the Prime Time Profits system is $197 but right now it's available for $47 for today only.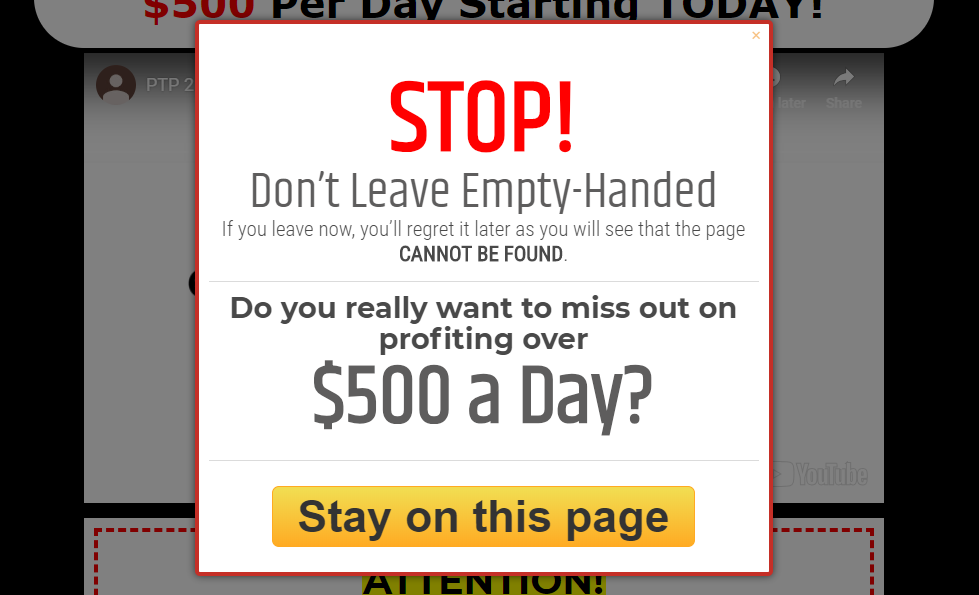 Looking at Wikipedia's scam indicators, this system has all the classic warning signs.
On top of that, they make outrageous claims about how much money you can make, saying things like "This system dumps ridiculous amounts of cash into your bank account", without ever actually telling you anything about how it works or giving you a legitimate business model. 
I have to say Prime Time Profits is definitely a scam.
Can You Make Money With Prime Time Profits?
Should you pay $47 to try this system out?
I mean they do have a 60 day money back guarantee…
Honestly, despite paid actors telling you you're gonna make money within the first hour, I don't think real people are not making any money with this so-called Amazon work from home system.
I've seen these kinds of scams many times before; yes they're great at making big promises but they fail to make a difference to your bank balance.
The truth is, you don't find money hidden in magical black boxes or growing on magical money trees, you make money by running a successful and profitable online business.
How I Make Big Profits Online (For Real)
Before you ask – no, I don't have a magical black box that delivers crisp $500 bills on demand! (I wish I did though, that'd come in handy!)
There are a lot of ways to make money online. Some are good, some not so good, but starting a money-generating affiliate website is the holy grail of building a passive income. You can work anywhere, anytime and once you're up and running you really do make money sleeping. 
Running a successful online business isn't easy, but it's a lot easier with the help and guidance you'll get by following the step-by-step lessons from this program.
This is the exact same training I followed to get to where I am today. Whatever your financial goals are, they'll equip you with the top training, tools and support to give you the very best chances of success.
You can also message me directly inside the members area at anytime. I'm usually logged in helping new members who are just starting out.
Click here to read my SUPER in-depth Wealthy Affiliate review to find out more.
Simon Crowe is the founder of The Make Money Online Blog and is on a mission to help as many people as possible kiss their bosses goodbye.
Get his free Affiliate Marketing Guide For Newbies to learn exactly how to build a real income online and make your dream business a reality.