Hi, I'm Simon and welcome to my Amazon Sales Blueprint review where we'll be putting Tai Lopez's latest training program to the test!
If you're thinking about buying this course then you're probably wondering:
Is Amazon Sales Blueprint a legit course where Tai Lopez will help you build a real and profitable online business empire or just a hyped-up scam not worth your time?
You've done the right thing by checking out this review. You and I both know there's definitely a lot of low-quality training programs out there that fail to deliver results.
Why listen to me?
Because unlike all the fake reviewers out there who give everything a positive rating to line their own pockets, this is an honest and unbiased Amazon Sales Blueprint review where I'm free to just say what I think.
Amazon Sales Blueprint Review At A Glance
About: Tai Lopez's make money online training on how you can profit from selling at Amazon.
Price: $29 for the 10-day crash course, $497 for the in-depth 4-month course.
Pros: Proven business model, good price, strong community, training from experts.
Cons: There are other startup costs other than the training fee.
Verdict: Amazon Sales Blueprint is a great way to learn how you can profit from Amazon. Tai is a genuine guy who is an expert in what he teaches.

Who Is Tai Lopez, Exactly?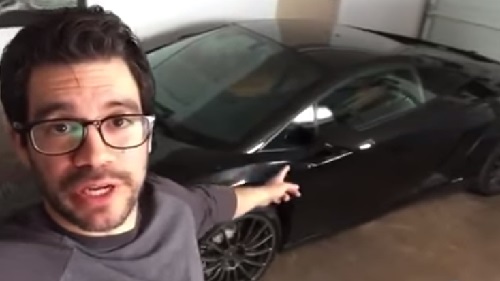 Most people (myself included) came across Tai Lopez when he started running YouTube ads showing off his big house and Lamborghini.
Anyone flashing the cash is automatically assumed to be a scammer and I totally get that.
That's exactly why for a long time, I wrote Tai off as just some get-rich-quick guru and skipped his ads.
I think that was a mistake because when you do actually listen to what he's saying, you'll see this guy knows what he's talking about. That's why he's been featured in the likes of Entrepreneur.com and been named as a top influencer at Forbes.com.
Tai and his friend Alex have made over $1 billion dollars over the years by selling on Amazon and TaiLopez.com.
He's had success as an affiliate marketer, dropshipper and local SEO agent – you name it – he's probably tried it. The thing I always say is you better choose who you learn from…
Would you prefer to learn from a professor who's never done it, or from an experienced entrepreneur like Tai Lopez who's been there and done it?
I think Tai is a good guy to get mentoring from. Learn from his mistakes and you'll save time and money. Copy his methods, find out what works and your journey to financial freedom will much shorter (and probably a lot less painful!)
"Hustle until your haters ask you if you're hiring."
My favourite Tai Lopez quote
What Is Amazon Sales Blueprint About?
The Amazon Sales Blueprint course is all about learning how to make money by selling products through Amazon.
Tai claims he and his team of experts will show you how to generate $1,000 – $10,000 per month…
Though it's easy to throw out numbers like this, I think that with this busines model and training program you have a real chance of achieving that.
As well as the step-by-step video courses, you'll also get access to his private members-only Facebook group where you can ask questions and get answers and get support if you're ever unsure about anything along the way.
Here's Tai's video telling you what's included and what you'll get out of the training:
What You'll Learn Inside The Training Area
Tai Lopez is smart enough to know that if he wants people to buy his courses he's going to have to deliver high value every time. His training is packed full of practical, hands-on strategies from some of the top people in the Amazon selling world.
You're not just given general over-arching theories and fluff, but an over-the-shoulder step by step you can follow to become a successful Amazon seller.
Step 1: Picking The Right Products
You want to pick products that are popular, trending and in demand, but not overly competitive.
Once you've narrowed down your products you'll need to know where you can source them and how much inventory you should have on hand.
Step 2: Driving Traffic
Now that your items are listed on Amazon, you want to maximise sales by knowing how to move your listings up in Amazon's product search results.
Step 3: Building A Brand
You'll learn how to build a strong brand for success in the long-term, from how to create a memorable logo to raising overall brand awareness.
Step 4: Scaling Your Business To The Next Level
Now that your Ecommerce business is up and running and the sales are coming in, it's time to take it up a gear!
Tai and his team of experts will show you how to scale up through outsourcing, running pay per click marketing campaigns on sites like Instagram and YouTube and by getting more exposure by setting up your own Shopify store.
How Much Is Amazon Sales Blueprint?
Amazon Sales Blueprint has 2 memberships; the Quickstart Program and the Full Program:
The Quickstart Program ($29)
This is an introductory 10-day video crash course that covers everything you need to know about getting started.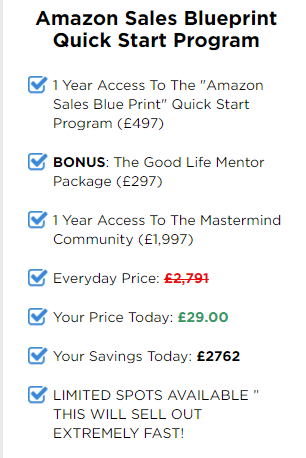 The Full Program ($497)
This is an in-depth 4-month training program with either a one-off membership of $497 or three payments of $197 (a total of $591), depending on your budget.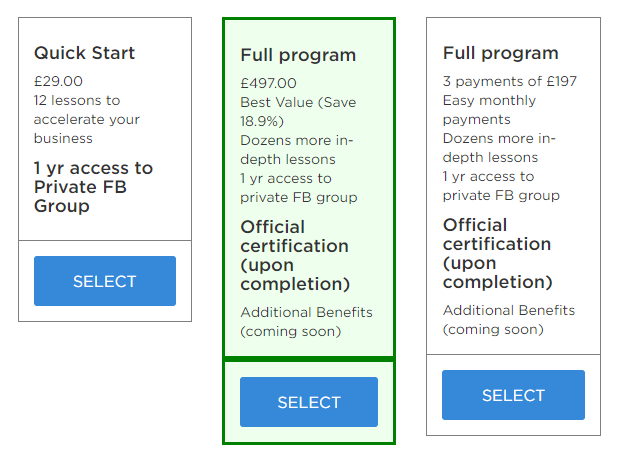 In all honesty this is a phenomenal price!
Every single dropshipping course I've seen out there, including eCom Hacks Academy, will you $2,000 – $5,000 minimum.
Amazon Sales Blueprint is a reasonably priced course that offers real value in my opinion.
Making money online isn't complicated…
This video will show you exactly how to get started. Tap to watch now »
Is Amazon Sales Blueprint A Scam?
It's easy to see videos of Tai Lopez waving big wads of cash and assume he's your typical get-rich-quick scammer…
I know I used to!
But it turns out, Tai is a genuine guy who seems to actually care about helping people reach their online income goals.
Amazon Sales Blueprint IS Legit.
Whether you want to start out with the Amazon Sales Blueprint Quick Start Program and take it from there, or go all out and dive straight into the Full Program training, I don't think you'll be disappointed.
Both courses come with a full, no questions asked 30-day money-back guarantee so you've got nothing to lose. Give it a shot and see if it's a right fit for you.
How I Make Money Online?
Dropshipping is definitely a legit business model that can make you very wealthy.
Pick the right products, become a master at running successful Facebook ad campaigns and you can make a lot of money in a very short space of time.
The downside is you have to pay out a lot of money upfront to buy your inventory, pay for advertising and hire customer service agents once your business picks up.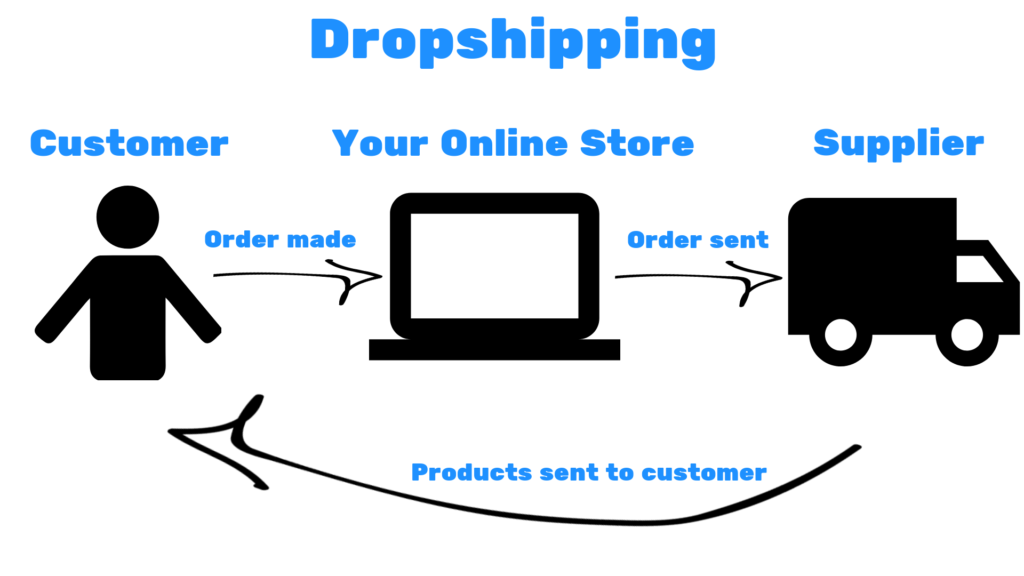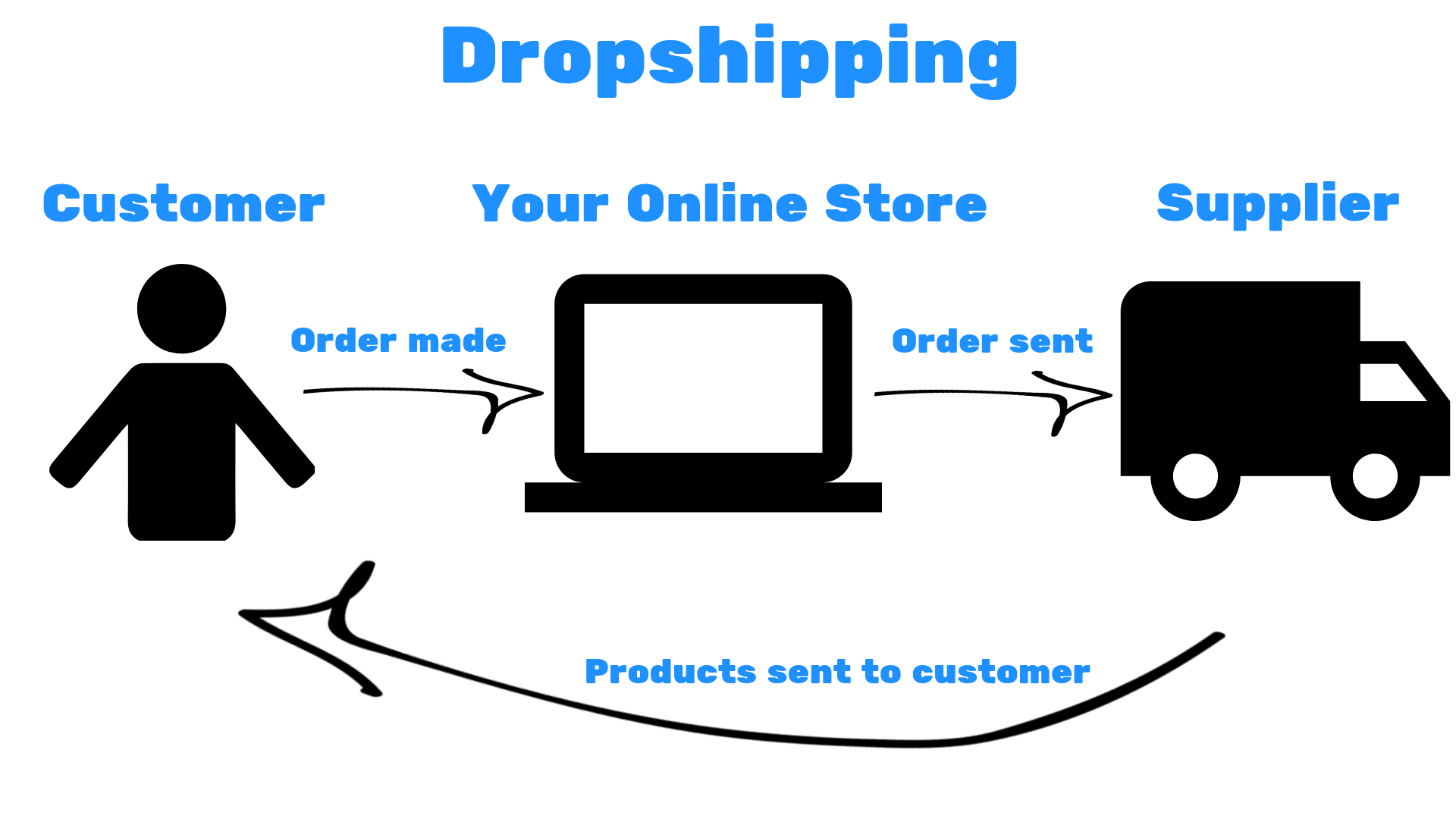 The way that I make over 90% of my income is through affiliate marketing. It's just the model I find works best for me. You promote other people's products and service in return for a commission.
The biggest pro of affiliate marketing compared to dropshipping is the lower startup costs. You can start a profitable affiliate marketing business for less than $400 a year.
The downside is it can take 6 months of consistent effort before you start seeing results, but as I say, it's an ideal option for those of you on a tighter budget.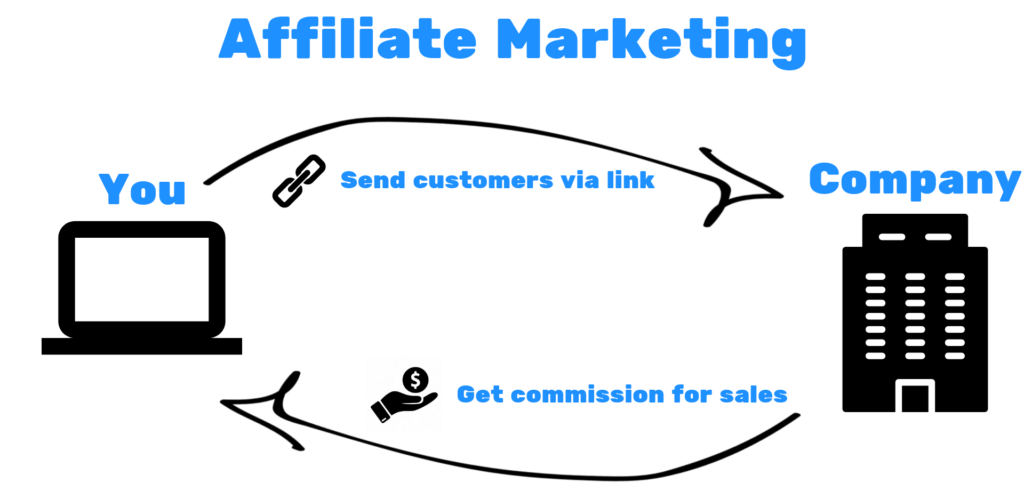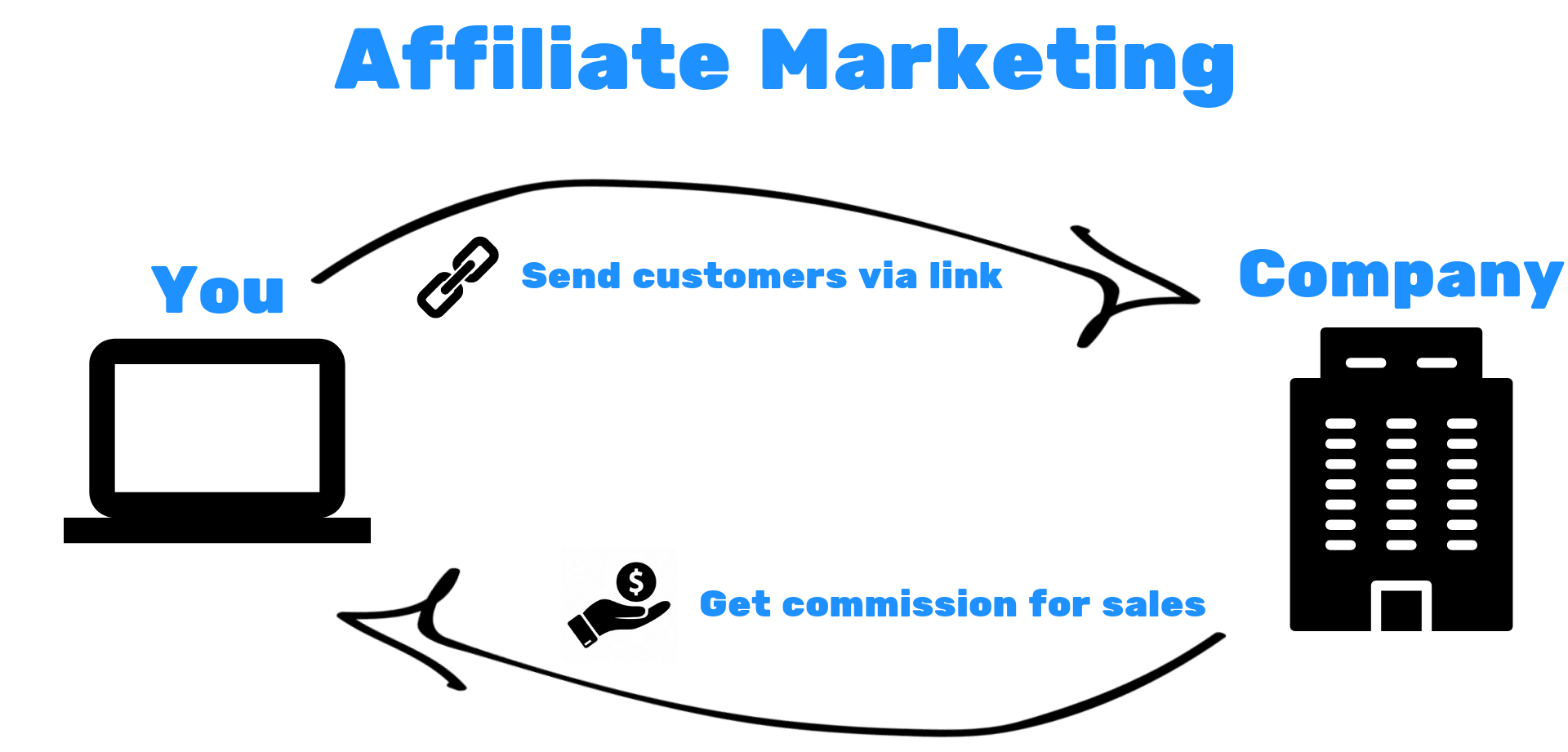 Whether you choose to go down the dropshipping or affiliate marketing route, the advantage of both is it can all be done online, there's no need to stock inventory or deal with shipping as it's all done through a third party, and both can be grown to scale.
To get the best dropshipping training, head on over to the Amazon Sales Blueprint website and sign up for the 10-day Quickstart Program. At $29 it's a steal!
To get the best affiliate marketing training, check out my full Wealthy Affiliate review here. They have a free Starter membership so you can try it out risk-free.
The Premium membership is just $49 a month and includes all the website builders and keyword tools you need to succeed.
Questions Or Thoughts Of Your Own?
If you have any questions about Tai Lopez's Amazon Sales Blueprint or any other training course I've reviewed, scroll down and message me in the comments and I'll be more than happy to help you out.
Simon Crowe is on a mission to help as many people as possible kiss their bosses goodbye.
Take the free Commission Academy course to discover how to smash your online income goals and make your dream business a reality.