Who doesn't want to get the best value for his purchases, right?
Receipt Hog claims to give back a little of what you spend just for uploading your receipts.
Sound like a scam?
Let's find out!
In today's review of Receipt Hog, we'll discuss if there's any truth to what they say. I'm a little optimistic about it, after all, a number of cashback systems are legit. So aside from knowing if it's a scam or not, we'll also talk about how it works and how you can get started in it.
Receipt Hog Review At A Glance
About: Receipt Hog is a market research app that allows you to earn points from your purchase receipts.
Price: The app is free to download.
Pros: Allows you to save from your regular purchases.
Cons: Reward structure is complicated, it doesn't award coins for all receipts.
Verdict: Receipt Hog is a good saving system for your regular purchases. But since it doesn't allow you large cashback, it's only good for little extra savings.

What Is Receipt Hog?
Receipt Hog is basically an app for your smartphone made by InfoScout. Info Scout is a market research firm conducting research (buying behavior) for retailers and brands. They also rebranded to Numerator 2 years ago.
Brands want to know a shopper's preferences and spending habits so they can see where they need to improve to increase their sales, this is where InfoScout comes in to help them.
With this app, you can upload your receipts and get rewards from Amazon or Paypal. This is not available for everybody around the world though, only those in the US and the UK can use the app.
You can download the app for free on Google Play for Android phones and in the App Store for iOS gadgets. Receipt Hog is quite well-known. Android users rated in 4.3 while iOS users rated it 4.7 stars.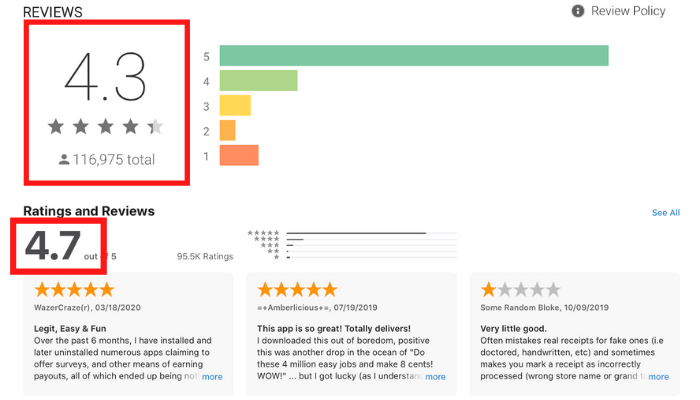 Pretty good start for Receipt Hog. Other apps that work like Receipt Hog are Ibotta and Shopkick.
You might also want to check out those two so you can weigh which works better for you. Or you might even end up liking the 3 apps and use it all for more savings.
5 Steps To Earn From Receipt Hog
I'd like to answer first a question that might be in the back of your head, where does Receipt Hog get the money to reward users? Since they're doing research for retailers and brands, these companies pay them for the research results. They then pay a portion of what they earn forward to the app users.
Anyway, let's now move on to the steps.
1. Download The App
Just head on to Google Play or the App Store to download the app for free.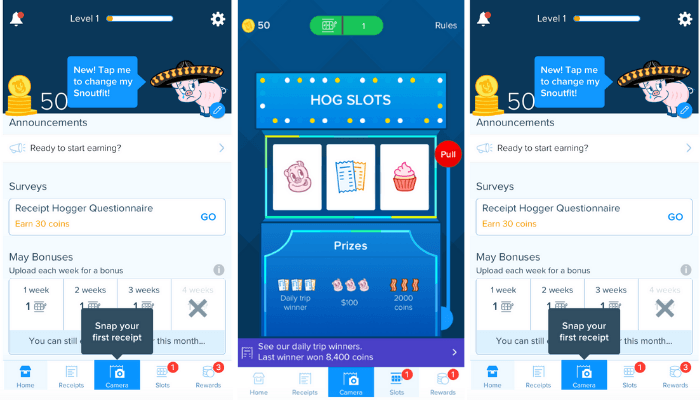 2. Create A Receipt Hog Account
After downloading, simply create an account by providing your email address and home address (they want to make sure you're in a US or UK location). You might get uneasy giving your home address, I suggest just not giving the specifics like the lot number or the block number your house is in.
Creating an account automatically gives you 50 coins.
3. Take Receipt Photos
Once done with creating an account, you can start taking photos of your receipts in the Receipts tab and hit submit.
A bit of reminder, you can only use receipts no more than 2 weeks old and you can only upload a maximum of 3 receipts on the same date from the same store to earn coins.
Other than grocery stores, you can also upload receipts from convenience stores, pet stores, and even cafes. The coins you'll get will depend on the total amount you paid in a store as seen on the receipt.
Roughly, this is how much coins you will get:
$10 = 5 coins
$10-50 = 10 coins
$50-100 = 15 coins
$100+ = 20 coins
Here's a video of how it works:
4. Complete Activities
Other than taking photos of receipts, you can also earn some extra coins by taking some tasks. Filling out a questionnaire gets you 30 coins. The questions include basic demographics like your age, gender, birth date, ethnicity, and so on.
I'm kind of wary at this point, they'll basically know your personal information so there's a danger when it goes into the wrong hands, it can mean identity theft. Still, I'm not completely suspicious because these are common questions asked by research companies to get a more targeted research result.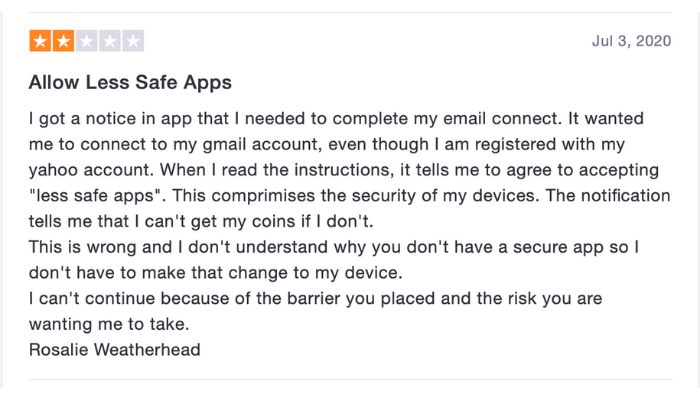 I just hope they take the necessary measure to keep the information safe.
5. Redeem Rewards
After earning 1,000 coins, you can then use that to cash out. As long as you've taken the questionnaire, verified your email and device, you have the choice of getting either an Amazon gift card, a Visa/Mastercard e-gift code sent to your email or cash through Paypal.
If you choose cash redemption, you'll usually wait 7 days to get it into your Paypal account.
Aside from coins, you can also get awarded with spins. What are spins, anyway? Some store does not reward coins, instead, they award with one spin on the Hog Slots. It's like a virtual slot machine.
If you want to know whether you'll get coins or spins from a receipt, you can see it on this page.
You'll also get sweepstakes entries for each uploaded receipt which will be drawn monthly. If you win, you'll get 5,000 coins you can use to redeem gift cards or cash.
How much money can you get from the coins?
1,000 coins = $5 (minimum to cash out)
Is Receipt Hog Worth The Effort?
It all boils down to the patience you have in keeping receipts and taking photos of it. Come to think of it, it doesn't really require much effort. After all, you're going to buy things from the grocery store anyway. Just think of it as money you can make from doing simple things.
However, if you think it can be a way to make ends meet, I don't really think it's meant to be a source of monthly income.
Think about it:
For a $100 purchase, you'll only get 20 coins. You'll have to make 50 $100 purchases before you can earn 1,000 coins which you can use to get $5. In simple terms, your $5,000 worth of receipts only means a $5 cashback.
Overall, Receipt Hog is only meant as a saving app, not a money-making app. I think you'd even make more if you do Swagbucks surveys.
Making money online isn't complicated…
This video will show you exactly how to get started. Tap to watch now »
Receipt Hog Pros
A good way to make savings from your usual purchases
Receipt Hog Cons
Some store only have digital receipts so you can't earn from it
Asks to connect with your email to read and collect information (RISKY!)
Asks personal information putting you in danger of identity theft
Freezes your account when not used in 3 months
Not all receipts are rewarded with coins
App glitches
No referral program like Ibotta
The reward structure is a little complicated
Is Receipt Hog A Scam?
I'm still quite of the fence with this. Why? Because I'm not sure how they will use the personal information they get from you. Sure they can say they'll just use if for research purposes, but what if the data gets into the wrong hands?
It's easy to say it will just be use for the research, but it's a lot harder to prove it. If you're apprehensive like me, don't risk it.
A little credit though, the questions they ask are common things a research firm asks so if they stick to using the information for research I'd be a little more confident to say they're legit.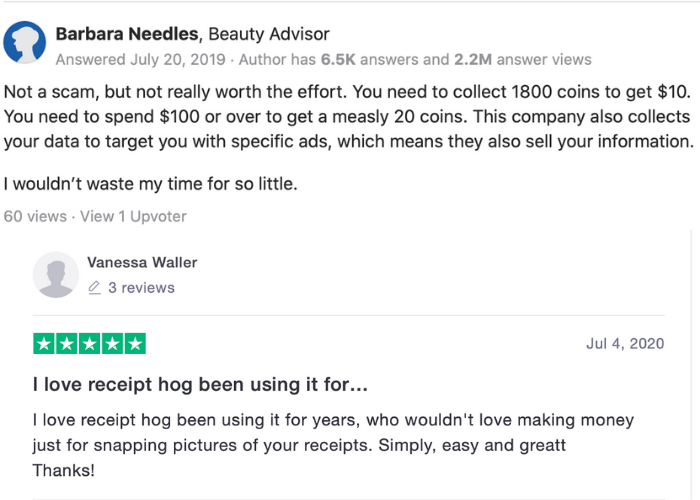 Receipt Hog Closing Thoughts
Personally, I think Receipt Hog is quite complicated. Ibotta is more straightforward by rewarding a cash amount for each receipt. Receipt Hog on the other hand uses the coin system.
Also, Ibotta has an affiliate marketing system as another source of revenue, Receipt Hog doesn't.
If I were to choose one, I think you pretty well know what I'd go for. However, if you think Receipt Hog will handle your personal information well you can always try it out.
Then again if you're looking to make big money from it, it's not going to happen. If your goal in reading this review is to check out of you can make ends meet with Receipt Hog, I have a better suggestion for you. A wayyyyyy better suggestion.
If you want to make money, why not build your own online business with affiliate marketing? If you're interested in how it works, head on to this in-depth Wealthy Affiliate review.
The bottom line is, Receipt Hog is only good if you want a trickle back from your purchases, a very little trickle back. It's the best it can do for you. If you're apprehensive with Receipt Hog, there's always Shop Kick or Ibotta to try.
How I Make A Living Online?
After years of working in call centres I finally figured out how to create a 5-figure monthly passive income stream and become financially free.
Thanks to the right training and a lot of hard work I kissed my old boss goodbye and booked a one way ticket to Thailand.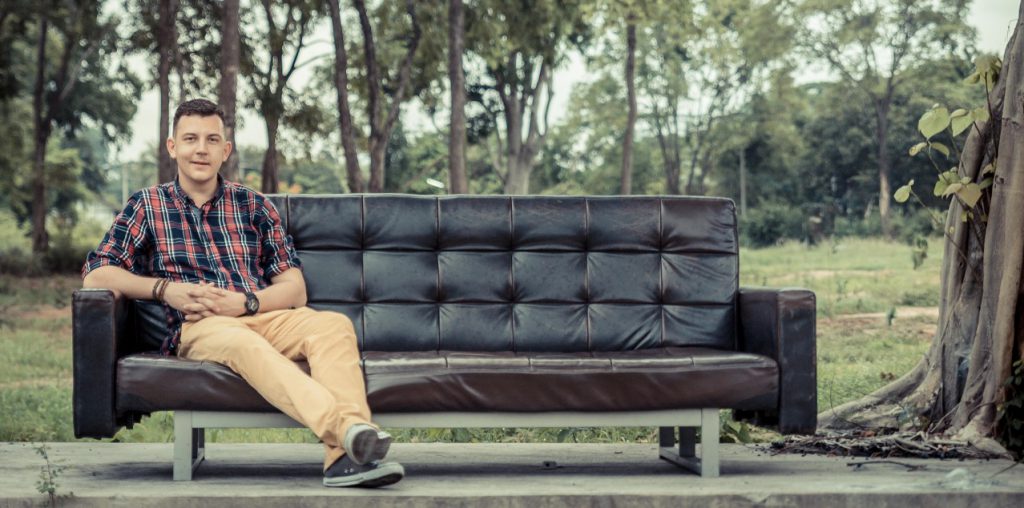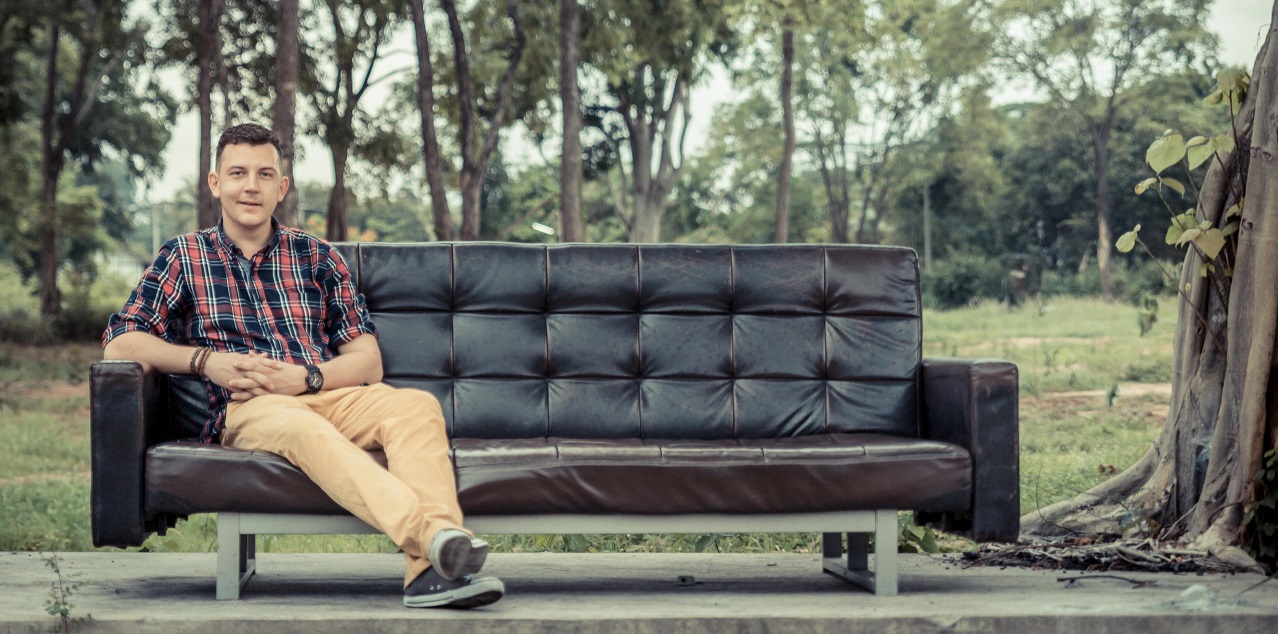 So if you're serious about building a thriving online business, click here for the exact step-by-step formula I follow.
Questions? Suggestions?
What your take in today's review?
Share your thoughts in the comments section below. We'd love to hear from you!
Simon Crowe is on a mission to help as many people as possible kiss their bosses goodbye.
Take the free Commission Academy course to discover how to smash your online income goals and make your dream business a reality.