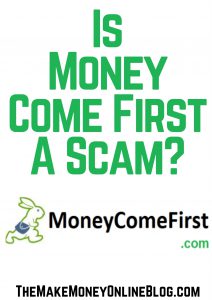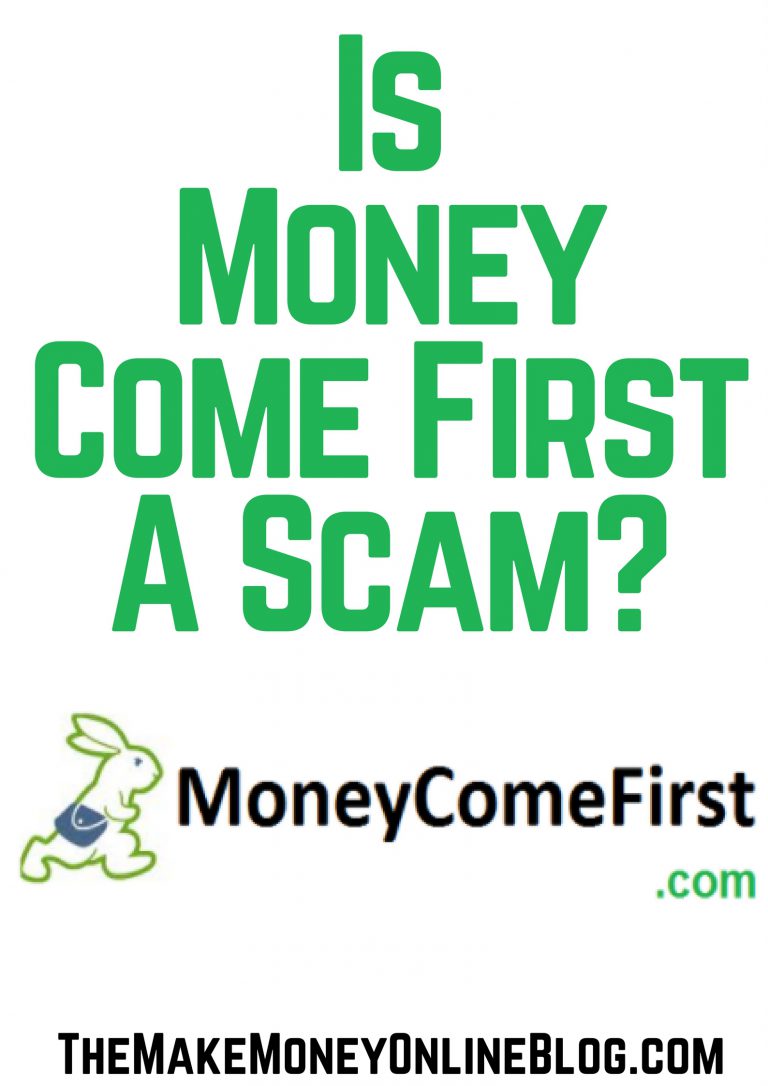 Money Come First is a website that claims you can earn $100s per day quickly and easily.
They go on to say their top members are earning more then $500 per day and $10,000+ per month. There's even red writing across the top of the site saying I can earn $1,200 today!
These are big and bold promises for anyone to make but is this a legit work from home opportunity or is Money Come First a scam designed to trick you out of your hard-earned cash?
On the surface this online program looks innocent enough; it's free to join and it seems like you have nothing to lose, but as we'll find out, rather than making you money, Money Come First could actually end up taking your money.
What is Money Come First?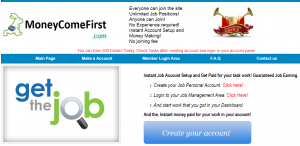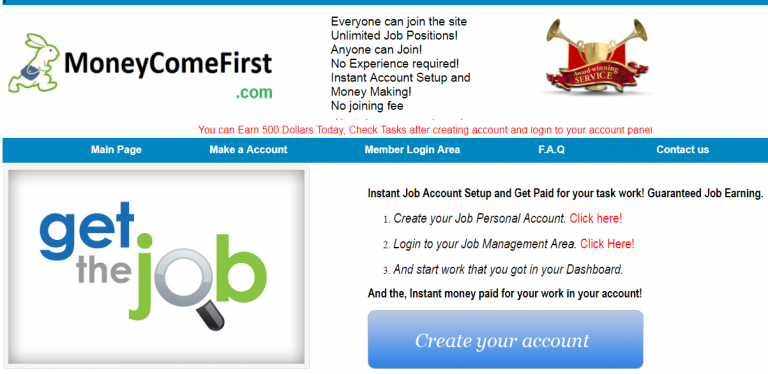 Money Come First is a site that claims to be a job postings board where people looking to complete tasks for rewards are encouraged to sign up for free.
They even give you $25 just for joining them.
You're told if you build up their earnings until you reach the minimum withdrawal limit of $300 that you can cash out via PayPal.
The vast majority of the tasks involve sharing MoneyComeFirst.com links on social media and you're told you can earn $10 for each and every referral you sign up.
This sounds simple enough and it looks like easy money, but as I'm about to show you, this is a very common make money online scam that I keep seeing pop up all over the web. Just as one of this scammer's sites gets exposed, another appears in its place.
Here's how I know Money Come First is a scam
After reviewing hundreds of make money online programs and get rich quick scheme, I can probably tell whether something is a scam or not within a few seconds.
Money Come First screams "scam!" and here's a few reasons why:
The logo is stolen from another site
I knew I recognised that rabbit from somewhere! After a quick Google image search it turns out the rabbit is stolen from the old TaskRabbit logo.
TaskRabbit.com is a famous and reputable brand whereas Money Come First is anything but.

The English is 'teribal'
This might only be a small thing and I'll admit I'm a bit of geek when it comes to this sort of stuff, but he whole site littered with spelling mistakes and grammatical errors – yet another this is a scam.
Let me give you a typical example from the site, I never realised you could make so many mistakes in one sentence:
"We guarantee you that you will earn 1500$ in your first week by simple task of 5 – 10 minute" 
Even the name 'MoneyComeFirst' doesn't make sense, do they mean 'Money Comes First?'
No legal terms and conditions or contact information
When you visit a website without a privacy police, terms and conditions and/or an earnings disclaimer this is a big red flag!
Not only that, but we have no idea who the owner of the site is, no address or information on the so-called company. If this was a legit site, why would you want to keep this information private?
Giving advice on how to spot a scam website, Which.co.uk say this:
"You should also check that the website lists any contact information. Reputable and legitimate companies will always list ways to get in touch with them; if the website doesn't have a 'Contact us' page, it could well be fraudulent."
After doing a domain name check, there are no name or address details available.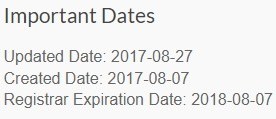 All we know is it was created in August 2017, but we don't know who by, what country they're based in and there's no way to contact them.
They don't pay out
That's right, even if you meet the minimum $300 threshold you'll never receive a penny of it. Of all the reviews and complaints I've read, not one person said they received their payment, with people claiming up to $1,500 was owed to them.
This scammer never had any intentions of paying them. This is a complete and utter scam.
When there's too many complaints against them they'll simply shut the website down and create a new one under a different name.
There's the scary potential of identity theft
For me this is the scariest part of the Money Come First scam: the fact hundreds of people are giving these online scam artist their personal information.
Why do they promise to pay you for sharing their website link and encouraging others to sign up? Because they want your contact details.
Not only will they bombard you with spam emails and make sales calls to you if they have your number but they will sell your information on to other spammers and online criminals for a handsome sum.
When you try to request a withdrawal you need to provide them with your social security number, making identity theft a real possibility.
People just think it's free to sign up so they have nothing to lose, but this couldn't be further from the truth with Money Come First. Don't fall for it!
Is Money Come First a scam? Yes – Avoid it like the plague!
'Money come first' for the scammer when people believe this site is a legit way to make money online. Don't waste your time and this scam and definitely don't hand over any of your personal information.
If you're really looking to make an honest living online I know how hard it is to get past all of the get-rich-quick nonsense so let me help you out. By far the best way to earn money online is through creating a legit internet business for yourself.
I recommend you check out the TOP RATED program that helped me launch and grow my first online business to the point where it's now generating me more than $6,000 each and every month. Follow the same training I did and you can get the same results.
Thanks for reading this Money Come First review, if you have any questions, thoughts or comments be sure to leav them below and I will always get back to you personally.
Related reviews:
Simon Crowe is on a mission to help as many people as possible kiss their bosses goodbye.
Take the free Commission Academy course to discover how to smash your online income goals and make your dream business a reality.