Biaheza is just a kid but already he's earning more than most can only dream about.
Biaheza is also the name of his dropshipping course, but is it legit or yet another hyped-up scam?
In this review, we're going to find out if Biaheza offers a valuable dropshipping course and if he really knows what he's talking about.
So, if you're still on the fence about shelling out $294 for this course, you've come to the right place because I'm going to tell you exactly what you need to know to help you decide to move forward with or take a step back.
In this review we're going to run through:
Who Biaheza is
What his dropshipping course includes
If it's worth your time and money
What I like and don't like about Biaheza
If it's a scam
And lots more
Be sure to read down to the end so you'll get the most out of this review. What you'll read along the way might make you think again.
Biaheza Review At A Glance
About: Biaheza is a dropshipping course by Biaheza, a teenage entrepreneur promising to help you get your first break in the dropshipping industry.
Price: $294 plus Facebook advertising costs.
Pros: Gives a decent overview of how dropshipping works.
Cons: Inadequate traffic training. No chance of getting a refund.
Verdict: Possibly of value to Biaheza fans, but likely overpriced and underwhelming for everyone else.

Who Is Biaheza?
Biaheza is a 19-year-old Belarusian-American. While most kids his age are playing computer games, he's making money creating Instagram content.
That's when he realized most people paying him for shoutouts on Instagram were doing so to promote their dropshipping business so he started looking into it and decided to try it out for himself.
After some success, he decided to make an online course with the goal of "helping others earn like he does."
He has a YouTube channel with 100+ videos and 720K+ subscribers.
Here's one of his most-watched videos:
His content is a mixed bag of topics on how to make money online from dropshipping to day trading and rental properties.
This kid has a talent. He's got a good on-camera presence and he's very clever at using titles and thumbnails to get those all-important clicks.
The good thing about Biaheza is he acknowledges his blunders; he's published many case studies that nosedived.
This tells me he's not all about the hype because he's airing not just his successes but his failures too.
Thumbs up kid! 😉
What's In The Biaheza Dropshipping Course?
The course takes an hour and a half and this is what it includes:
What Products ACTUALLY Work for Dropshipping
The Software He Uses To Find Winning Products
​Five Winning Product Examples + Revealing Products He Personally Dropshipped
​Creating a Brand New Shopify Website From Scratch Step by Step
​Where to Get Content for Your Store
​Setting up the Shipping and Legal Pages 
​Building a Proper Instagram Company Page From Scratch
Where to Find Content for Your Company Page
​What is the Facebook Pixel and How to Install it
​My FULL Instagram Theme Page Marketing Strategy 
Choosing the Right Pages to Advertise on
​How to use Facebook Ads
​How He Targets and Scale my Facebook Ads (Full Strategy)
​How to Deal With Taxes
​Setting up Customer Support
Conclusion
I'd like to talk about some of the points here.
1. What Products ACTUALLY Work For Dropshipping
To find products to sell, Biaheza uses research tools. This might help you if you're just starting out but it won't work for the long run.
Why?
Using research tools to find products is not something that only YOU do. Hundreds, if not thousands of dropshippers use those similar tools and so you'll end up selling products that thousands of people promote too.
2. The Software He Uses To Find Winning Products
Biaheza promotes the software not primarily because they are effective BUT because he's an affiliate and he earns from it.
Here's a kicker:
If this software stopped working, what would you do?
3. Five Winning Product Examples + Revealing Products He Personally Dropshipped
I find this funny. If I was making tons of money from a specific dropshipping product, of course, I won't tell you about them! How am I going to have the upper hand over competitors then? Business is not a charity you know. 
Unless:
The products don't sell anymore and are heading a downward curve. The trend is fading so it won't hurt sharing.
And get this:
Everyone who takes his course will also sell these products leading to over-saturation!
4. Creating A Brand New Shopify Store Step By Step
Here's one portion where I don't see much value. There are far better videos teaching about this on YouTube for free: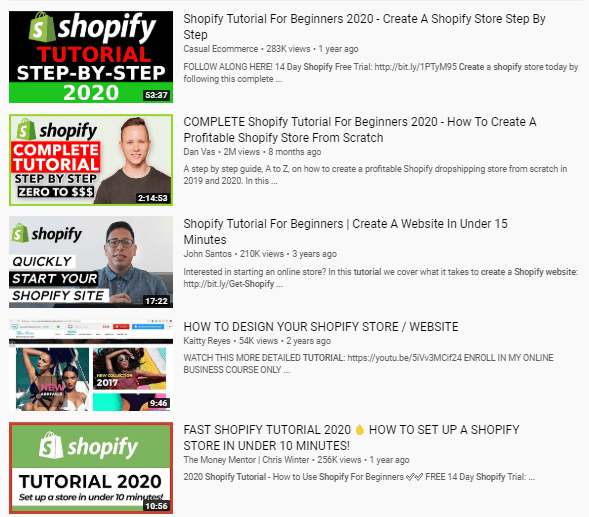 Almost all the other lessons included in this course don't offer mind-blowing revelations and have Youtube videos better explained by other experts.
Now think again if it's worth its price.
What's Missing?
Credit where it's due, this course isn't filled with unnecessary fluff like mindset training etc.
He focuses on technical aspects of dropshipping and I think that's pretty cool if you want to get straight to it.
But here's the deal:
Biaheza doesn't touch on using traffic sources like Google Shopping, Google Ads, Snapchat, Bing Ads, and he doesn't teach SEO.
He mostly focuses on Facebook Ads and Instagram which are good if you have a knack for creating eye-catching ads.
But remember, not everyone has spare money lying around to spend on ads which is why Google Ads and Google shopping is essential.
Overall, I don't think Biaheza it's worth its $294 price tag. The content is very basic and can easily be found on Youtube taught by other experts more thoroughly.
Biaheza's Minimal Effort Website
A landing page is critical to conversions but this website tells me that his Youtube channel is more important to him.
Aesthetic-wise, it's a thumbs down for me. It's dry and uninteresting: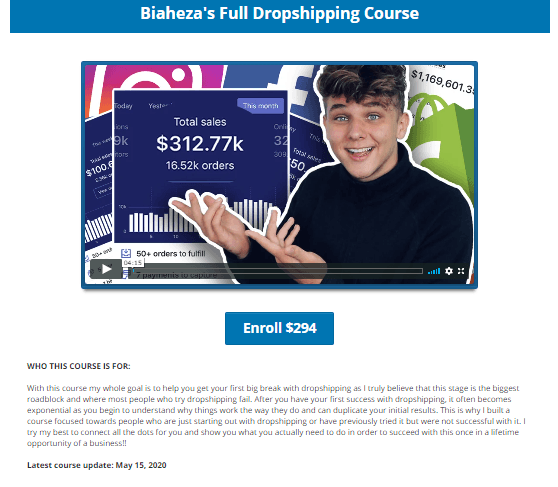 Charm will help but it's not enough. Your site needs to look professional for people to take you seriously.
There's not even a logo to help with his branding!
What I Like About Biaheza
He makes great content which is a huge plus when teaching about social media to drive traffic
His course isn't that expensive
What I Don't Like About Biaheza
The course is too short and basic for what you're paying
You can find his course content for free on YouTube from other experts
Inadequate traffic training
There's no chance of getting a refund
Is Biaheza A Scam?
No, Biaheza is not a scammer and his dropshipping course offers legit and decent enough course for anyone looking to learn the fundamentals of running a dropshipping business.
Biaheza even has a Yahoo Finance article underscoring his business track record.
I don't think this guy is a bad guy to learn from, I just think $294 is too much to pay for what you get.
My Take On Dropshipping
Find products that are trending and optimise your ad campaigns and you can earn a lot with dropshipping with some dropshippers boasting 20-30% profit margins.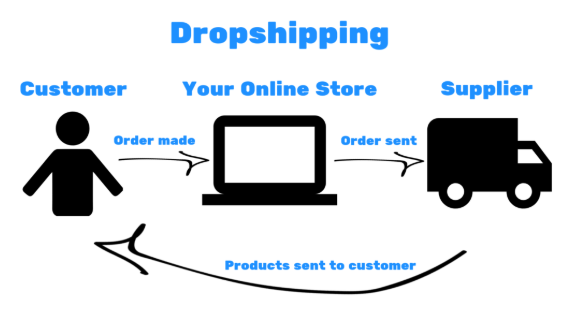 Here's a quick video on how dropshipping works:
Just beware of dropshipping scammers who exaggerate their results and make more from selling dropshipping courses than with dropshipping itself.
Dropshipping start-up costs are quite low but it's the advertising costs that will kill you.
So next time a dropshipper flashes their 6-digit earnings on your screen, chill your beans and remember that's the gross; you still have to deduct ad costs and dropshipping expenses.
Here's the real score on dropshipping:
It's hard to make money with it and takes a big chunk of your time every day.
You have to find worthwhile products along with detailed descriptions and quality product photos.
You have to make ads on various platforms with costs rising each year. (NOT cheap!) If nobody's viewing your store, you're doomed!
Shipping times are long.
You have to deal with returns, payments, and customer service. (So annoying!)
There is oversaturation with dropshipping niches.
You have to learn selling trends and timing, or else you won't make money.
Low ROI because of the rising ad costs.
My Honest Advice?
The better, smarter choice is affiliate marketing.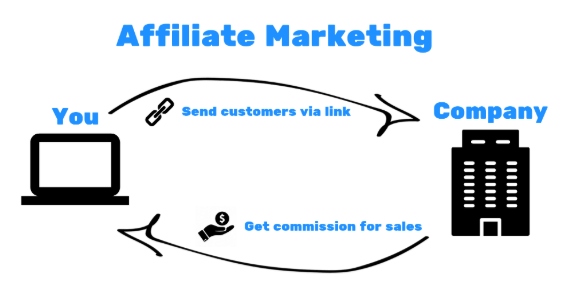 Why?
Very low start-up costs
Less risk
Free training platforms
Great support team
Plus, you don't have to deal with returns, payments or any customer service!
Check out my complete affiliate marketing guide for beginners where I'll show you the exact step-by-step process you need to earn a 6-figure income online.
Biaheza Review: The Bottom Line
This 19-year-old kid is remarkable and clearly has a bright future ahead of him. While most kids his age are busy playing, Biaheza is earning a fortune online.
I just think he's a better Youtuber than a course creator and I couldn't help but feel like the course should have packed a bigger punch for the price.
While I can say Biaheza and his dropshipping course is legit, it's not worth the money. Plus, there all the additional costs associated with dropshipping to consider.
Affiliate marketing is as simple as creating a website on a topic, creating content that gets rankings and social shares and finally, monetising it by offering products and services that are relevant and helpful to your audience.  
Read my SUPER in-depth Wealthy Affiliate review to find out why it's my #1 pick for anyone looking to start an online business in 2021.
Simon Crowe is the founder and editor of The Make Money Online Blog on a mission to help as many people as possible kiss their bosses goodbye.
Watch this video here to discover how to smash your online income goals and make your dream business a reality.