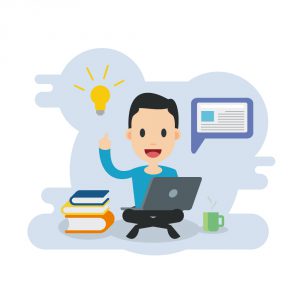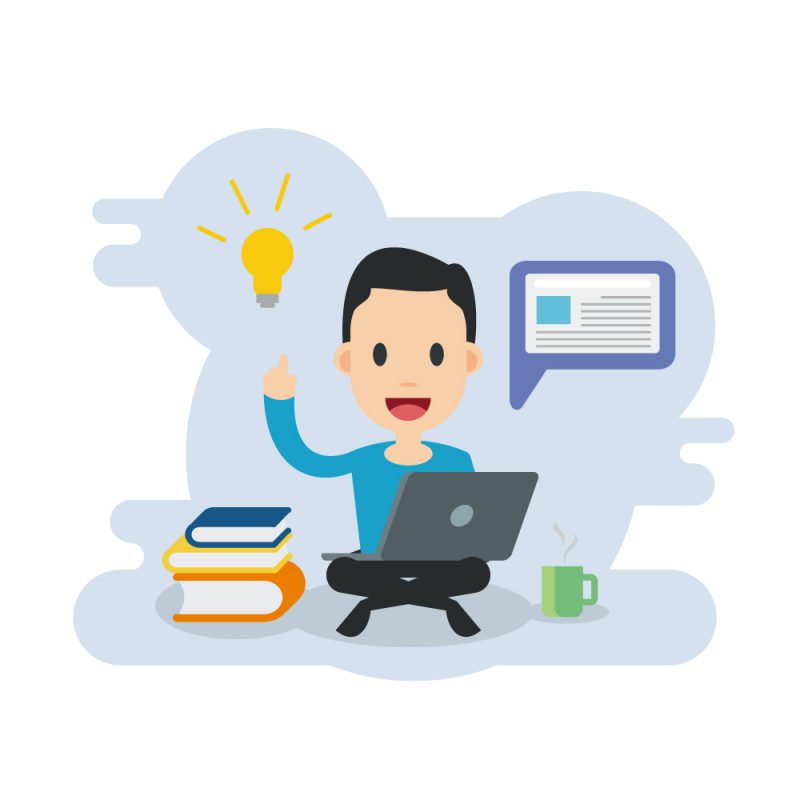 Last Update 23rd September, 2016.
When deciding to start a blog, most people think 'WordPress' for good reason.
More than just the world's biggest blogging platform, it's reliable, secure and easy to get your blog looking beautiful.
In the next few minutes I'm going to show you exactly how easy it is to start your WordPress blog and get it live – fast!
And I'm going to take you through it step by step so don't worry 🙂
Bluehost web hosting makes it super easy to start a WordPress blog with their 'one click WordPress Installation.'
The good news is this is exactly what it sounds like – one click of the mouse and boom! You've gone and got yourself a blog.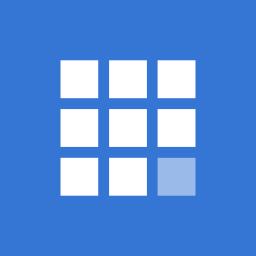 Click here to visit BlueHost
You'll get a discounted price (and free domain name registration for one year) just for being a Make Money Online Blog reader!
From start to finish, this whole process shouldn't take you more than 5 minutes.
Are you ready? Let's get it done!
Here's your 6 step guide on how to start a WordPress blog with Bluehost web hosting…
Step 1: Click the green 'get started now' button
First thing's first, click here to go to bluehost.com's homepage. This will open in a new tab and your discount will be applied.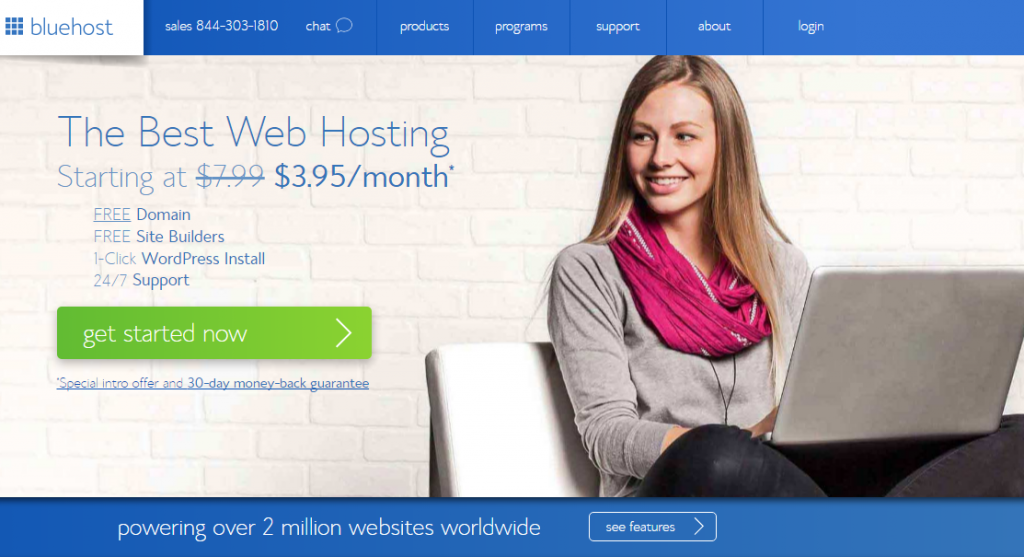 Step 2: Choose a domain name – and click next
Here's where you type in your desired domain name. Avoid using obscure domain extensions like .space or .pizza – (yes these actually exist!)
Instead always go for a .com extension where possible.
It's also worth pointing out that there's no limit to the number of domains and websites you can start with your Bluehost web hosting package so you can always come back and get a new domain if you change your mind or want to start another blog later.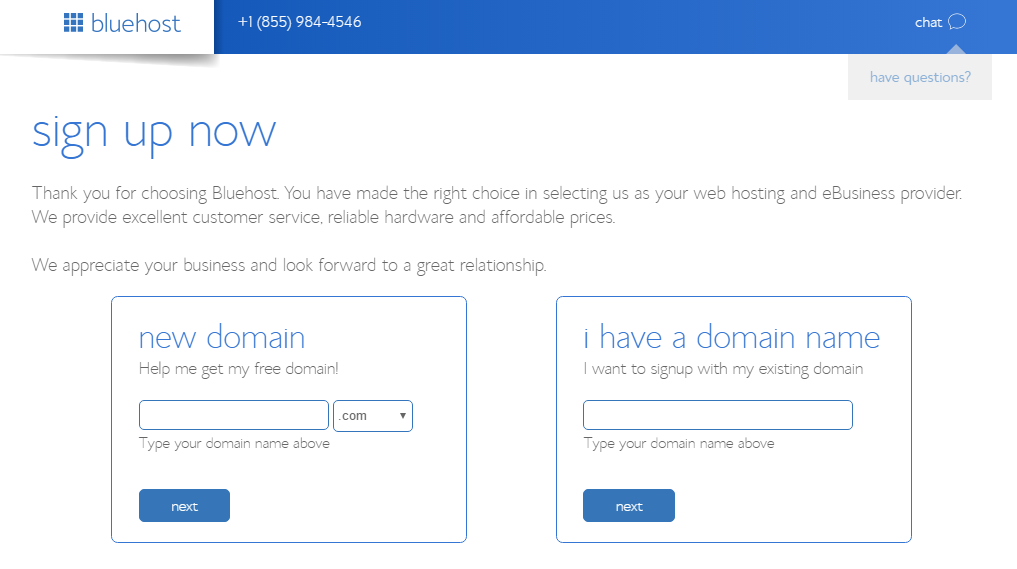 Step 3: Fill in your account, package and billing details
The form includes things like name, address and payment info. Yes you'll need your credit card handy.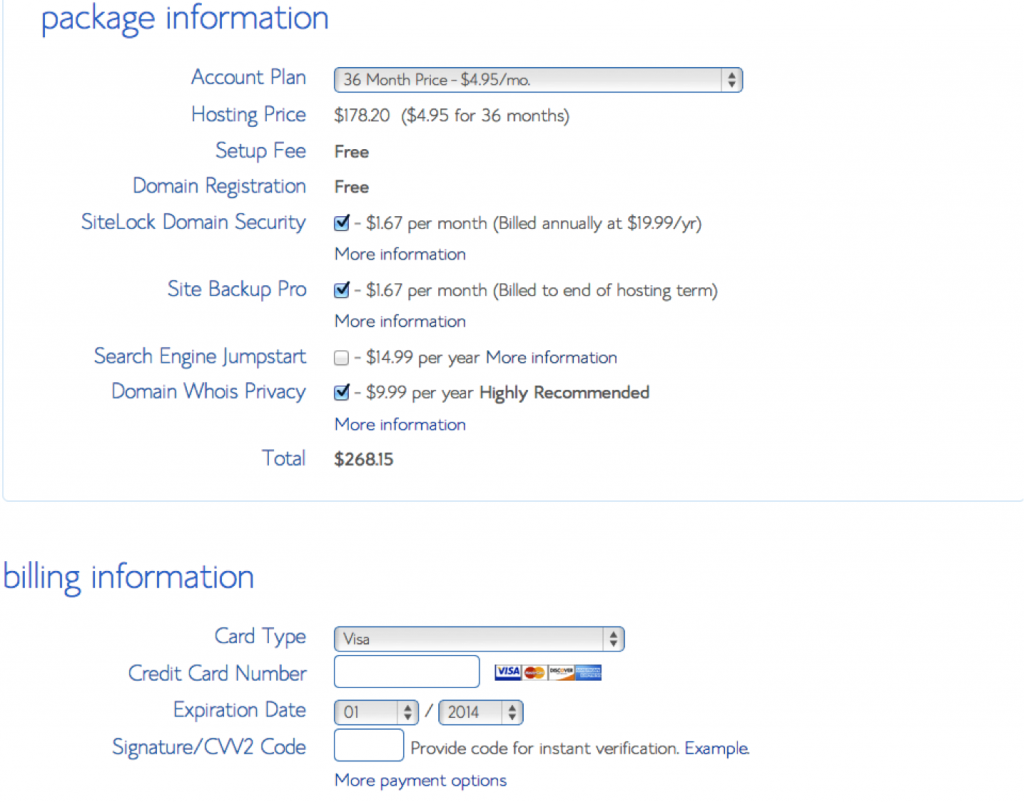 When you get to this page, you'll see the 'Package Information' form with optional extras.
These add-ons cost extra, but here's the deal:
If I were you I would definitely opt in to get the Domain Whois Privacy as this keep your personal information private and out of the public sphere.
I'd also suggest you take a look at getting Site Backup Pro because $19.99 per year to protect yourself from 'what if my site blows up' is worth it.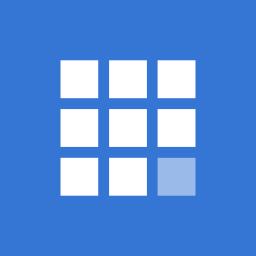 Remember, if you sign up through this tutorial, you'll receive a special offer of shared hosting at $3.95/month for 36 months, as well as a free domain name for a year!

Step 4: Getting your WordPress blog installed
You're almost there! Now you're going to create your NEW WordPress blog. It's going to take you like 60 seconds.
First, make sure you're looking at your control panel. This is under Hosting > cPanel.
Then scroll down a little bit and click the WordPress icon.
You'll be given a few options here but it's simpler than you think. Scroll down until you find the icon called Install WordPress.
Then simply click on the green "Start" button that will start the WordPress installation process.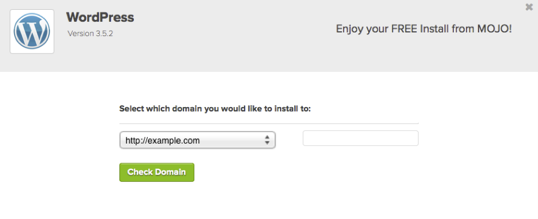 Step 5: Making it beautiful by choosing a WordPress theme
Now for the fun bit – actually choosing a design for your blog!
To change your theme simply find Appearances in the left sidebar then click Themes. Up the top will be a tab called Install Themes – click that one.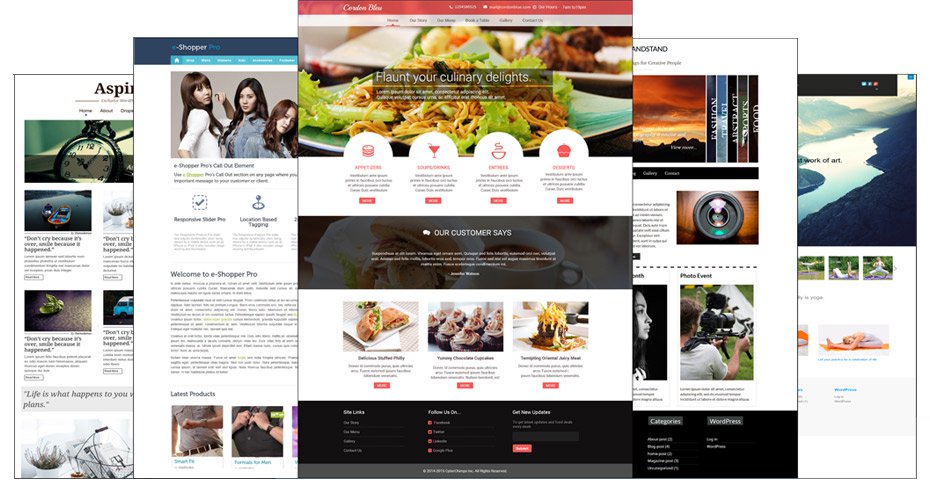 Here you'll see you've got hundreds, no, probably thousands of templates to choose from. Find one you like and make your blog live.
Step 6: Congratulate yourself on starting your first blog
You can now type in your domain, and you'll see your newly created WordPress blog. Go on, try it 😉
Congratulations!
If I had a "that was easy button," I would tell you to press it right now.
Because, wow — that WAS easy. Right?
All Done?
Subscribe by email below and I'll send you a free 7 day Online Business Builder Course and show you EXACTLY how to build a successful and profitable blog.
Any questions on how to start a WordPress blog with Bluehost web hosting?
Drop me a comment below, I'm always more than happy to help and will always aim to get back to you ASAP.
To your online success!