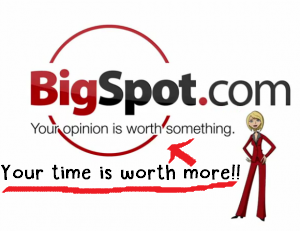 BigSpot Review
Website: BigSpot.com
Owned by: VarsityPlaza LLC
Joining fee: Free
Overall Ranking: Not recommended
Quick BigSpot overview
I'm going to go ahead and guess you heard about BigSpot through one of their TV commercials.
But what is BigSpot?
It's not actually a survey site, rather it's a directory of survey sites where they get paid every time they refer someone to one of these third party sites.
If you've been thinking about ways you can make a little extra money on the side through the internet, the idea of answering simple yes or no question surveys in your spare time might at first sound exactly what you've been looking for.
It sounds easy and quick, but in reality you're you're going to need to spend a heck of a long time completing mindless tasks to earn less than a $1 an hour only to find out they won't pay you for some obscure reason.
You're also going to find your inbox flooded with spam as you hand over you personal details and give unscrupulous companies open access to your spending habits.
So even though Bigspot is not a survey site because they send you to other survey sites and earn a commission, the concept is the same – your spend hours filling out boring surveys for the chance to earn pennies.
It's just not worth it.
My recommendation?
Avoid this time-wasting site, keep your data private, protect your inbox from spam and if you're serious about making money online, check out my top recommended site instead.
What we'll cover in this Bigspot review
What is BigSpot?
How does BigSpot work?
Does BigSpot pay you?
Most common BigSpot complaints
Is BigSpot a scam?
What is BigSpot?
BigSpot was launched in 2008 and become more well-known after a series of ad campaigns in 2010. They offer people the opportunity to make money online by filling out surveys in their spare time.
I actually think they're ads are really clever and quite funny.
Here's my favourite:
Have you ever heard that you can't believe everything you see on TV?
It's true!
After watching this ad I wouldn't blame you for thinking BigSpot was going to pay you for completing surveys on BigSpot.com, but the truth is BigSpot is just acting as a referrer to other survey sites.
That's right.
There is no such thing as a BigSpot survey. BigSpot will never pay you anything becuse you're not actually dealing with them at all. They're just a middle-man.
So when we're trying to figure if BigSpot is a scam or legit, whether they pay out or not, you have to dig a little deeper into the survey sites they're recommending.
You see, BigSpot follows the affiliate marketing model for making money online and gets paid every time someone they send someone to one of the other survey sites.
In reality, BigSpot.com is just a 2 page website – a sign up page and a link page to other survey sites.
After I created my free account I was redirected to this page: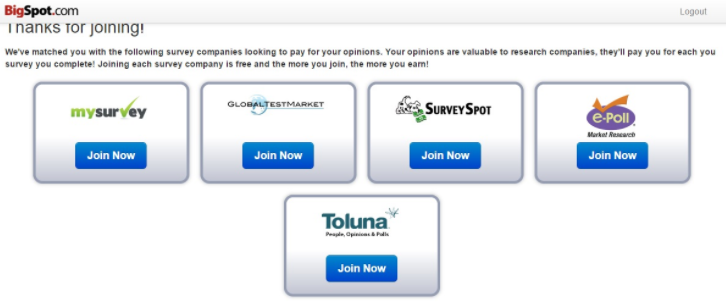 So now I had to decide whether or not I wanted to give my personal details all over again to 5 different sites. Not quite what I was expecting…
You see, every time you click on one of these sites and take surveys, BigSpot will make a % commission from you. Now you know how they can afford to take out expensive TV ads.
Depending on the country you're signing up from, you'll have a selection of survey sites to choose from. I was offered MySurvey.com, GlobalTestMarket.com, SurveySpot.com, ePoll.com, Toluna.com.
Each of these sites will have their own track record on how much they pay for each survey and whether they pay out or not.
How does BigSpot work?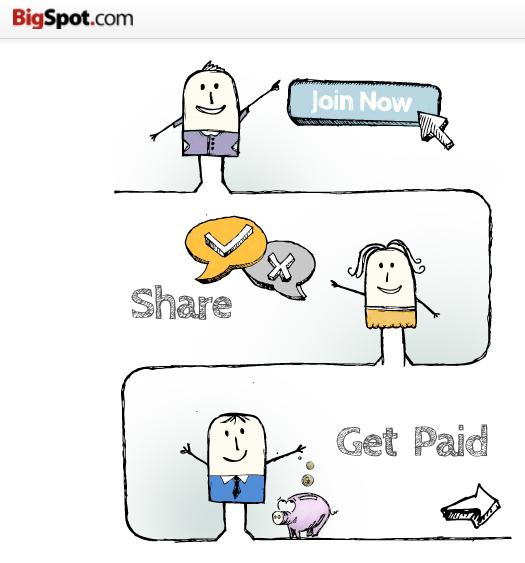 I did what the TV commercials told me to do: when I landed on the BigSpot.com I entered my email, date of birth and address details. It's free to join and the sign up process only took a couple of minutes.
Then I was given a list of other survey sites to sign up for. This meant signing up 5 more times to the different survey sites, something I don't like to do.
I mean why sign up with BigSpot if they're just going to send me somewhere else? I could just go to these survey sites directly, but that would mean BigSpot wouldn't receive any commission from me.
And as we already know, this is how they make their money…
Against my better judgement and to find out if BigSpot was a scam or not, I decided to keep going and join all of the survey sites they recommended.
I mean it's free to join after all, so what did I have to lose?
Well, it didn't take me long to realise I should have created a seperate email address for this, because before I'd even finished signing up for the first survey site I was already getting spam in my inbox. All of them asking for my personal information.
After trying several surveys I couldn't fina any I actually qualified for. Then something clicked…
Finally I got to see how this thing worked.
It's not they these survey sites get paid from companies to do consumer research on their behalf, it's they by disguising themselves as a survey site people will gladly hand over private information on their household income, family background, spending habits and so on and then proceed to spam you.
BigSpot and the other survey companies they promote can also sell your information to other email spammers and make money again.
I found this out when it was too late, within 24 hours I was inundated with so much spam from other surveys sites asking me to sign up and latest marketing offers from survey sites BigSpot told me to sign up with.
I'm not saying you might not be able to make money from doing surveys on the sites BigSpot recommend, but let's just say BigSpot is a little dishonest in their advertising campaigns.
You think you're going to be doing surveys for BigSpot, getting paid by BigSpot but the pay out is not high. You can expect to spend an hour completing a survey just to get $1-$5, if you're lucky.
What you need to keep in mind is you're going to struggle to find surveys you qualify for, you're going to be spending a heck of a lot of time answering questions, giving your personal details away and to earn just a couple of dollars an hour IF they pay out. In a lot of cases sites these do not.
Do BigSpot pay you?
No, BigSpot does not pay you.
The real question is, do the survey sites they refer you to pay you?
While this BigSpot review would be way to long to go through each of them, there are tons of complaints from people who spent a lot of time completing surveys only to be told they didn't qualify and will receive no payment.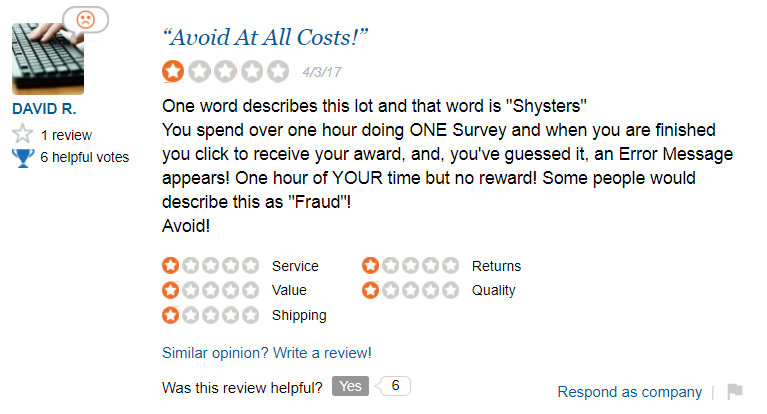 4 common BigSpot complaints
1. Not being able to find surveys you can qualify for
And you don't know whether you qualify or not until at least 30 minutes in. When this happens to you 5 times in a row you're going to be seriously frustrated!
Think about it: if they were in the business of making money from completed surveys, they would ask you your details once and send you surveys you've been pre-qualified for, but as we've already established – surveys are the excuse they use to get your personal information, hence the mutliple sign ups.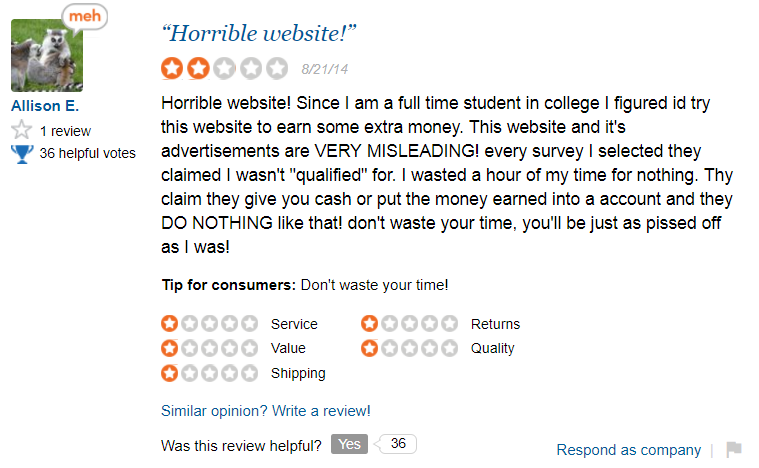 2. Too time-consuming with little reward
As well as wasting time with surveys you're can't qualify for, at best, you'll earn $5 for a hour's work.
Each survey company BigSpot recommends has different withdrawal limits and terms of use but regardless of the company, most people give up before ever getting close to the withdrawal limit once they realise how time consuming it is.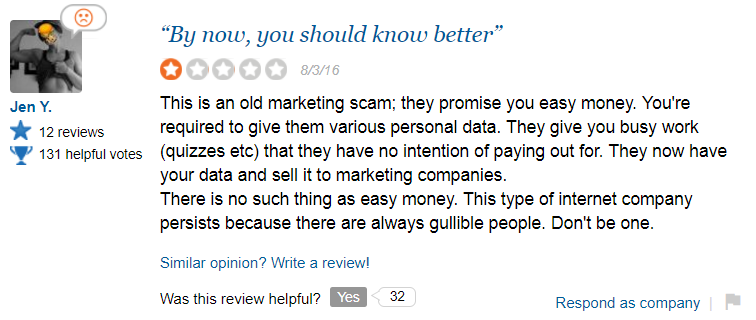 3. They don't pay out
Once BigSpot have your personal information they've made their money. Do the survey sites they send you to pay out?
In most cases no. There are tons of complaints from people spending weeks on this and never getting a cent.
I don't know about you but before I invest time and energy into something I want to know for sure that I'm actually getting paid. With BigSpot there's certainly no guarantee.
4. Spam, spam and more spam
As I said before, getting direct access to your inbox so they can send you spam is the real reason they want you to sign up.
My recommendation if you still want to go ahead and give the surveys a try is to create a seperate email account so you don't drown your primary email account with unanted spam.

Is Big Spot a scam?
I'm always very hesitant about calling something a scam, but in this case I have no choice but to say Big Spot is a scam. They're advertising is misleading, in many cases their partner sites don't pay out and they send you a ton of spam.
Do not give this company your personal information because they will sell it on to others for a profit and will render your email account unusable.
I would stay away from BigSpot and the survey sites they recommend. Not only are survey sites in general a huge waste of your time, these ones seem to be the worst kind that tell you you don't qualify after getting your information and they never pay out.
Here's an interesting video from ScamAvenger.com, he does a great job of defining their legal terms and conditions and lays out exactly why BigSpot is a scam:
What I like
Their TV commercials are quite funny
What I don't like
BigSpot are not what they say they are
BigSpot surveys don't exist – they send you to other scammy survey sites instead
They sell your personal information to other companies for profit
Filling out surveys for an hour before being told you don't qualify is a huge time waster
You can expect to spend weeks and months working towards the minimum withdrawal amount only to be told they won't pay out
The bottom line
There's just no point to BigSpot. If they used pre-screening questionnaires to match you with surveys you can qualify for then I would at least see some point to signing up with them, but they don't.
BigSpot is about making themselves money and you should expect to waste a lot of time giving away your private information to spammers.
BigSpot's slogan is: "Your opinion is worth something." I say your time is worth way more.
Let's face it, survey sites like BigSpot aren't ever going to generate life-changing amount of money for you, you're going to make $10 a month at best.
Don't waste your time with spammy survey sites like BigSpot, there are so many better ways to make money from home than this.
If you're serious about making money online and want to know how to build a real online income for yourself then check out my top recommendation.
You'll learn how I make $6,000 a month without filling out silly surveys and you can do it to. The good news is, it's free to start and all the training, tools and community support you need to get going are included.

Do you have any questions about BigSpot? Have positive or negative experiences with them? I'd love to hear from you, please share your questions and comments below!
Simon Crowe is on a mission to help as many people as possible kiss their bosses goodbye.
Take the free Commission Academy course to discover how to smash your online income goals and make your dream business a reality.