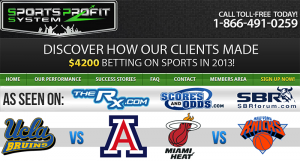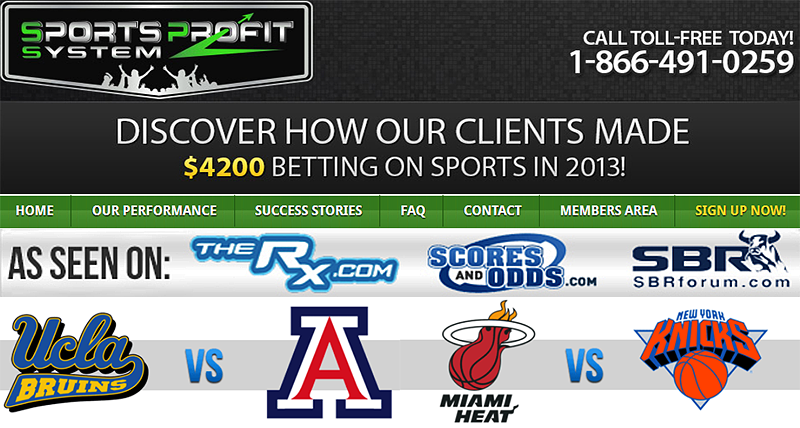 Sports Profit System Review
Price: $48.95/day, $198.95/month, $998.95/year
Website: SportsProfitSystem.com
Overall Ranking: 65/100
Quick overview
In a nutshell, Sports Profit System helps take the guesswork out of your bets and gives you the information you need to take more informed bets, then reap the rewards.
Instead of making high risk, high reward bets, Sports Profit System's team of researchers spot hidden high-potential picks for that day to try to make sure you come out on top.
They give daily picks on MLB, NFL, NCAA Basketball, NCAA Football and NBA games and their picks are from a team of expert handicappers who have been helping betters more successful bets since 2012.
SPS never guarantees to make you can overnight success, but by looking at the stats and doing the research for you, the chances are you'll increase your likelihood of success.
Handicap systems and paid for sports predictions are nothing new and the web is full of mixed reviews both for and against, but Sports Profit System have been around a long time and have a good track record of overall wins.
But at the end of the day you're still betting and there's always risk involved.
If you want to make money online without the gamble, you might want to check out the free training I got started with 3 years ago. Today I make more than $6,000 a month and you can do the same. It takes work but it's worth it.
Take the training I did and you can get the same results

What is the Sports Profit System?
Instead of going with your gut and rolling the dice when you're placing bets, Sports Profit System (SPS) equips you with the information and research you can use to increase your odds.
They have an expert panel of researchers who identify the best pics for you which are easily accessible by logging into the member's area. Every daily pick also comes with full reasoning and an article of evidence to back up their recommendation.
As you can see, they have the highest success rates in the industry: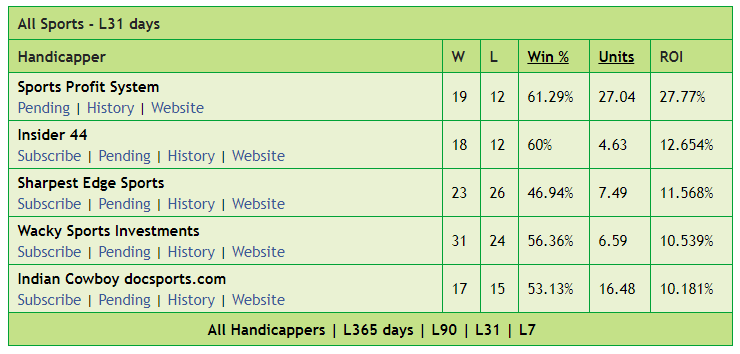 You sign up for Sports Profit System and then look at their analysis of various weekly matchups and choose whether you want to place bets or not.
You can also opt-in to receive email notifications or use their free app and picks are always posted at least 2 hours before a game.
While a lot of online websites claim to offer winning tips, what I really like the Sports Profit System is their transparency. With one click you can see exactly how many wins and losses their members made in the last month or year, going all the way back to their launch in 2012.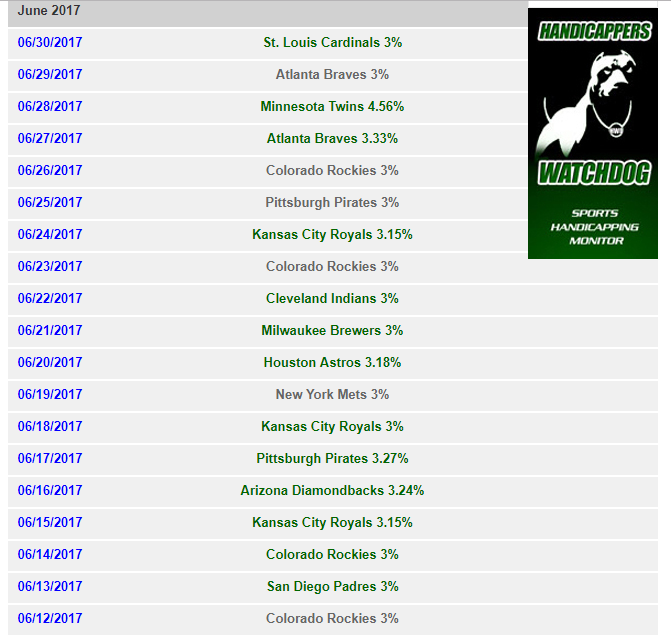 An important point to make here is that unlike other handicapping services who make money every time you place a bet through one of their recommended sites, SPS only make money through the membership fees.
This means it's in their best interests to keep you happy and get it right.
Sports Profit System Pros
The service is straightforward and the members site is super easy to navigate. All you have to do is go online, check out their picks and place your bet.
You can view their previous history of wins and losses going all the way back to 2012.
They have a free app, available on iPhones and Smartphones so you can view the latest betting tips and manage your account. Free members also get one free pick per week.
They have the highest success rate in the handicapping industry.
The daily, monthly and yearly membership fees are covered under ClickBank's 60 money-back guarantee.
Support is good with a toll-free phone number and you can contact the customer support team by email.
Sports Profit System Cons
They only release 1-2 plays per day (this might actually be a good thing)
Some of their affiliates use overzealous marketing techniques and make some pretty exaggerated and unrealistic claims or how much money you can make
As with any handicapping service, there are no guarantees you'll make money and there is always risk involved.
How much does Sports Profit System cost?
The daily membership rates are a little pricey at $48.95 but you can choose to take advantage of the lower monthly, 6 monthly and yearly membership options.

Here's a video walking you the through the membership site:
Is it worth your while?
In my opinion, if you're looking for a safer, more scientific way of placing bets then Sports Profit System is a good fit.
No sports system in the world makes 100% picks every week, but as you can see from their previous track record, their success rate is 60% or higher.
I think if you're going to go into this you should keep in mind that you'll have losing days but if you stick with it and follow their recommendations you should win more money than you lose.
It's important to keep in mind that success in this game depends on a reliable long-term betting strategy and having an expert opinion and recommendation via the Sports Profit System daily picks, you can put the odds in your favour and hopefully make more money over time.
Is Sports Profit System a scam?
There are definitely online betting scams out there but I don't think SPS is one of them.
I've seen some very bold claims online from people saying they've earned in excess of $8,000 a month through the Sports Profit System membership but honestly, I think this is highly unlikely.
While it's true that there are some over-zealous marketing methods employed by affiliate trying to get you to sign up, the system works and I would recommend it to anyone who wants a more reliable system of betting to increase your odds.
The way their membership is set up and the fact they're fully transparent with their previous track record, I don't believe Sports Profit System is a scam.
After reading dozens of other Sports Profit System reviews I've never read a complaint from a disgruntled member. As I say, you may have days you make a loss but you should come out in top in the long-run.
The bottom line
Sports Betting System are very open with their previous wins and losses and overall, anyone following this system will make money. But as I say, you should be prepared for days when you lose money.
Overall, when it comes to betting handicappers, I think Sports Profit System is your best bet. You can get started or find out more by heading over to SportsProfitSystem.com.
The reason I give Sports Profit SYstem a score of 65 out of 100 is not because even with the best tips and expert advice, you're still gambling with your money.
If you're looking for a more reliable and consistent way to make money online, I highly recommend you check out Wealthy Affiliate. It's the online training centre where I learned to make $6,000 per month.
You have to put in the effort before you reap the rewards but it's worth it.

Have you had any experience with the Sports Betting Profit System? How did you get on? I'd love to hear from you! If you have any questions at all, please leave a comment below and I will always do my best to get back to you as quick as I can.
Simon Crowe is on a mission to help as many people as possible kiss their bosses goodbye.
Take the free Commission Academy course to discover how to smash your online income goals and make your dream business a reality.