Hey, Simon here and welcome to my Printable Profits review. If you want to know if Printable Profits is legit or if Dave Kettner is going to scam you then this review is for you.
I hope you're doing well today, wherever you are in the world.
I'm doing OK.
Just watched the hour-long sales pitch, gone through every Printable Profits training video and Dave Kettner interview and read every review of Printable Profits.
So now that my head hurts and I shudder every time someone says "MUGpreneur."
I'm going to lay it all out so you know exactly what to expect. Here's a quick snapshot:
Printable Profits Review At A Glance
About: Printable Profits is Dave Kettner's 8-module course that will teach you how to start your own print-on-demand business to make money selling mugs online.
Price: $1,588 paid in four monthly payments of $397 plus the 250x Profit Multiplier upgrade at $147 brings the total cost up to $1,735.
Pros: A solid strategy with minimal running costs and high-income potential.
Cons: Course is pretty expensive. Strict no refunds policy.
Verdict: The high price tag means Printable Profits isn't for everyone, but I think those who can afford it will find it a worthwhile investment.

I like Dave, he seems like a legit and honest guy. The money-making method makes perfect sense and this is definitely a less risky option than dropshipping because you don't need to hold stock or risk any capital upfront.
If you don't happen to have $1,735 laying around?
I've got you covered.
Watch this FREE training to build a 6-figure income instead.
What Is Printable Profits?
Printable Profits is a course taught by online marketing expert, Dave Kettner that will walk you through the steps of creating a highly profitable print-on-demand business. You'll learn how to print slogans and bespoke designs onto mugs, hats and t-shirts you can then sell on online marketplaces like Etsy and Amazon.
This print-on-demand business model looks similar to dropshipping but it's simpler and there's less risk. Print on demand. A lot of people have done the same with T-shirts. Now it seems mugs are all the rage.
The Printable Profits course is sold via Anik Singhal's Lurn; an education platform aimed at teaching entrepreneurs the income-generating skills they need to succeed online.
How Much Does Printable Profits Cost?
Sign up to Printable Profits today without the 250x Profit Multiplier upgrade and you'll pay $397 plus three more monthly payments of $397, making it $1,588 in total.

Opt-in for the $147 upgrade and you'll pay $544 plus $397 per month for three months, $1,735 in total.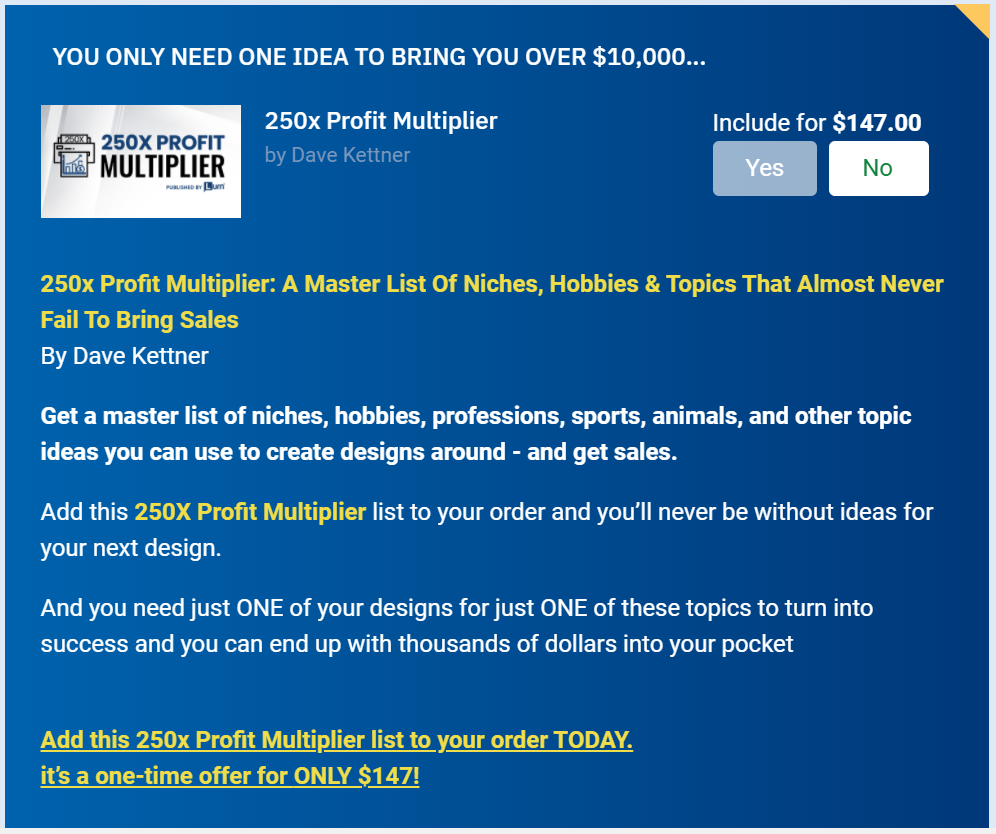 Of course, you can watch the free workshop to get an overview of the business model and Dave's teaching style without paying a penny.
The good news: Once you're inside, there's no extra cost to implement the training, unless you want to scale up faster with Etsy ads.
The bad news: Lurn has a stringent no refund policy, though Printable Profits is covered by their three-day cancellation policy.
Who Is Dave Kettner?
Dave Kettner is the Printable Profits creator and trainer. He's an online entrepreneur who has been running successful eCommerce businesses since 2013.
We have no way of confirming Dave Kettner's net worth but he claims to make 6 figures a month online and has generated more than $8 million in sales through Amazon alone since 2009.
Here's how he describes himself on his LinkedIn profile: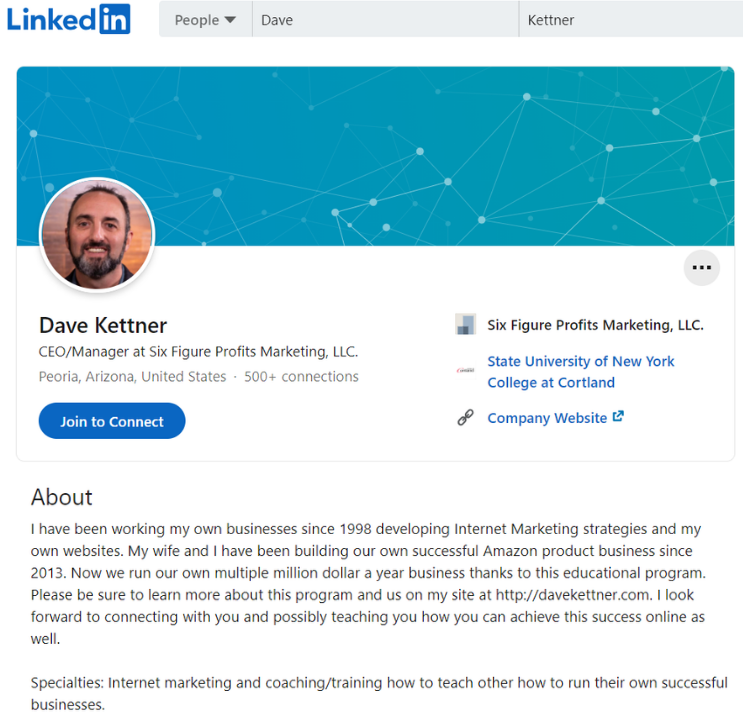 He also has a blog called DaveKettner.com with the slogan "Helping You Profit Online" and a YouTube channel with 2.64K subscribers.
You can learn more about Dave and what he teaches from his interview with Anik Singal from The Fighting Entrepreneur podcast:
How Does Printable Profits Work?
The Printable Profits income strategy is pretty straightforward:
You create a design and put it on a mug
Upload and list it for sale on Etsy and Amazon
And that's it, rinse and repeat
These mugs sell well because they make for great novelty gifts for family birthdays, wedding anniversaries, Christmas and so on. Or you could pick a more niche market like politics, entrepreneurship or inspirational and motivational type stuff.
And don't let the word "design" fool you. It could be something as simple as a saying or a witty slogan. Just use Canva to make them yourself, it's not difficult. Or go on Fiverr and pay someone to design them for you.
Best way to come up with design ideas? Go to Amazon and see what's already selling. Search "funny mugs for bosses" or "30th birthday mugs" and look for the ones with the most positive reviews.
Here are a few mug designs that are popular right now:

Once you've come up with your design upload it onto IconEcom.com, the website Dave recommends for all your on-demand printing. Add your design to a mug, click a few buttons. Add a title and brief description then list it on Etsy or Amazon.
When you make a sale, simply send the order to IconEcom. They'll ship it out and you'll make (on average) a respectable $8.59 profit margin per mug.
Once you've found a winning design, you can expand out to T-shirts, wine glasses, tumblers, pillowcases and so on to increase profits. The earning possibilities are many!
Helpful links:
What You'll Learn In The Printable Profits Training
Printable Profits has 8 modules with 16 hours of training that covers everything you need to know about building a successful online business by putting images and slogans on mugs.
Here's an overview of the course:
Welcome Video (5 mins)
Dave gives a quick runthrough of how to find your way around the training area and a taste of what's to come.
Module 1: Discovering Designs That Sell (2 hours 29 mins)
In this video, you'll learn how to use the wealth of information available on Amazon to find out what's hot and what's not so you can focus on the most popular and best-selling designs to maximise your sales.
Module 2: Creating Your Own Design (1 hour 45 mins)
You don't need a bachelor of Design degree to run your own print-on-demand business and in this module, you'll learn how to use apps like WordSwag to easily create simple yet beautiful designs your customers will love.
Module 3: Creating Products For Dropshipping (1 hour 45 mins)
Personalised gifts are where the money's at. And just because you're a MUGpreneur doesn't mean you're limited to selling only mugs. There's a whole range of printable products you can profit from and this module shows you how.
Module 4: Creating Products For Sale On Etsy (3 hours 5 mins)
This click-by-click lesson will show you exactly how to list your first items for sale on Etsy.
Module 5: Etsy Optimization And Growth (2 hours 2 mins)
There's a good way to list items on Etsy and there's the best way. Here you'll learn the advanced strategies to ensure your products get seen by buyers.
Module 6: Expanding To Other Marketplaces (2 hours 12 mins)
Once you've conquered the Etsy marketplace, it's time to look further afield to bigger sites like Shopify and eBay to increase your customer base.
Module 7: Expanding To Amazon Private Label (1 hour 17 mins)
Etsy generated $1.7 billion in revenue in 2020, but Amazon generated $21.3 billion. Amazon is clearly where it's at. This module will walk you through how to become an Amazon seller.
Module 8: Taking Your Business To The Next Level (1 hour 15 mins)
This final module is all about what you can do to scale up your business and your earnings.
6 Printable Profits Bonuses
As a fully-fledged Printable Profits member, you'll also get access to these bonuses.
Bonus #1: 1,000 Done-For-You Fast Start Package
These pre-made design templates should help get your creative juices flowing.
Bonus #2: A Free Virtual Assistant For A Month
Included in your membership is 40 hours' worth of virtual assistant services so you've got someone to upload and set up your designs for you. A pretty sweet deal if you ask me.
Bonus #3: White Glove Coaching And Support
Got a question you want Dave Kettner to answer for you personally? No problem. Dave will record a video giving you the specific expert advice you need.
Bonus #4: Video Vault Access
You'll also get the full video library of Dave's answers to other members.
Bonus #5: Business Consult And Setup
Ready to set up your own LLC? Dave's partnered with a leading business services provider to help you do just that.
Bonus #6: Hidden Gems Monthly Report
Want to know what's hot right now? You'll be sent a monthly report showing you exactly what's working and what's not, as well as important reminders about big holidays and earning opportunities coming up.
Printable Profits' Facebook Community
As a Printable Profits member, you'll also get access to around the clock support and advice from fellow MUGpreneurs via the private members-only Facebook Group. This is a game-changer.
The group has nearly 3,000 members and is pretty active: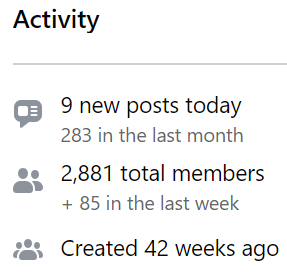 Can You Make Money With Printable Profits?
Making money with Printable Profits requires very little money down so it's low risk. The more designs you upload, the more print-on-demand products you'll sell. Trainer Dave Kettner promises to show students how to make $11,453 in profits every month.
Let's do some quick math to work out what your real profit margins would be.
Here's a mug I found on Etsy selling for $20.09. Notice it's sold 403 times so far: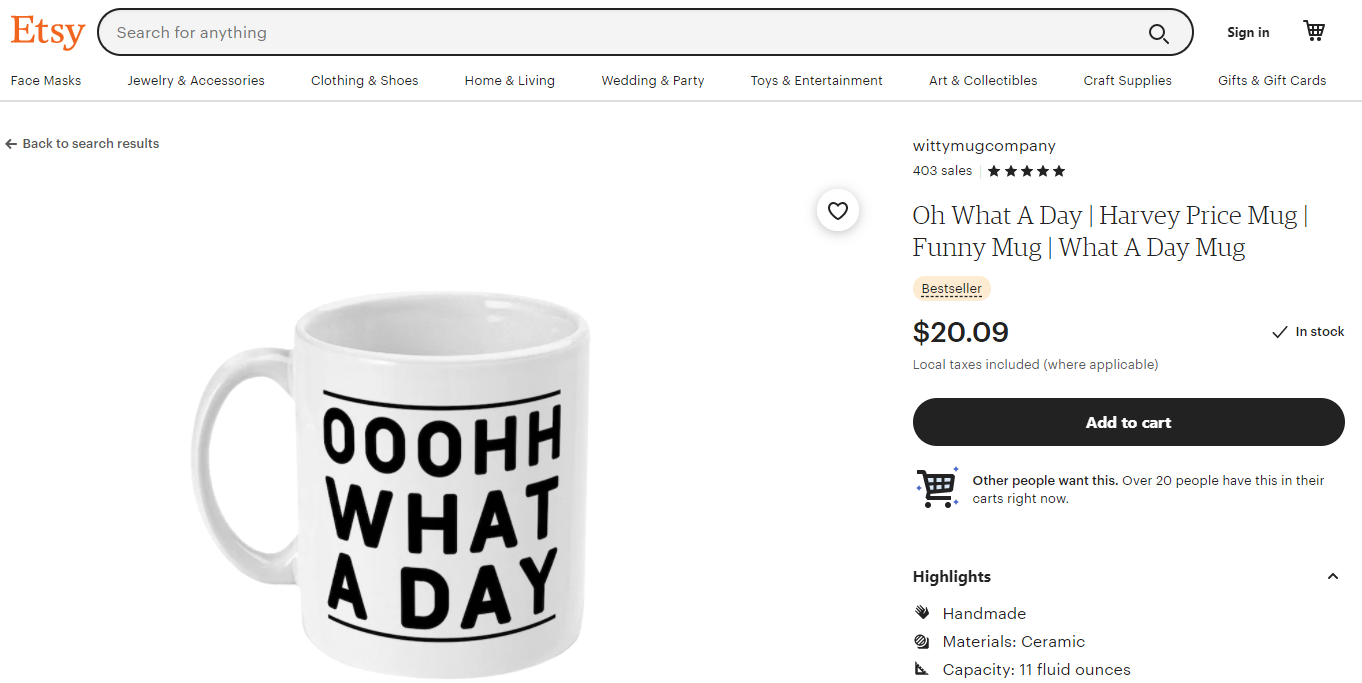 IconEcom sells a similar mug (available in white) for $9.95 plus $4.50 for printing so it'll cost $14.45 in total:

Customers cover shipping costs so you don't have to account for that. Etsy takes a $0.20 fee for every listing plus a 5% transaction fee when an item sells so let's knock off $1.24 which gives us $4.40.
Mug retail price: $20.09
– Mug cost price: $14.45
– Etsy fees: $1.24
= $4.40 profit in your pocket
That's a 21.9% profit margin which isn't bad at all. Your only other costs are going to be your item listing fees, IconEcon membership at $9.99 a month after the 14-day free trial and $5 a month if you want to use the WordSwag app to make your designs.
Now all you have to do is replicate your success. How do you increase sales? That's easy, just upload more designs. According to Dave, around 2% of product listings will take off, so it's a numbers game.
Make 1,000 sales and you've made $4,400. Make 10,000 sales and you've made $44,000. I don't think this is beyond the scope of reality, especially in the lead-up to Christmas.
So yeah, the math works out. Print-on-demand definitely looks like a profitable online business model you can make a lot of money with.
Here's someone who is making money on Etsy following the same strategy Printable Profits teaches, sharing about the successes and failures she experienced along the way:
Is Printable Profits A Scam?
Printable Profits is not a scam. Overpriced perhaps, but the course offers a lot of value and you will learn a legit way to launch your own print-on-demand business for sure.
However, I think becoming a MUGpreneur is not the quick and easy income opportunity it may at first seem and it's not for everyone. Anyone looking to buy the Printable Profits course should go in with their eyes wide open.
That said, let's go through the pros and cons…
3 Printable Profits Cons
1. I Think It's Too Expensive
Let's face it, you're paying $1,588 without the upsell and $1,735 with the upsell. That's a hefty wad of cash to pay out for an online course.
2. There's No Refund Option If You Change Your Mind
Legit online business courses like Invincible Marketer and $1K A Day give you at least 30 days to cancel and get your money back, but there's no such option with Printable Profits.
I guess you just have to be 100% sure about this one before you buy.
3. It Might Not Be As Easy As Dave Makes Out
Dave makes some pretty bold statements on the webinar like:
"Printable Profits is your proven roadmap to a 6-figure income"
"Even if 98% of your designs fail, you could make $18K for every successful design"
"You can make around $9 in profit per mug sold."
Whilst I don't believe he's being deliberately disingenuous, he may overstating it a little. As we've just seen when we did the math, for example, the profit per mug is more likely to be around the $4 or $5 mark, not the $9 he suggests.
My advice would be to take these with a pinch of salt. He's trying to sell you his course at the end of the day.
3 Printable Profits Pros
1. You Don't Need To Run Facebook Ads
Usually, with dropshipping, you need to drive traffic and that traffic costs big bucks. What I really like about the Printable Profits model is there's no need to run ads at all.
Why?
Because you'll be listing products on online marketplaces like Amazon, Etsy and eBay, already hugely popular sites everyone goes to buy stuff. The buying traffic is already there.
2. You Can Earn Big With Little Money Down
Your biggest expense is going to be buying the Printable Profits course, after that unless you want to scale up with Etsy ads, your running costs are going to be minimal.
The beauty of print-on-demand is you have 100,000s of products listed for sale without having to stock or ship a single thing. No need to rent a storeroom, no need to buy bulk orders from China.
You only buy products once the order's come through. This makes this a low-risk opportunity with limitless earning potential. Sounds like something I could get behind!
3. I Can't See This Ever Becoming Too Saturated
Oversaturation was the one thing I worried about but after listening to Dave's webinar and interviews, I see there are so many different print-on-demand ideas and personalisation options that there's more than enough space for everyone to grab their slice of the pie.
And with sites like Etsy and Amazon still growing, the pie is only getting bigger.
Should You Buy Printable Profits?
No doubt about it, print-on-demand is legitimate and lucrative. The question is, do you have the $1,500+ to buy the course and become a MUGpreneur?

If so, start with the free webinar Dave Kettner put together.
It'll give you a solid overview of the entire Printable Profits system.
If not, try this smarter, low-cost way to start earning online.
How I Make $100,000s Sitting At Home
You name it, I've probably tried it. Printable Profits gives you one of the best money-making strategies I've come across in a while…
But what if I told you there's an even BETTER way?
Watch this video to discover the simple 4-step strategy you can use right now to generate 50-80% profit margins and replace your income online.
Simon Crowe is on a mission to help as many people as possible kiss their bosses goodbye.
Take the free Commission Academy course to discover how to smash your online income goals and make your dream business a reality.