Right here I'm going to give you a complete rundown on what PaySpree is, how it works and ask, is PaySpree a scam or a legit online income opportunity worth investing your time in.
If you've been looking for an alternative to ClickBank to either promote your products or earn extra commissions online and you've stumbled across the PaySpree website, then my hope is that this review will help you decide whether or not this is a good fit.
PaySpree Review At A Glance
About: PaySpree is an affiliate marketing marketplace where yo can find products like eBooks, courses, and membership sites.
Price: $29 for Premium membership and $2 for a service fee.
Pros: Higher commission than ClickBank, higher exposure for product creators.
Cons: No product approval process, peddles scammy products.
Verdict: The marketplace itself is not a scam but you can come across scammy products that will harm your affiliate reputation.

What is PaySpree?
In a nutshell, PaySpree is one of the newer affiliate marketing network for digital products like eBooks, training courses and monthly membership sites in a wide variety of niches.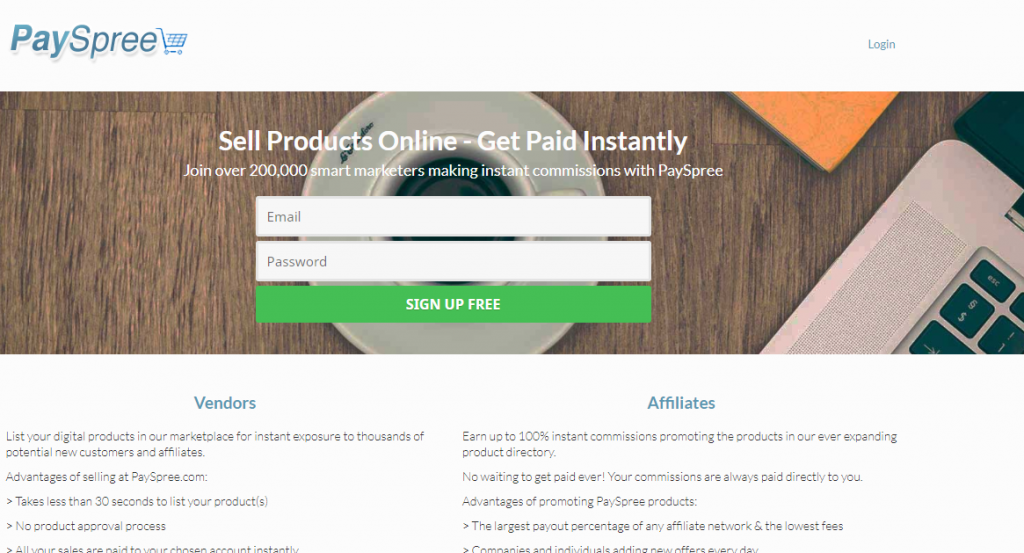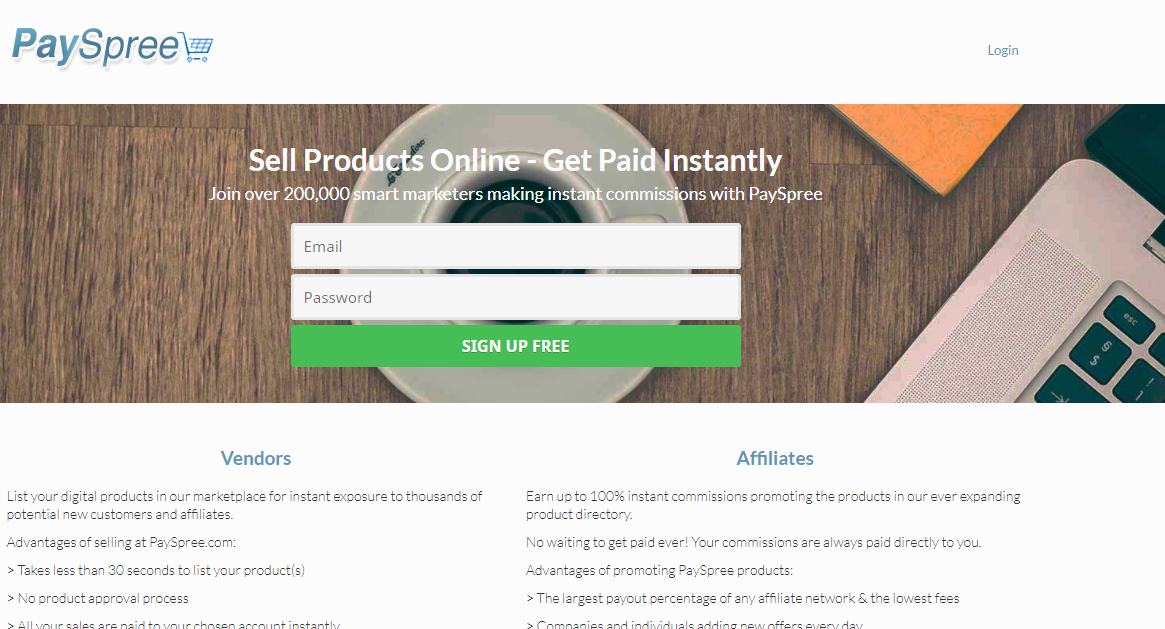 They have a Facebook community and free membership options.
PaySpree is like a two-sided coin; on the one side you it caters for vendors and product creators who want to get their products out there and on the other you have the affiliates who are looking for products to promote and earn a commission.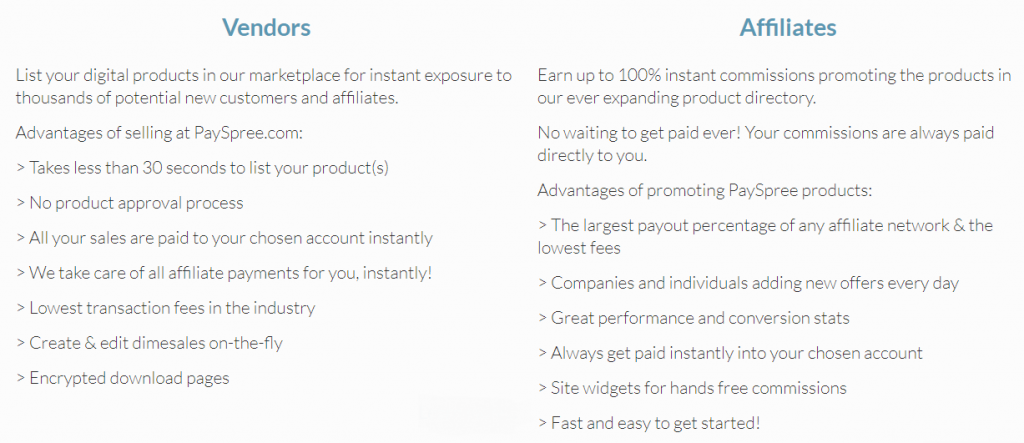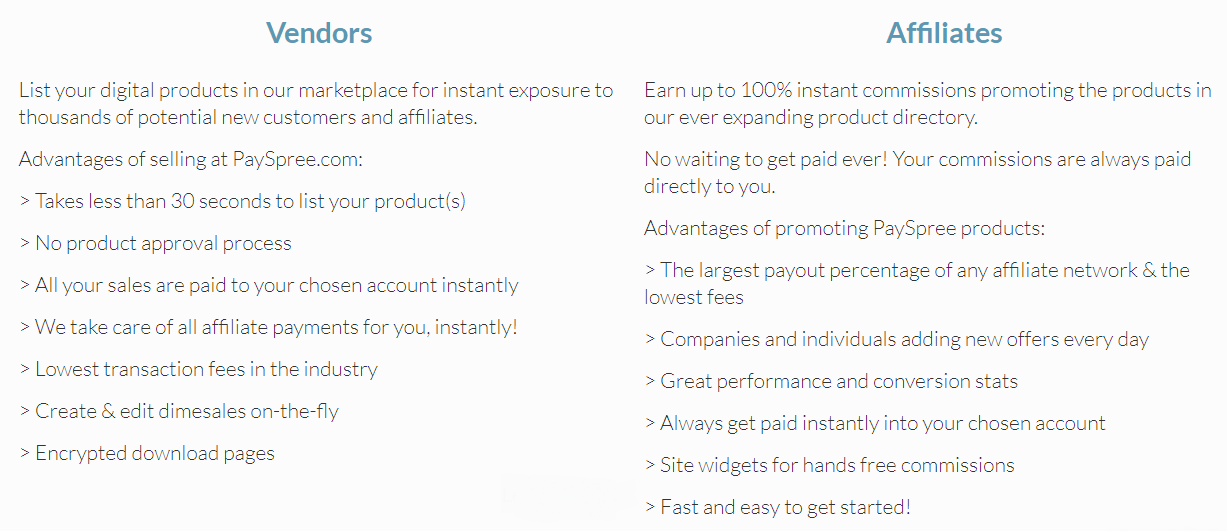 PaySpree For Vendors
If you're a product creator PaySpree helps put your product in front of affiliates without the need to create your own affiliate program, they will deal with all the payments, affiliate sign ups and stats for you under one roof.
If you have a product or training course you've created, you can list it in the marketplace where it can be picked up by any of the thousands of PaySpree affiliates, many of whom are very successful affiliate marketers with access to a very big audience of potential buyers.
All you need to do is create your sales or landing page, download page, enter your price and it's available immediately.
One of the stand-out features of this site is that they pay you instantly, as soon as the sale comes through. This means you no longer have to wait to the end of the month to get the money in your bank account.
How much does PaySpree cost for vendors?
There are two types of fees at PaySpree:
1. Premium membership fee
One of the great things about PaySpree is that you can list one product for free. For more than that you can upgrade to the Premium membership for a one-time fee of $29 for unlimited listings.
As a product creator this gives you the ability to have an unlimited number of affiliates all out there promoting your products and generating sales for you, all while you let PaySpree run everything for you hands-free.
2. Service fee
Whenever you successful sell a product you pay a small transaction fee based on the sale amount. Here's a rundown of the service fees:

Every affiliate network has some sort of fees to help keep the site running and I think PaySpree's fees are pretty low. You could sell a product for $1,000 for example and just pay $2. That's phenomenal!
PaySpree For Affiliates
If you're looking to become an affiliate marketer then I think PaySpree could be a good starting point.
Unlike ClickBank which has a flat rate 50% commission, with PaySpree you can earn 50%, 60%, 75% or even 100% commissions and PaySpree put the money into your PayPal account immediately.
I know 100% commissions is almost unheard of, but it can happen if the product you're promoting has the option to buy the reselling rights to it. Obviously check out the marketplace product descriptions but this could be a great way to increase your commission payouts.
There is a large and growing number of products, training and monthly membership courses available for you to promote and because PaySpree is smaller than the ClickBank giant, it means you'll have less competition as well.
Whatever your niche or affiliate website is about, you can be sure to find relevant, high-value products to promote. You do have to be careful though, because there's no approval system for the vendors.
You do have to be careful though, with no approval process for vendors or their products, you're going to have to do your due diligence and check out the products you're promoting first to make sure they're legit.
Beware the scammy products
PaySpree's marketplace and 1000s of products to choose from and among them are lots of high-quality, high-converting products, but there are scammy low-quality products too.
I strongly believe that when you're promoting or recommending a product, it's your reputation on the line. This is why I will never promote something I don't think will actually help my readers.
Not only is it immoral, it's just not good for your affiliate marketing business in the medium to long-term. So take some time, research the product, test it out and make sure it's something you can be proud to put your name to.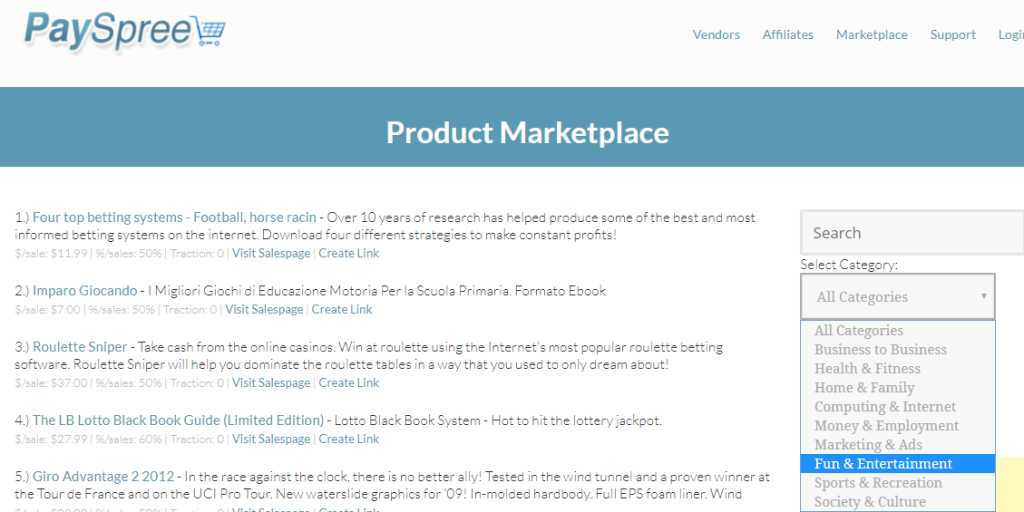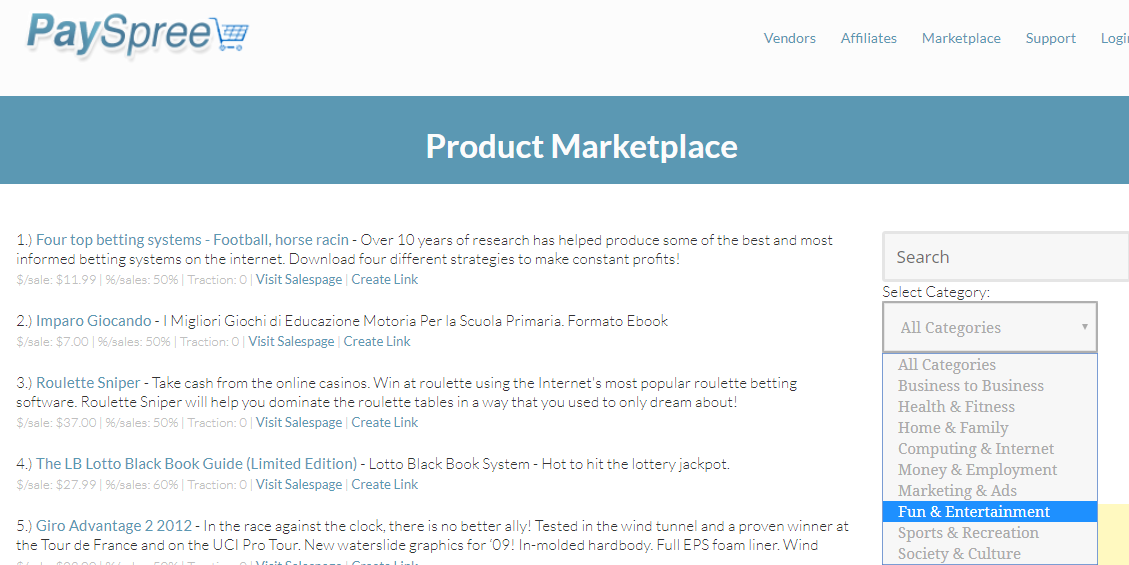 How much does PaySpree cost for affiliates?
For affiliates promoting one product, PaySpree is free. To promote as many products as you like, you ca upgrade to Premium for a life-time fee of $29.
The service fee works exactly the same as it does for vendors. Sales coming in under $4.99 are free, you pay $1 for sales up to $19.99 and $2 for anything $20 or more.
To maximise your commissions, take the free beginner's 10 lesson training course
PaySpree give you access to a massive amount of different products, so many that whatever your niche I'm sure you can find something that fits with your site and audience.
It's then up to you as an affiliate to build an audience, get traffic and make sales. PaySpree don't run any training themselves but they do recommend a very well well-respected affiliate training platform called Wealthy Affiliate.
You can check out my review of Wealthy Affiliate here but let me just say, after reviewing hundreds of training programs they have the best online courses I've ever come across. The beginner's course is completely free to which is a bonus.
As well as a being the perfect training platform, they also have a very active community of online entrepreneurs and top-notch website building and keyword research tools.
What I like
Higher commission rates than ClickBank
Possibility for creators and vendors to get more exposure
What I don't like so much
No product approval process
Lots of scammy products so you have to do your research
Is PaySpree A Scam?
I don't believe PaySpree is a scam, but because they're open to everyone there are scammers who try to exploit the system and promote scammy products, especially in the make money online niche.
PaySpree themselves always pay instantly when they say they will and overall, provides a great site for both vendors and affiliates alike.
What Do You Think?
I hope you've found this PaySpree review helpful. If you have any questions I will always get back to you. If you're already using PaySpree feel free to share your experience with us below. 🙂
Simon Crowe is on a mission to help as many people as possible kiss their bosses goodbye.
Take the free Commission Academy course to discover how to smash your online income goals and make your dream business a reality.