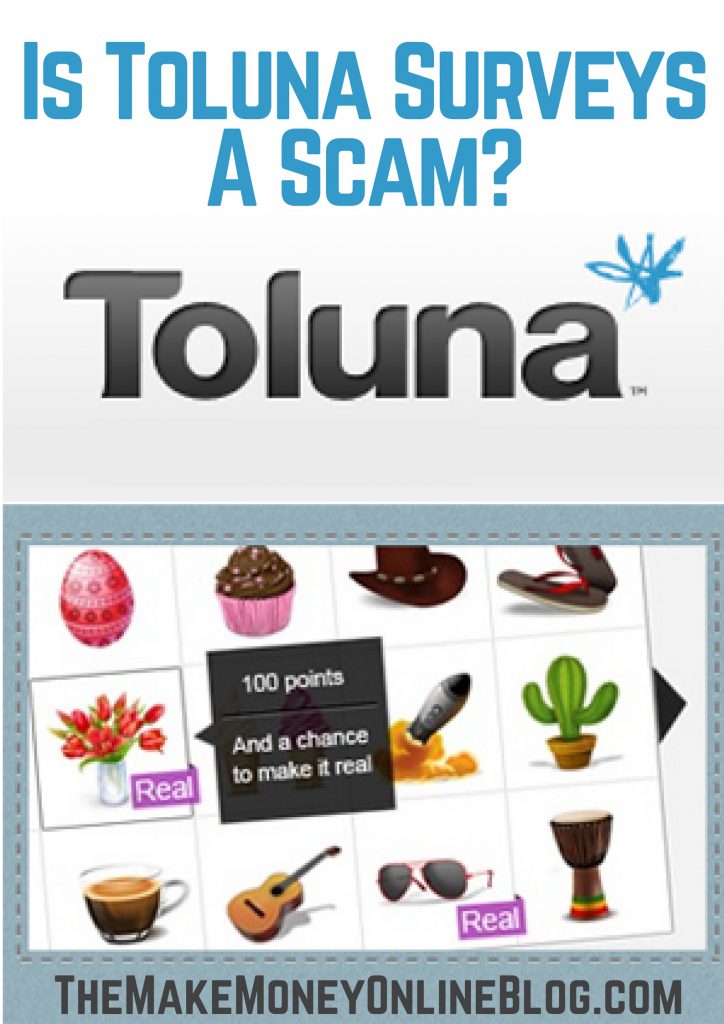 Toluna Surveys is a site that claims to give you a chance to influence major brands and be rewarded.
I've seen a lot of mixed reviews so I decided it's time to look at Toluna and find out what's really going on with this site.
I mean, having the chance to give your feedback is great and all, but what about this as a money making opportunity?
Is Toluna Surveys a scam or a legit way to earn cash on the internet?
I love the idea of people being able to work wherever they want and live life on their own schedule and many people look to paid survey websites as a way to do that.
The sad fact is many survey sites fall far short of expectations and people usually quit not long after they've joined once they realise it's a huge time waster.
Not all survey sites are created equal and some are better than others, generally they only offer very low payouts and the best site I've found so far is Swagbucks.
So how will Toluna Surveys compare? Let's find out.
Toluna Surveys Review (quick version)
If you're short on time, let me summarise this review in a nutshell:
I've reviewed dozens of surveys lately and I have to tell you Toluna Surveys is the lowest paying survey site I've seen so far.
You can spend hours trying to earn tens of thousands of points and still not have enough for a latte.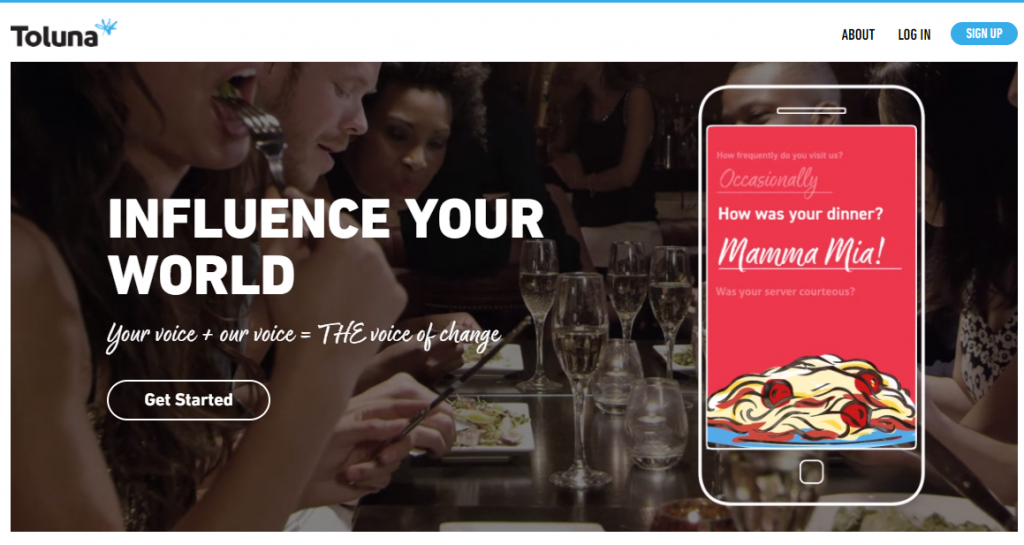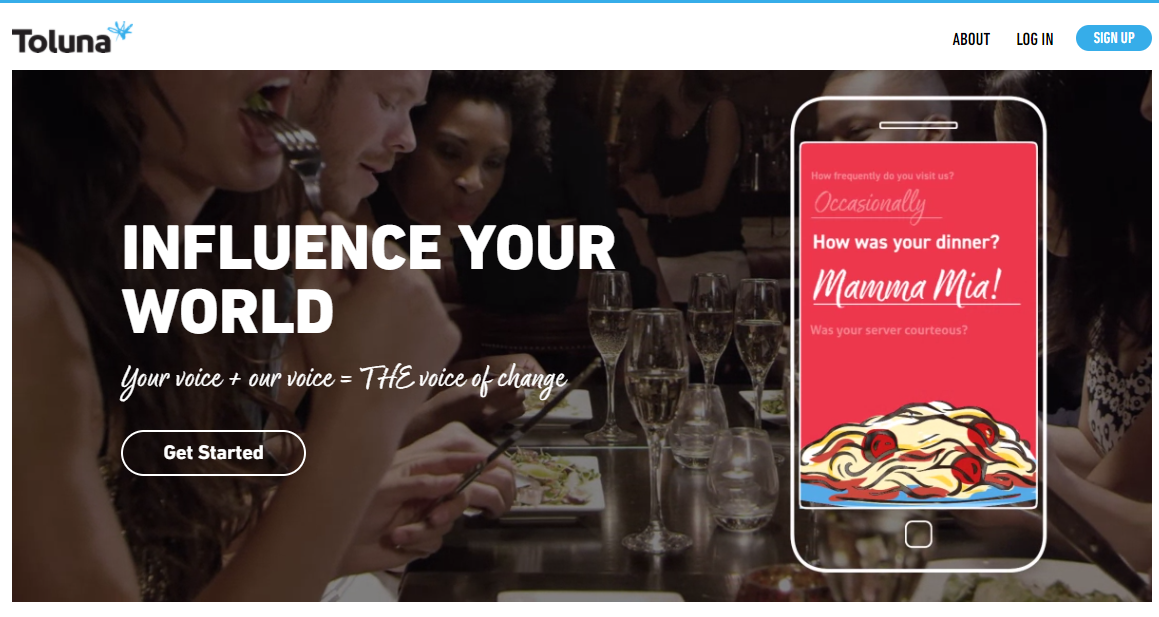 The inflated number of points they give you deceives you into thinking you're doing something worthwhile with your time, but these worthless points just don't add up.
Even with hard work and dedication and lots of time to spare, the amount of money you can actually earn with Toluna is severely limited.
Is Toluna Surveys a scam? Almost!
When you have members working solidly every day for 3 years and still not reaching the minimum withdrawal limit you have a serious problem. The word exploitation springs to mind.
We've all got bills to pay and mouths to feed but working for less than $0.50 an hour isn't worth it, not when there's so many better ways to earn money online.
My advice to you is to stop wasting time with silly surveys sites like this and better invest your time creating a ral online business for yourself where you can earn some serious money.
If you're tired of wasting your time filling out tedious surveys for very little cash then I strongly suggest you check out my number one way of making money online.
What is Toluna Surveys?
Toluna Surveys is a paid survey site that's been around since 2008 and is based in Conneticut, US.
With nearly 170,000 likes on their Facebook page, Toluna has grown into a very popular survey site where you fill out surveys in turn for earning rewards.
You can redeem these points for either gift cards for places like WalMart and Amazon or save up enough points to have cash directly deposited into your PayPal account.
Their website is really well designed, it's pleasing to the eye and easy to get around. The Toluna app is also available on Google Play and iTunes.

The Toluna Surveys sign up process
Toluna is free to join which is good (never pay to join a survey site!) and the signing is a simple 9 step process which is pretty straightforward. They'll ask you about your age, gender and location so they can match your demographic with suitable surveys.
They ask you for your mobile number but this is optional. You can sign in using Facebook to create your account which makes it even easier.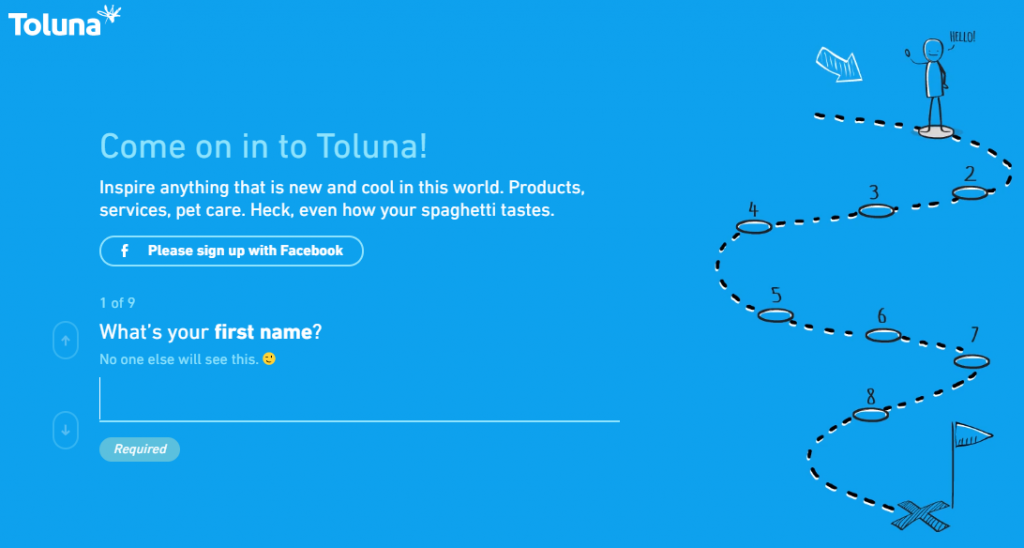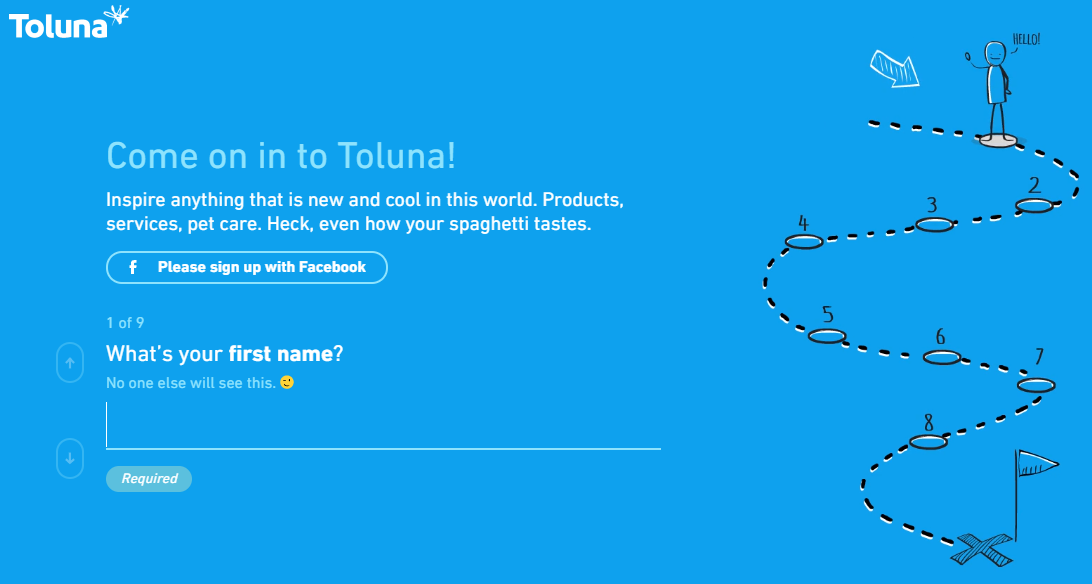 Once you've created your account, confirm your email and you're in. I had to wait 5 minutes for the verification email to hit my inbox but when I opened it I was offered a 5,000 welcome point bonus. Looking good so far.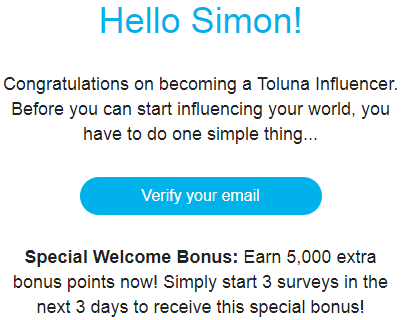 Once I clicked through I was reassured all my data and personal information would be protected and invited to take my first survey.
It turned out to be a pre-qualifying survey, where I told them a bit more about myself so they could better match me up with surveys I could qualify for.
This was a little more invasive perhaps, they asked for my address, education level, household annual income and employment level, but I don't mind too much.
It's better they get my info now so I don't end up half way through a survey only to find out I don't meet the criteria further down the line.
It literally took me 3 minutes and I already banked 500 points. Perfect!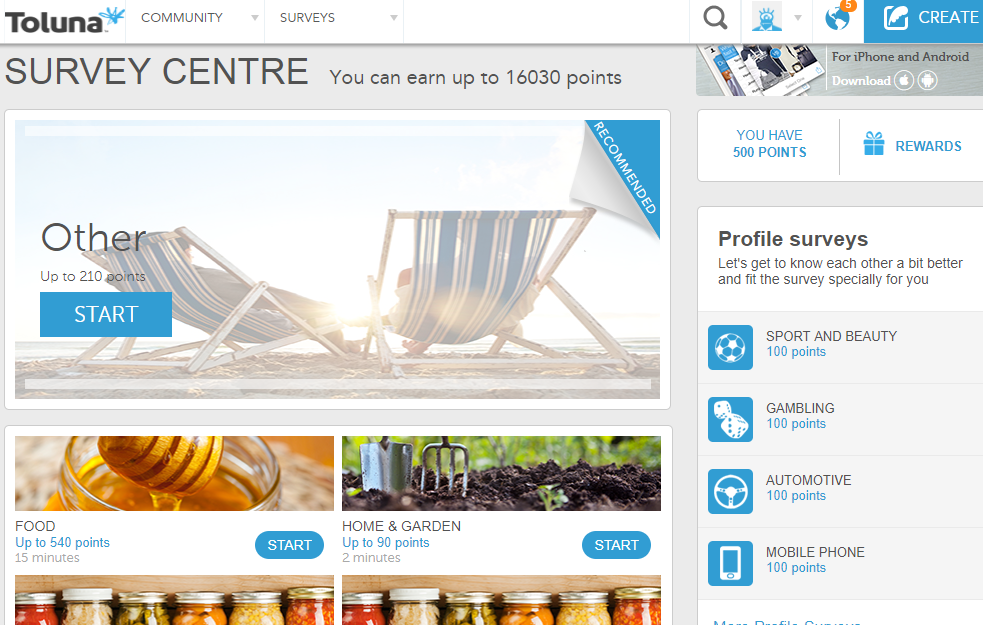 I decided to try another quick survey offering 210 points. This one was about mobile phone insurance and took me no longer than 2 minutes to complete.


But then something strange happened:
When I completed the survey I was told I only earned 30 points – what happened to the 210 points I was supposed to earn?
I quickly realised my mistake… it says UP TO 210 points, not that I'll actually earn that much. All the other surveys say the same thing. Okay.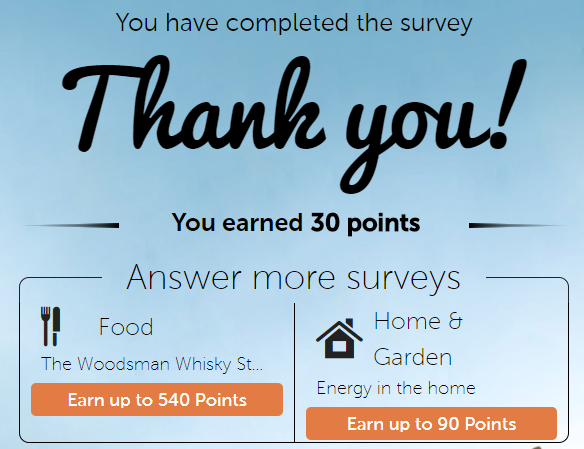 Putting that to one side, I've already accumulated 530 points and it's only taken me 10 minutes so I'm still feeling pretty good.
I decided to check out the rewards area to see what I could get for my points, but this is when reality kicked in.
Here's why:
530 points sounds like a lot, but as soon as you realise exactly how much these points are worth, you'll see just how much time you're going to have to put into this to get any pay out at all.
The lowest points redeeming option I could find was a £5 ($6.64) Starbucks gift card which will take 25,000 points.
If I want to redeem the points to get cash into my PayPal account I'm going to need 185,000 for £35, which works out at around $46.45.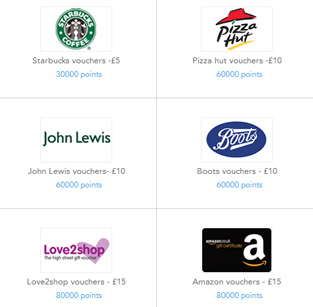 At this point I got that sinking feeling – was Toluna Surveys one of the lowest paying survey sites I've ever joined? Yes I think so!
How much money can you realistically expect to make with Toluna Surveys?
If 185,000 points gets you $46 then to earn $1 you'll need 4,021 points.
If 25,000 points gets you a $6.64 Starbucks gift card then $1 works out at 4,100 points.
Those 500 points I got so excited about? It's just 17 cents.
Based on everything that I can see, most of the surveys take 2-3 minutes and earn you 100 points… which is less than 3 cents. There are some 700 point surveys which take 30 minutes but even still, you can't even make $0.50 an hour with this site.
How badly do you want that $5 Starbucks gift card? You're going to have to work your butt off for 18 hours.
How can I recommend Toluna Surveys as a legit way to make money at these rates? It's not just their frankly, appaling pay out rates that gets to me, if the fact that they trick people into thinking they're earning more than they actually are.
500 points, 1,000 points, 10,000 points – I can see users seeing all those zeros and feeling quite pleased with themselves thinking they're actually getting somewhere, until they realise these points are absolutely worthless.
What I like
Lots of surveys available
The website is well laid out and professional looking
What I don't so much…
Toluna is by far the lowest paying survey site I've ever seen
With most survey sites you can at least earn $1-$2 an hour – here you'll be lucky if you can $0.50 an hour
Instead of saying 'Up to', they should just tell you how many points you'll earn for each survey
Tons of members quit before ever getting close to the minimum withdrawal amount
Very time consuming with little reward
Points expire after 12 months
Is Toluna Surveys a scam?
I want to call Toluna Surveys a scam because I feel misled, but I'm not going to.
But I really don't like how they've set their points system up to fool people into thinking they're making more than they have. It's very deceptive.
I'm just checking reviews on Survey Police and there's a guy who's been a member for 3 years and he's still not able to cash out!

To make matters worse, your points expire after 12 months…
Please do me a huge favour and avoid this site. Do not waste your time and effort with this – your time is worth so much more than $0.50 an hour. Heck, your personal information is worth way more than that.
Working solidly for a month to try and get a $5 Starbucks card is an insult and you can do much better.
If you want a legit way to earn serious money online then you'd be better off using your time and investing it into creating an internet business you can earn a consistent, monthly income from.
That's what I did 3 years ago and now I make $6,000+ a month, and this is without taking silly surveys.
I'm not saying this to brag, I just want you to know that you really can make money online. Sites like Wealthy Affiliate have really good courses that give you step-by-step instructions for what you need to do. You can get started for free too.
Creating an internet business might not pay off right away, but once the income starts comming in, it just grows and grows over time.
Read the full Wealthy Affiliate review to find out how you can get instant access to the right know-how through the training and the right support.
I hope this Toluna Surveys review helped you avoid wasting hours of your time and getting nothing back. Feel free to thank me in comments below! 🙂 If you have any questions at all please leave them below and I will get back to you personally.
Related posts:
Simon Crowe is on a mission to help as many people as possible kiss their bosses goodbye.
Take the free Commission Academy course to discover how to smash your online income goals and make your dream business a reality.