Welcome to my RU Affiliates review!
If you are reading this, I'm going to guess it's because someone you know is trying to get you signed up, or maybe you came across the program through Facebook or Twitter.
The internet is full of crazy make money quick scams and RU Affiliates promises you'll be able to make a lot of money, very quickly.
But is RU Affiliates a scam or legit?
Keep reading to find out…
And let me just say, I am not a member of RU Affiliates so I have no agenda to sign you up. I am just a blogger and online entrepreneur trying to help people avoid scams and find real online business training.
What We'll Cover In This Review:
What Is RU Affiliates?
RU Affiliates (www.ruaffiliates.biz) is an online network marketing company that specialises in using email autoresponders as a way to find and sign up new recruits.
With the slogan "We turn emails into ATMs", RU Affiliates is a website and training course created in April 2017 specifically for Filipinos.
It was started by Wesley Bacate who lives in Laguna, Philippines.
The main training course is called IHX Factor; 11 training videos which show how to find recruits and build your down line. To join the course you have to pay P1,599.
How You Make Money With RU Affiliates
The only way you make money with RU Affiliates is by selling RU Affiliates.
Here is how their compensation plan works:
1. Direct Commission
You will earn P1,000 every time someone signs up for the course.
2. Shared Commission
As a bonus you will receive P200 every time you sign up 3 new referrals.
3. Goodwill Commission
Every time you sign up 3 more members in the scheme, your up line will earn P400 and your down line will receive P400.
Here's a Tagalog video explaining how the RU Affiliates compensation plan works:
Is RU Affiliates A Scammy Pyramid Scheme?
Yes 100%, RU Affiliates is definitely a scam and you should NOT get involved.
Stay as far away as you possibly can because RU Affiliates is now illegal in the Philippines because it is unlicensed and unregulated.
RU Affiliates is a pyramid scheme and now I will show you why.
Let's start with Wikipedia's definition of a pyramid scheme:
A pyramid scheme (or pyramid scams) is a business model that recruits members via a promise of payments or services for enrolling others into the scheme.
The whole RU Affiliates training is set up to teach you how to promote RU Affiliates only, for this reason I have no choice but to say it is a pyramid scheme.
But it is not just a pyramid scheme, it is an illegal pyramid scheme in the eyes of the Filipino government: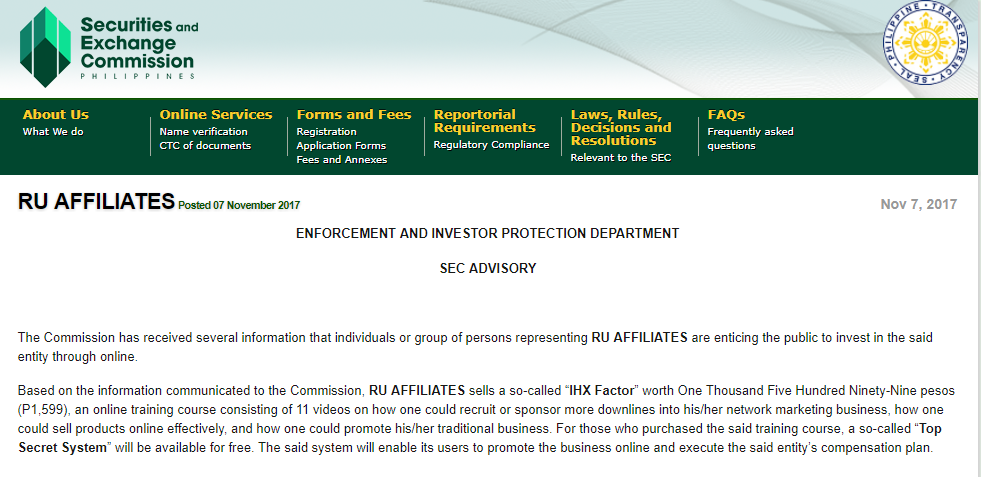 On the 7th November 2017, the Philippines Securities and Exchange Commission said anyone who is found promoting or recruiting people into the RU Affiliates program will be fined P5,000,000 and/or face 21 years in prison.
Be very careful: RU Affiliates is a very dangerous scam that could cause you to face criminal charges.
Read about the SEC's investigation here.
A Much Better Option
Are you tired of the get-rich-quick scams and ready to build a legit online business where you can earn money honestly and ethically?
Check out my TOP-RATED and LEGIT make money online training here.
No hyped-up scams; just real step-by-step training on how to succeed online.
I took this course in 2014 and now I make more than $7,000 per month online, without having to recruit my family and friends.
Simon Crowe is on a mission to help as many people as possible kiss their bosses goodbye.
Take the free Commission Academy course to discover how to smash your online income goals and make your dream business a reality.