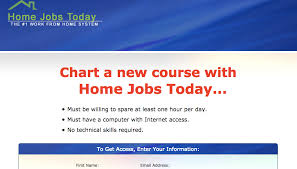 Calling itself "The #1 Work From Home System" Home-Jobs-Today.com promises to help you chart a new course towards financial freedom.
Apparantely all you need is a computer with an internet connection and a spare hour a day to make it happen.
But is Home Jobs Today a scam that will take your money or a legit work from home opportunity?
In this review I'm going to do my best to help you decide whether or not you should go for this and just so you know, I'm not affiliated in any way with this site.
Rest assured, you'll only find the honest truth here. With that said, let's get started with the review!
Home Jobs Today review

Once you land on the Home Jobs Today website you're given very few details of what work you'll be doing to earn money.
Instead, you're presented with form to fill out to give them your name, email and phone number before you can move onto the second page.
There you'll see what Home Jobs Today is really about; they say that by copying and pasting links on the likes of Facebook and Twitter for just an hour a day, they'll pay you $15 per link.
This is the very definition of a link posting scam, luring people in with promises of easy money so they'll spam your scam links across social media.
Here's the catch:
You're going to have to buy a $97 eBook that shows you how to share links online and get access to the Home Jobs Today system.
There is nothing new or novel about this program, it's just the same old internet scam under a new name. Everything about this stinks of a scam designed to squeeze every penny it can out of you.
What is Home Jobs Today?
The truth is, Home-Jobs-Today.com is just one of probably hundreds of cloned sites exactly like this, including HomeJobsTodays.net, Ultimate Home Profits, Home Jobs Now, Online Jobs Today to name a just a few…
In typical scam-like fashion, scammers looking to target as many people as possible often have multiple scam sites running at the same time, making it more difficult for the authorities to shut them down.
You've no chance of a refund
Handing over your $97 is just the start. Now they've got your contact number you could very well find yourself being called by a so-called "work from home adviser" who will try to figure out how much money you have and offer you a whole variety of expensive up sells.
My advice: if you've already happened to sign up and get a call, do not speak to these people. Their sole intention is to get as much money out of you as possible.
They're try to assure you with money back guarantees and refund policies but the harsh reality is you'll never get a penny of your money back or any way of contacting them.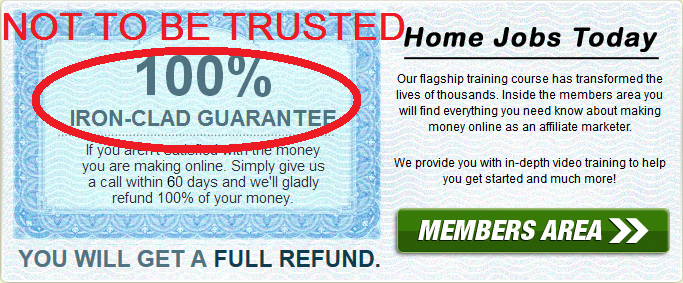 The owners of Home Jobs Today are frauds
The Home Jobs Today program and others like it come under the umbrella of Apply Knowledge who have been investigated several times by the Federal Trade Commission for using lies and deception to try to convince potential victims they could easily earns $1000s if they purchase the bogus training programs and costly up sells.
The FTC even put a restraining order on this company to stop them from recruiting new unsuspecting victims saying:
"They promised consumers that they would earn thousands of dollars a month using defendants' coaching program to assist them in establishing their own online businesses.
The defendants also encouraged consumers to put the entire cost of the program, generally from $3,000 to $12,000, on their credit card, claiming they would be able to pay it off within a few months."
Is Home Jobs Today a scam?
As you can see, Home Jobs Today is a scam responsible for misleading 100s of people into thinking this was a legit hoe-based job opportunity and getting them to part with their cash.
The owners of Home-Jobs-Today.com expect you to hand over your personal information without giving you any idea of how you'll be earning money or how the system works.
All you get is fed big and empty promises about the huge sums of easy money you're going to make.
You will not make any money merely spamming links online. The only people making money here are the owners themselves.
In my honest opinion Home Jobs Today is a scam and is NOT recommended.
Learn how to make money online
Forget the hyped-up scams and hollow promises of profit busting systems. There is no magical software out there that will make money for you on autopilot.
When it comes to earning an income online, it's a lot like earning money offline. You must learn to think like an entrepreneur and be ready to follow the right training and put the work in.
If you're ready to learn a legitimate way to make money online then check out my top recommended program here.
The beginner's course is free and you won't need your credit card. No hype, no gimmicks.
If you have any questions about getting started then let me know in the comments below and I'll be more than happy to help you out. 🙂
Here's to your online success!
Related reviews:
Simon Crowe is on a mission to help as many people as possible kiss their bosses goodbye.
Take the free Commission Academy course to discover how to smash your online income goals and make your dream business a reality.