If you've just landed on DutySet.com you may be tempted to create an account by handing over your email and password.
But before you do that please read this DutySet Review in full.
You'll find out the answer to the question: Is DutySet a scam you need to keep well away from or a legitimate online money making opportunity?
Without further ado, let's get stuck in.
DutySet review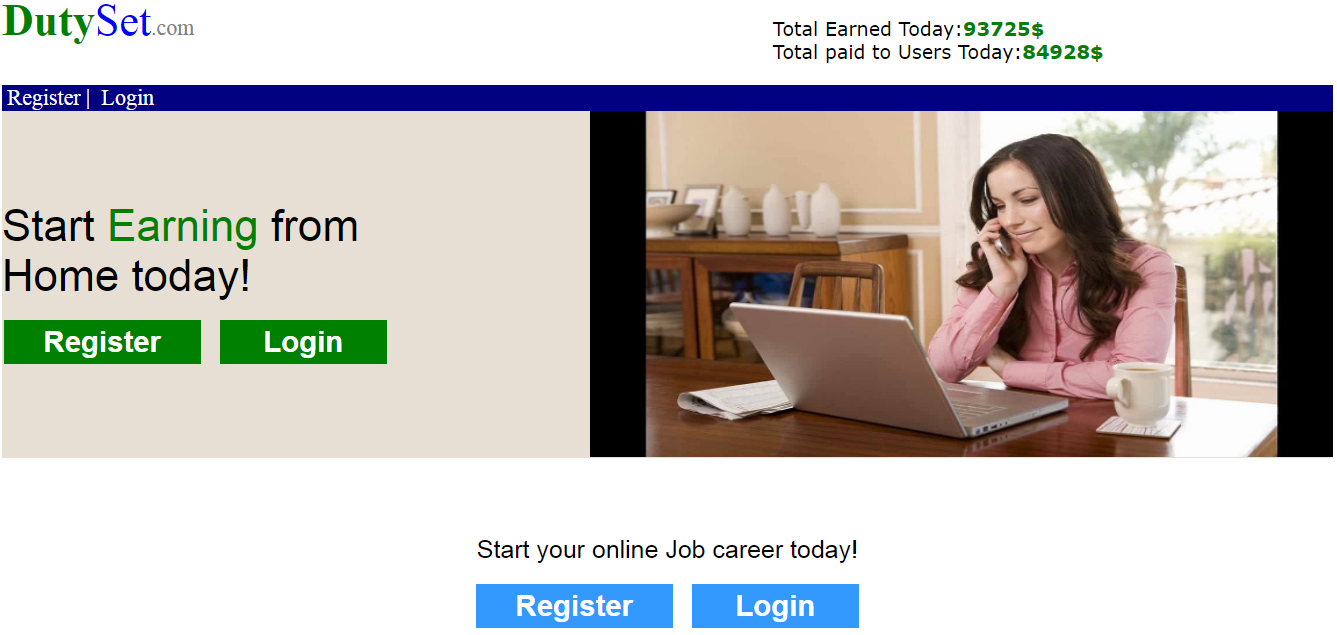 The DutySet website tries to convince you you can earn real money online by completing a task in reward for a $10 and claims some of their member's are making upwards of $3,500 per month doing this.
Unfortunately there's no success stories or payment proof to back this up. Why? Because this is an outright lie.
Here's how I know…
DutySet is not a unique website. In fact, I can tell you there are hundreds of identical sites like this one littered all around the web and they all have these things in common:
Same crappy logo
Same website layout
Same promise of easy cash
They're all designed to take your personal information from you
DutySet.com is designed to act like a portal for the scammer to collect fresh batches of people's personal contact details and PayPal information every day.
In the last few months I've reviewed sites like Pay Each Month, DutyTimes, DutyScreen, Dollar Saw, Dollar Zip, My Early Cash, For Money Only, The Dollars Plug, Money Come First, My Job Is First to name a few.
Here, let me show you what these sites look like and I'm sure you'll instantly see the similarities between these and DutySet.com: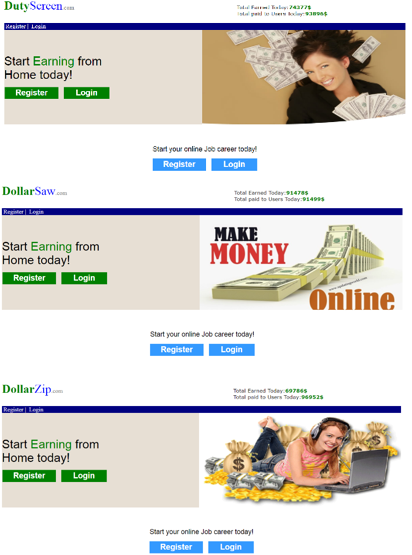 See what I mean?
This is a copy and paste scam that's duped a countless number of people into believing that they can make money simply by sharing links and recruiting others to the site.
My honest advice to you is this: avoid DutySet altogether and do not give them any of your private information. The only person making any money from the DutySet scam is the chief scammer himself.
DutySet do NOT pay out
Sure, they promise to pay you $10 – $20 every time someone joins the site through your link but trust me, you'll never see a penny of this money.
People are fooled into thinking DutySet is legit when they see the balance in the top right of their screen going up but little do they know this is all a sham.
No real company would every pay so high a price for spamming their links on social media, not when you can advertise on Google and Facebook for around $0.10 per click.
The only reason you're encouraged to share this site's links is to help the scammer recruit more potential scam victims – don't fall for it!
What is DutySet.com and how does the scammer make his money?
DutySet.com is the latest in a long line of internet scams with random and strange names all designed to get you to hand over your personal information.
The site has no business address or way of contacting the owner, there are no terms and conditions and my guess is this site will not be up for too long.
As soon as the scam gets exposed, the scammer behind this scam franchise shuts it down and starts again on a fresh, new site.
The DutySet scam is designed to get one thing and one thing alone: your contact information.
By luring you in with promises of easy money making for very little effort and offering free registration, hundreds of people each day very happily hand over their email addresses, passwords and PayPal account information to this unscrupulous internet con artist who will do anything he can to get his grubby hands on your money.
Is DutySet a scam?
I hope you can see by now that DutySet is a scam you should avoid like the plague.
DutySet.com uses lies and deception to not only get your information, but to get you to unknowingly promote this scam to your family and friends too.
I hope this DutySet review has helped you 'see the light' and given you enough proof to convince you to stay away.
If you would like to learn a real way to earn money online through the setting up of a legit online business than check out my top recommended online training here.
If you have any questions about getting started online then leave your comments below and I'll be more than happy to help you out. 🙂
Simon Crowe is on a mission to help as many people as possible kiss their bosses goodbye.
Take the free Commission Academy course to discover how to smash your online income goals and make your dream business a reality.