Hi, Simon here and welcome to my full OhMyDosh review!
I came across this cashback site one night when I was scrolling through Facebook and it immediately caught my eye.
I'm forever on the lookout for online money making ideas and I wanted to know if OhMyDosh was a legit and safe way to earn a bit of extra dosh on the side.
That is what I was determined to find out as I took a look at it and gave it a try.
I've reviewed a lot of reward sites in my time like 20 Cogs and Toluna Surveys and I can tell you some are better than others and most or not worth the bother.
But what about OhMyDosh? Here's what I found out:
OhMyDosh Review At A Glance
About: OhMyDosh is a cashback site where you find discounts and free trials for your favourite products.
Price: Free to sign up.
Pros: Easy to use, has lots of good user reviews.
Cons: UK only.
Verdict: OhMyDosh is a great cashback site to help you make the most out of your purchases. Just remember to keep tabs on free trials to avoid any unexpected charges.

What Is OhMyDosh?
First impressions?
I think the website looks great and I love the Doshy the dog mascot – they've even got him listed as an official OhMyDosh team member!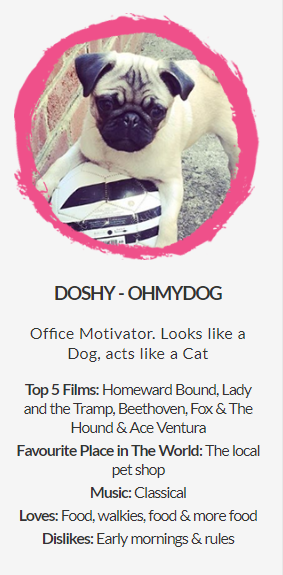 The site is really well laid out and it's easy to find your way around: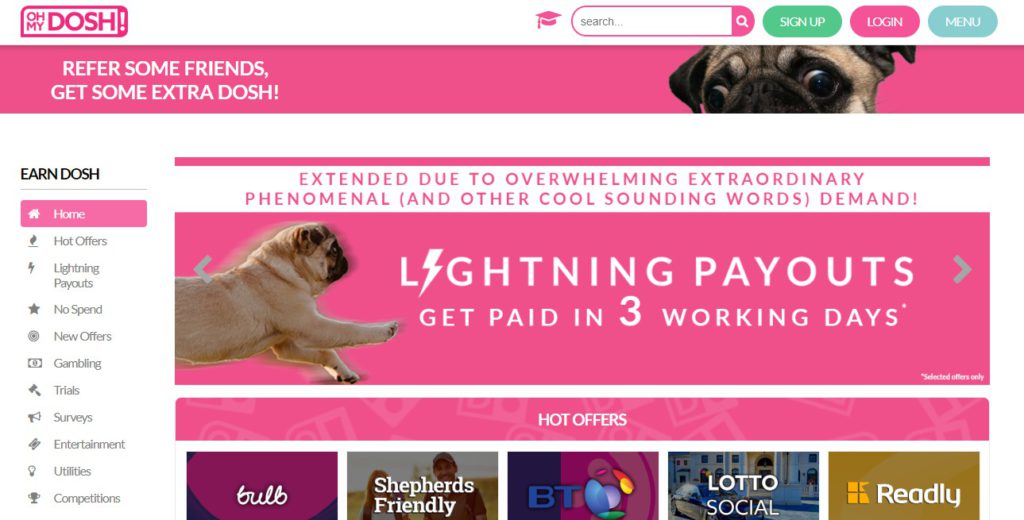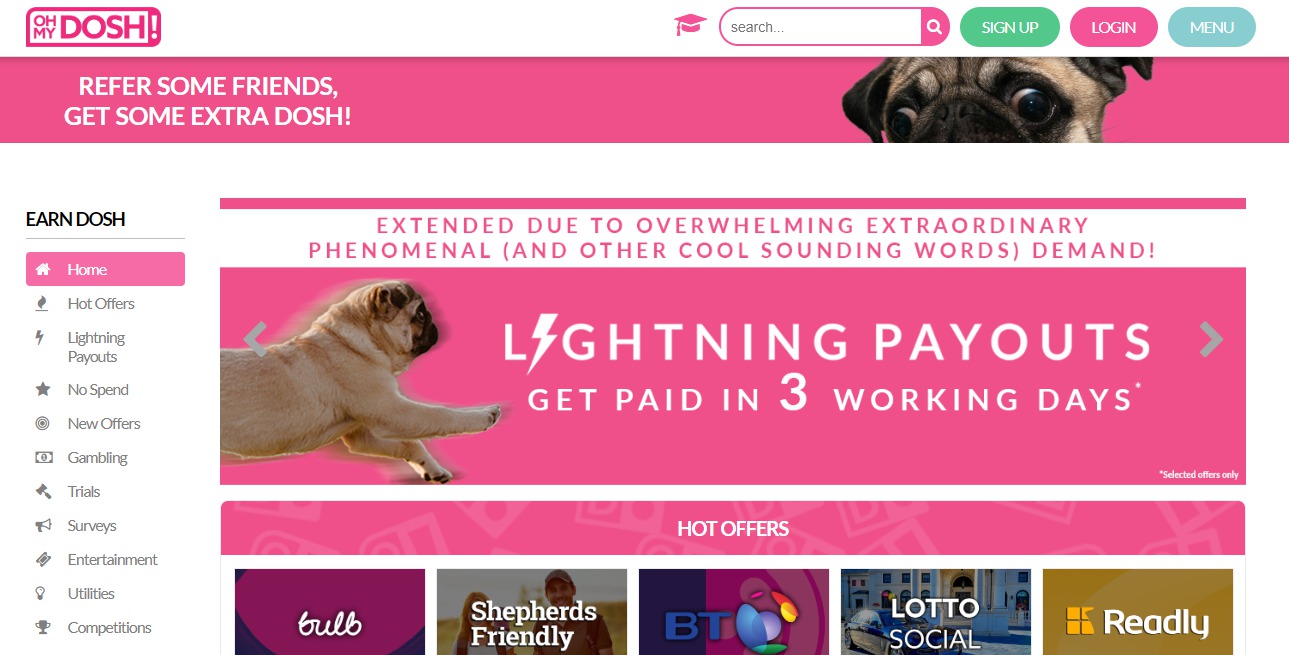 With the slogan "Give a little time, get a lot of dosh!" the whole idea here is OhMyDosh have partnered up with big brands like TalkTalk, NowTV and Apple Music to give you and me the chance of getting cash back and rewards for signing up to free trials.
Sign up is completely free (UK only) and you can cash out when your balance hits the £10 mark.
The great thing about this site compared to a lot of survey and reward sites I've reviewed is that they pay directly to your PayPal account, so no wasting time with Amazon gift cards or anything like that.
If you haven't seen it yet, here's their funny 30 second promo video:
How Does OhMyDosh Work?
Creating your account takes less than a minute with just your name, email and password. Once you're inside the member's area you'll see a ton of hot offers you can immediately take advantage of to start earning some dosh.

There are literally hundreds of offers to choose from and a lot of big brand names you'll recognise. You simply click on an offer, check the terms, see how much you'll earn and follow the instructions.
Once completed, the offer will show as pending. Depending on the offer it could take a maximum of 30 days to be verified.
If you have ever come accross any issues you can always contact the customer support team through their HelpDesk or Facebook page.
Here's a video from an avid dosher that gives you an over-the-shoulder peak at the members area:
3 Main Ways To Make Money With OhMyDosh
1. Signing up for free trial offers
This is by far the most popular and highest earning money making method. Some of the offers mean paying a small amount so you'll have to be sure to do the maths to make sure you end up quids in.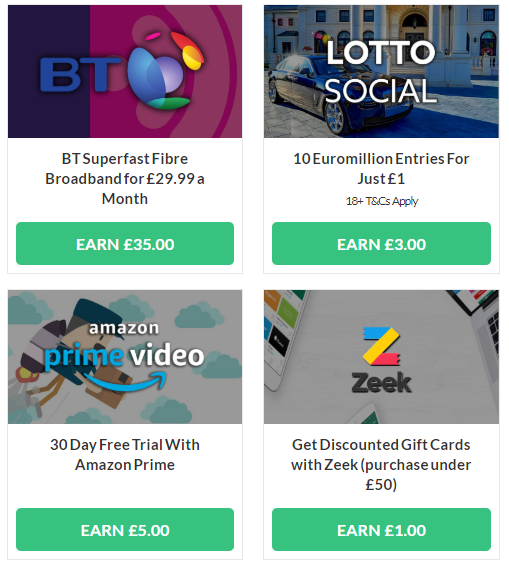 For example, I signed up to a trial with Tails.com to earn £1.50. Yes I had to pay £1 for 2 weeks delivery but in the end I got a 2 weeks supply of free dog food plus made profit of 50p.
Clearly this isn't going to make you rich but I think if you're going to buy this kind of stuff anywhere then you might as well make a little but extra on top.
Of course if you're going to go ahead and sign up then you need to make a note of the free trial end dates so you can cancel before you're billed for the full amount.
2. Signing up to paid survey sites
I found a few paid survey sites you could sign up to to earn up to £1.50. Sites like MySurvey, Mobrog, SpeakUp Surveys and Opinion Outpost.
Again, not a huge income earner here as you're unlikely to make more than £1 an hour filling out online questionnaires but the option is there if you fancy it.
3. Referring friends


This way of making money is probably the most interesting for me. Through their referral program you can earn 50p just for liking their page or sharing OMD on Facebook and you get £5 for every friend you refer to the site who reaches a £10 balance.
That's pretty good and it all adds up!
OhMyDosh Reviews – What Others Say
Read through reviews on sites like MoneySavingExpert and you'll struggle to find a negative complaint.
OhMyDosh score a very impressive 5/5 star rating with 843 reviews on TrustPilot:

The vast majoroty of members are clearly happy with the results they're getting from the site and I guess if you've got a bit of time to kill it beats wasting time on Facebook.
This review shows OhMyDosh definitely do pay out which is always reassuring to know!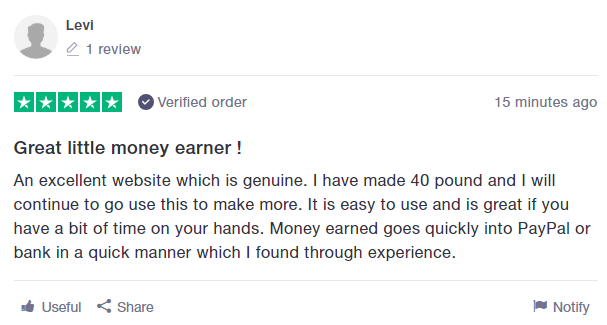 This guy says OMD is a good way of making a bit of extra cash…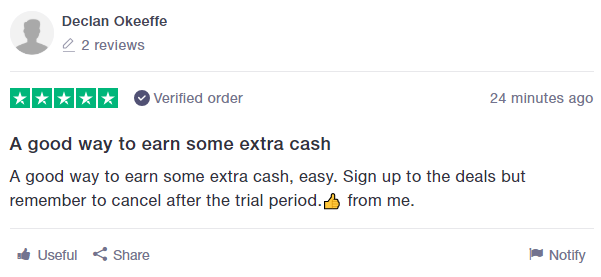 My Personal Opinion Of OhMyDosh.co.uk
OhMyDosh is a legit and safe site to use, not to mention it's free to join.
As far as reward sites go this is one of the easiest to use I've come across. I think OhMyDosh would be ideally suited for people who want to take part in free trial offers as a way to make a bit of extra dosh on the side.
The key to making money with this site is reading through the terms of each off before signing up to make sure you make more than you spend and keeping and keeping an list of trial offer dates so you can be sure to cancel on time.
You've got to be careful with stuff like this though, if you're not very organised like me then you could very well end up spending more than you earn!
The Bottom Line
Should you sign up and become a dosher as a way to make some extra money?
I think as long as you're not expecting to £100's through this site then you won't be disappointed. But does this site give you enough to be able to call it a proper side hustle?
I don't think so…
I know pennies make pounds and all that but I'd say realistically you're not going to make more than £40 a month through this site.
That's why I think OhMyDosh is aimed at people who like to take part in offers and fill out surveys. It's not really designed for people looking to boost their monthly income.
Personally won't be using OhMyDosh too often. Don't get me wrong – I'll definitely use the OMD as a way to get cashback the next time I book a hotel, but in the long-term it's not worth me spending too much time on the site. If you're looking for a legit money making side project, this isn't it.
You just can't rely on this to pay the bills…
If you want to seriously make a difference to your bank balance then you need to invest time into building a website and putting advertising on it.
Rather than spend an hour signing up to random offers, why not use that time instead to build a real online business that will generate a real income for you month after month?
Sure, it takes time to begin with but it's well worth it. Put the effort in and you'll reap the rewards for a long time to come.
Simon Crowe is on a mission to help as many people as possible kiss their bosses goodbye.
Take the free Commission Academy course to discover how to smash your online income goals and make your dream business a reality.