So you're interested in making money by giving your opinion and hearing your thoughts taking paid surveys with VIP Voice?
This site promises the full VIP treatment with chances to win vacations and gift cards, but can you really win, is is this just hype designed to lure you in?
Is VIP Voice a scam or not?
This is what we'll look at in this VIP Voice review.
Oh and just so you know, I'm not an affiliate of VIP Voice so rest assured this review is 100% my opinion and I just say what I see.
VIP Voice Review At A Glance
About: VIP Voice is a survey site that pays in points you can use to bid on things you can win.
Price: Free to join.
Pros: Nothing.
Cons: Doesn't pay in cash and very little chance of winning anything.
Verdict: VIP Voice is a waste of time even for something done as a past time. If you want to make money answering surveys, go for Swagbucks instead.

What Is VIP Voice?
VIPVoice.com is a 'paid' survey site that says you can get rewarded simply by giving your opinion through surveys to companies that need consumer feedback.
The site says you can earn points that you can use to enter sweepstakes and online auctions.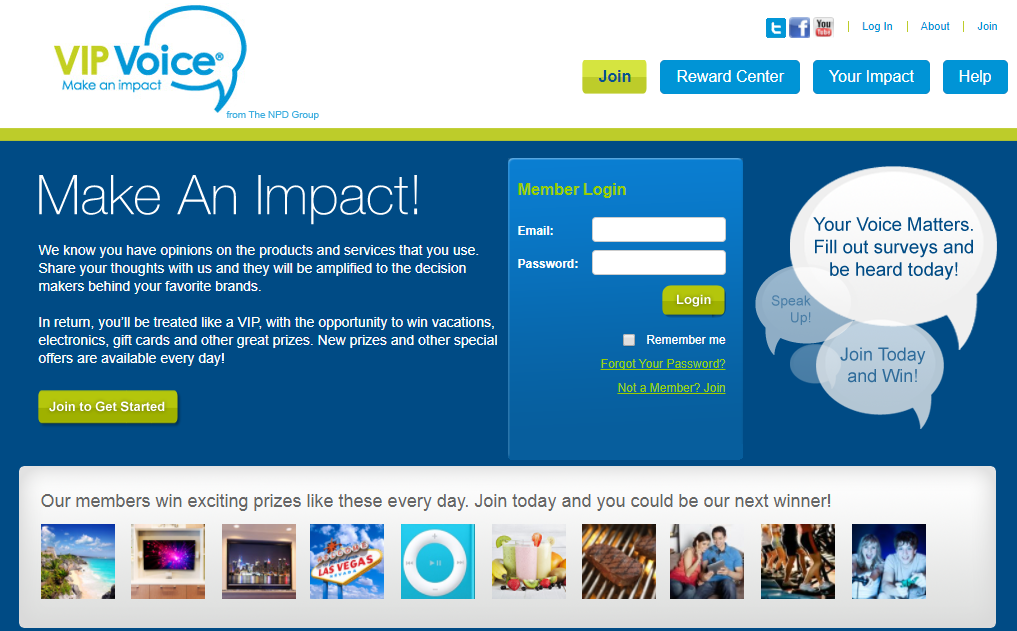 Here's the deal:
If you take surveys with VIP Voice you don't get paid; you merely earn points you can spend on entering competitions where you have a tiny chance of winning.
If you're looking for a way to make money by answering easy survey questions I don't think you'll like VIP Voice.
They show images of the prizes you 'could' win as a way to entice you into investing your time in giving them your personal information but in reality you have no way of earning any real money and I'd say your chances of winning these prizes are highly unlikely at best.
Here's VIP Voice explaining their rewards system, as you'll see, you need a heck of a lot of points just to enter a sweepstake or to bid on an item – just bidding means you're losing points.
This is not a viable way to make money online, not as a side income, not part-time, not full-time, not any time.
Most survey sites pay you less than $1 an hour which is at least something – VIP Voice is paying you nothing. You're effectively working for free.
I would definitely not recommend investing your time and energy with VIP Voice. You'll spend hours filling out surveys with nothing at all to show for it. You'd be far better off going with more reputable survey sites that actually pay you, like Swagbucks.
After reviewing hundreds of paid survey sites, I can honestly say Swagbucks is the best I've come across. They're 100% free to join and they have multiple ways you can earn money that actually ends up in your bank account.
If taking paid surveys is your thing, join Swagbucks because I genuinely think they're the best out there.
VIP Voice works for VIP Voice and it's advertisers… it doesn't work for you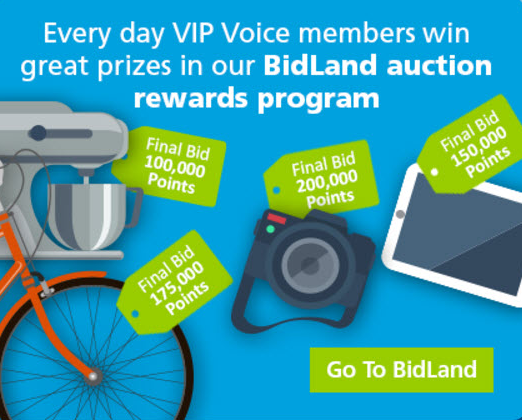 Dangle a big juicy carrot in front of people by telling them they have an opportunity of winning a sweepstake and they'll work for hours for free just for the 'chance' of winning it big.
It's genius really.
You tell VIP Voice all about your circumstances, how you spend your money and make buying decisions, give them all your personal details and they sell this valuable info on to their partnering companies making a boatload of cash in the process.
Wouldn't it be nice if they passed on some of this to you? Unfortunately they've chosen not to.
With over 3 million members, VIP Voice can not give you any idea of how much you can expect to earn because they don't pay out at all.
What about your chances of winning? They say the odds of winning depends on how many other people have entered, but let's just say the odds are against you.
They don't pay out in cash
This is by far my biggest gripe with VIP Voice – the fact they don't even pay out. Most people looking for a paid survey site actually expect to get paid, right?
I mean, why can't they just pay you $1-$2 per survey and keep it simple?
It would be fairer too – you could browse the surveys, see how much you'll get paid and how long it'll take you and decide for yourself whether or not it's worth it.
Instead they've opted for a worthless points system that looks good on the surface but in reality has no substance. When they do this they're only thinking about reducing their own outlay instead of what they should be doing, which is paying members for their time.
The only thing you can do with your useless points is bid for overpriced items at an auction on their site Bidland, or gamble them away entering sweepstakes on their other site Sweepland. Sure, they say you could win a sofa or HD TV but there's no guarantee.
Obviously, VIP Voice is not for people who want put some extra pocket money to help pay the bills or help towards other household expenses.
You could invest hours of your time and have nothing to show for it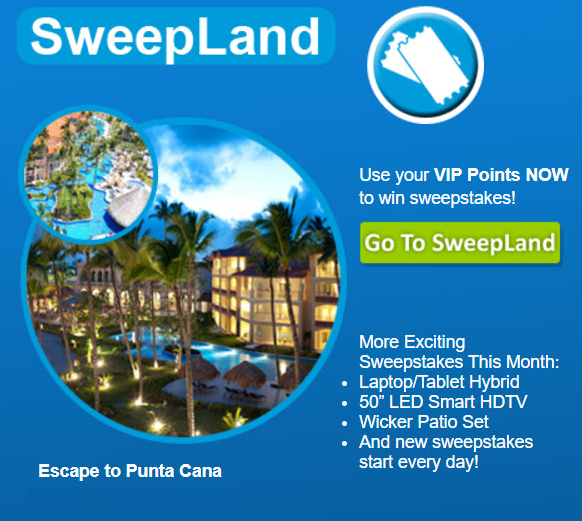 As playing a sweepstake is like playing a lottery, a game of luck, I was not shocked to find a lot of people who have never won a single thing, despite putting in hours and hours completing survey after survey.
Some members claim they've been a member for 10 years and never won a thing. Others say it's all fixed and the whole system is designed to make sure you are guaranteed NOT to win.
Is VIP Voice a scam or not?
There's no way of knowing for sure. If the sweepstakes are fixed then VIP Voice is a scam because they're involved in deception and misleading people to think they have a chance of winning when they don't, but there's no chance to prove or disprove this…
But is VIP Voice a real way to make money and is it worth it?
No and no.
If you're the same as me you want to know what amount of time you need to put in and what you'll get in return and with this site you don't get that.
I've read VIP Voice reviews where people have been active members for sometimes up to 7 or 8 years and have entered sweepstakes each and every month and never won a thing.
How they kept going for so long I have no idea, but I would never waste my time on somethign where I'm getting nothing back.
As I said before, the only people making money with VIP Voice is them and their partner companies and the more time you put into this, the more time you'll waste.
VIP Voice reviews and complaints
You'll find tons of reviews online about VIP Voice on sites like SurveyPolice.com and not surprisingly, a vast majority of them like are from disgruntled members complaining about the very low chances of winning, the lack of rewards and saying it's just not worth it.

A better alternative: my top ranked paid survey site
VIP Voice is just not worth it. Don't be one of the hundreds of people who regret ever wasting any time on their bogus survey site.
If you defintely want to go down the paid survey route then you should know not all survey sites are created equal and some are more worth your while than others. To find out more about my top-rated paid survey site click here.
They're 100% free to join, you actually get rewarded for your efforts with cash deposited in your account and they defintely pay out.

If you're looking for an alternative to filling out surveys then read my Wealthy Affiliate review. If you're serious about building a legit income-generating online business for yourself then this is the place to do it.
You'll get access to the same free beginner's training course that I went through that taught me everything I need to know about earning more than $6,000 per month online.
This marks the end of my VIP Voice review and it's where I hand it over to you. Have you had any experience with VIP Voice you'd like to share with us? Has anyone out there ever actually won anything? I'd love to hear from you.
If you have any questions or comments, be sure to leave them in the comments below and I'll always get back to you.
Related posts:
– Is The Dollars Plug A Scam?
– Mobrog Review: Is Mobrog a Scam, Legit Or Waste of Time?
– Inbox Pounds Review
Simon Crowe is on a mission to help as many people as possible kiss their bosses goodbye.
Take the free Commission Academy course to discover how to smash your online income goals and make your dream business a reality.