There are two sides to the coin when it comes to the questions of whether Udemy is a scam or not. Many user reviews and feedback say it's legit, still, there are a couple who'd like to argue on that point. In its entirety, though I'd say its legit.
However, although it's what I can say for the platform itself, the courses are another cause for debate. So, in today's review, we'll discuss why I say I'm on the fence about Udemy courses which is a good thing for you to know too because it can help you decide if the courses are worth your money.
Also, if you're interested in making money from Udemy, I'll also tell you how you can do so.
Udemy Review At A Glance
About: Udemy is an online learning platform with over 100,000 courses on various topics.
Price: Udemy is free to sign up both for students and instructors.
Pros: May courses to choose from, lifetime access, affordable courses, great support, has completion certificate, has an affiliate program for promoting courses.
Cons: Not accredited by educational bodies, course quality is not assured for all classes, tons of competition for course creators.
Verdict: Udemy is a legit learning platform. You can learn tons of stuff on various topics but the completion certificate will not be as credible as a college diploma.

What Is Udemy?
As I said earlier, Udemy is an online learning platform offering tons of courses to choose from. They say there are as many as 100,000 courses available. I'm not sure about that because I didn't have the time to count all the courses from each category and sub-category but I can tell you can really see heaps of courses.
If you came to Udemy without a specific skill you'd want to learn, you'll get caught up choosing what course to take first. I suggest you make a rough list of what you want to look for once inside the members' area.
Udemy is already 10 years old. It was founded back in 2010 by Gagan Biyani, Oktay Vaglar, and Eren Bali. The company is based in San Francisco and is reported to have raised almost $50 million in 2012 alone.
I'd say Udemy is quite credible because even the New York Times featured them in an article.
As for the courses, it comes with a lifetime guarantee and a 30-day money-back policy if you're not satisfied with what you're getting.
At the end of each course, they give out course completion certificates which I'll talk more about a little later.
Udemy is not just for learners, if you're a teacher or a course creator, Udemy is a place where you can sell course content.
If you're not into teaching, Udemy also has an affiliate program where you'll earn for promoting courses. You'll get a commission for each course sold under your affiliate link.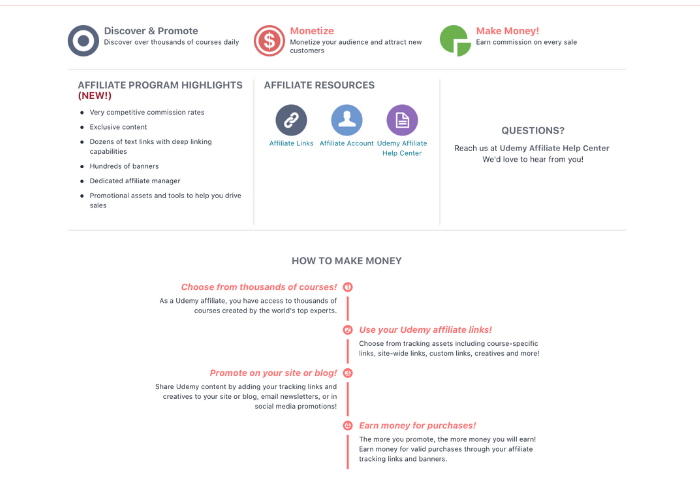 Udemy For Students
To start learning in Udemy, you can simply register by providing your name, email, password, and five topics you're most interested in so Udemy can give you suggested courses to take.
There's an extensive list of course choices but most of them fall under the IT and Business Development category.
I think this is because most people looking to learn online want to do so to monetize their skills later on.
Here's a sample of the courses you can find in Udemy: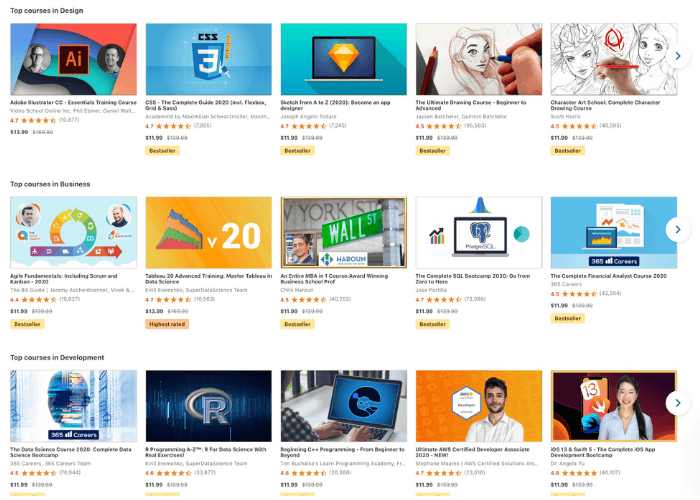 But here's the kicker:
Anyone can make an instructor profile and upload courses whether an expert or not. This means the quality of the course is not always assured. You have to do some extra digging about the instructor and check out student feedbacks to check if it's a worthy course to take.
I doubt Udemy will have the time and resources to do quality checks on all courses because after all, it's a marketplace. It's built primarily to make money.
Udemy For Course Creators
If you came to Udemy to teach and earn you just have to create an instructor profile then upload your course to the platform. Each time someone buys your course you'll get 50% of the sale which you'll get by the end of the month through Payoneer or Paypal.
This can be a great passive income for professors, teachers, and other experts.
Here's the kicker for course creators:
Anyone can steal your course content and upload it as there's. The only way to know it's yours is if you buy the course.

You can't honestly know 100% if someone else is earning from your hard work. It's too much of a hassle and very costly to check all relate courses to see if they pirated yours.
The good thing is, when you find out somebody else is using your content, you can report it to Udemy to get things cleared up.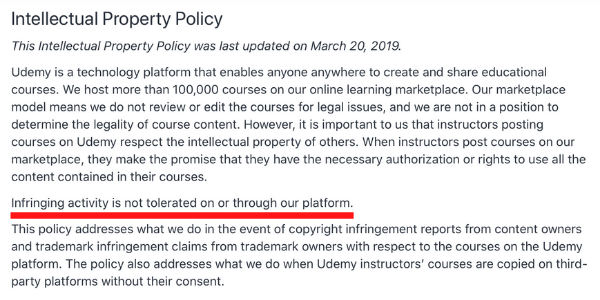 What Courses Can You Get From Udemy?
Here's a list of the course categories:
IT & Software
Office Productivity
Personal Development
Business
Finance & Accounting
Marketing
Lifestyle
Design
Music
Photography
Health & Fitness
Teaching and Academics
Inside these main categories are sub-categories. For example, if you're interested in Design, its sub-category includes:
Web Design
Graphic Design
Design Tools
User Experience
Game Design
Design Thinking
3D and Animation
Fashion
Architectural Design
Interior Design
This makes it easier for you to find a specific course you'll want to take. After choosing the course and paying for it, if it's not free you can then access the course together with an overview and bit of background of what you can expect from the lessons.
The videos have an inbuilt feature for making notes in specific parts of the video. If you want to watch your lessons offline, you can download the Udemy app.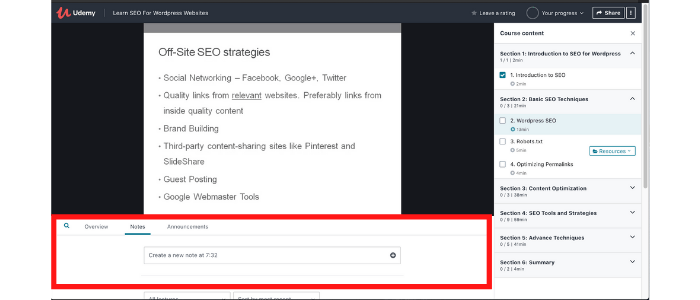 There's also a podcast-like feature so you can multitask while doing your lessons.
I actually appreciate Udemy for having these features, this makes me see they're interested in the needs of their students.
How Much Does A Udemy Course Cost?
The prices vary. It depends on factors like quality, quantity, and duration. When I checked though, most paid courses are on sale and mostly costs $11.99. Others are more expensive by a few dollars but generally, it's just around $10-$20.
As I said earlier, anyone can upload a course. So how can you choose the best courses?
These are not hard and fast rules but is a rough guideline to check the quality of the course you're interested in.
Check The Preview Content – most courses have short previews where you'll be able to get an idea of what you can get from it. The preview also shows you the instructor's teaching style so you can see if it's the right fit for you.
Find Out More About The Instructor – Some instructors are experts while others are hobbyists so Google them out to see if they have the credentials to teach you what you want to know.
Read Reviews – Don't settle for the first few reviews. There's been a rumor that Udemy does not post most negative reviews. It will be a good thing to browse all available reviews to find out the pros and cons of a course.
Is Udemy Accredited?
Unfortunately no, it's not accredited by any institution. Though, they give out course completion certificates you can add to your portfolio and use during work interviews.
I think this is pretty reasonable given the fact that anybody can be a course instructor. In the real world, you'll need credentials to be a certified expert, it works the same for Udemy too.
Udemy's courses cannot replace university degrees and vendor certifications. If you apply for online jobs, the completion certificates can still be pretty useful.
If you enrolled for quality courses, you can absorb the needed knowledge to learn skills that can still help your career.
What I Like About Udemy
Many Courses To Choose From
Lifetime Access
Affordable Course Prices
Instructors Provide Support
Completion Certificate
30-day Money-back Policy
Available In An App
Great As Passive Income For Course Instructors
Has An Affiliate Program To Earn From Promoting Courses
What I Don't Like About Udemy
Not Accredited
Course Quality Is Always A Question
For Course Creators, You're Up For Tons Of Competition
The Prices For The Same Courses Vary When You're A Previous Member And A New One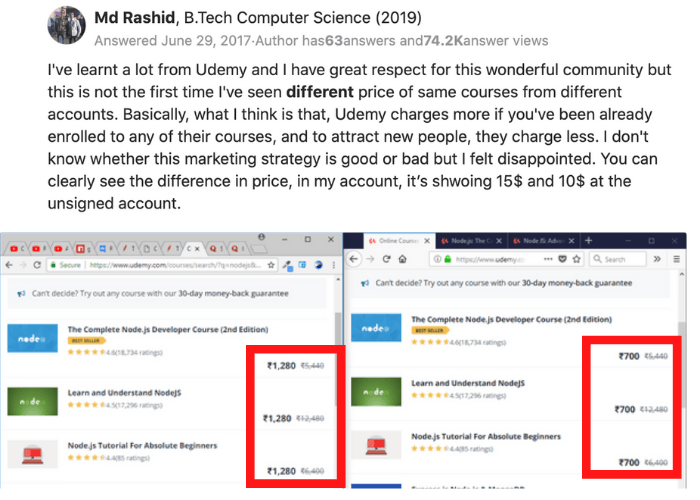 Is Udemy A Scam?
No, I don't think it is. However, because anybody can make courses, you'll be in risk of choosing low-quality courses.
If you do enough research though, you can find courses worth every buck.
Udemy Review Closing Thoughts
Overall, I see Udemy as a great online learning platform to learn from. Granted, you do enough research and pick quality courses.
What I do like from online courses though is the one who has activities to do to really test out and develop skills. Not all Udemy courses have that.
If you're looking to learn a skill to make money online, course activities will be very useful. It's best to learn from courses, not just teaching theory but also application.
Another great training platform to learn how to make money online is in Wealthy Affiliate. The training focuses on affiliate marketing but the skills can also be applied to other online money-making niches.
The great thing about the Wealthy Affiliate training is you don't only get to learn a skill, you can immediately use what you'll learn to build your own website to promote products to earn a commission.
The training you can get from Wealthy Affiliate can help you make an income month after month. It requires time and effort though, but once you've set up your website, you can start achieving your online income goals.
Still, if you're interested in what Udemy has to offer, there's no harm in giving it a try!
How I Make A Living Online?
After years of working in call centres I finally figured out how to create a 5-figure monthly passive income stream and become financially free.
Thanks to the right training and a lot of hard work I kissed my old boss goodbye and booked a one way ticket to Thailand.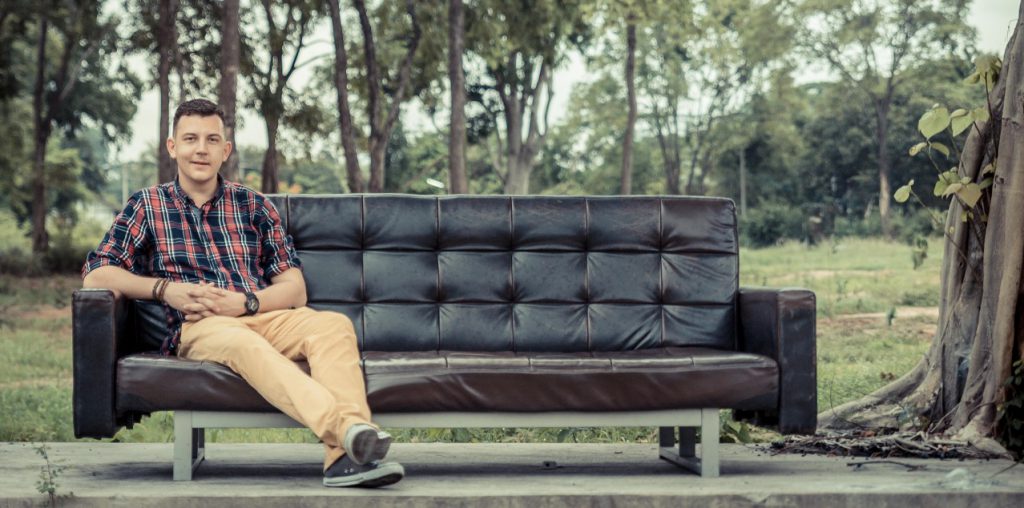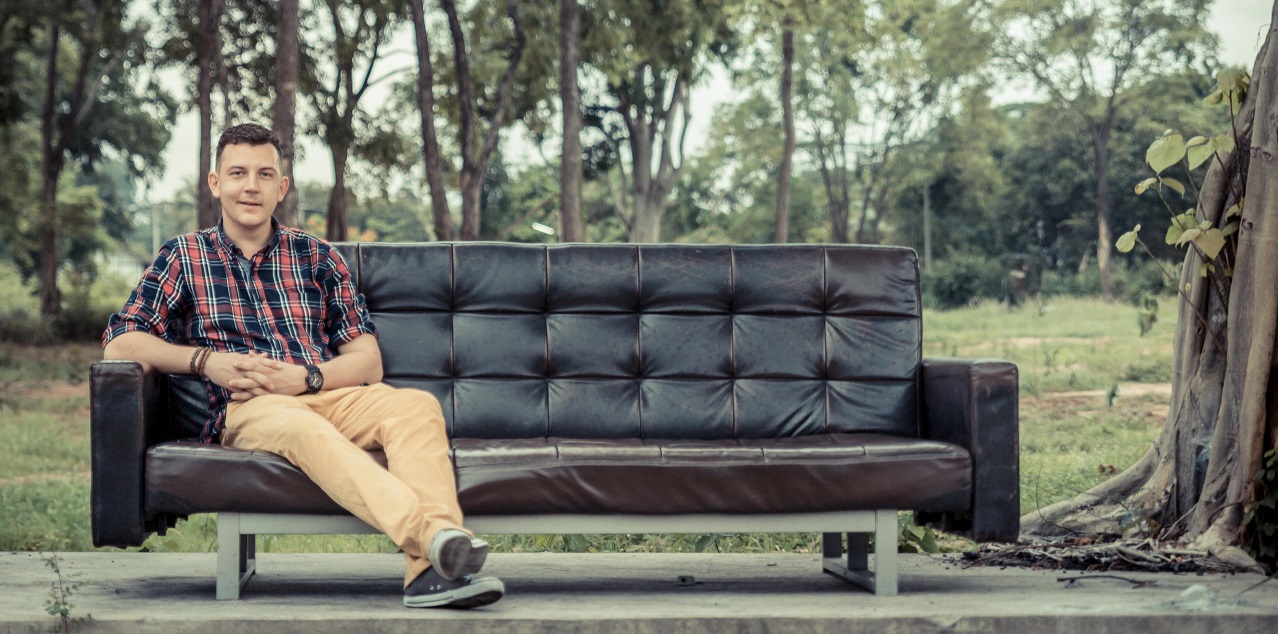 So if you're serious about building a thriving online business, click here for the exact step-by-step formula I follow.
Questions? Recommendations?
Have you tried Udemy's courses? What do you like and don't like about it? Share your experience with us and help others get a better idea of what's in store for them at Udemy. Just drop your thoughts in the comment section below.
Simon Crowe is on a mission to help as many people as possible kiss their bosses goodbye.
Take the free Commission Academy course to discover how to smash your online income goals and make your dream business a reality.