Last Update 10th May, 2017.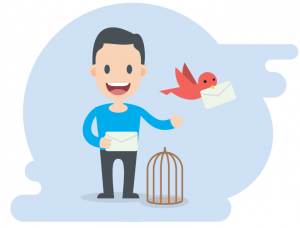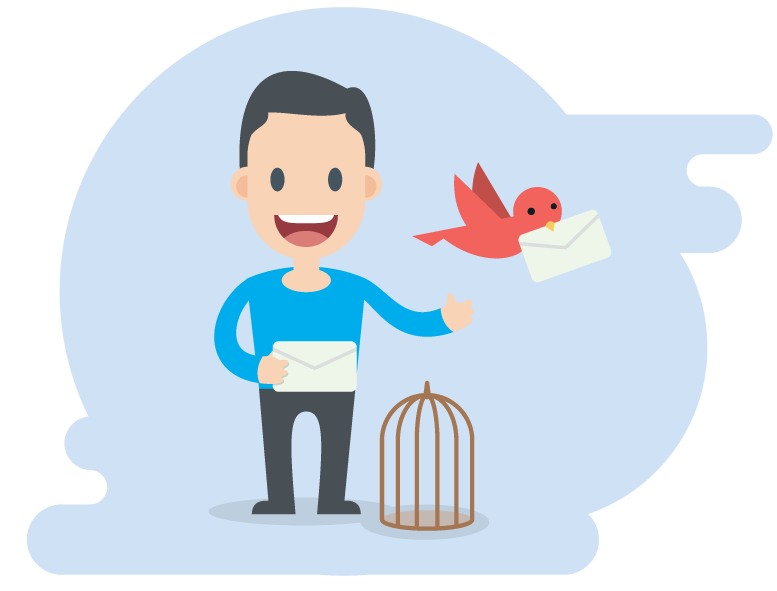 With so many choices, what is the best email marketing software out there today?
I've been making money online since 2014 through websites, across various niches and I use email marketing software to support them all.
In fact, I can't imagine launching a website without building an email list. It's the life-line of my business.
In fact, for TheMakeMoneyOnlineBlog.com I offer a free 7 day Making Money Online in 2016 email course.
Over the past 15 years, different types of marketing of risen and fallen in popularity. There's one channel, however, that's withstood the test of time and proven it's self to be the best form of marketing; email marketing.
Email marketing remains one of the most powerful ways to transform casual blog readers into loyal subscribers, bolster your online presence within your chosen niche and increase sales and revenue.
I love talking with people who say email marketing is no longer a viable option. When was the last time you went a day without checking email?
I use email marketing service to build an email list, gain subscribers, send out broadcast emails and to schedule my autoresponder series.
So What Is The Best Email Marketing Software To Use?
I get lots of emails and comments from people asking me "What is the best email marketing software to use?", from people who either want to start a blog or have already established their website and are now ready to take the next logical step of building a list of email subscribers.
Let me introduce AWeber – by far the best email marketing software available today.
They have stood the test of time, have developed to keep up with and sometimes surpass current trends and they understand the needs on online entrepreneurs and small businesses.



There's a constant debate online about which email marketing software is the best to use. Over the last 15 years many email marketing software companies have come and gone. But AWeber stand above the rest. Let me show you why…
Quick Overview
AWeber is used by over 120,000 bloggers, affiliate website owners and online businesses   from every country in the world using their email marketing software.
They launched sixteen years ago branding themselves as 'Original Autoresponder Provider' because they were the first ever company to set up an automatic email sending service.
They've set everything up specifically with website owners who want to build an email list in mind. They give you done-for-you opt in form templates, the ability to create autoresponder sequences and send emails out to your subscribers.
With AWeber you can track the number of subscribers opening your emails and how many clicks on links within your emails. AWeber is well-known for fantastic 24 hour customer support (more on that later).
At the time of writing, AWeber offer a free 30-day trial, with a more-than-reasonable pricing plan after that, (see below for pricing) so you test the waters, start collecting email subscribers and building out your email campaigns.
8 Compelling Reasons Why AWeber Is The Best Email Marketing Software Available Today
1. AWeber's email marketing software is the most affordable email marketing software (and you try it for FREE for a month)
I've just mentioned AWeber's month long FREE trial. After that you have plenty of options…

AWeber offers different levels or tiers depending on the size of your current email subscribers list. If you're just starting out in your email marketing efforts, the price of unlimited emails to under the 500 subscriber bracket the least-expensive plan, for up to 500 subscribers, is $19 per month (or $49 per quarter or $149 per year).
AWeber offers month-to-month, quarterly, and annual plans for each of its tiers. Opting for the flexible quarterly or yearly plans can be a great way to save money.
When I switched email marketing service providers recently, pricing was the main deciding factor.
I wanted affordable marketing software that did exactly what is was meant to do without compromising on service or quality. In my opinion, AWeber delivers this.
2. AWeber has the easiest & user-friendly form building software for emails and opt-in forms
I'm no technical whiz kid. I don't know a thing about computer programming but I find the email and webform building software easy to use.
You can have your emals and webforms looking exactly like you want to match your brand and website theme.
Using the simple drag and drop software, simply select blocks and insert them into your emails. Add images, text, links and social buttons.
You can preview, send test emails to yourself and make changes anytime.
3. AWeber has hundreds of user-friendly templates to choose from
Here's another great reason I believe AWeber is the best email marketing software provider – they have more templates than any of their competitors.
I know they currently have 800+ templates and they're adding to them all the time. These are all fully customisable so you can change them to match the colour schemes of your site and get the look you want.
Using the AWeber email marketing software gives you complete control and flexibility over the appearance, design, layout and content of your email marketing campaign. And it's super easy to use.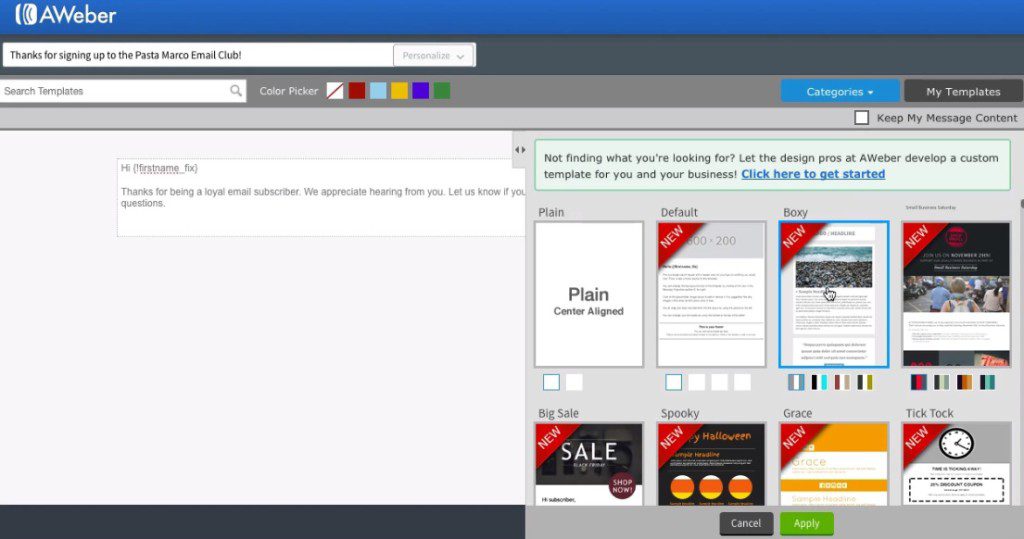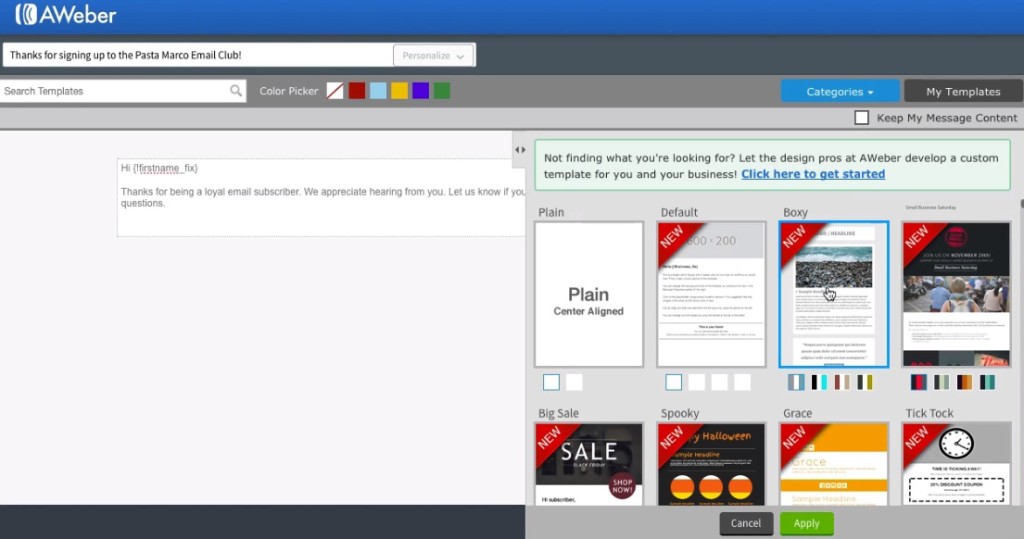 4. AWeber has the easiest and most reliable autorsponder software
Every email marketing software provider will offer an autoresponder service – the ability to build a list of emails which are sent out to your email subscribers once they sign up, at the time intervals you choose.
Exactly what you send out will, of course, depend on what niche you are in and what your website is about. Many bloggers use their autoresponders to keep people up to date with their recent blog posts.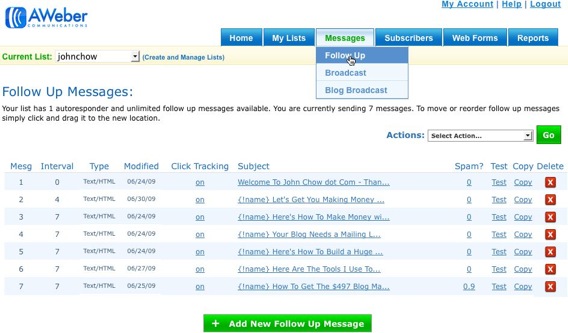 Although this might all sound a bit technical if you're new to email marketing, it's actually pretty simple once you get used to it.
You can check your email opening statistics and monitor your email marketing performance. You canselect the days or times you want your emails to be sent out and any new signups will receive your emails starting from the beginning of the sequence, in the order you put them in.
5. AWeber has the highest deliverability rate in the email marketing software industry
AWeber's impressive and unbeaten deliverability rate is the fifth reason they're the best email marketing software to use.
A quick search online tells us the general consensus is that AWeber has the best deliverability rates in the industry and they themselves promise a 99% deliverability rate. That's what I want!
Allow me to state the obvious – when you send an email out to your subscribers, you want to be confident that it will actually land in their inbox.
The likes of Hotmail and Gmail work hard to try and combat SPAM to make sure their users ensure their customers end up with more of the emails they want i their inbox and less of the ones they don't.
That's why it's important to know that AWeber has a good track record with all of the main email providers and work hard to maintain their high reputation because this means your customer will get the emais you send, instead of them ending up in the junk folder.
6. AWeber have extensive analytics software to help you keep track and maximise sales
This is what separates the men from the boys, it's the difference between no one reading your emails and actually connecting with and engaging website visitors. Access to extensive tracking capabilities to allow you to track your customer's behaviour, opening and click through rates.
Having access to this powerful information, through AWeber's analytics dashboard, means you can adjust your campaigns accordingly and maximise sales.
With AWeber you A/B or split test your emails so you can monitor which one performs better and improve your click-through-rate.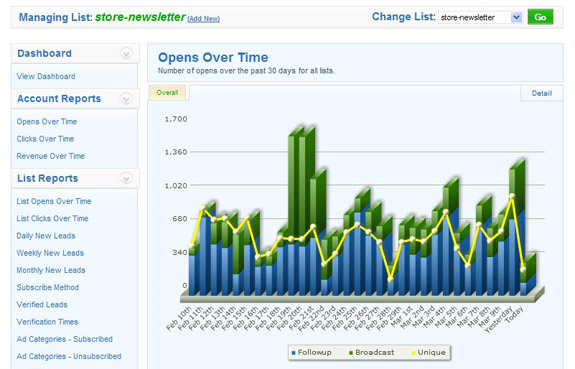 7. AWeber is the email marketing software company with the highest (and award-winning) level of customer service and support
Whether you're a beginner or email marketing pro, the chances are you'll have some questions along the way and will need support.
You might be struggling with a certain email template, want to know how to optimise your emails, they may be an issue you need immediate help with. This is where the support becomes a real lifeline.
I don't know about you, but for me and my online businesses, when I need help I need it now.
Filling out a contact form and waiting around for a response is not an option.
There are a variety of ways you can get support with AWeber – there's the usual support forums but for more specific queries you can call them, send an email or use their live web support. I've contacted them dozens of times and each time I've got an expert and friendly reply.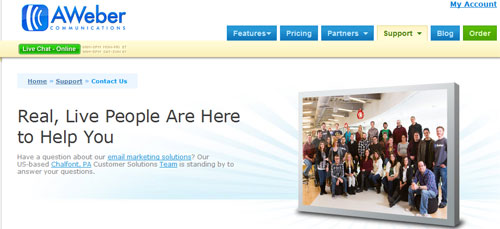 In fact, in 2016 AWeber was awarded with a Gold Stevie® award for best Business Service Industry Contact Center of the Year.
I can't say I'm surprised – every contact I've had with them has been quick and superb. Any technical query or issue has been resolved immediately.
AWeber also has lots of helpful resources and how-to guides and videos to help beginners in their email marketing journey.
Whether you're not sure what to write in your emails, want to know the best techniques for running a strategic email marketing campaign, knowing how to grow your business with email marketing, Aweber can help you.

8. Trendy email marketing software that goes with you
The final reason AWeber gets my vote for being the best email marketing software available today is that they're always innovating, improving and enhancing their service.
They've just started with incorperating email sign up forms with your social media accounts, another great way to get more email subscribers and expand your reach with full Twitter and Facebook tracking to go with it.
AWeber's email marketing software is now available 'on the go' too.
They now have a mobile app where you can manage your email campaigns and check your stats directly from your mobile or tablet.
My favourite new AWeber app feature is the ability to send out texts to all your subscribers at one time, giving you another way to communciate and interact with your subscribers.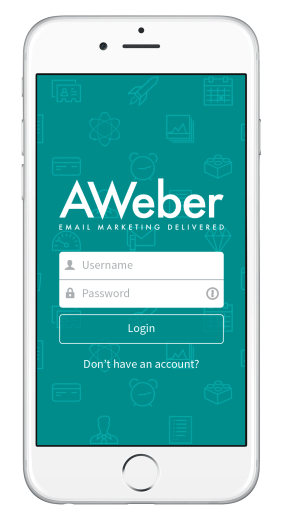 So there you have it. My 8 reasons why AWeber is the best email marketing software company to do business with. But don't take my word for it, take advantage and claim your free trial to find out for yourself.
Honestly, if I were to start from scratch again and go back a couple of years, I would have used AWeber when I was first starting out in my email marketing journey.
As you choose which email marketing software to use, be careful to not just think about what your immediate needs are now, but what you will need from your service provider six months from now, a year down the line and into the future.
I recommend you take AWeber up on their 30 day free trial.
It's eaier than you think to create your account and get started with your very first email campaign.
Still Have Questions?
Drop me a comment and I'll get back to ASAP!
Simon Crowe is on a mission to help as many people as possible kiss their bosses goodbye.
Take the free Commission Academy course to discover how to smash your online income goals and make your dream business a reality.