You're not given much information when you land on the DutyKid website, expect a few big promises of making a lot money from home with very little work involved.
But what is DutyKid.com exactly? A Legit opportunity to make money from home or yet another internet scam to avoid?
In this DutyKid review I'm going to sign up myself and show you what I find. And just so you know, I'm not getting paid to promote this site and I'm not affiliated with them in any way.
I'm Simon and today I'm reviewing DutyKid because I'm a successful online entrepreneur who has finally made it online and I want to help you do the same, whilst helping you avoid the plethora of get-rich-quick scams that are out there.
OK, that being said, let's get to it!
DutyKid Review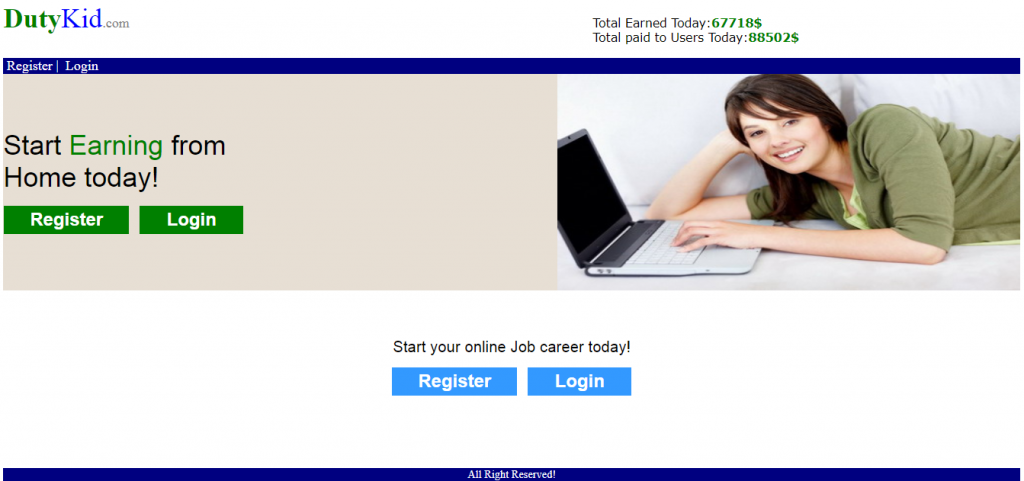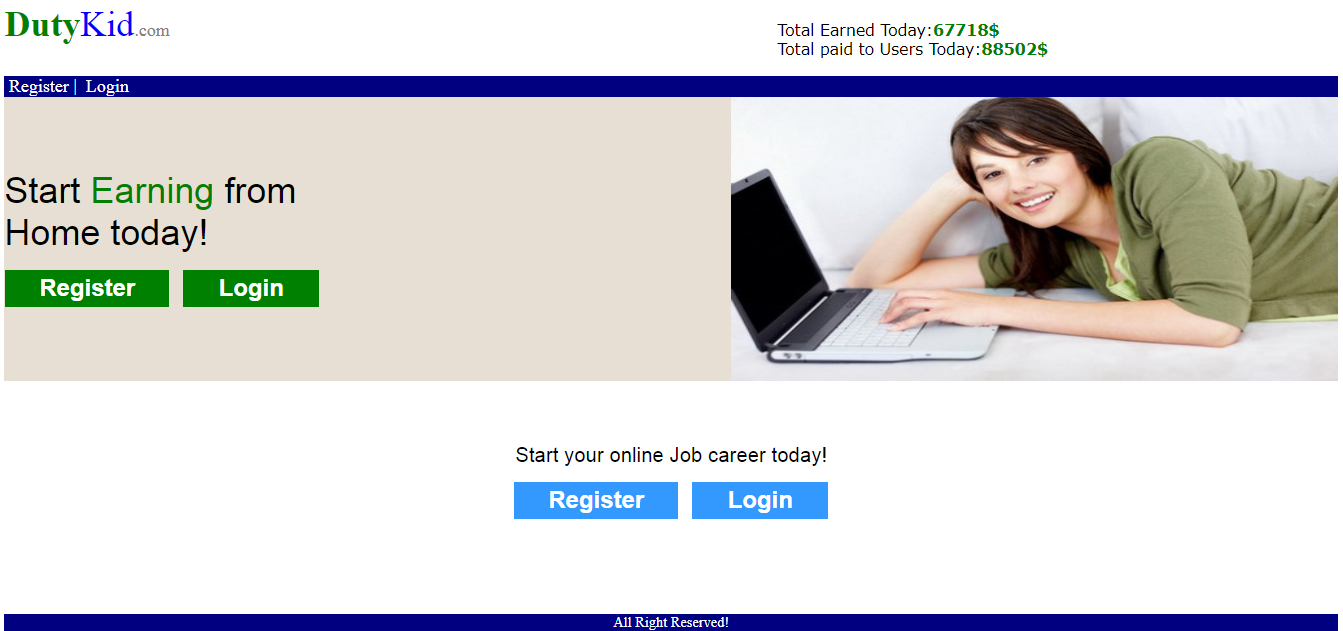 DutyKid.com has the tagline:
"Earn $10 per few seconds tasks online income maker up to $5,000 monthly job."
Not only is this statement full of grammatical mistakes, it's full of lies and deception.
Don't get me wrong, I'd love to make $10 every few seconds but you're not going to be able to do that with this so-called work from home opportunity and I'll show you why.
What is DutyKid.com?
DutyKid.com was launched in April 2017 with a very basic layout and despite claims that member's are making $90,00 a day combined, no explaination as to how they're making this money or what kind of work you'll be doing when you sign up/
You're simply given the choice of either registering or logging in…

To register you need to add a username, password and email address.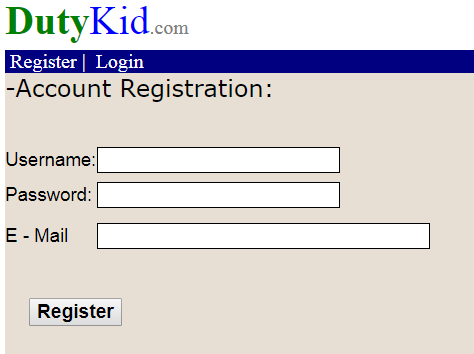 To find out more I went ahead a registered and here's the confirmation notice:


Then I went ahead and logged into the member's area to see what I could see. As you can see in the image below, there's just one "money making task" on this whole website and that's to:
"Use the link below to generate traffic and earn money 5-10$ for every unique visitor that clicks your link and visit it.
Good places to start posting your link are social websites like Facebook, Twitter, Google+, Youtube, forums, chat rooms, blogs, etc."
You're told you'll get $1- every time someone signs up through your unique link and you'll receive payment by cheque as soon as your balance reaches $300…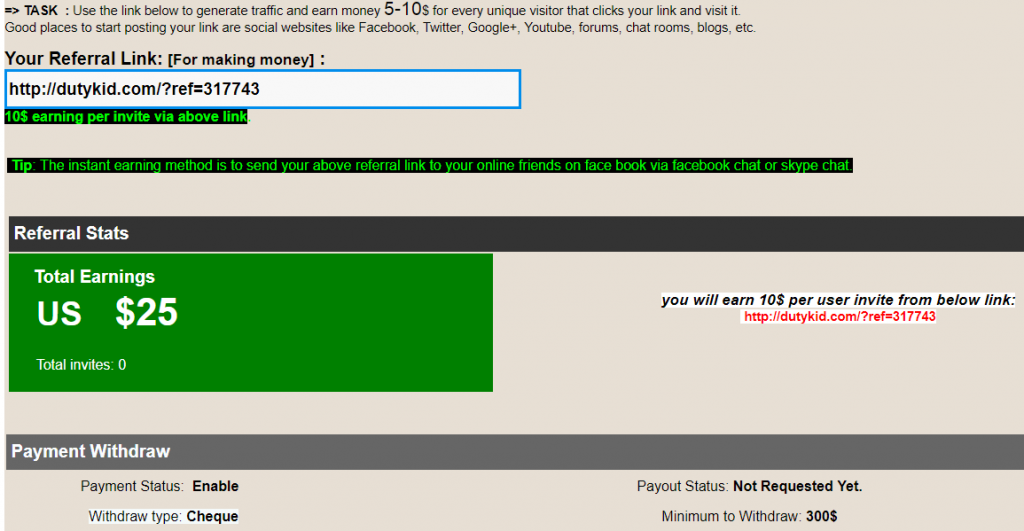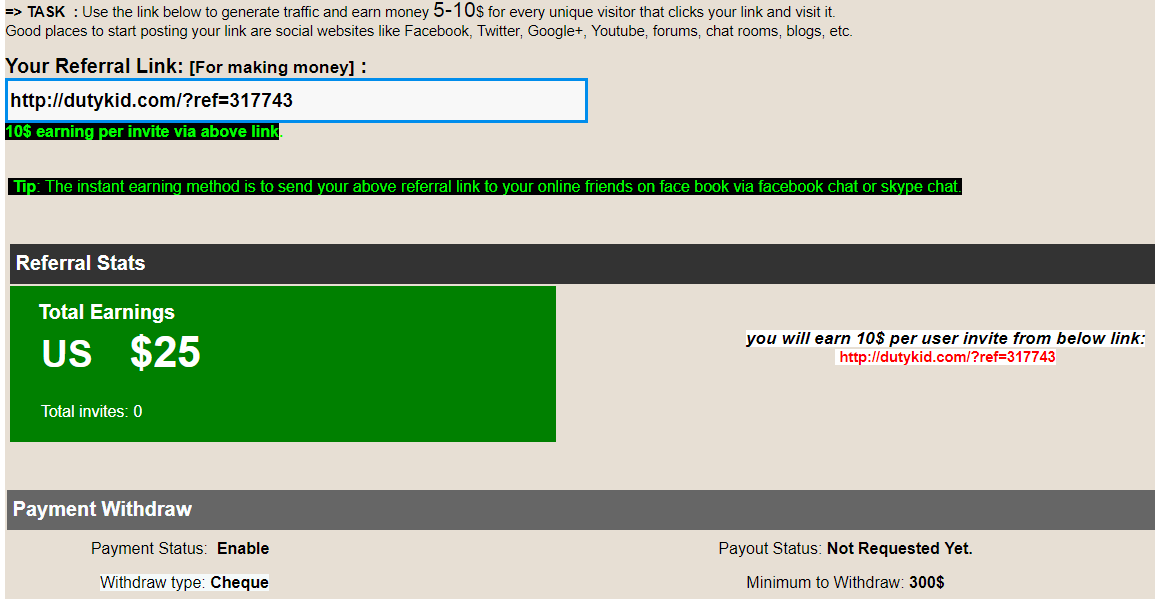 So DutyKid will give you all this money just for promoting their site? What's the catch? Here's the official answer found in the DutyKid's FAQ section:
"No, we are not giving away free money. We are paying you in order to generate traffic to our advertiser's websites. We will get paid from our advertisers for the traffic we bring to them and paid commission to you people."
So this sounds legit right? All you have to do is share this link they give you in forums and blog comments, chat rooms, Facebook groups and so on. What could be wrong with that?
Well, there's just one big issue… no matter how many times you spam your family and friends on Facebook, no matter how many people you convince to become a member of DutyKid, you will never get paid.
Is DutyKid a scam?
DutyKid is definitely a scam. I can not recommend this as a legit way of making money online and here's why:
1. There're no terms and conditions
What should worry you is the fact DutyKid.com has no terms and conditions, no legal disclaimers, no contact information and we don't even know who the owner is.
This means no matter how high your balance goes within your member's area, you'll never see this in your bank account and there's nothing you can do about it.
2. DutyKid is just the latest of a long line of link posting scams
The owner of this website is a huge internet fraud and DutyKid.com is not the only site where he tries to convince you to hand over the private details and encourages them to share the links to try to reach as many people as possible.
In the last few days alone I've exposed the Pay Each Month scam,  DutyTimes scam, DutyScreen scam and the DutySet scam.

As you can see, though the main image and amount member's are apparantely earning is different, everything else is exactly the same.
Why have so many different sites running at the same time? Because once a particular site receives too many complaints from members trying to get paid, the owner shuts it down and sticks a new website up somewhere else under a new domain.
None of these sites have any advertising or way to earn revenue, so what incentive does the scammer have to make you post his links across the web?
The truth: he wants as many contact details, email addresses and PayPal information as he can get his hands on.
My top recommendation
Whatever you do, do not sign up for DutyKid. It's just the latest link posting scam to deceive you into handing over your personal information.
This site may be up for another week or another month but however long this stays up, I guarantee the only person making money here is the con artist himself.
Look, I get it, the idea of making $10 every few seconds and even making anywhere close to $5,000 a month from home sounds tempting. I mean, seriously who wouldn't want that? I know I would!
But if you're sick and tired of all the make money online scams out there and you're ready to learn how to earn enough money online to find real financial freedom then check out my Wealthy Affiliate review here.
The beginner's course is completely free and you can get started right away.
I give you my word, there's no hype, no gimmicks and if you're ready to complete the assigned tasks at the end of each lesson, you'll be well on your way to owning your very own legit online business.
Wealthy Affiliate is where I learned to make more than $6,000 a month online and 4 years later I'm still a member.
Thanks so much for checking out my DutyKid review and I hope you found this helpful. Of course, if you have any questions or feedback, I'd love to hear from you! 🙂
Simon Crowe is on a mission to help as many people as possible kiss their bosses goodbye.
Take the free Commission Academy course to discover how to smash your online income goals and make your dream business a reality.