In This Quick Home Websites review you'll see that though 'Jake' paints a very pretty picture on his Quick Home Websites sales page of an automated, done-for-you money making system, this is nothing but a shady scam that should be avoided.
Jake says you're 'very lucky' to be given an invite to this 'guaranteed $1,000 a day system' that he's been able to set up for you with just a few clicks of the mouse, but the truth is he's only setting you up for failure.

I am not an affiliate for Quick Home Websites.
I'm just an online entrepreneur who's been successfully running internet businesses for a few years now who is sick and tired of seeing con artists like 'Jake' (not a real name by the way) lie and take advantage of people looking for a real way to make money online.
I believe you'll find this review of Jake's phony work from home 'opportunity' very eye-opening and once I lay everything out for you, you'll see exactly why Quick Home Websites is a scam and you can keep your $37 in your account where it belongs.
Quick Home Websites Review At A Glance
About: Quick Home Websites is a deceptive "make money online" program that's supposed to help you make $1000s per day.
Price: $37.
Pros: Nothing that we can think of.
Cons: Fake advertising, fake alias, fake testimonials, nobody makes money.
Verdict: Quick Home Websites is a scam. Everything about this program is based on lies; it's hard to believe there's an inch of truth to the income claims it gives.  

What We'll Cover In This Post:
5 Undeniable Reasons Quick Home Websites Is A Scam
1. I've Exposed This Scam Many, Many Times Before
Quick Home Websites is just the latest in a very long line of scams from a serial scammer who makes his living ripping off hundreds, if not thousands of people out of their hard-earned cash.
Exposing internet scams is like playing a constant game of cat and mouse. As soon as you warn people about one, another one pops up in its place under a different name.
Here are just a few of the many scams Jake's run in the past:
The scams may have different names but all of them are designed to deceive people into handing over their hard-earned cash.
Here, take a look at Your Dream Websites and Quick Home Websites' homepages and see if you can spot the difference: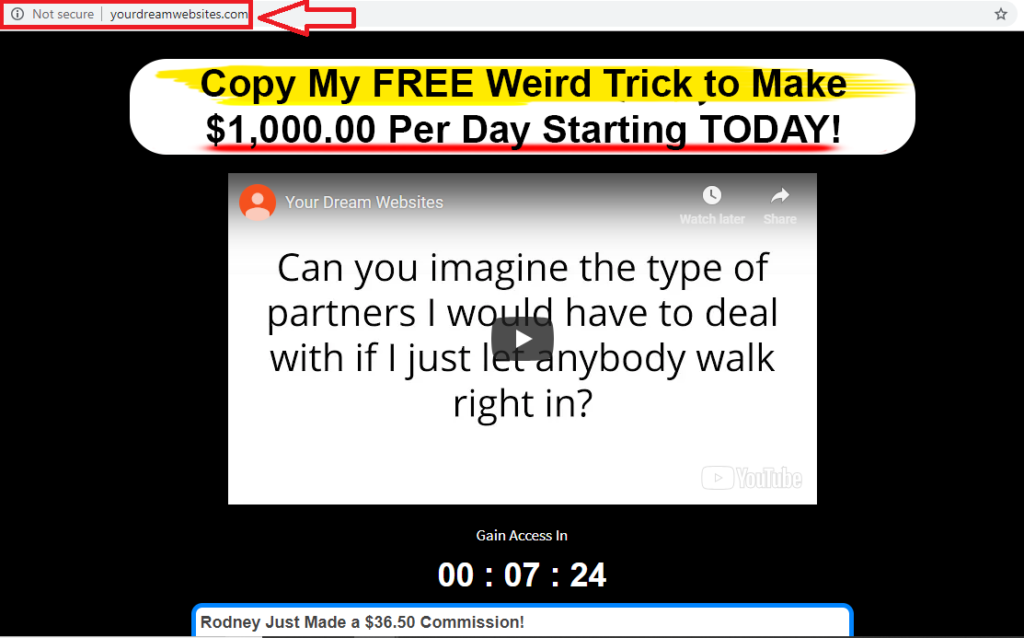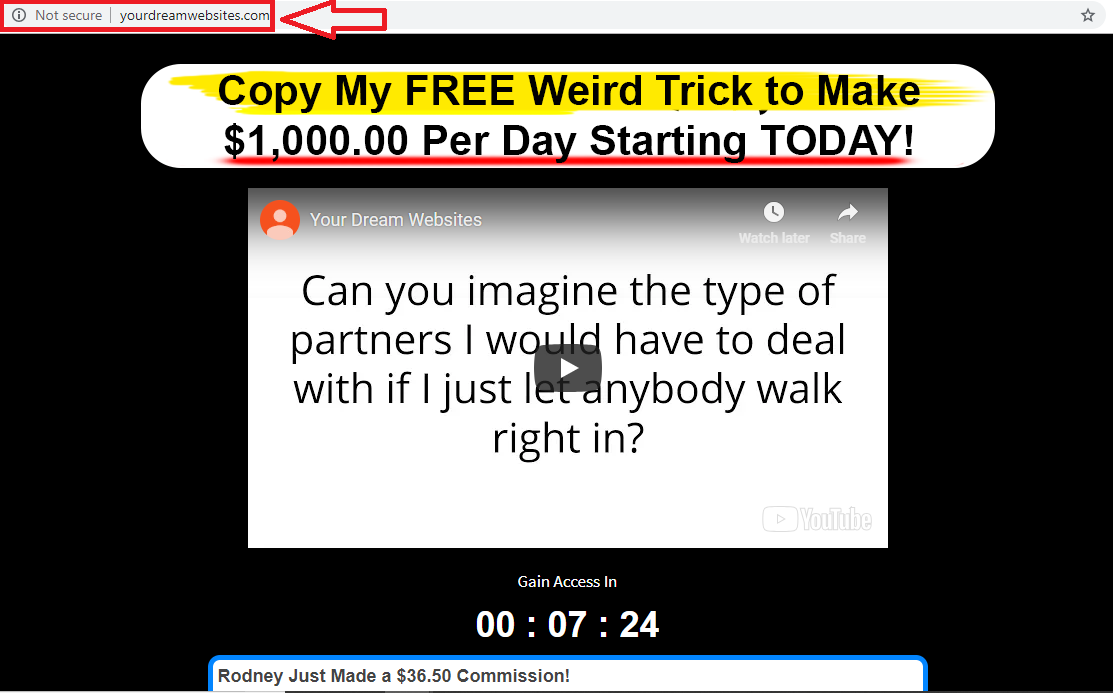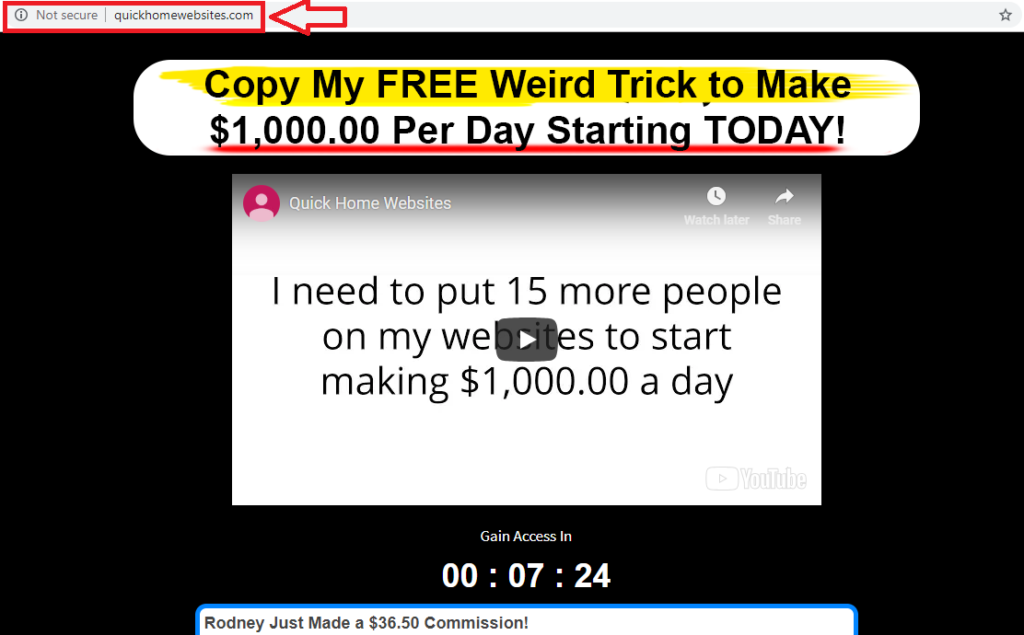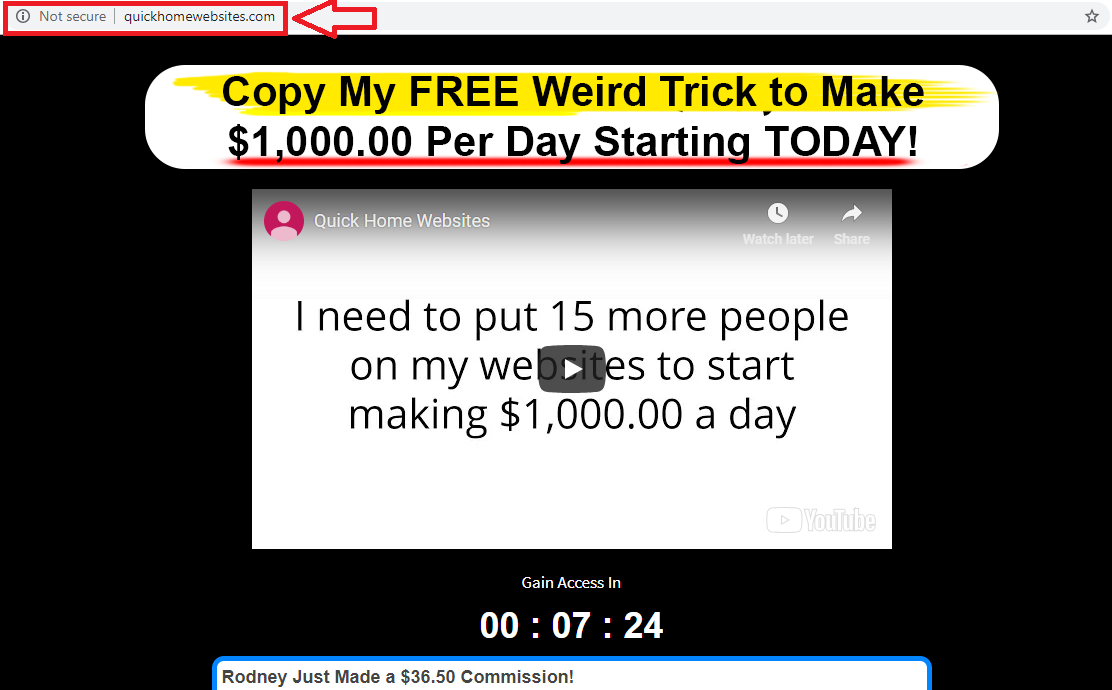 Both Quick Home Websites and Your Dream Websites have the exact same layout, same hollow promises of $1k a day and on both sites a guy called Rodney just happened made a $36.50 commission!
Seriously, what are the chances? 😉
2. Don't Believe The Fake-Ass Success Stories
Every single one of the testimonials you heard on the sales page are from Fiverr actors hired to read from a script. They tell you they've made $1,000's following the program but in truth, they just made $5 for lying to us.

Why?
Because he has to!
The only person making real money here is the guy who's trying to sell you it.
The actors never mention the Quick Home Websites program by name and for good reason. The scammer pays people to read from his script and tell us what we want to hear so he can use these same phony video testimonials across the whole of his scam network.
What makes me so angry is that it's the people struggling to make ends meet that are most likely to fall for this guy's total BS.
They're desperate enough to believe in miraculous money making systems that pour money into your account overnight work overnight because they really want it to be true. But get-rich-quick schemes don't exist and the more you believe they do, the worse off you will be.
3. The Truth About The Quick Home Websites Scammer
We know his name definitely is not Jake. And the fact he uses a fake name speaks volumes about his level of integrity and how he's not to be trusted.
The real owner and operator is Tim Marketing Inc. who have been scamming people for years.
You'll find a ton of angry complaints and negative reviews from people who realised they'd been fooled as soon as their payment cleared, like this one:

4. Why You Should Always Check The Fine Print
Don't believe all those outrageous claims you heard in the sales video when even their own earnings disclaimer says nobody makes money with this system!
Scroll down to the bottom of the website you"ll see in tiny writing it says: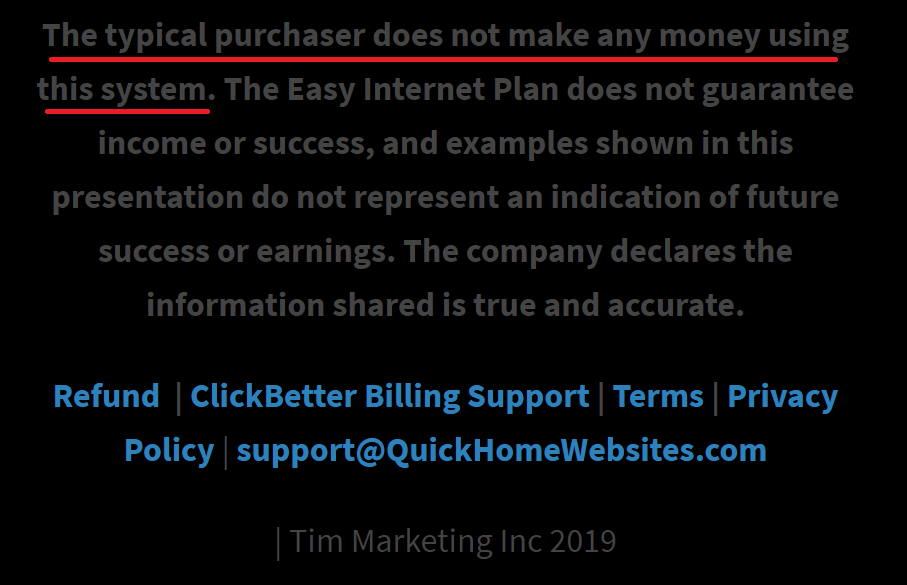 5. Where The Scam Victims Become The Scammers
This is by far the worst thing about the Quick Home Websites scam…
Pay your $37 and you're paying for Jake to show you how to dupe others into buy into his scheme.
When he says you can copy his exact money making website, what he actually means is you'll be sending people to his website in the hope the low-quality hyped-up sales video will be enough to convince them to base their entire financial future on the empty words of this con artist.
I most certainly do not recommend Quick Home Websites to anyone.
And I hope by now you can see why it's hard to get scummier than this. Anyone who signs up to this will only end up extremely frustrated that it doesn't deliver on its promises and they get no results from it.
There are so many legitimate ways to work from home but this my friend is not one of them. It's only a matter of time until this site closes down too, and the same scam with a new name pops up in its place.
A REAL Quick Home Websites Alternative That Actually Gets Results
The only online business training platform that's been showing aspiring entrepreneurs how to successfully create profitable income streams online is Wealthy Affiliate.
They don't try to dupe you into thinking making money online is easy and effortless, but instead show you the practical steps you can take to build a real internet business for yourself.
If you have the drive to succeed then I assure you that the Wealthy Affiliate community will give you the top training, help and support to make your income goals a reality.
The best part?
You can take their beginners training course for free without ever needing to get your wallet out.
What Do You Think Of Quick Home Websites?
Now that you've read an in-depth review exposing all the dirty secrets, what are you thinking? Do you still think it's worth signing up or will you steer clear from it and anyone promoting it like the plague?
Scroll down and let us know in the comments, we'd love to hear from you!
Simon Crowe is on a mission to help as many people as possible kiss their bosses goodbye.
Take the free Commission Academy course to discover how to smash your online income goals and make your dream business a reality.