Are you looking for a Paid Social Media Jobs review? Is Paid Social Media Jobs a Scam? If you want to make money online, you may be wondering if Paid Social media Jobs can help you get there.
Did you hear about Paid Social Media Jobs (aka Paying Social Media Jobs) because of an email saying this is as a huge money-making opportunity where you get paid to do easy tasks like posting status updates, uploading videos or replying to comments?
Yeah, I got the email too.
Head on over to the Paid Social Media Jobs website and they'll tell you they have everything you need to make $25-$35 an hour as a freelance social media manager, even if you're completely new.
But is Paid Social Media Jobs a legit and honest way to make money online or a scam designed to deceive? If you don't want to waste your money, I highly recommend you read the full review below.
I am not an affiliate for Paid Social Media Jobs.
I am however going to show you how you can earn a full-time income and become your own boss by giving you access to the ultimate online business course designed specifically to take you from absolute beginner to successful online entrepreneur.
Sound good?
Let's dig in!
Paid Social Media Jobs Review At A Glance
About: Paid Social Media Jobs is a hiring and training platform and for social media managers. They also run Paying Social Media Jobs and Paid Online Writing Jobs.
Price: $27 for the front-end and $84 for 2 upsells.
Pros: I can't find any.
Cons: No mentorship, no guidance or support, no over-the-shoulder skill training, and no practical and actionable steps to work on.
Verdict: Paid Social Media Jobs and Paying Social Media Jobs are total scams. They use deceptive marketing tactics and you need to pay up to access jobs.

Let's Start With The Phony Interview Process
Whether you go to PaidSocialMediaJobs.com or PayingSocialMediaJobs.com, they promise easy money to "mess around on Facebook."
I was already suspicious, but what happened next just weirded me out…
Instead of the standard sales video and Buy Now button, you're made to "apply" to be accepted into the Social Media Jobs program. Except, it's all just a trick to mislead you into thinking you're one of the 'chosen few' lucky enough to be chosen as a member.
I clicked Apply and was redirected to an application form I needed to fill out to convince them I was worthy of this opportunity.
They ask nonsense qualifying questions like:
"Do you have a reliable internet connection?"
"Why do you think you'd be a good fit for this job?"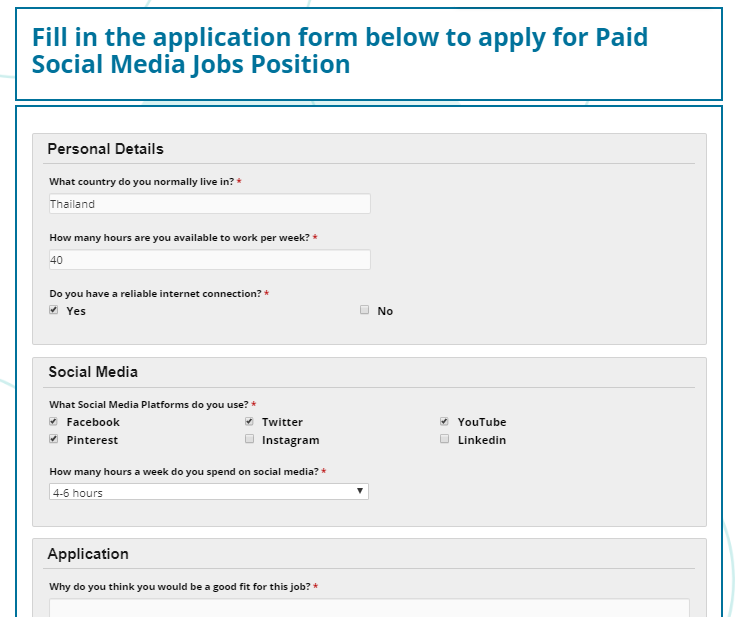 Submit the form and you're taken to this screen where they actually expect you to believe there's a real person somewhere reading over your answers and making a decision on your application: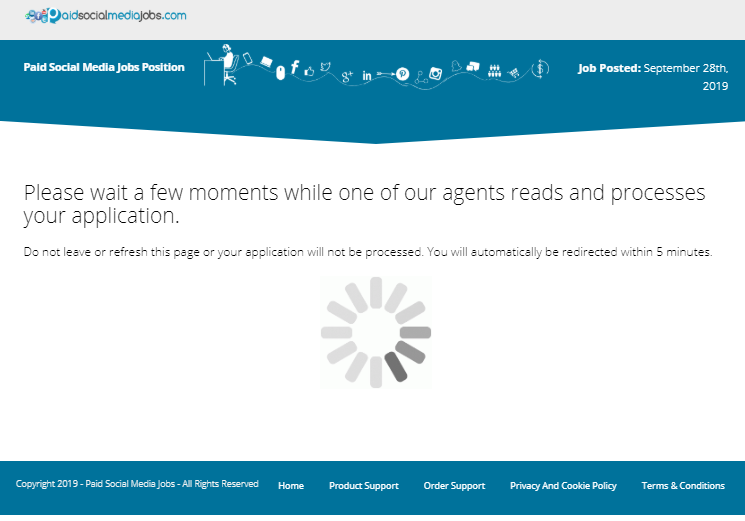 Less than 30 seconds later I was told I had been approved!
But wait…
There's a catch!
You're told that yes, they're in urgent need of social media managers and there is work available to start immediately, BUT you first need to first hand over the $27 fee to secure your spot.
Then there's the added pressure of a countdown clock so you know you don't have much time to take action: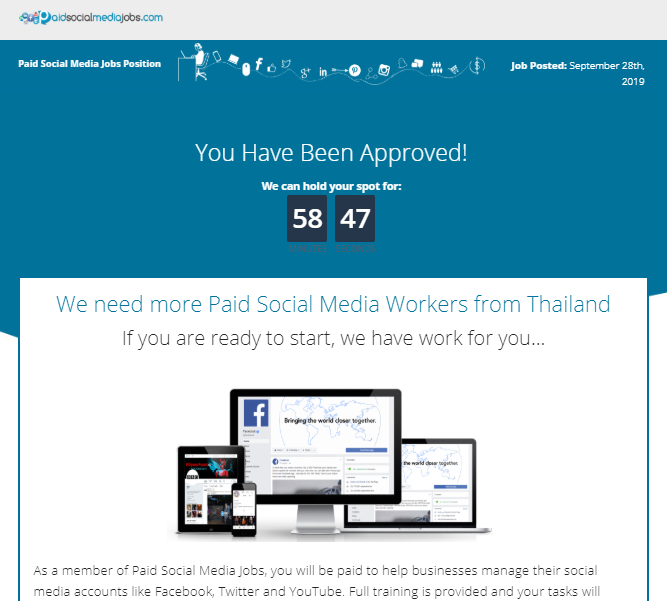 And by taking action, I mean pay up! You're taken to this secure checkout page where you're asked to enter your payment details: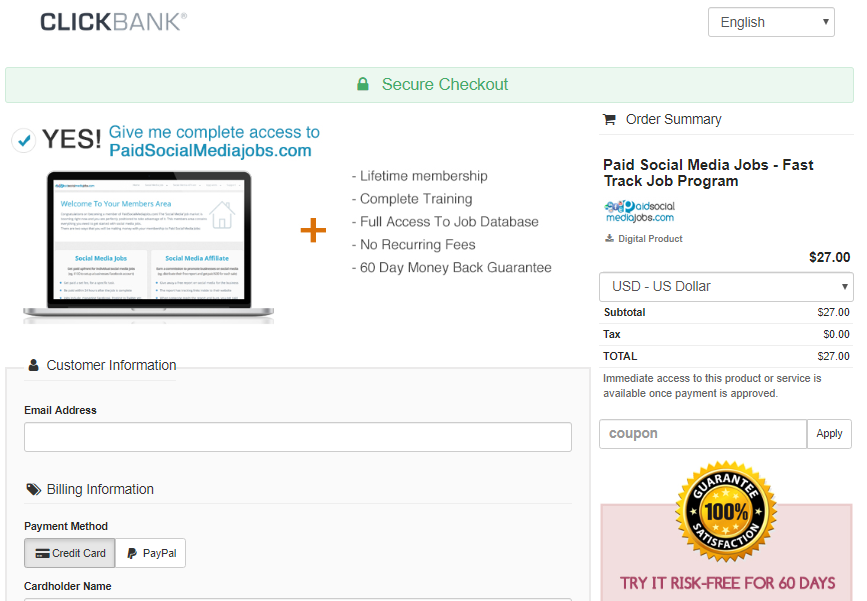 Here on the blog, we've reviewed 100s of make money online products and training programs and not once have I ever seen anything like this.
Was I shocked when I got approved?
Of course not!
We all know everyone gets accepted because the fraudster is behind this program (and we really have no idea who it is by the way) is more than happy to help part you from your cash regardless of the answers you typed into some fake application form.
What On Earth Are You Paying $27 For?
The Paid Social Media Jobs membership is advertised at a one-off cost of $27, though try and click away from the site and you'll see a popup showing a discounted price of just $17.
It's also worth mentioning there are 2 optional upsells to be aware of:
Upgrade 1: Social Media Arbitrage ($37)
Upgrade 2: Launch A Digital Product Business program ($47)
What these are about exactly is hard to say… We're only told we need to buy into these to get "even more training" and access to "even more jobs".
Skip past those upsells and you'll finally see that the members' area looks a little something like this: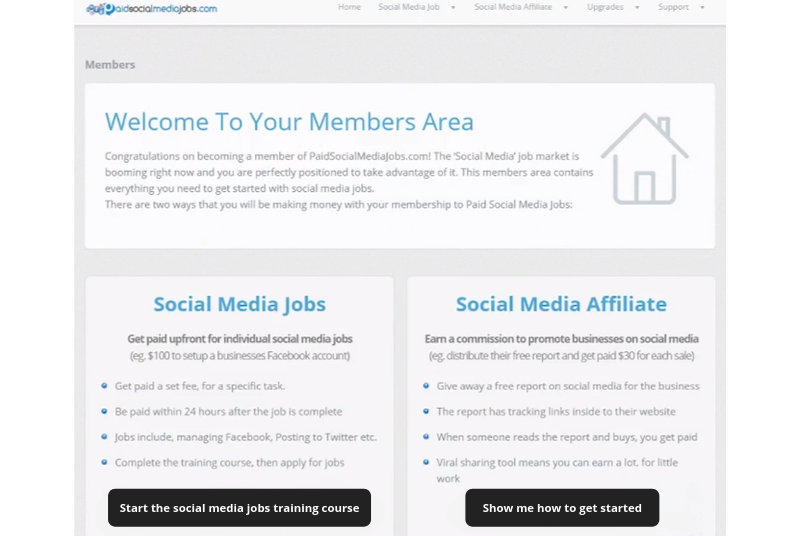 What do you get? Well, there's 2 main selling points of the lifetime membership and that's the training and the jobs board – so let's go ahead and take a look at how they work.
The Paid Social Media Jobs Training
Before you sign up you're promised a comprehensive training package where you'll learn everything you need to know about becoming a full-time social media manager.
Unfortunately, I think anyone who sits down and goes through the lessons will be left feeling massively let down.
Why?
Because there's zero mentorship, guidance or support, no over-the-shoulder skill training and a complete lack of practical, actionable steps you can take to actually achieve your online income goals.
While there are a few okayish lessons, I'd say at least 95% of what you're getting is very vague and generic information and nothing at all you can't learn here for free.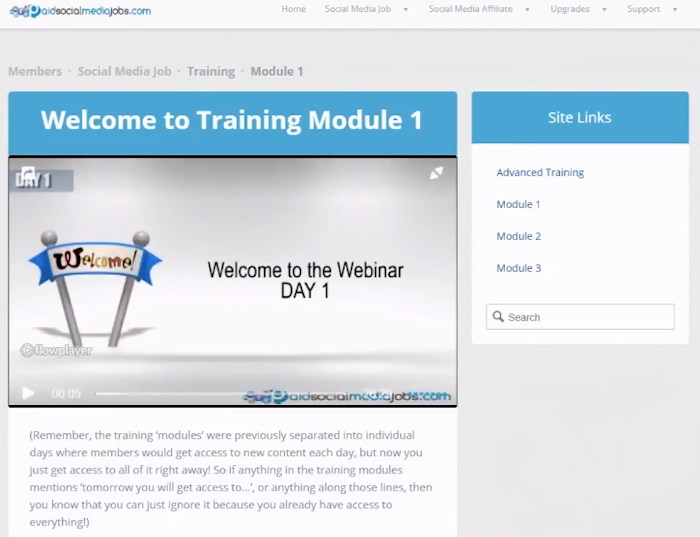 Here's a brief overview of what's covered in the 4 training modules:
Module 1: Understanding What A Social Media Manager Is
This welcome module gives you a very general overview of what a social media manager is, what they do and why people hire them.
There is also a short video giving you a basic idea of why businesses need to promote themselves online in the digital age.
Module 2: How To Get Started As A Social Media Manager
This module outlines some of the benefits of being a social media manager and the types of work involved.
It talks briefly about why you should keep on top of your personal social media accounts but again, there's never any specific advice on how you go about that.
Module 3: Finding Clients
In this module, you'll hear about some of the different kinds of local business owners who are ideal potential clients, how to find them and how much you can typically charge for your services.
Module 4: Advanced Training
Finally, we get to the practical 'how-to' with a handful of helpful tips and strategies on how to run a Facebook ad campaign that generates leads for clients, though not in nearly enough detail to be able to go out there and start doing it.
Believe me when I say there's a heck of a lot of money to be made if you learn social media marketing, email marketing, YouTube marketing or SEO marketing where and you get top Google rankings that attract 1,000's of daily website visitors all looking to buy what you have to offer.
If the creators of this platform were serious about equipping people with the knowledge and skills to quit their day jobs and find financial freedom online then they'd give you more than this to go on.
I fail to see how anyone with no prior experience could read these 4 measly lessons then suddenly launch a lucrative career as a social media manager.
Making money online isn't complicated…
This video will show you exactly how to get started. Tap to watch now »
The Jobs Database
Paid Social Media Jobs gives you all the resources and tools to help you find the best social media jobs online as well as details of hundreds of Facebook, Twitter and YouTube jobs updated daily with fresh high-paying jobs.
At least that's what they promise on the sales page…
So it might surprise you to discover that Paying Social Media Jobs don't actually have any jobs!
I know it's ironic but I kid you not, here take a look for yourself: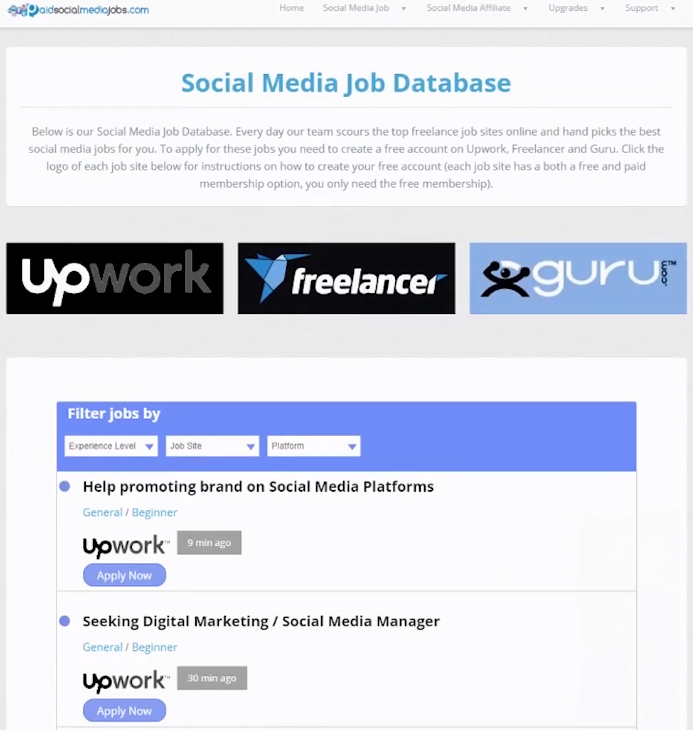 You see that?
All of the jobs on the jobs database you're paying to access are already available online on Upwork, Freelancer and Guru.
Since these sites are 100% free to join, there's absolutely no reason I can think of why anyone would ever choose to pay a $27 membership fee to be able to do this.
A legit program would never make you pay to view free job listings. Simple.
ONE Thing I Like About Paid Social Media Jobs
The good news is because this is a ClickBank product, you are entitled to a no-questions-asked, 60-day money-back guarantee.
One I fully intend on taking advantage of! 😉
Is Paid Social Media Jobs A Scam Or Legit?
The deceptive marketing, low-quality training and the fact you're duped into paying for free job listings give me no choice but to say Paid Social Media Jobs is a scam.
And I don't know whether the scammer behind this is just clumsy, lazy or both but PaidSocialMediaJobs.com is littered with references to another program called AppCoiner, a well-known internet scam that's been doing the rounds for years.
Take their FAQ's page or successful payment page for example: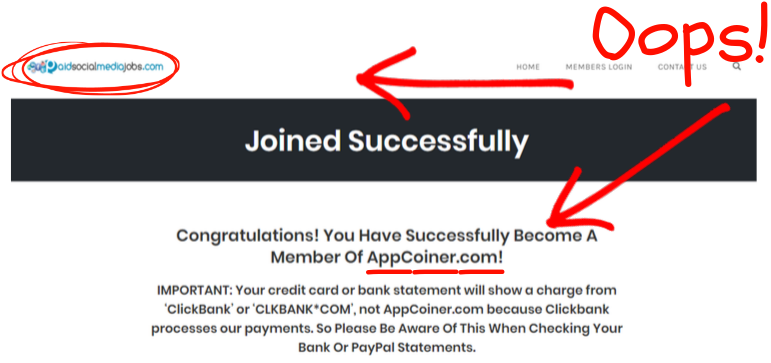 Clearly, Paid Social Media Jobs is the new name for an old scam and whoever told you this was a legit opportunity is deliberately misleading you or just clueless.
Either way, I recommend you unsubscribe from their emails immediately because they aren't the kind of people you want to be taking advice from.
Paid Social Media Jobs Final Review Rating
This might be not the solution to your money-making worries BUT… if you're serious about earning a full-time income online, open to learning new things and ready to take action then 100% you CAN make it happen.
Invincible Marketer will give you full step-by-step and proven training you can follow to create and build a thriving online empire.
More PaidSocialMediaJobs Reviews
Your Paid Social Media Jobs Review
Now you've read this review in full, do you think this is a product worthy of its $27 price tag?
Have you seen other scams like Paid Social Media Jobs that you'd like us to review?
Scroll down and let me know in the discussion below, we'd love to hear from you!
Simon Crowe is on a mission to help as many people as possible kiss their bosses goodbye.
Take the free Commission Academy course to discover how to smash your online income goals and make your dream business a reality.