Apps are rapidly changing the way we make and save (and spend!) our money.
Instead of putting your coppers into the money jar and counting them out every month, Acorns make it easy to save automatically each time you use your debit card.
Before you download the app and start saving you'll probably want to know: Is the Acorns Investment app a scam or a safe and legit way to save your loose change?
Here on the blog we're usually giving advice and tips about earning money online but I've had so many questions and comments about this app I knew I just had to investigate.
If you have any thoughts or experiences with Acorns you'd like to share, be sure to get involved in the discussion in the comments section 🙂
Acorns Investment App Review At A Glance
About: Acorns Investment App is a micro-investment platform you can download in Google Play or Apple App Store.
Price: $1 a month until you reach $5,000. When you reach that, just 0.25% of balance per year.
Pros: Good for those who want to save, has good support, 4 years tax-free for students, completely automated, you can choose portfolio types.
Cons: The $1 monthly fee will be too costly if you save below $500.
Verdict: It's a good app to start saving without you noticing it. But if you want thorough understanding about investing, you'll need to learn it somewhere else.

What is the Acorns Investment App exactly?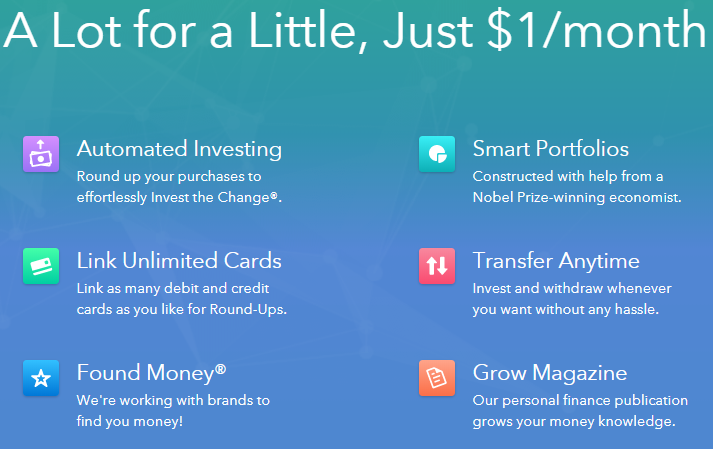 The Acorns app is available for free download on Google Play Store and Apple App Store and has had 2 million downloads since 2012.
Its focus is on helping college students, young people and anyone looking to start investing to get started through what's called micro investing.
We can easily think we need to wait until we've got a good chunk of cash laying around before we start investing or saving (I know I've been guilty of thinking like this) but there's nothing stopping you from investing small amount each day.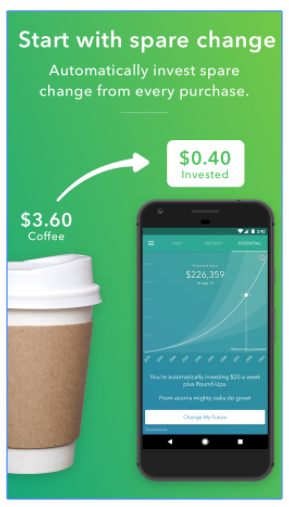 Once you've downloaded and installed the app, connected your bank accounts and chosen your investment portfolio.
Next you choose how ou want to start investing. You can round-up automatically or do it manually by going through your recent purchases and choosing which round-ups you want to transfer.
Round-ups , "round-up" your balance to the nearest dollar every time you use your card.
Let's say you buy a Starbucks coffee at $3.60, Acorns can take $0.40 and invest it.
I love this idea of saving because you're not even going to notice it, but it sure adds up.
Who is the app for?
Anyone really, but it's ideal for people who:
College students looking for a free way to invest
Hands-off investors who like things to run automatically
Want to save but lack the discipline
Would love to invest but don't have time to learn the intricacies of the stock market
What do you pay to use the app?
Though the app is free to download, you pay $1 a month until your account reaches $5,000, then just 0.25% of balance per year.
PolicyGenius put together this cool table showing what the $1 per month means percentage-wise.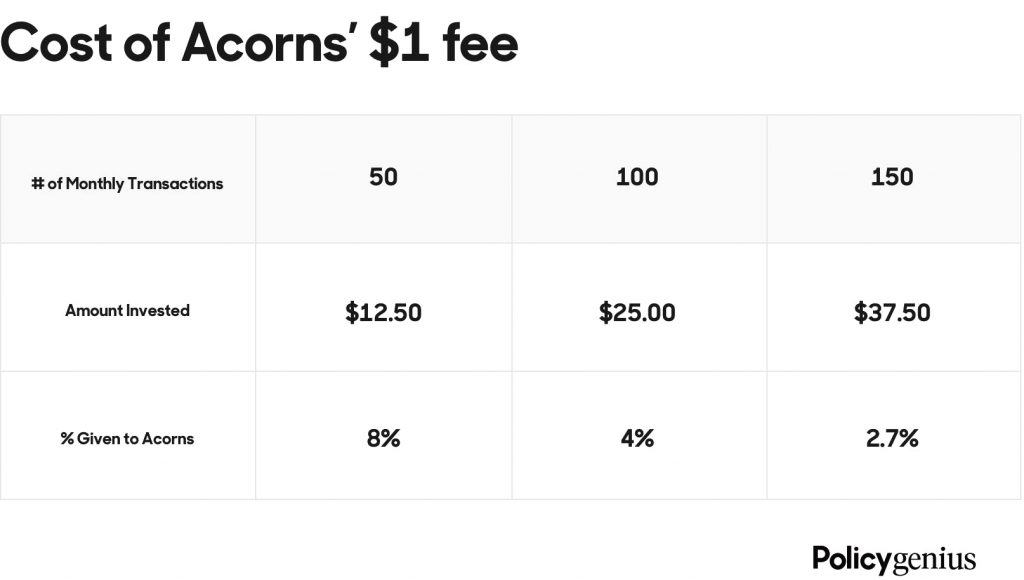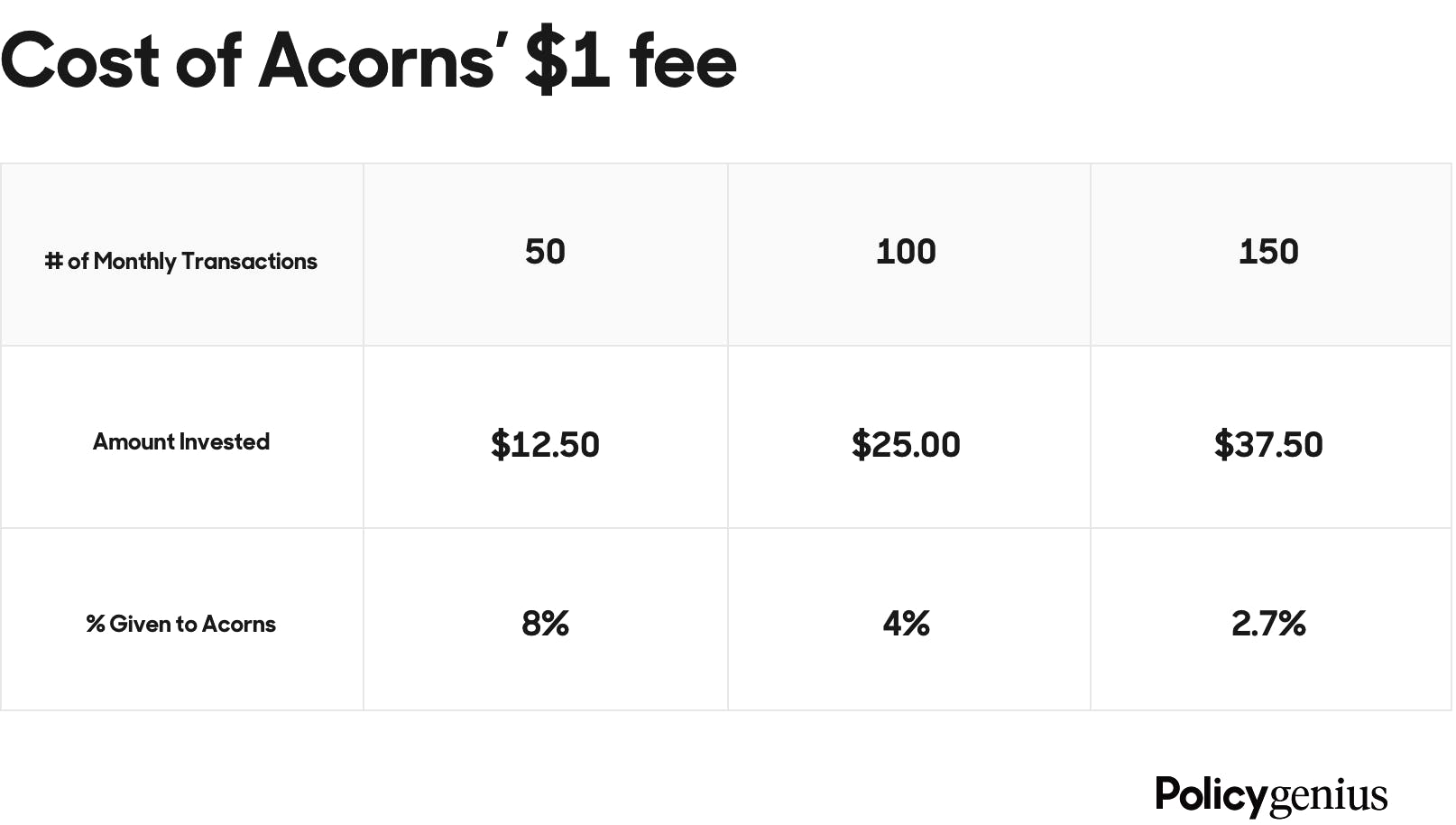 As you can see, at an average of 50 transactions per month, at $0.25 each time, you're going to save an average of $12.50 per month. $1 doesn't sound like a lot but it works out at a 8% investment fee paid to Acorns.
On the bright side, Acorns is free for college students up to 4 years from date of registration if you sign up using your .edu email address.
How Acorns invest your money
The app considers your data — including age, goals, income and time horizon — and then recommends one of five portfolios that range from conservative to aggressive. You can accept that recommendation or choose a different portfolio that takes more or less risk.
Exchange Traded Funds (ETFs for short) are made up of broad holdings of stocks or bonds. Often, these ETFs replicate an asset class or index like the S&P 500 or Dow Jones Industrial Average.
The portfolios themselves, though, are smaller than the average robo-advisor-built portfolio, made up of low-cost iShares and Vanguard exchange-traded funds that cover just six asset classes: real estate, large-cap stocks, small-cap stocks, emerging markets and corporate and government bonds.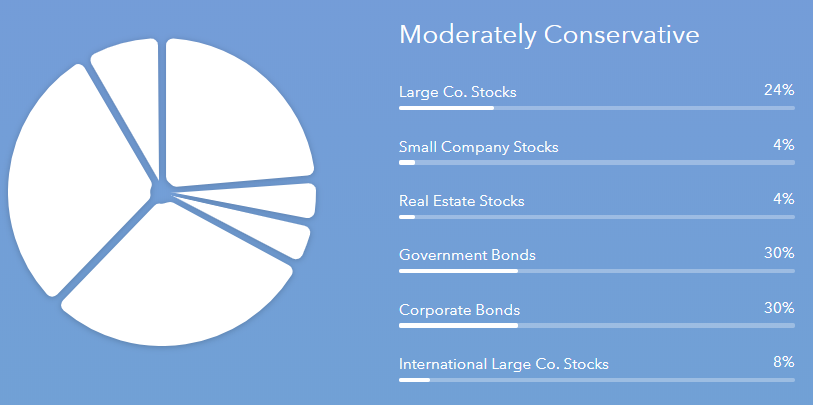 How Found Money works
Found Money is a pretty cool way of getting up to 10% cashback on the app through your everyday purchases.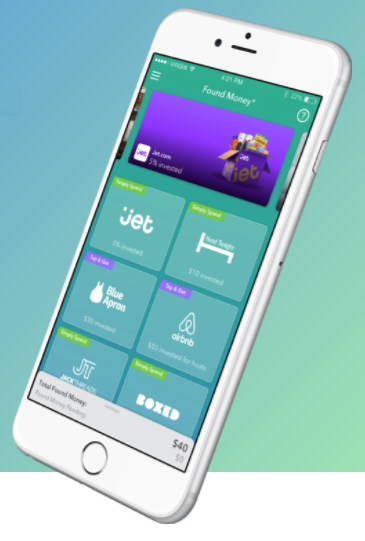 There's a whole list of household names and brands that have partnered with Acorns including:
Airbnb
Expedia
Groupon
Nike
Macy's
Walmart
Apple
Blue Apron
For the full list head on over to Acorns.com/foundmoney.
Just use the card you've linked with the app and up to 10% of the total purchase price will be invested into your Acorns account automatically within 30 – 60 days.
That's pretty cool right?
Acorns Investment app reviews: what others say
"The app makes investing effortless." – Forbes
"If you set aside just $5 every couple of days you would have set aside $1,000 in a year." – ABC News
"Acorns simplified the often tedious and complex process of investing." – WIRED
"An app that has helped millennials save $25 million." – CNN Tech
The Acorns Investment app scores an impressive 4.3 out of 5 star rating on Google Play with almost 40,000 reviews. For someone deciding whether or not to use the app this is really reasurring.

No app is perfect and sure, they'll be issues from time to time, but the consensus overall is that this app is legit.
I like the fact you can choose what kind of portfolio your money is invested in, whether you want to go for more conservative or aggressive investments. Here's a couple of reviews that represent what most users say about the app.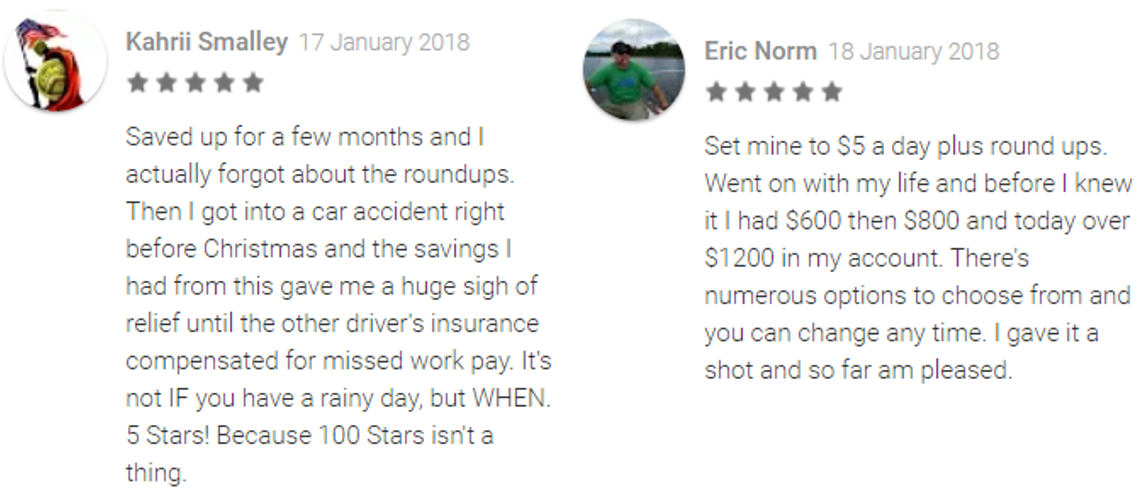 What I like
It's a great app for people who struggle to save
There's phone and email support
4 years tax free saving for college students
It can be completely automated
You can choose safer or more agressive portfolios
I think Found Money is awesome
What I don't like so much
The $1 per month is higher than average if you've got less than $500 in savings
Is the Acorns Investment app right for you?
If you're someone like me who always talking about saving and investing but never gets round to doing it, this app is going to push you to start and that can only be a good thing in my view.
You have complete control over how much you put in and what it's invested in. You can take your money out at any time and contact their support team if you need to.
I love any app that can help me spend less, earn money because either way it's more money in your pocket in the long-term. In my opinion the Acorns Investment app is a legitimate and safe way to save and invest.
If you're not cash-rich enough to invest a lot right now and you're looking to create a legitimate source of income for yourself with the gimmicks and tricks then be sure to check out my top recommendation here.
If you've been using the Acorns Investment app, leave your review below and let us know your experience. I'd love to hear from you.
If you have any questions, be sure to leave them in the comments too and I'll get back to you 🙂
Simon Crowe is on a mission to help as many people as possible kiss their bosses goodbye.
Take the free Commission Academy course to discover how to smash your online income goals and make your dream business a reality.