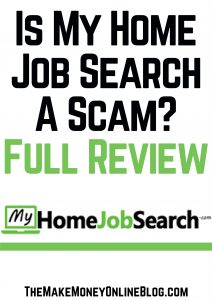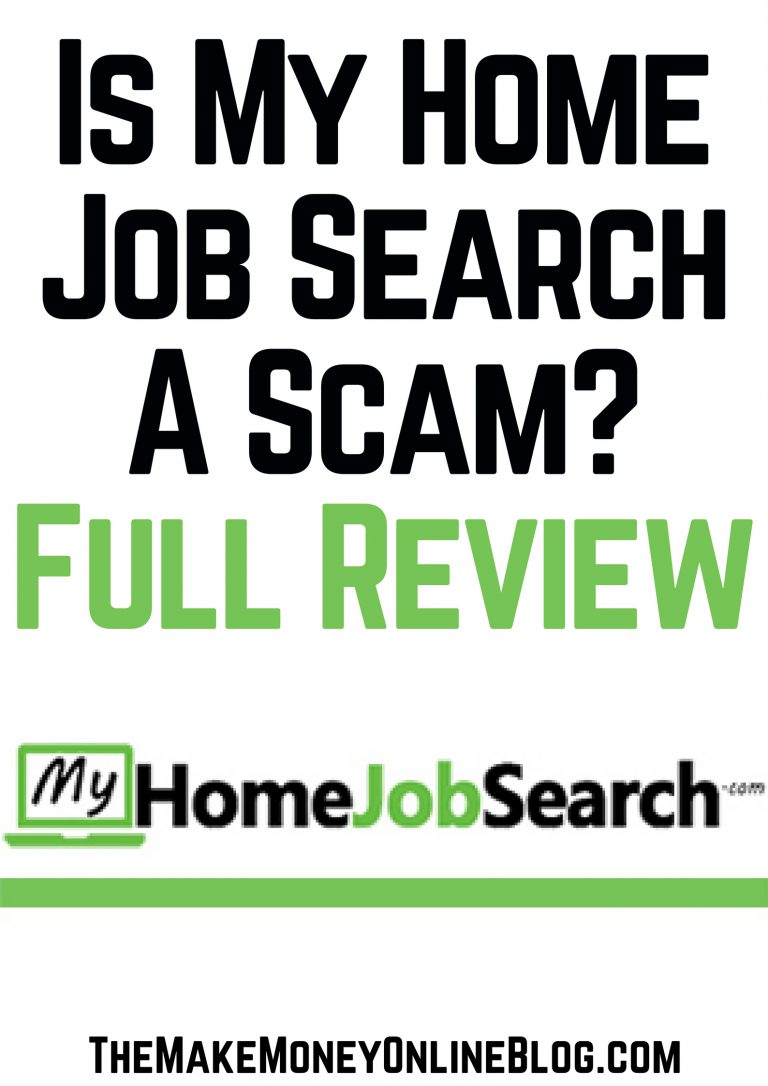 If you're on the lookout for a home-based job opportunity then at first glance MyHomeJobSearch.com might look like what you've been searching for.
Offering a $56 hourly rate with no experince or qualifications required? Sounds perfect!
But I know from reviewing hundreds make money online programs that you should never take anything at first value. So in an effort to help people like you online avoid internet scams, I decided this needed a closer look.
Is My Home Job Search a scam you need to stay away from or a legit work from home opportunity you've been looking for?
In this full and unbiased review I'll be signing up myself, putting My Home Job Search under the microscope and putting their confident claims to the test.
Are you ready? Let's do this!
What is My Home Job Search?
My Home Job Search website calls itself "The World's #1 website for securing real work at home jobs with real companies that pay as much as $56 an hour!"
$56 per hour, really? If you can get paid $56 you're going to get $392 for working a 7 hour day. Work 35 hours a week and you'll come out with a hefty $1,960 – that's nearly 2 grand a week!
So this site is promising jobs you can do from home for up to $56 per hour and I don't need any special skills or education?
Ok now this site has got my attention, it's time for me to check it out for myself.
My Home Job Search review
I'll be honest with you: the first impressions aren't good. Before I even sign up to this I've got alarm bells ringing in my head.
After reviewing so many work from home scams I can very quickly pick up on things that just don't fit right..
1. Fake social proof 
Straight away at the top of the screen it says My Home Job Search's Facebook page has nearly half a million likes. The only problem is you can't like or share and nothign happens when you click on them…
After searching on Facebook and Google it turns out my suspicions are correct – My Home Job Search doesn't even have a Facebook page!
This is typical of scammy websites because it makes them look like an established, reputable company and helps them look way more credible than they actually are.
2. Fake testimonials
Scroll down and you'll see a "What are members are saying" section and you're presented with very happy My Home Job Search members who are earning a lot of money since they signed up.
There's just one issue though… these are completely fake too. A quick Google image reveals these images are just stock images available for public use: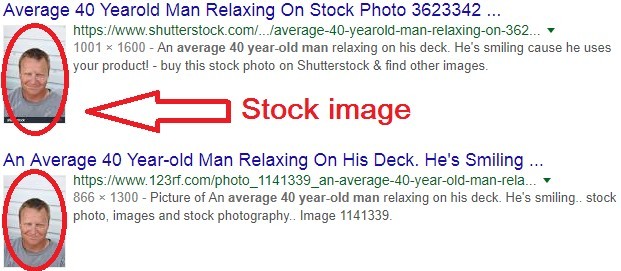 3. Fake media endorsements
Just below the phony testimonials is a YouTube video about working from home along with logos for well-know news networks like the BBC, The Guardian, The Wall Street Journal and The New York Times.
For someone just browsing the site they might get the false impression that the My Home Job Search website had been featured in all of these publications.
But how they've done this is actually really sneaky – they just say the general idea of "Work at home" has been talked about in each of these news outlets.
Really guys??
4. Big and bold claims until you read their small print and suddenly they're not so confident…
If I've learned anything since starting this blog it's this: always read the fine print!
But I have to be honest, I wasn't quite prepared for what I found hidden at the bottom of this site:
Like seriously? What is this? The typical person who buys into this doesn't make any money! They've literally just admitted there's no value in the My Home Job Search system whatsoever!
What happened when I signed up…
With all the typical scam signs this website has, I still think it's worth me signing up just so I can show you guys what you can expect if you do decide to go for this.
So I entered my postcode to see if there were any work from home jobs in my area. Being in the UK at the moment I popped in my UK postcode
I was immediately told there are 27 employers in my area. Good news! Then you're asked how much you'd like to earn a week. The maximum amount possible obviously!
You hit 'Continue' and the next screen asks you how many hours per week you're willing to work. Again, though I know this is already a scam I'm just going to go with it. I selected 20+ hours a week.
Then you're asked when you're ready to start working. I said 'Today'.
Then you're asked if you have basic typing skills, I said yes. Then hit "Finish!"
Then I'm redirected to this screen telling me I can earn more than $1,500 a week. Now I need to select the type of work I'd like to do.
Now I'm thinking this is either a legit site or thye're trying really hard to look like one….

So this is the part I've been waiting for – I enter my name and email and submit.
Ok now you have to watch a 4 minute video from the owner of HomeJobSearch.com. I won't bore you with the details – just hype, and more hype with a sob story in between…
Man, this is taking longer than I thought to get into the member's area!
Oh wait, now it's asking me to upgrade. I'm given a countdown clock and asked to pay $29 to access the members area: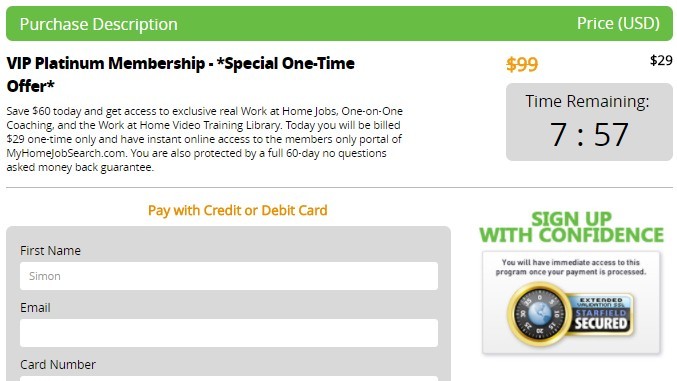 The member's area was a massive letdown
As you can see below, there are only 3 categories of 'jobs' unlocked and none of them offered any real work from home jobs at all.
The Make Money section contains a full list of links to other online scams.
The Paid surveys section is again, just a list of some paid survey sites that I've reviewed already like Click4Surveys and Vindale Research which as I've said before, end up wasting you hours of your life you'll never get back with nothing to show for it.
I mean seriously, these guys pay you less than $1 per hour (if you're lucky) and not the $14 – $56 an hour they said.
Another thing I noticed was that each of the sites they linked to had a referral program, meaning My Home Job will get paid commissions every time you sign up through their links.
I see absolutely no value whatsoever in paying $29 to access these links when you can find make money online scams or paid survey sites just by searching online for free.
Is My Home Job Search A Scam?
Let's take a look at the evidence:
Nearly half a million likes on their Facebook page when they don't even have one
Fake testimonials
Fake media endorsements
Fake social proof
The fact they charge you a $29 fee to access sites that are available and free to join
They recommend blatent online scams
The survey sites they promote pay you less than $1 per hour
They openly admit people who sign up with them don't make any money!
What do you think? It sure looks like a scam to me!
Now that you've seen what I've seen I hope you can see why My Home Job Search is definitely not a site I can recommend. Especially when they openly admit their members make no money with them!
It seems My Home Job Search is only interested in making money through the $29 access fee and the referral commissions they generate for themselves and they couldn't care less about their members.
If you're sick of all the hype and internet scams out there and you're interested in earning real money online by building a legit internet business for yourself then check out my TOP-RATED program here.
It's my highest recommended program because it was the first online training course where I actually saw results to the point where I am now earning more than $6,000 per month online. Follow the training and you can get the same results.
Have Your Say
I really hope you've found this My Home Job Search review helpful and by reading this you've avoided another online scam.
If you have any questions at all or if you have any thoughts you'd like to share, please go ahead and leave a comment below. I always respond to each one personally.  
Simon Crowe is on a mission to help as many people as possible kiss their bosses goodbye.
Take the free Commission Academy course to discover how to smash your online income goals and make your dream business a reality.