HarrisPollOnline.com offer you the opportunity to share your unique insights in return for rewards from your favourite brands.
But is Harris Poll Online a scam or are they legit? That's exactly what you're going to find out in this review.
On the whole, survey sites don't have a good reputation as an online income earner with websites like Smart Panel, Vivatic and InstaGC paying you $0.50 for you to hand over your private information.
Personally, I think your time is worth way more than that!
Which is why if you have the time and energy to put into something, you're better off checking out this training program right here so you can learn a legit way to earn serious money online.
It's the blueprint I followed to earn more than $6,000 a month. No hype and no gimmicks.
Who know, maybe Harris Poll Online will exceed my expectations, here's hoping!
Harris Poll Review At A Glance
About: Harris Poll is a market research firm that pays consumers to find out brand-based decisions.
Price: Free to join.
Pros: Has many gift card choices.
Cons: Lacks customer support, randomly suspends accounts, high disqualification rate.
Verdict: There is no point wasting you time with Harris Poll when you only earn $4/month with it.

What is Harris Poll Online?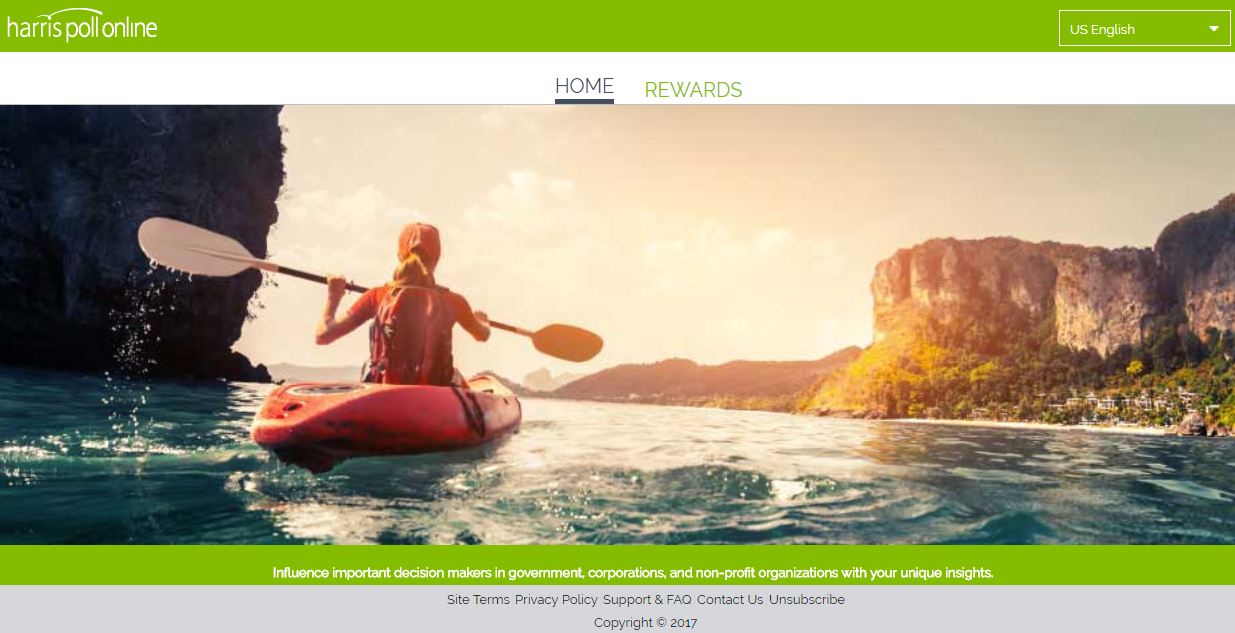 HarrisPollOnline.com is a part of the Harris Interactive group who help give businesses a better understanding of how consumers make brand-based decisions.
They're also a member of the Council of American Survey Research Organizations (CASRO).
Basically they partner up with companies who want feedback from a specific group of people, then make surveys available to it's members and reward you in gift cards.
You sign up, get email invites to surveys, go through a pre-qualifier and complete the survey. You'll earn points that can be used for Amazon, Starbucks and iTunes gift cards but this site does not pay in cash, cheque or PayPal deposit.
You have to be a Canadian or American citizen to join and aged 18 or over. If you're 13+ you can also join with your parent's consent.
How much money can you make, really?
Typically not very much at all, and across the survey taking world the number of survey invites and the payments are going down.
Harris Poll use a points-based system to make you think you're earning more than you actually are but when you see that a $5 Amazon gift card costs you 625 points, that means $1 = 125 points.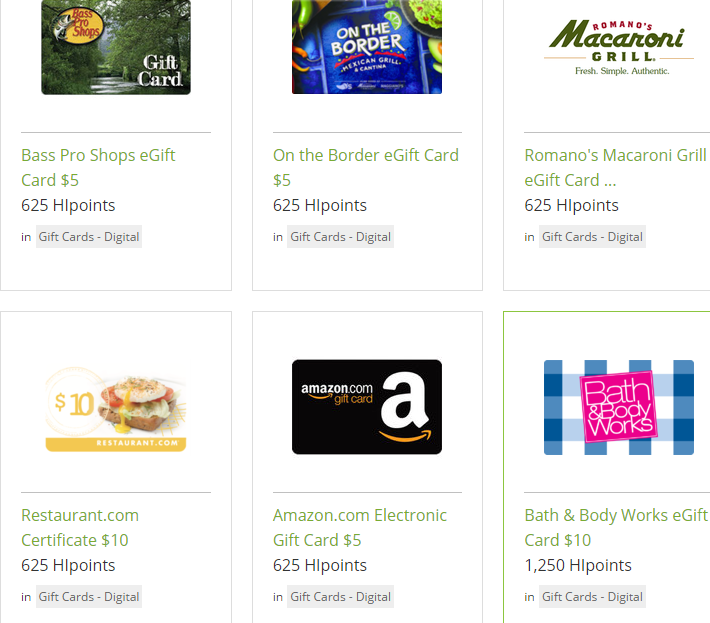 I'd say on average the typical survey takes you 30 minutes for 100 points which means you're working for an hourly rate of just $1 – $2 an hour.
Though in reality it's lower than this because you can only expect to receive 4-5 email invites per month. So how much can you earn per month on this site?
At best, I'd say $4. This is not a big income earner by any stretch of the imagination.
You don't know what you're working for until afterwards
A big negative for me is that this site doesn't tell you what the rewards are for a survey until you've completed it.
Call me crazy but I thinkyou should know exactly what you're doing and what the payment will be, otherwise how do you know if it's worth it for you or not?
A chance of winning 'big' with sweepstakes?
When you complete a survey, Harris Poll Online enters you into their monthly and 3 monthly sweepstakes where you could win $10,000.
Of course I don't know if they really pay out or not but you shouldn't be spending hours on this site just on the tiniest off chance you could win.
You're competing with 1000's of other members and you'd be better off buying a lottery ticket.
It always amazes me how some people are more than happy to slave away for hours on end answering question after question and giving their personal information away just for the 'chance' of winning.
Update: It looks like Harris Poll Online is no longer running sweepstake competitions.
Harris Poll Online reviews and complaints
What do others say about this online survey site? There's hundreds of user reviews and complaints but I have to say the cast majority of them are highly negative.
Let's take a quick look at some of the most common issues users are experiencing:
A complete lack of customer support should things go wrong
I get it, every site will have the ocassional technical problem or glitch. There are times when your points don't get credited or you're having difficulty confirming your ID. It's at times like this when you rely on the customer support team to quickly resolve the issue for you.
Unfortunately with Harris Poll Online the overwhelming view is the support team do not respond to members asking for help.
Take for example this member who left a reviewon PissedConsumer.com, they submitted 4 support tickets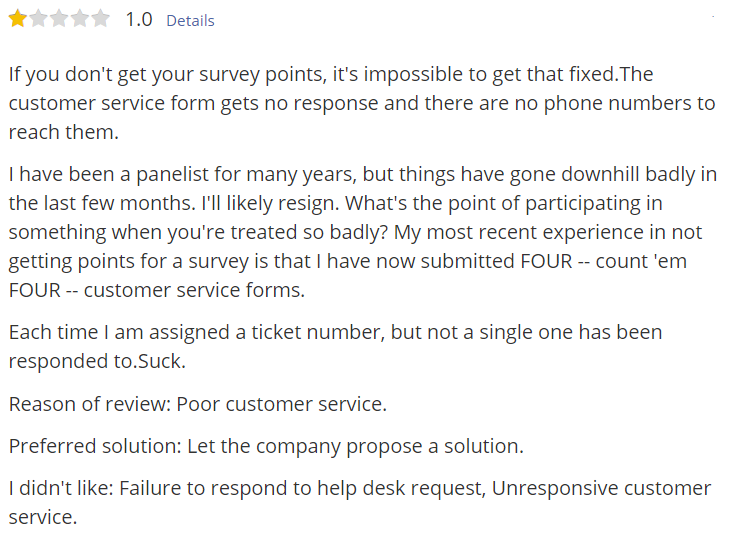 Harris Poll Online admit to suspending random accounts periodically
HarrisPollOnline.com is graded an 'F' by the Better Business Bureau and has 60 complaints filed against it.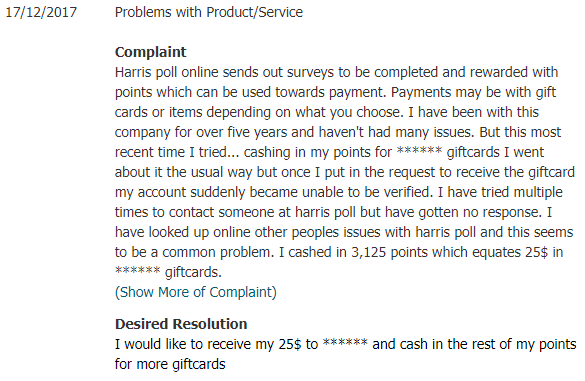 One of the reasons for this is the fact many users have reported their accounts being closed for no reason, right before they're about to redeem their points for a gift card.
In response to this, Harris Poll Online staff replied by saying that membership maybe discontinued at any time according to their terms of use.
In their site terms they say: "We may refuse services to anyone at any time, , in its sole discretion."
Translation: they can refuse payment and suspend your account at any time and there's not a thing you can do about it. You really can not put your trust in this site or rely on it as a secondary income source.
With the high disqualification rates you're effectively working for free
Another common complaint from users is about the high percentage of surveys you get half way through only to find you don't qualify.
Keep in mind you can only expect to get 3 – 4 survey invites a month, in reality you can expect to qualify for 1 of those.
After 200 reviews, Harris Poll scores an unimpressive 2 out of 5 stars on SurveyPolice.com. and here's a typical complaint you'll see from dozens of users on there:

Is Harris Poll Online No, BUT…
I can not, in good conscience recommend this as a legit money maker. Their low invite rates, low qualification rates and high account suspension rates render this site not worth your time.
Should you become a member and use it to try make some extra money?
Don't get me wrong, I've definitely seen survey sites that are far worse, but by the same token they're not as good at the likes of Swagbucks and Brand Institute.
It's no secret that online survey sites are struggling as businesses move to social media to get better feedback quicker. In response to this it seems Harris Poll is trying to reduce payouts to members by closing down accounts and disqualifying users despite them completing surveys.
What I would do if I were you
If I'm honest, if you're looking for a full or even part-time income then online survey sites aren't going to cut it. You'll just end up wasting a lot of your time with nothing to show for it.
If you have the passion and energy to succeed then you'd be better off investing your time into creating a real internet business for yourself. This is exactly what I did in 2014 and I now earn $6,000+ a month.
I followed this free beginners training course that I think you'll want to check out. It'll show you everything you need to know about making serious money online in a legitimate way.
Yes, you'll need to put in time and effort to make your business grow, but the earning potential is unlimited.
Simon Crowe is on a mission to help as many people as possible kiss their bosses goodbye.
Take the free Commission Academy course to discover how to smash your online income goals and make your dream business a reality.