I love finding new ways to help you earn money online from home which is why today we're going to be taking a closer look at Grindabuck.com.
In this review we're going to ask: Is GrindaBuck a scam or a legit and worthwhile earning opportunity?
I've reviewed hundreds of paid survey and reward sites to see exactly how much money you can realistically make so you don't have to waste time sifting through the nonsense and can focus on what gets results.
By far the best online survey website I've come across is Swagbucks so far, but it's not going to make you rich by any means, but it's good for an extra $10-$20 per month.
If you are looking for more than that then you are going to want to build an internet business for yourself where you build an audience, promote products and make $1,000s in commissions per month.
Here's the best beginner's training course to start building your web business for free.
That being said, let's crack on with the GrindaBuck review! 🙂
GrindaBuck Review At A Glance
About: GrindaBuck is a get-paid-to site that offers 5 ways to make money online.
Price: Free to join.
Pros: Rewards in PayPal and gift cards.
Cons: Limited income potential, time consuming.
Verdict: It's not a scam but you'll be earning peanuts here. Plus they recommend scammy sites that squeeze out money from you.  It's better to avoid this one.

What is GrindaBuck?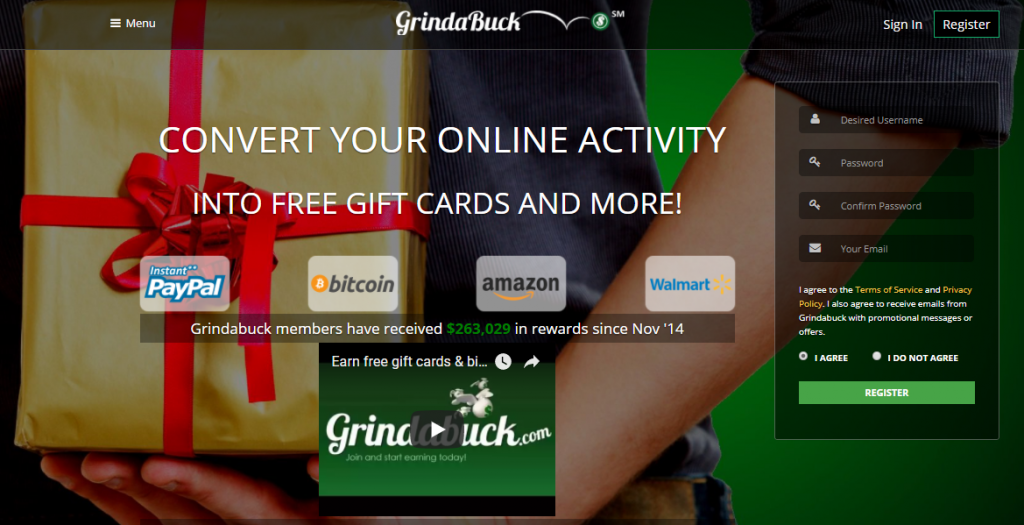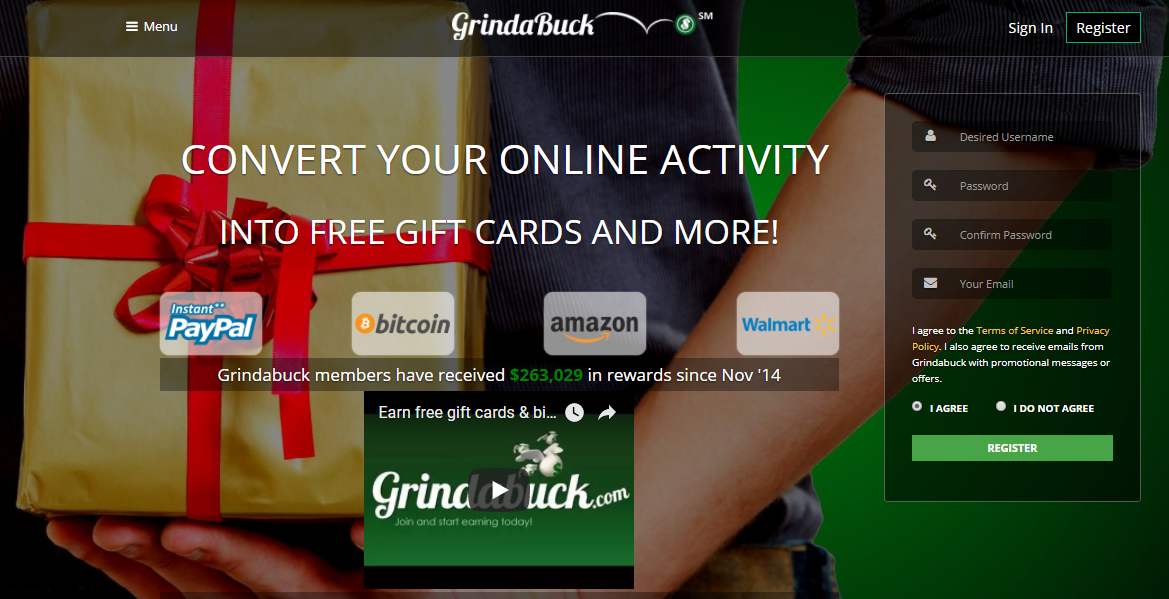 GrindaBuck.com is a free-to-join rewards site where you can take surveys and complete a variety of tasks to earn what they call "GrindaBucks" or GaB.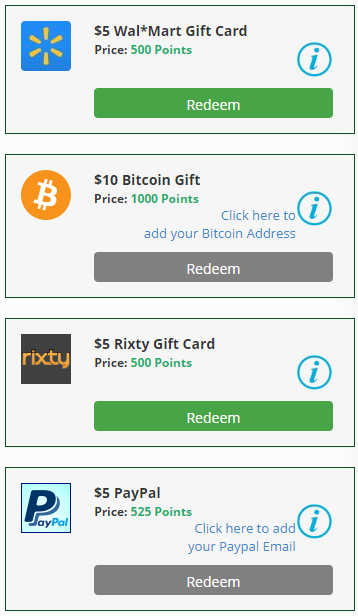 They'll give you 100 GrindaBucks just for signing up. Each GaB is worth $0.01 so 1,000 GaB is $1.00 and 10,000 GaB is $10 and so on,
The site is currently open to new users from the UK, US, Canada, Australia and Germany.
You're going to need to build up your balance to 10,000 GaB before you can cashout. (Keep reading to find out why this may take a lot longer than you think!)
Once you've reached the withdrawal threshold you can redeem them for gift cards for places like Amazon or Walmart or exchange them for Bitcoin.
GrindaBuck's Facebook page has only 1,500 followers but is updated regularly. On Twitter they have just 500 followers so we know this is a smaller, lesser well-known site.
Here's their introductory video running through some of the ways you can earn points:
Getting started with Grindabuck
From the homepage I clicked on 'Register' and filled out a quick and easy form. Then I was asked to confirm my email by clicking on a link and pasting the verification code they gave me.
The verification email came through pretty much straight away so all pretty easy so far…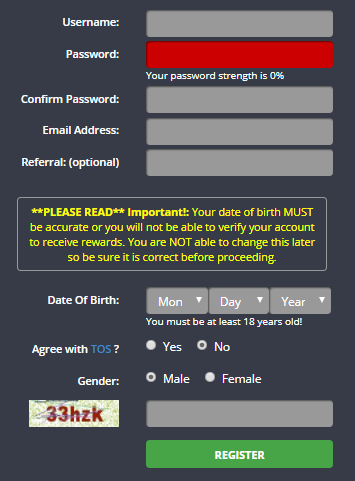 Nothing happened after I verified so I clicked on 'Login' which bought to the member's dashboard area. As far as first impressions go – it's very busy and there's a lot going on!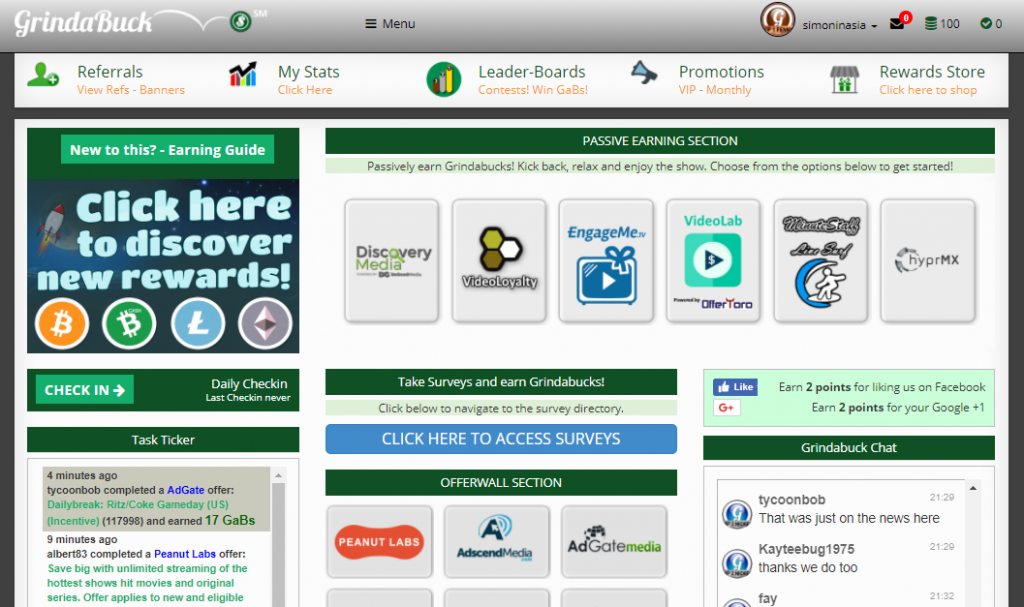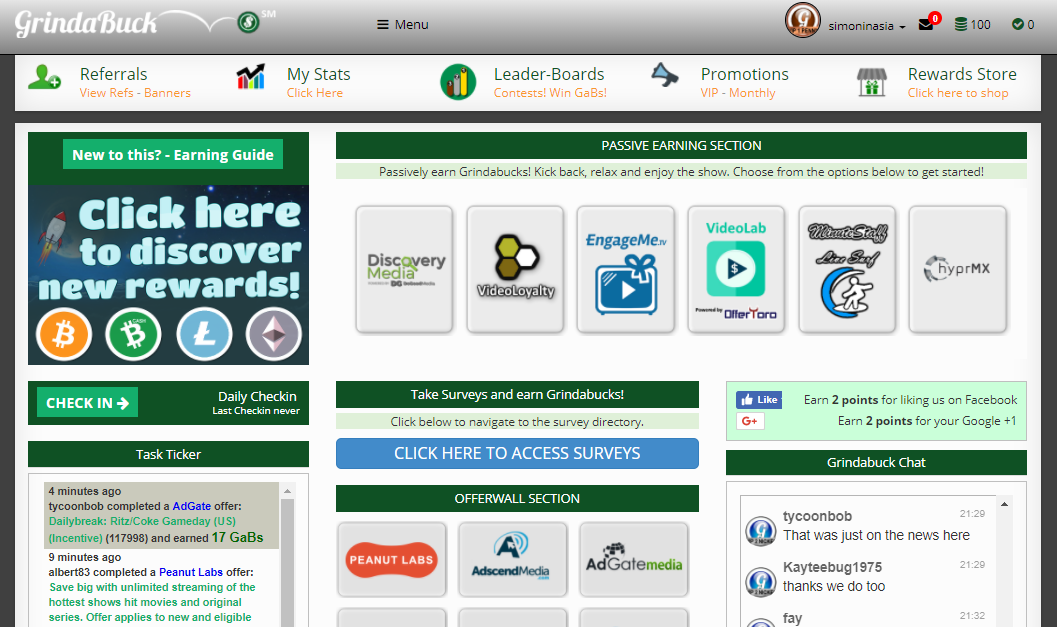 I must say I am impressed with the Grinabuck live chat area. This is the first survey site I've seen members interacting like this. Within a couple of minutes of joining I introduced myself and was even offered help.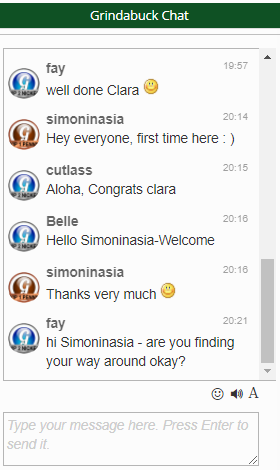 The 5 ways to earn GrindaBucks
I decided to try and get closer to the $10 cashout limit so I browsed the site for ways to earn some points. It turns out there's 5 different ways to earn rewards. Let's go through each of them…
1. GrindaBuck surveys
The first thing I did was click on surveys. Immediately I can see that rather than having their own surveys, they redirect you to other survey panels that you're going to need to sign up and register with individually.
GrindaBuck make a buck each time you join one of these panels through their site and from what I see hear, they're recommending you join survey sites that have some of the lowest payouts and highest complaint rates.
It's clear to me right away they're thinking about the money they're going to make off of you instead of helping you putting extra money in your own pocket. This is a letdown.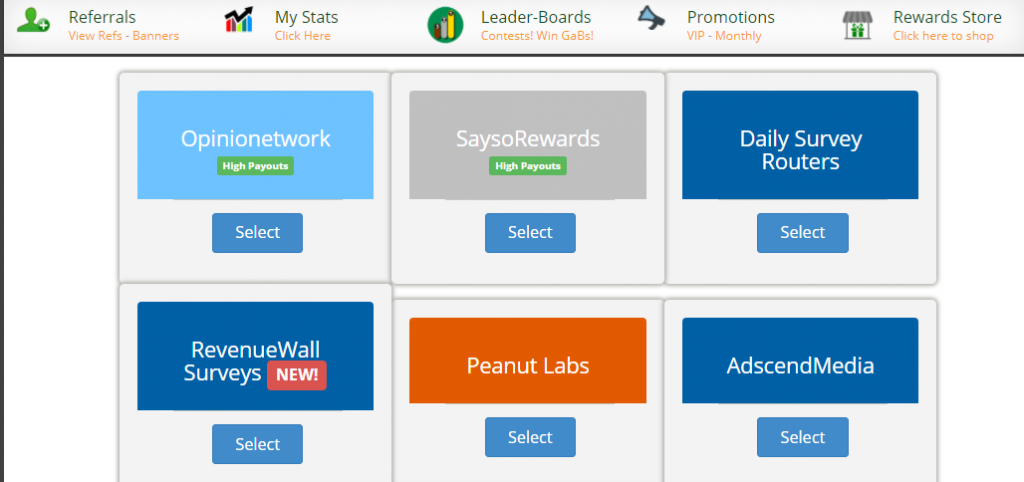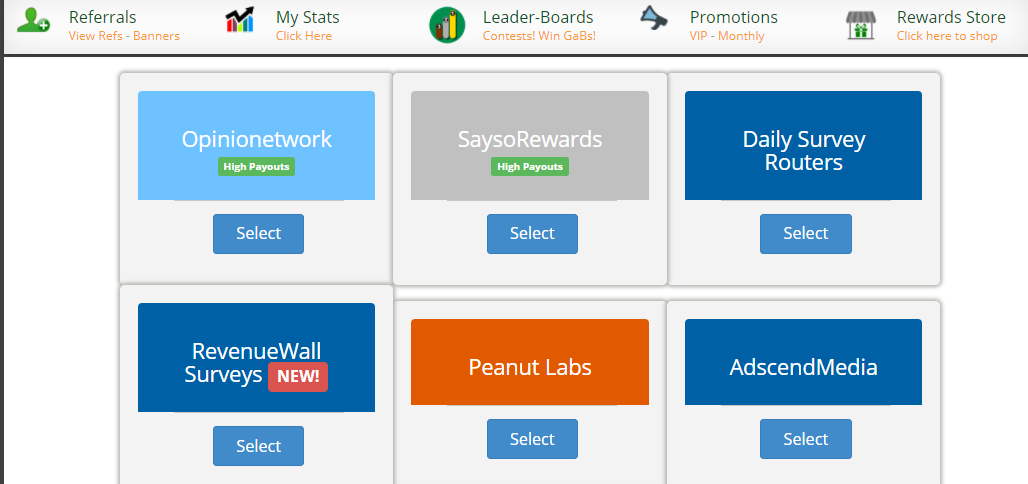 2. GrindaBuck videos
Next I took a look at the passive earning section which gave me a list of videos to watch. Watching 6 videos at appox. 30 seconds each gets you 1 SwagaBuck or $0.01.
There's very little money to be made here and trust me, this is anything but passive. Each 30 seconds you're going to have to select a new promo video.
You might think earning $0.01 every 3 minutes is going to make a difference to your bank balance but when you sit down and work it out, you're earning a very lousy $0.20 per hour! No thanks, I know there's better things I can be doing with my time.

3. GrindaBuck Offerwalls
Similiar to reward sites like Treasure Trooper and Vivatic, GrindaBuck has partnered with companies offering free trials so you can earn anywhere from $0.10 to $2.50 for signing up to a free trial offer.
For example, you get $2.39 for signing up to Amazon Prime's 30 day free trial. Once the 30 days is up you're charged the full amount.
If this is something you were thinking about signing up for anywhere then great, earn an extra couple of dollars on the side, but if not, you could find your credit card being charged for products and services and end up paying out more than you make in the first place.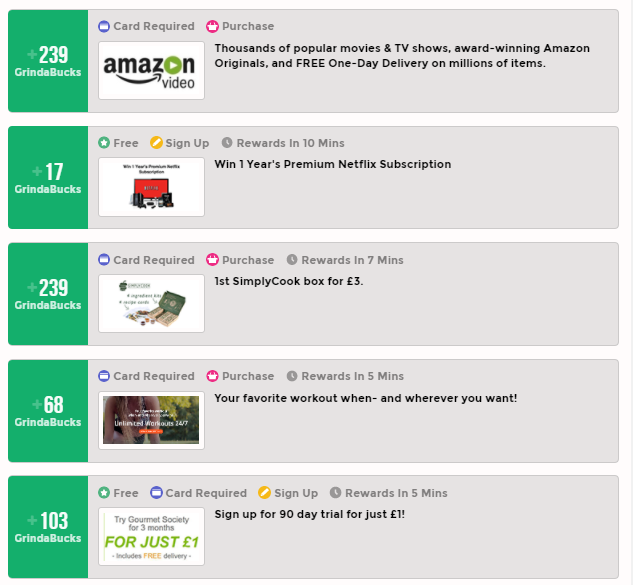 4. Completing Crowdflower tasks
Another way to make money with GrindaBuck is by completing lots of mini-tasks with Crowdflower.
Typically these are very low paying, but very straightforward jobs like transcribing an audio file or listening to a short conversation and giving your feedback.
At $0.01 a pop and usually take 2-10 to complete. The maximum you'll ever earn doing this is $0.30 an hour – just not worth it in my opinion.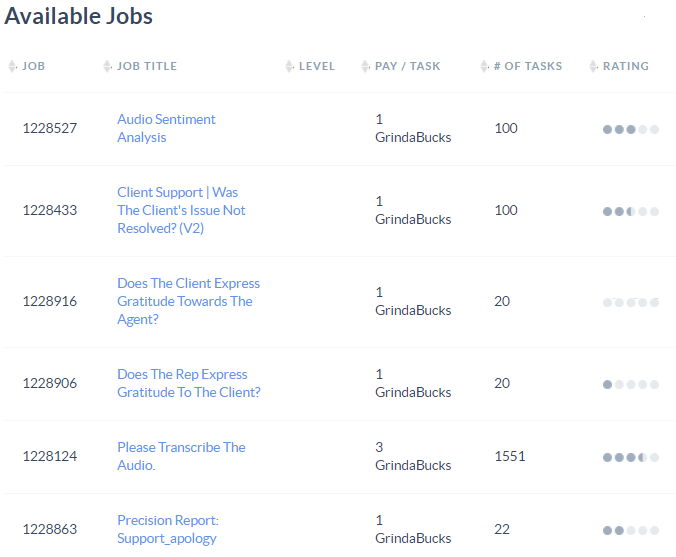 5. Referring friends to the site
Finally, the last way you can make money is by referring your family and friends to GrindaBuck.com. They give you a unique affiliate link you can share on social media sites to get 100 Grindabucks ($1) per new sign up and 10% of their earnings.
Out of all the ways to make money with GrinaBucks, this is probably the one I'm most interested in as it's the closest to affiliate marketing which has unlimited earning potential.
Unfortunately the ability to earn real money on this site is so limited that you're going to end up getting 10% of your friend's $0.10. Definitely nothing to write home about.

How much money can you make?
I'm sure you'll agree that the earning potential here is very limited and even earning a cent on this site will be very time-consuming.
On the homepage they claim they've paid a total of $263,029 to members since November 2014, however we don't know how many active members there are and they do not offer us any information on average earnings.
On the plus side, it looks like GrindaBuck does pay out (as this payment proof page shows.)
Is GrindaBuck right for you?
Is GrindaBuck a scam? In my opinion, no, but they do recommend you join some pretty scammy sites so they can make a nice commission off of you.
Do I think GrindaBuck is a worthwhile investment of your time and energy? Absolutely not.
When you look at all the so-called reward sites out there, you're very rarely going to make you more than $10 a month, which is why in 2014 I quit taking surveys altogether and learned how to create my own internet business instead.
I followed this free beginners training course that you might want to check out. It'll show you everything you need to know about making serious money online.
Yes, you're going to need to invest the time and effort to make your business grow initially, but the amount has the potential to overtake your full-time income for years to come.
Simon Crowe is on a mission to help as many people as possible kiss their bosses goodbye.
Take the free Commission Academy course to discover how to smash your online income goals and make your dream business a reality.